Hey guys I am about to purchase my first lace front wig this weekend since I got an email that they're on sale. I frankly can't do full cap wigs always because the bangs don't look right on me so I end up swooping the bang and it squares off my face. I don't feel like it's the most flattering. So I'm going to step it up to the lace front wigs. They look more realistic.
So I've been eyeing these lace front wigs for a while but didn't want to put that much money into them. But since they're now on sale and I want a new wig I figure now's a good time to take the next step. My choices are:

This is FREETRESS EQUAL LACE FRONT BABY HAIRLINE WIG DANDI (FUTURA) on sale for $32.99 originally $54.99. I like that it's curling iron safe up to 400 degrees. When you click on the link you'll see the mannequin pics as well as a user submitted photo. I think it's a tad short but I'm looking for something that I can wear a lot that's not too long.
http://www.hairsisters.com/ver2/ViewDetail.php?product_id=11964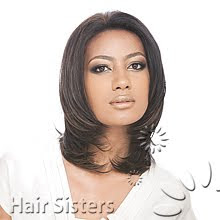 This is FREETRESS EQUAL LACE FRONT BABY HAIRLINE WIG LILI (FUTURA). It is on sale for $34.99 originally $54.99. It is also curling iron safe. I don't have any pics of this on a person so there is the risk of it looking bad, but you take that risk everytime you order a wig online.
If you get a chance today please reply with your opinion. I'm debating and my daughter and husband were not helpful in assisting me make a decision.