In today's Netflix Series I'm sharing my review of the movie Couples Retreat.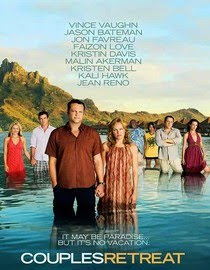 2009PG-13107 minutes
Desperate to save their marriage, one couple convinces three other couples to go in on a group rate price for an island retreat designed for troubled unions. But the "mandatory therapy" brews up nothing but trouble for everyone. Vince Vaughn, Jon Favreau, Jason Bateman, Kristen Bell, Kristin Davis and Faizon Love star in this comedy penned by Favreau. Peter Billingsley, who played Ralphie in A Christmas Story, directs.
I really liked this movie. I liked that it had a good story line that truly developed and had you genuinely interested in the characters in this movie…even though it was supposed to be a comedy, it had a good romantic tone throughout the movie. I guess it's a romantic comedy but I don't recall it being dubbed as so when it came out. But I liked it, I got good laughs and of course…a really good cry at the end. I also enjoyed the alternate ending and gag reel/outtakes! I gave this a 5 stars!