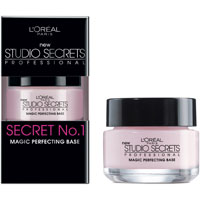 If you go back a few posts back, I believe it's labled MAC Wishlist, but I mentioned how I'm looking for a primer.  But let's face it, it's gonna be a hot minute before I can afford the MAC primer.  So I've watched a few videos, read a few reviews and decided that I want to give this a try.  It's called the L'oreal 
Studio Secrets Professional Secret No.1 Magic Perfecting Base.  There are mixed reviews, so I want to try it out myself.  
Here's the claim:  
Get the perfect skin texture, instantly and all day. The silky, lightweight formula glides onto skin and minimizes the look of pores and fine lines. Skin looks and feels smoothed and resurfaced. The result is a unified matte finish that's flawless. Suitable for all skin types. Dermatologist tested. Non-comedogenic. source ~ ulta.com
I will be getting this soon and updating my thoughts.