Some of my favorite posts to both read and write are random this and that style posts.  That's what I'm sharing with you today.  Let's just chat today, we're friends after all 🙂  Let's sit at the kitchen table and have some tea!  I was listening to a segment on a show recently when I heard one of the co-hosts say "her reputation precedes her".  Her, him, you that doesn't matter but that made me think.
If you aren't aware of the Monique vs. Netflix situation allow me to give a brief synopsis.  Monique is a comedienne and Oscar winning actress who is a legend in her own right.  She was part of the Queens of Comedy and I've seen her stand-up in person.  She crossed over into the Hollywood scene when she was in the movie Precious. (she was in the sitcom The Parkers, but I'm talking about big time Hollywood here)  She became black-balled by that same Hollywood scene when she wouldn't play by the rules, so to speak.  Fast forward to present day where Netflix comedy specials are all the rage.  She and her husband (puppeteer) were in talks with Netflix for a comedy special.  She feels she was low-balled when they offered her $500K and she felt she should get the larger amounts of money that were offerred to Chris Rock, Dave Chappelle and Amy Schumer.  Instead of handling her business behind the scenes her and her husband decided to go online to air out their frustrations and ask for fans to boycott Netflix.
As if that wasn't foolish enough she has been on a media tour where she has really been showing the world why she wasn't offered more money, in my opinion.  Including going on The Breakfast Club where she was angry that Charlamagne the god gave her "donkey of the day" which is a segment on the radio show where he gives a donkey to people who are basically showing the world how stupid they can be.  She even went on The View and did the same song and dance and Whoopi schooled her.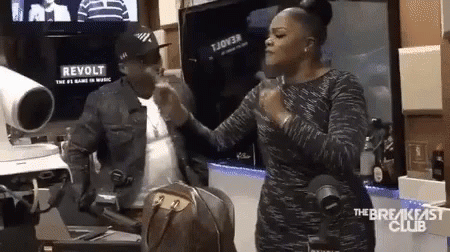 I'm sharing all of this because this really stood out to me as these shenanigans were going on in the past few weeks.  Her husband is her manager and aside from the fact that she calls him daddy several times in an interview, which I have my own thoughts on, he really seems to have her thinking that this is the way to go.  You see, she does have a bad reputation and she's showing us that her reputation is more than that, it's the truth.  I say that because you're mad that Netflix didn't offer you what you felt that you're worth.  I get that.  When you know that other people are making tens of millions of dollars and you were offered half a million I can see why that would upset you.  But instead of trying to find another deal with another company/network or instead of producing your own special then distributing it, you're showing the world that you're not professional.  That you're not someone they would want to work with.  That the risk is not worth it to them.  So now what?  What after you've gone to media outlet after media outlet to plead your case in an unflattering way, what comes next?  That's what I'm waiting to see.  Yeah you may be a legend and have been in the game for decades.  But if you leave a sour taste in everyone's mouth then why do we want what you have to offer?
Sometimes you just have to sit down and be humble.
I'm interested to see what happens next.
THE OFFICE
On a much lighter note for the last couple of weeks a friend and I have been binge watching The Office.  This show is so freaking hilarious I don't know why I never watched it before.  If you're like me and never gave it a try, then please go watch it.  It's on Netflix.  Because why on earth would anybody boycott Netflix?
WHAT CHARACTER ARE YOU?
I saw a quiz on Pinterest the other day about which Kardashian/Jenner sister are you?  I'm Kim.  Which is odd to me because I felt like none of my answers where like her but she's my favorite so I'll go with it.
I also took the which Black Panther character are you?  I'm T'Challa.  We went to go see Black Panther last weekend as a family.  The movie is freaking amazing and as soon as it was over we all wanted to see it again.  I can't wait to go see it again and we'll probably buy it on DVD when it comes out, which I'm hearing should be in May.  Let me tell you, if you haven't seen it yet, please do yourself a favor and go!  I'm not a Marvel-head or anything but it's so so good!! So good! Also be sure to stay for the full credits for some additional scenes!
I loved this so much ❤#WakandaForever https://t.co/cZ5na72mTI

— Blogs by Aria (@Aria82) March 1, 2018
This was amazing. @chadwickboseman surprises #BlackPanther fans while they say what the movie means to them. pic.twitter.com/ZXnfLuV83f

— Fallon Tonight (@FallonTonight) March 1, 2018

I also saw this on Twitter from Jimmy Fallon and loved it!
I think that's where I'll end it for today.  I have a cake to ice.  I've been reducing my sodas and not eating McDonald's (if you know me you know how much I have both) and I'm about to start low-carb eating.  It's the only way that I'm able to successfully drop the pounds.  I've been working out this past week and am about to start back with ChaLean Extreme for strength training and Turbo Fire and the elliptical for cardio.  I'll go into more detail in a future post as to the how's and why's.  Back to The Office, my new favorite show 🙂
Until next time friends!  Thanks for stopping by and let me know in the comments if you have thoughts on the Monique situation or Black Panther or the quizzes or The Office.  Or all of the above!