Today I am sharing 15 Proven Ways to Spend Less on Baby Gear.  You don't have to break the bank to prepare for your new baby.  Here's over 15 tips to help you save money on your new baby.
I decided to re-write my original post and share it again anew.  For a few reasons, one of them being that of course there's new information that I wanted to share and another reason is so many people I know are having babies soon.
We all know that having a baby can add a lot of financial stress.  I'm not going to lie and make it seem like it's no big deal to add a new addition to your family.  But there are so many ways to spend less money on baby gear and baby needs.  I'm sharing 15 proven ways to  spend less on baby gear that you can easily implement in time for your new arrival.  If you know someone who could use this post, please share it with them.
*this post includes affiliate links for your shopping convenience, you can read more about affiliate links by reading my Disclosure*
SHARE YOUR BABY REGISTRY
Remind your friends and family about your registry.  It's not tacky to remind people where you've registered for your new bundle of joy.  Don't be shy.  Remind them and remind them often!  People tend to forget when it's not happening in their lives.   You can feel free to share my registry shopping guide too.
WAIT FOR YOUR BABY SHOWERS
Wait for your baby showers.  It can be tempting to buy lots of cute baby clothes and blankets and baby gear.  But hold off on doing the shopping yourself until after your baby showers.  You're trying to save money here, so save up your money to be able to complete your needs with the items from your registry towards the end.  Most registries give you a discount to complete your baby registry for up to a year after the arrival date.
BUY IN STAGES
Buy what you need in stages.  Sure it's nice to have everything you need up front but it's not necessary.  Especially if you don't have the storage availability in your home.  You don't need a high chair right away, or 9 oz bottles with a newborn.  Get what you need for your newborn up to three months at the least.  This is really important if you didn't get these type of items as a gift or didn't think to register for them.
BREASTFEED IF YOU CAN
Breastfeed if you can.  I'm not here to put pressure on you about nursing your baby.  A fed baby is what matters and nursing isn't always as easy at it seems.  With that being said, breastfeeding your baby can save a lot of money.  Formula is expensive especially when you look at the monthly and annual cost.  Any amount of time you can nurse your baby is helping you to save money.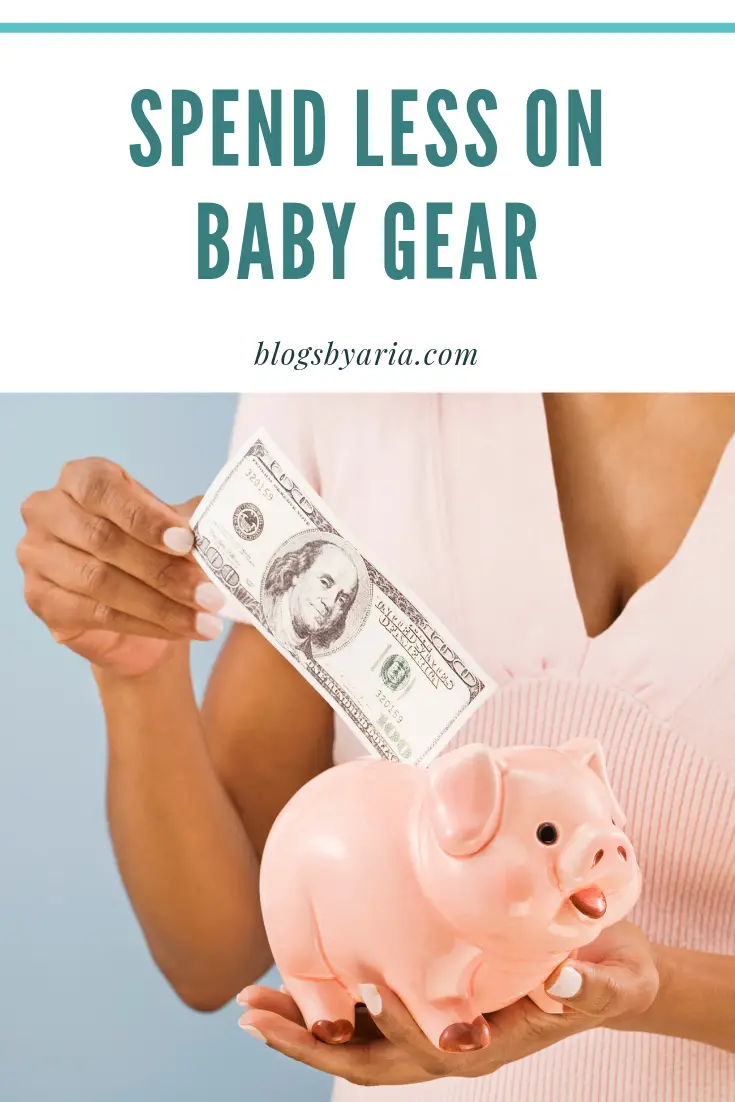 RENT A BREAST PUMP
Rent a breast pump.  Many moms have to go back to work after having a baby.  Which means if they want to continue to breastfeed they have to use a breast pump.  Breast pumps are quite an investment.  You don't know until you use it how it will work for you.  I recommend Medela breast pumps from my own personal use.
If you can't shell out a few hundred dollars for a breast pump check with your local health department or hospital.  Many hospitals offer a breast pump rental program.  Everything is sanitized so don't be concerned about that.  You may be required to buy the tubes and attachments and they rent you the machine itself.
Check with your insurance provider and see if they will cover some of the cost because many do. Before renting from the hospital, check with your local health department.  I was able to get a free hand pump and free rental of a breast pump with my first child.
If you're in the Triangle area, check out Breast Pump & Scale Rentals from Triangle Lactation Consultants.  They have a lot of styles and brands to choose from and list the monthly rental costs.  Even with renting a breast pump you're spending less than you would if you formula fed.  And if you pump or nurse for a few months or weeks and it's not for you, you didn't spend the money on a breast pump that you won't really use.
Did you know you can buy directly from Medela and go through your insurance?
GET FORMULA SAMPLES
Get formula samples.  You may know from the start that formula feeding is the choice you're going to make.  You may be like me, and nurse perfectly fine in the hospital and the day you come home with your newborn, she's not latching on and she's screaming bloody murder and you're crying, and your husband or mother in law, I don't remember who, is calling the nurse because you're freaking out, who says it's okay to give the baby a little formula.  I still get emotional when I think about the day we came home from the hospital with my first born.  It was so scary and I was so grateful that even though I insisted that I would strictly nurse, that the hospital sent me home with some formula samples.
I said all of that to say that you should get formula samples.  You can get them from the hospital, from your pediatrician, from online programs.  Go ahead and get on the mailing lists of the top brands.  Now I don't suggest switching out brands willy nilly.  But in the beginning you don't know if your baby will prefer Enfamil or Similac or any other brand.  Go ahead and get the samples, it'll save a few dollars here and there and in my case, it saved my sanity.
DON'T BE BRAND LOYAL
Don't be brand loyal.  With formula, I think once you've found the brand your baby takes to, you stick with it.  But that's not the case with other baby gear items like diapers, wipes and bottles.
Check out more money savings tips and ways to save on my resources page.
JOIN AMAZON FAMILY
Join Amazon Family.  One of the many reasons to love Amazon Prime, by joining Amazon Family you can save up to 20% on diapers, baby food and more.  You can also clip online coupons for their subscribe and save options.
AMAZON DIAPER FUND
Another great Amazon perk is the Amazon diaper fund.  I noticed this when I was recently looking at a friends baby registry on Amazon.  Not only can you do this for diapers but you can also do this for some of the high value baby gear.  People can donate towards the cost of the item.  Like the double stroller or car seat.
Here's how it works:   Set up an Amazon Diaper Fund to allow family and friends to contribute any amount of their choosing up to $550 towards diapers. All contributions received are in the form of an Amazon Gift Card which you can use to purchase diapers, items from your registry, or many other goods and services from Amazon.
LEAN ON YOUR FRIENDS
Lean on your friends. Everybody wants to help with a new baby, so let people give you their used gear (not car seats though), throw you a shower and pass down their advice.  Anyone who has already had a child understands that it can be a waste to purchase new for a baby and will want to help.
Side note: Sure, when it's your first child, you may want all new everything, but know that us moms who have already been there done that…it's no need to waste that money, save that for all the other costs you'll incur!
THINK GENTLY USED BABY GEAR
Shop consignment stores.  Stores like Once Upon A Child are great ways to find gently used baby items and help you spend less on baby gear.  They don't take items in poor or worn condition so instead of buying that bassinet or bouncy chair, check out a consignment shop first.  Also think about what the item is.  A bassinet for example can't get but so much wear and tear right?  And you may not want to purchase one if you aren't planning to grow your family at all or soon.
Use Facebook Marketplace.  Just like with Once Upon a Child, and other consignment stores, you can find gently used baby gear on Facebook.  I know people who live on Facebook Marketplace and they score great deals on all kinds of things.  With a little bit of patience you can get what you need for your baby from someone who no longer needs it for theirs.
BUY IN BULK
Buy in bulk.  Buying in bulk is a great way to save money on your everyday baby gear needs.  Not with newborn sizes, but with larger sizes of diapers, buying in bulk is a great way to spend less on baby items.  Baby formula and baby wipes are also great options to buy in bulk.
SHOP WITH COUPONS
Shop with coupons.  You may not be much into shopping with coupons pre-baby but as your due date approaches and/or after you have a baby you'll want to save money as much as you can.  Even if you don't shop for groceries and household goods with coupons, you can use coupons for baby care items, diapers, wipes, and much more.
SIGN UP FOR STORE REWARDS
Sign up for store rewards.  You'll be shopping at stores like Carter's and Osh Kosh a lot more now.  Go ahead and sign up for their rewards program.  You'll get 20% off your first order and also will get coupons emailed to you.
Check out the Buy Buy Baby Savings Center for great savings offers when you're shopping online or in store.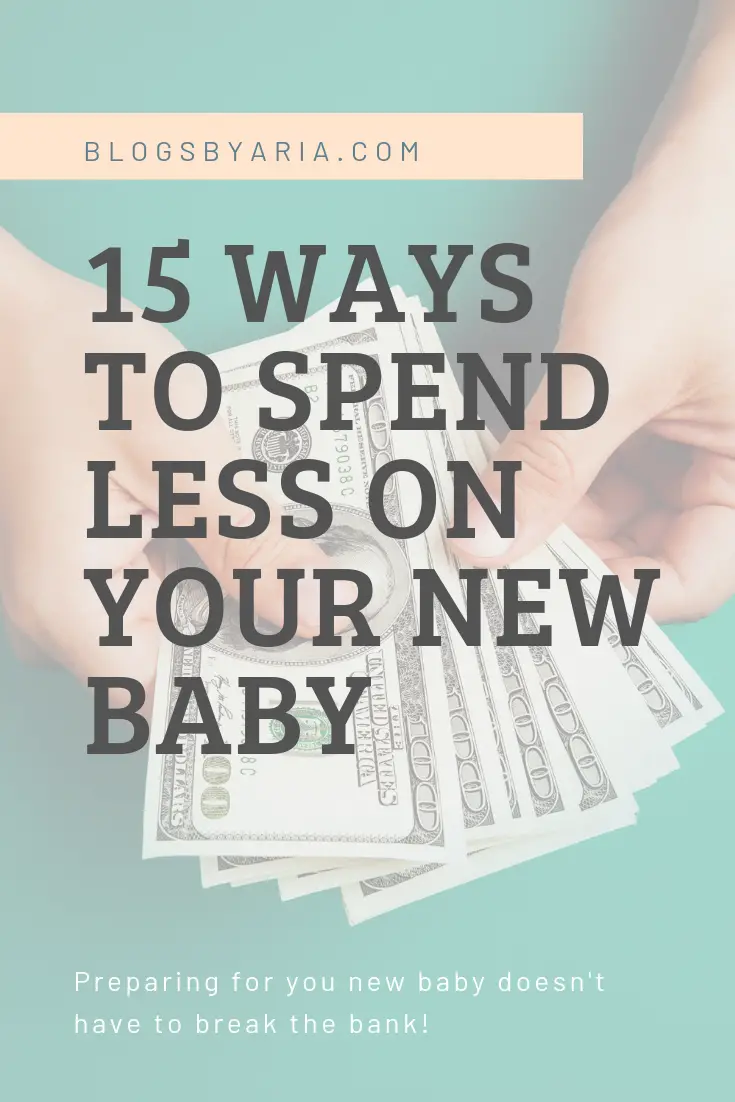 JOIN WIC.
Join WIC.  The technical name is the Special Supplemental Nutrition Program for Women, Infants and Children.  WIC for short.  WIC is a federally funded program and it's worth taking the time to see if you qualify.  I used WIC with both of my children and the program offers even more now than it did then.  WIC helps cover items for nursing moms by providing free fruits, vegetables, milk and more.  It also helps with formula and helps with nutritional needs for toddlers up to age 5 years old.  Definitely look into it.  It's very much worth it.
WIC also has breastfeeding support programs.  With both of my babies I had the best lactation specialist Donna, who helped me with nursing support, she did home visits and she's the one who helped me with my free breast pump rental.
Find out more about the WIC program here.
Like I said at the beginning of this post, having a baby is a major life change and providing for your baby can definitely eat away at your budget.  But it doesn't have to be as expensive as you think.  It's my hope that with these over 15 proven ways to spend less on baby gear you are geared with the knowledge that this journey doesn't have to be as expensive as you expected.
I hope I was able to take a little of the stress off of your plate with the tips I've shared.  Share this post with those who you think it may benefit.  Let me know in the comments below if you have any tips to add for new expecting mommies out there 🙂