One week ago we officially moved into our new home!  To catch you up, several weeks ago I shared that we were looking for a new house.  Yes, even with all that's been going on with the world.  We are so happy to now be in our new house!  Soon I'll share how it's coming along with decorating, but for now I want to share how our move went.
You may recall the fiasco that was our move from Greenville to Raleigh!  I am happy to report that this move was nowhere near that level of craziness!
*this post includes affiliate links for your shopping convenience, you can read more about affiliate links by reading my Disclosure*
Before we knew for sure we were going to move, I got a moving quote from a local company.  We did a virtual consultation where I walked them through our townhouse and showed what furniture we would need them to move.  Mind you, we were in a 1600 square foot town home.  They quoted me $800-$1200!!!
Absolutely ridiculous!!  In my latest post I shared that we were going to use Moving Help via Uhaul.  Let me tell you, the. best. decision. hands. down.  The best!
After reading lots of lots of reviews, I hired Dyers Professional Moving.  We hired them for two hours because we were moving less than a mile away.  They arrived early.  Stayed late and helped my husband with breaking down and putting together the kids beds.  I can't sing their praises enough!
There is no way we would have been able to accomplish the move without their help and it was the most economical option for us.  They weren't the cheapest option and there were many companies that cost more.  But they had the best reviews.  And now I can add in my two cents as well.
If you're in the Raleigh area and need assistance with your next move, give Dyers Professional Moving a holler!  We'll definitely be using them when we move again.
I have so much I want to share of our new house!  But right now we're just trying to get settled in and organized.  That sadly will take a few weeks.  And then I can decorate!
Admittedly I am not feeling up to decorate while there's so much out of place.  Hopefully once we are more settled in, then I can get those decorating juices flowing.
In the meantime, here's some shots I took while we've been moving and getting somewhat settled:
Before we moved in officially we came and laid down our rugs for the living room and dining room.  I was hoping that by giving them a little time to lay they would ease any lumps and ripples.
I am in love with our living room rug!!  It's more traditional and the dining room rug is more abstract.  Can you tell which one is my husband's favorite?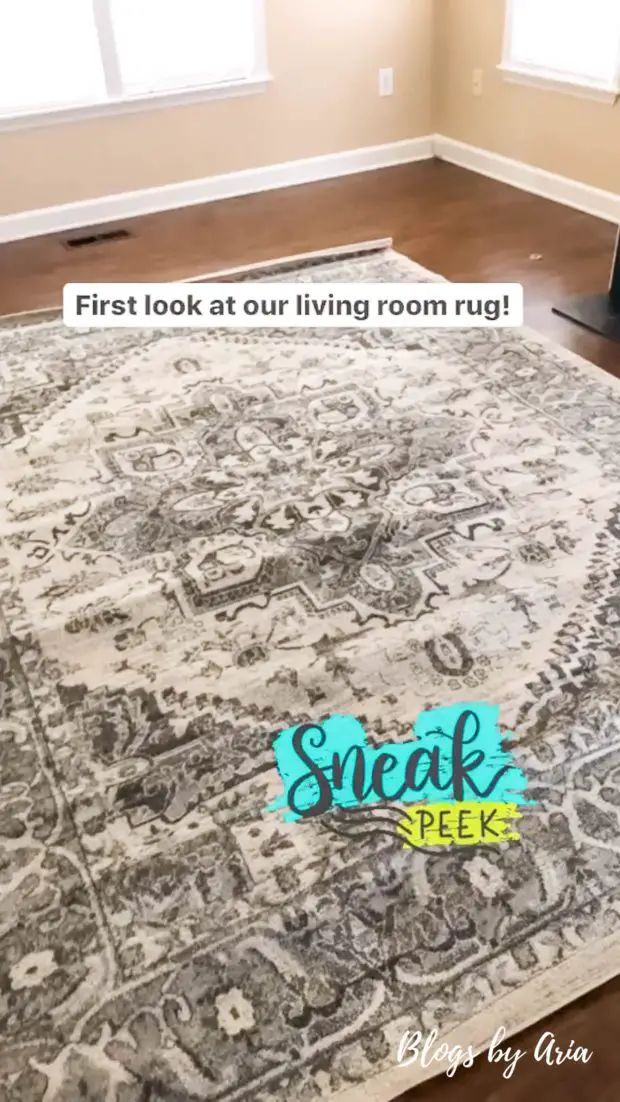 I shared this close up sneak peek on my InstaStory.
Here's a better look at our dining room rug.  We got a 5X7 and could have technically gone up to an 8X10 but I'm happy with the size since our table is relatively small.
My mom was such a great help with everything including getting boxes unpacked.  Not much has changed from this picture I snapped and today.  The boxes are no longer in the living room but other than that I'm still living in a state of chaos with very little energy to do much about it.
During the moving process I shared a lot on my InstaStories, including a before and after our bonus room.  Our big moving day was Wednesday with the truck but on Tuesday we did a lot of moving of smaller boxes using our two cars and my mom's SUV.
We decided to put all the boxes downstairs and have the kids take any box marked for upstairs and put them in the bonus room.  That way when the movers came there wouldn't be boxes in the way of where they needed to put furniture.
That was one plan that worked out really well during this move I must say!  It was looking like a complete disaster before I took this shot!
I love so much about this house, including the bonus storage in the bonus room for seasonal decor.  Plus we have a pull down attic that DH has put a lot of our Christmas bins in.
I'm trying to get both settled in and organized at the same time.  I know I can't be fully organized right off the bat but I'm definitely giving it a shot.  I am a big fan of these Closet Maid over the door storage racks.  I thought it worked out perfectly for our hallway closet near the kitchen to corral my cleaning supplies stash.
Recently we added one in our master bathroom and I'll be adding one in our pantry too.  Lots of organization posts will be coming soon!
In addition to moving last week, it was also the last week of school for my kiddos.  On Thursday, even with all the rain, we attended Jordan's 5th grade promotion ceremony!  It was a quick parade with all of the teachers and faculty cheering each child and they were able to get out, take a picture with their teacher on the other side of the banner and grab anything they had left at school.
I can't believe my baby is going to middle school ♥  We don't quite know what that will look like for us in the Fall, but he'll be a 6th grader nonetheless 🙂
So much is going on in the world, in addition to packing and moving and unpacking, I have had very little energy, time and even desire to blog.  A long time ago I vowed to myself that I wouldn't blog while angry.  I've been angry, I've been disgusted, depressed, my emotions have been all over the place.
I wanted to march in the protests in Raleigh.  But at the same time, again, moving.  Oh yeah and don't forget that pandemic we're in.  It's just been all too much.  I've been vocal on all of my other social media platforms…but my blog is different.
My blog is my corner of the internet where I get to share what I love and what makes me happy and what sparks joy for me.  Sometimes I will come and have the tough conversations.  But for the most part, I like to keep it a little on the lighter side.
Thank you for giving me grace.  Thank you for following along.  Thank you for being here.