Slowly but surely making some headway with my Christmas decorating.  This weekend really made a big difference.  I figured I'd show you my Christmas entryway decor progress so far since it's subject to change.  Last week I shared a Tik Tok video that really took off.  It was about why I start decorating so early and so many people could relate!  It's nice to know I'm not the only one feeling this way 🙂  You can check out my Tik Tok by searching "blogsbyaria".  I have zero clue as to what I'm doing, but I'm having fun doing it.
*this post includes affiliate links for your shopping convenience, you can read more about affiliate links by reading my Disclosure*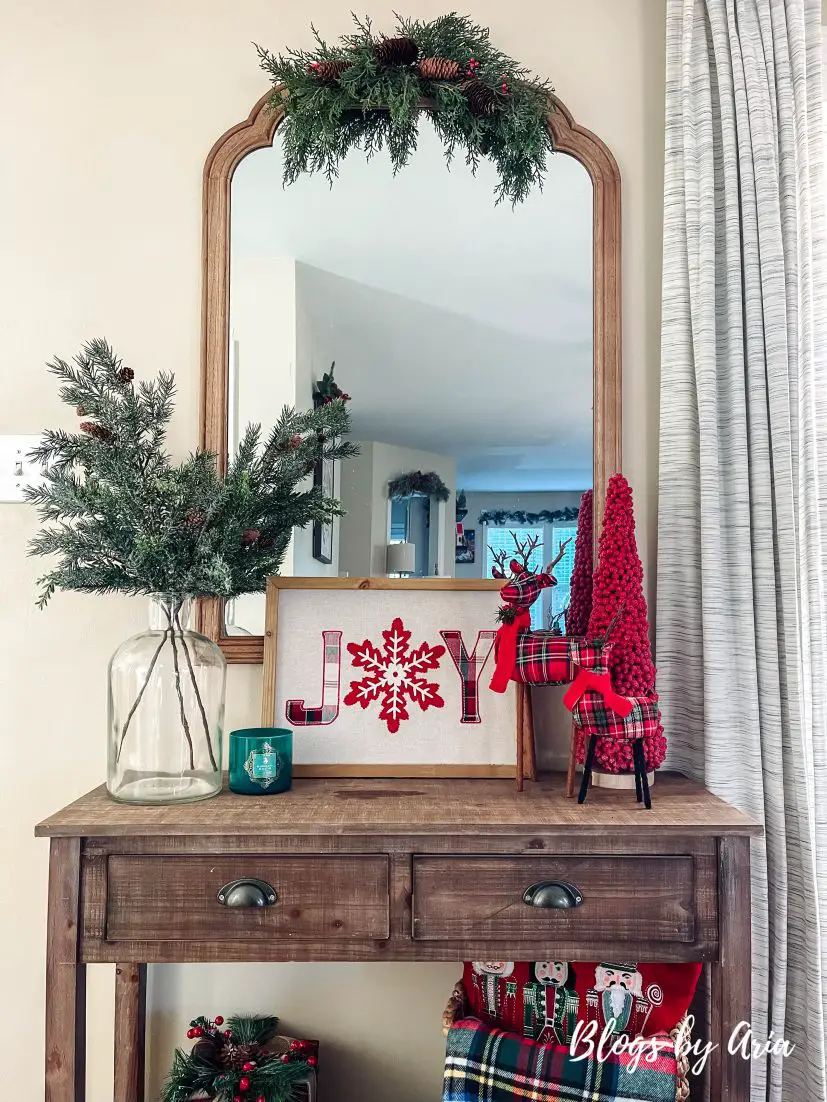 mirror · greenery swag · entryway table · glass vase · plaid reindeer · berry tree
Here's what my entryway table is looking like at the moment.  Can we start with the greenery?  I love this berry greenery swag I got from the Hearth & Hand line last year.  It's still available this year.  I shared it in my Hearth & Hand 2021 Christmas decor post.
It fits perfectly on top of my mirror and I think it just makes this space pop!  Love it!  When I was thinking of how I would style this space this year I wasn't quite sure what direction to go in.  Last year I didn't have this mirror.  I thought about adding a wreath to it but I really think this looks perfect!
I also love the greenery in the glass vase.  It's from last year but I can't recall if it's from Michael's, Hobby Lobby or somewhere else.  My goal this year is to bring in more greenery to tone down all of the red that I naturally gravitate towards.  And to do so without buying much.
I always love my plaid reindeer!  The larger one is new this year from Walmart.  When I saw it in store I had to have it since it's in my favorite Christmas plaid!  The small one is from the Target dollar spot.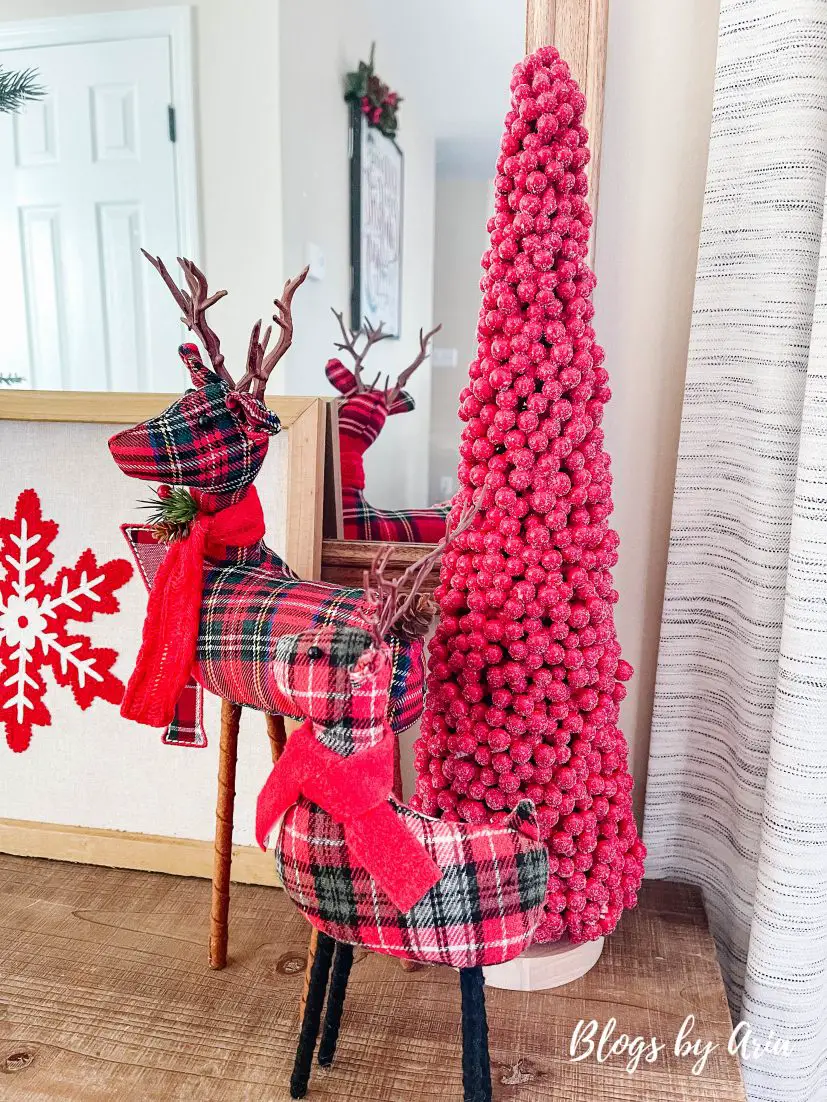 I added my large berry tree to create some layering.  It's available this year but it's not sugared from what I've seen.
The joy sign is from Big Lots.  Again, I saw my plaid and had to have it!  You may recall the plaid gifts from last year's Christmas entryway table.
And I added one of my plaid throw blankets and a pillow to my basket.  I like the plaid throw and basket but don't think it's going to work with the pillow.  The pillow isn't a must have, I just was trying to cover the outlet.
I shared my entryway table decorating progress over the weekend over on Stories and got some great advice.  You may notice that spot on the top of my table.  A few months ago my husband left something sitting on the table that had some kind of oil that then seeped into the table and left the spot.  This table is rustic and real wood so I can't get it out.  I tried using a table runner but it looked too busy.  Someone suggested I find a placemat to put there and I think that's a great idea!  So that's what I'll be looking for this week.
All in all I love how this space provides a pop of festive greenery and color.  At the same time it's not too much clutter.  I'm far from being a minimalist but with the tree being close by I kind of didn't want the entryway table to have too much going on.  I think I've struck a balance…that's subject to change 😉
BLACK FRIDAY GIVEAWAY
Don't forget to enter the Black Friday giveaway!  Such a great opportunity just in time to take advantage of those Black Friday and Cyber Week sales!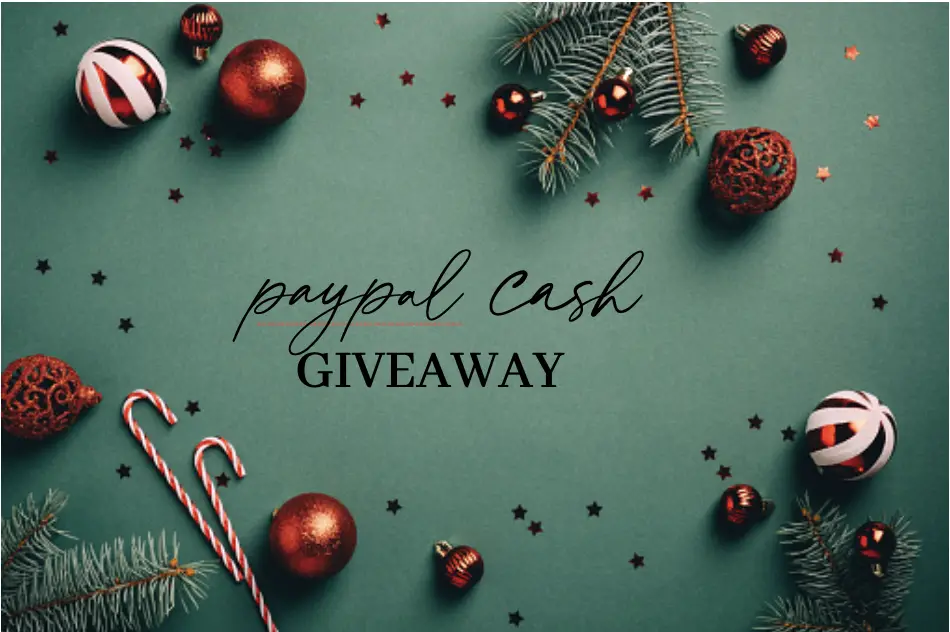 I have teamed up with an amazing group of bloggers to give YOU a chance to win $750 PayPal Cash!
Simply enter below by completing the rafflecopter. You'll receive one entry per completion. This giveaway is open to the U.S. and Canada only and runs until EOD 11/21. Winner will be announced here. Good Luck!
Void where prohibited. By entering the giveaway you acknowledge that you are agreeing to complete each task, which involves following, liking and subscribing to newsletter's.