For someone who starts decorating early it sure takes me a long time to complete and share my decor.  Better late than never though right?  I'm excited to share my Fall living room tour with you today.  It took me some time to decide how I wanted to style this space and I'm happy with how it came out.
*this post includes affiliate links for your shopping convenience, you can read more about affiliate links by reading my Disclosure*
When decorating this year I really wanted to keep things cozy and minimal.  Similar to my cozy family room from last year, with a few new finds from this season.
In fact I had planned to use a lot of the same pillows from last year but a few new options made their way in and I love how everything turned out.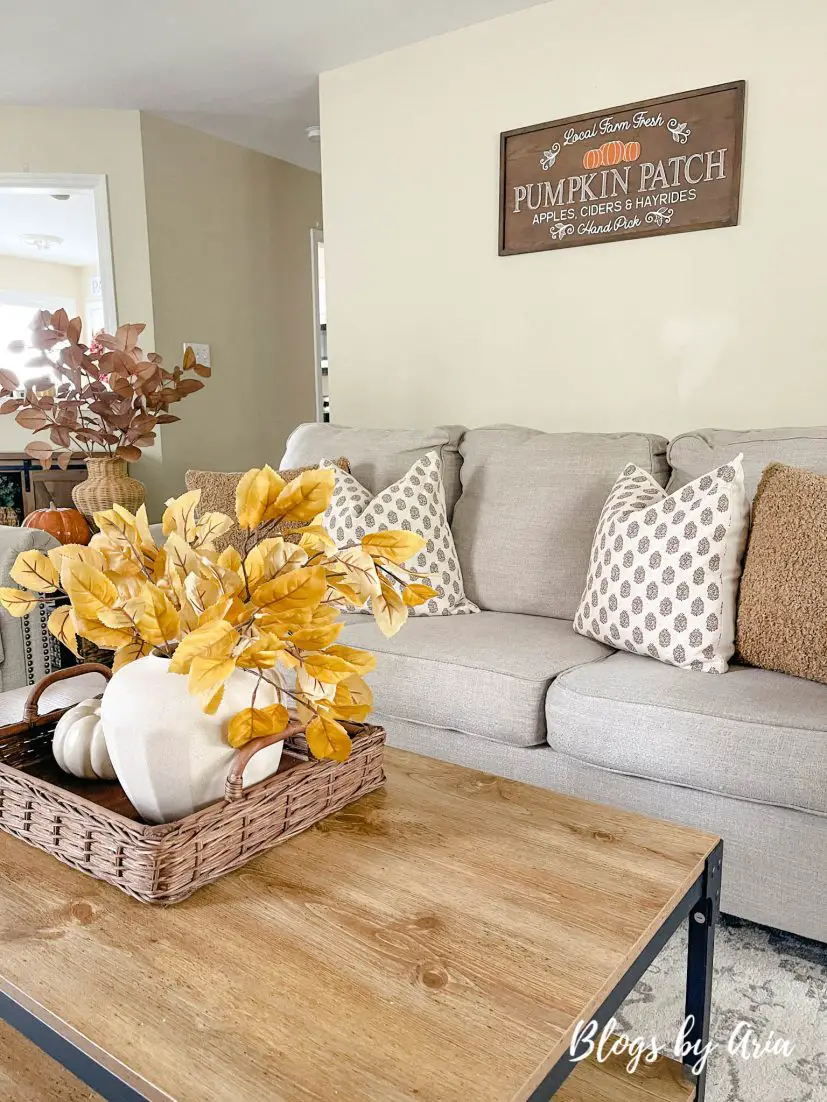 My boucle pillows are from last year.  I found some similar options here and here.  I paired them with these floral block printed pillows from Studio McGee.
One of the things I like about most pillows from Studio McGee is that they are removable covers.  That way I can replace the inserts with my feather down inserts and make them choppable.  Plus it helps when it's time to store pillows away because I can just remove the cover and use the inserts in other pillows.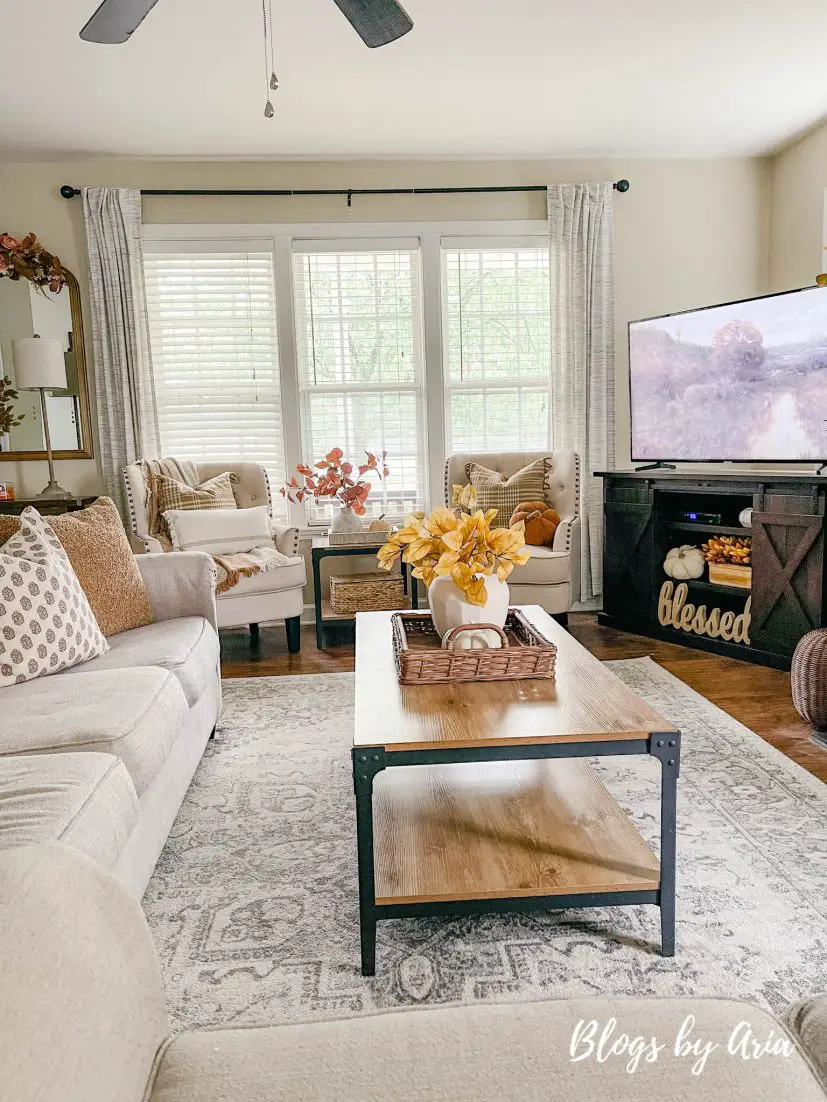 In my LTK Friday post I shared a little early Fall decorating and you may have seen my accent chairs in my Fall Entryway Post.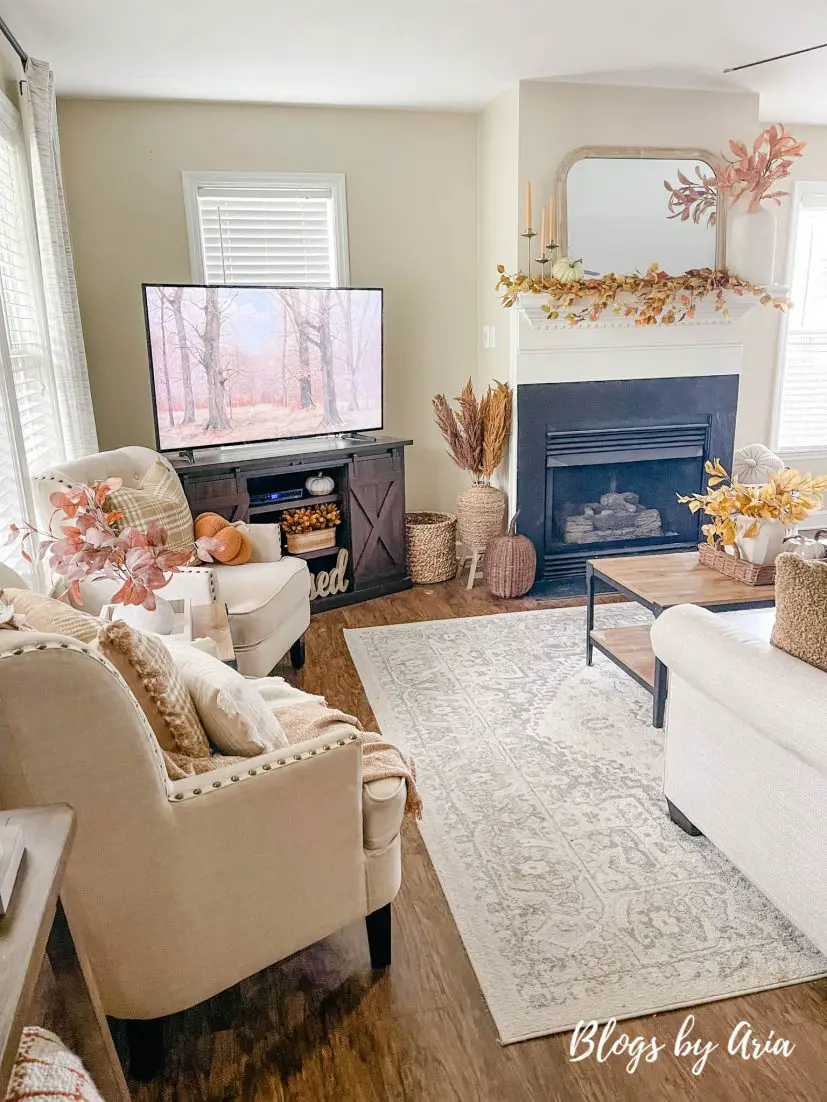 I kept most of my accent chairs the same as before but added a cute little pumpkin pillow that I got from Joann's but I've seen in several stores.
You can see my woven pumpkin at the foot of my fireplace.  Originally I bought it to go on my mantle but it was a bit cumbersome.  My mantle is pretty shallow so it's hard to decorate.  If I had more of a hearth it would be perfect there.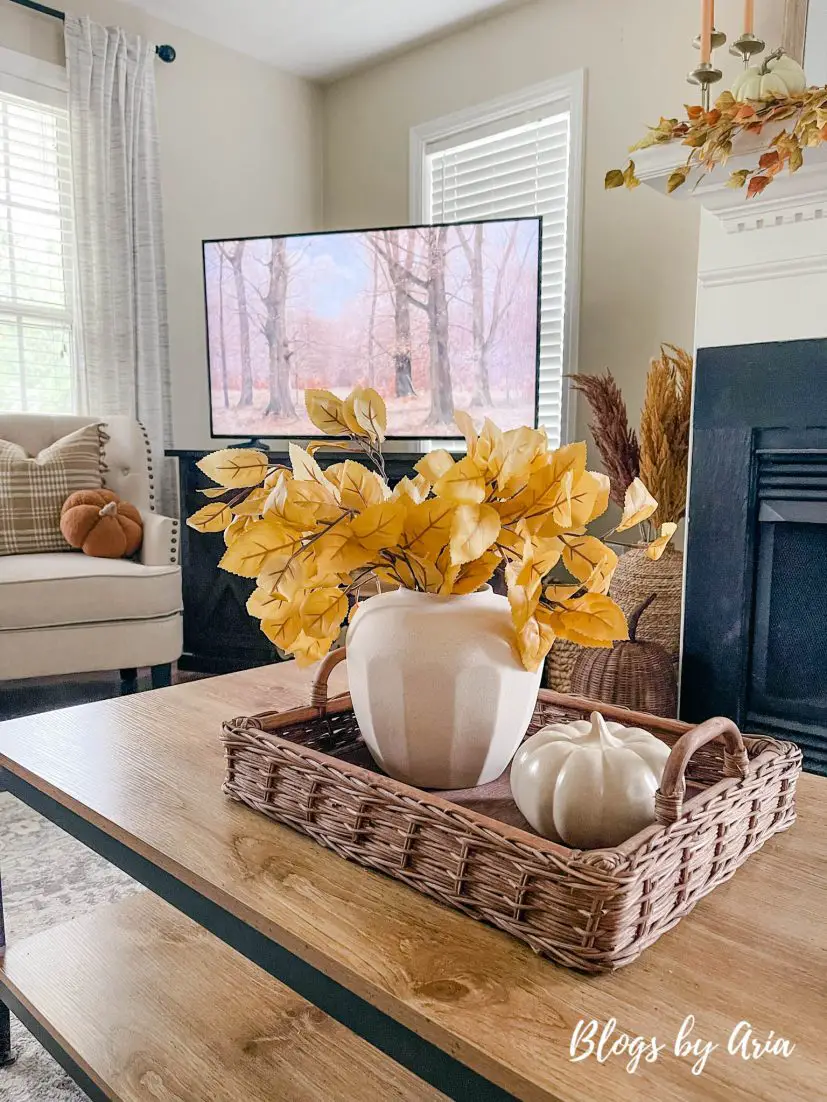 woven tray • vase • ceramic pumpkin • coffee table
Keeping with the minimal aspect I did a very simple coffee table centerpiece.  The stems are older but everything else is still available.  I like to keep my coffee table decor on the simple side because it can quickly become overrun with laptops, mail and papers.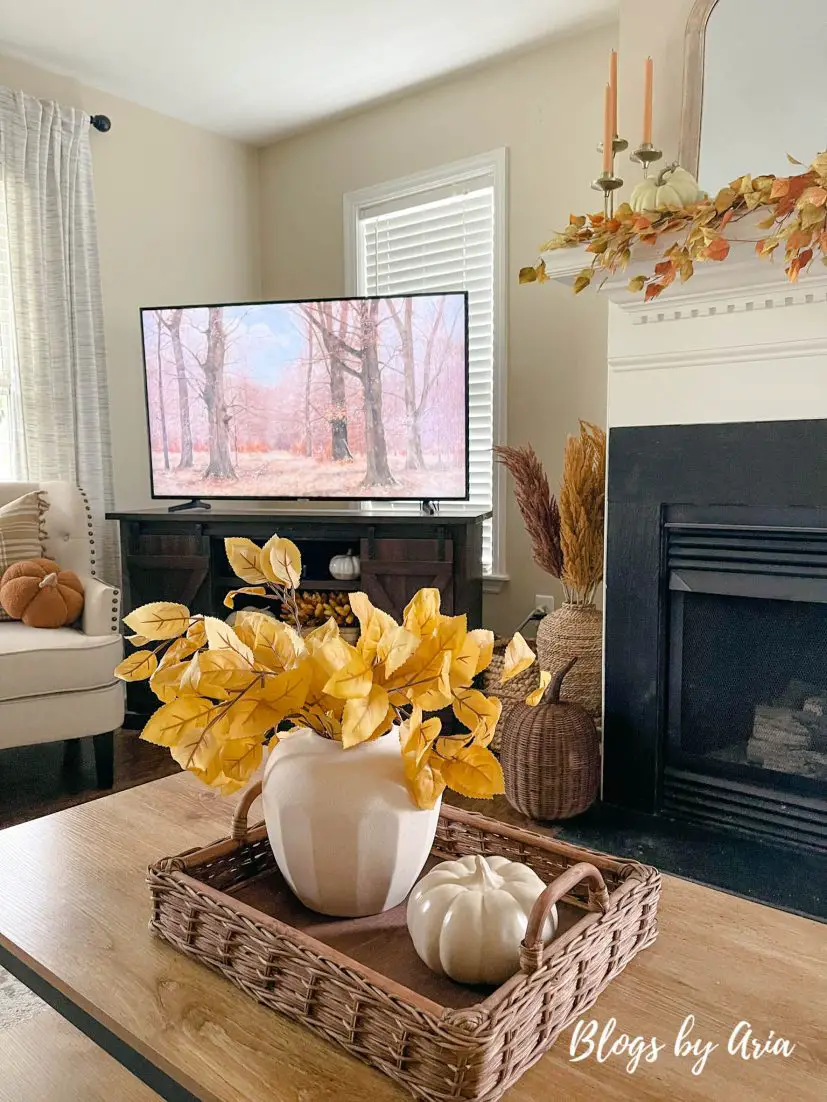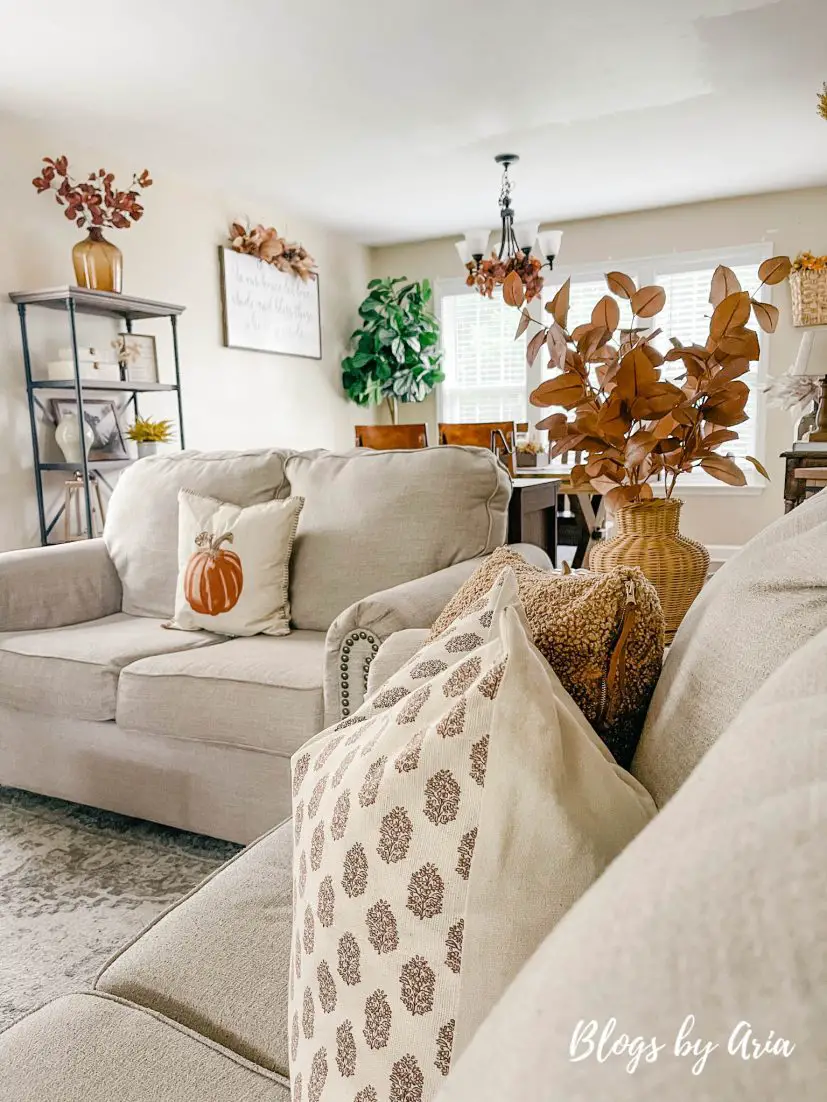 On my loveseat I kept things simple with a pumpkin pillow I got last year from Target.  Any pillow I put on my loveseat is only there for a few seconds before my kids come and toss it on the floor.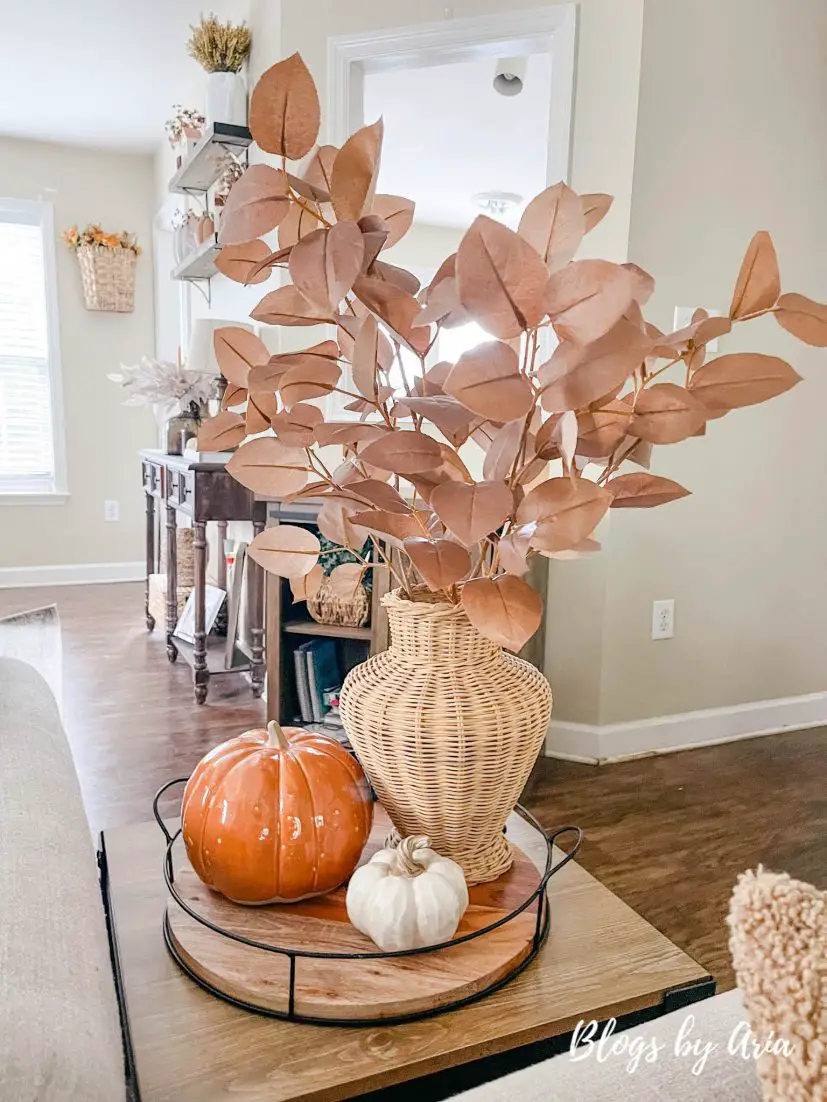 woven vase • fall stems • round tray
I put these gorgeous fall stems into my woven vase.  There's three branches in here but two would have worked perfectly.  They were in a different vase before but I really wanted to use this one instead.
Sometimes I have a hard time with floral arrangements and I couldn't come up with the perfect option here.
Almost everything on my bookshelf is from previous years and/or no longer available.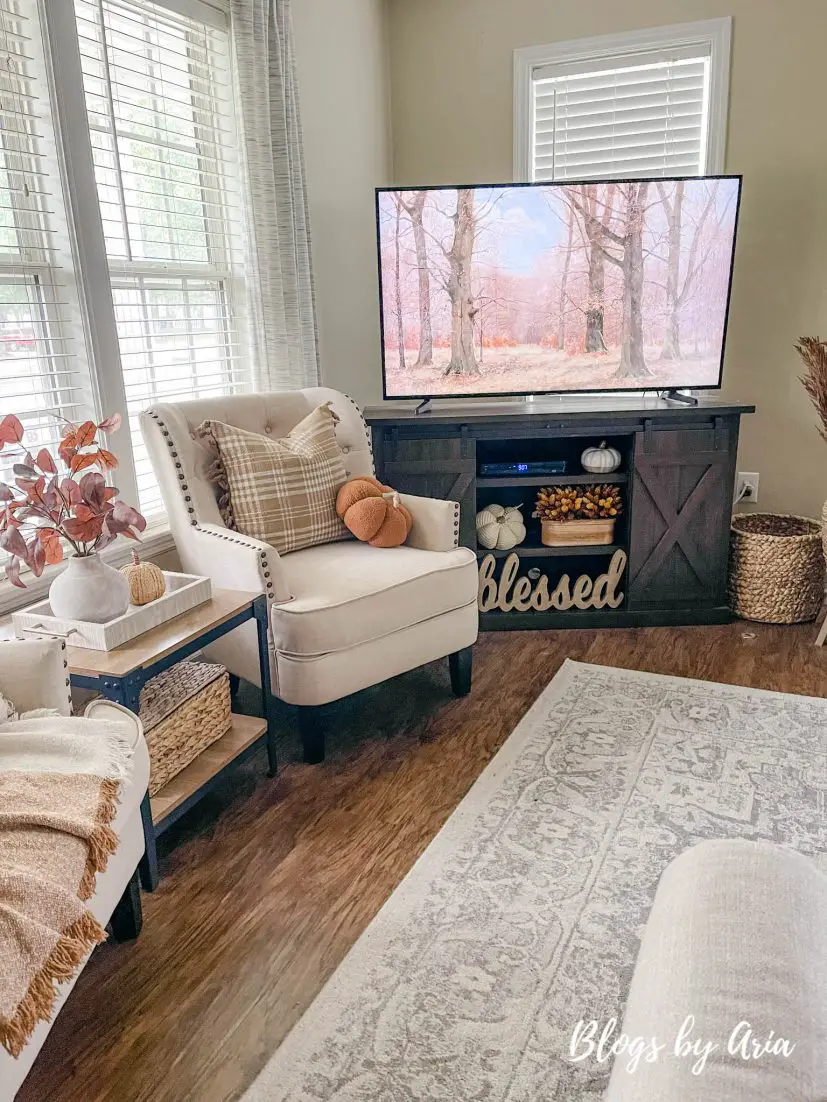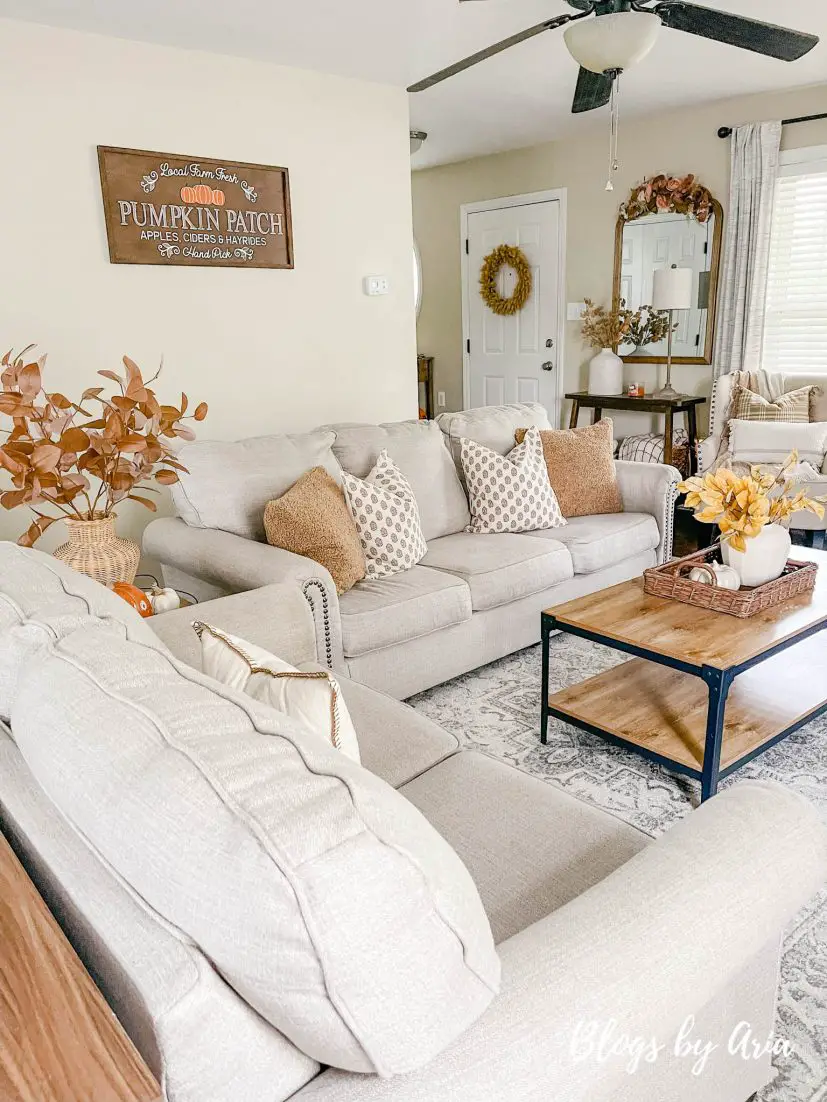 Now that I've completed my Fall living room tour I can relax and enjoy it!  Each year as I decorate for Fall my style seems to evolve into a more neutral aesthetic.  Not that I'm not using color, but that the colors I use are a bit more subtle and toned down.
I've linked everything that is available here.
If you want to see close up looks at my current Fall decor along with sources check out my Fall Home Decor Collection.
2022 Fall Decor Posts
If you'd like to get even more home decor and fashion inspiration and finds and all things random, be sure to follow me here: