I wanted to post a few pics of some of the things that I'm using as motivators for my weightloss, more than motivators, they're also things that once I can wear them, then I will reward myself.  I decided to post the pics because it's actually more practical than just hanging up the clothes.  These clothes have been in my closet staring me in the face day after day and that hasn't helped any.  I figured I'd post them on my blog, that way my readers know but also just as a reminder to myself.  I don't know if any other bloggers do, but I read my blogs from time to time.  Sometimes just to see how far I have or have not come, and sometimes just to reflect…the same way one would their journal or diary or old letters.  So anyway, here are a few things that I'm using as reasons to reward myself since I'm trying my hardest not to focus on the number on the scale, but rather to focus on how many inches I've lost and how my clothes fit.


Let me first say, every pic has a story! lol and also, I'm not a fashion stylist, so yeah there are wrinkles in my clothes…I wasn't about to iron them! Be glad I made the bed first! lol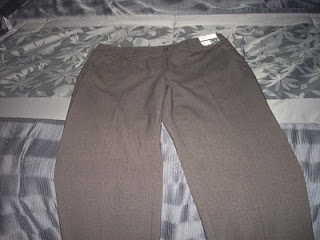 These are my size 12 beautiful chocolate brown pants that I got last year around this time, during NY & Co's BOGO Pants event.  I had just lost my job in July and figured that since my previous job was a uniformed job that it would be a great idea to go ahead and spend the money, even tho I didn't really have it to spend, to invest in my career wardrobe.  And NY &CO usually runs large, so I can be a 12 in real life but I can wear a 10 with them, that plus the fact that I'm always a believer that I will lose weight, I purchased two pants in size 12. The ones pictured and a pair that is in their Citiknit brand…well the Citiknit ones fit me no problem…these on the other hand, are cut totally different.  When I first bought them, they wouldn't come up my thighs, now I can get them all  the way up and buttoned, but I wouldn't dare wear them, because I actually have self-dignity, until I lost a couple more inches.  SN: by self-dignity I mean those women who are larger, who think that just because they can get the pants on, the leggings on, the tube top on, that it's ok to go out in public like that…they have no self-dignity.  If it's not flattering inside your home, the light of day isn't gonna help any!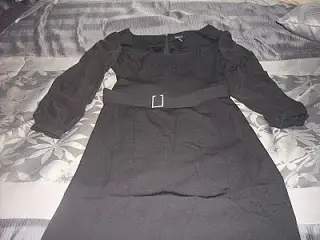 On to the next item…this is a black dress in size 10.  It was a Christmas gift a few years back from my MIL, she gave me a link to this catalogue/site that she was ordering things from, told me to pick out a few things and she would get them for me.  Just like the above story, I got things in a size smaller than I was at the time, which was a 12…I've never worn this dress!  It's actually really cute.
Now this dress….this is my favorite dress!!! I love it soo much.  I really hate that when I was wearing this dress which is a size 10 from NY &CO, I didn't take a picture of myself, because I was looking fab!  I purchased this dress several years ago, before having Brianna.  It was actually during the same time frame of the remake of The Stepford Wives movie…and that season was all about 50s inspired sundresses.  Well I don't care if it's in style or not now or when I can wear it again, I love it and it's perfect for my body shape.  I can't wait to wear this dress again!!!
It doesn't show up so well on camera (which is why I need a new camera, it's not giving any of these clothes justice!) but this is a gray skirt with light blue pinstripes, and I just love the added touch of the pleats on the bottom! It's a size 10 and as the black dress was, it was a gift from my MIL 🙂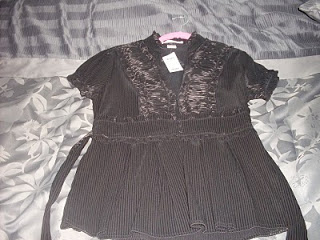 Now I really like this shirt, and I bought it this past winter at Charlotte Russe, I got it on sale for like $6 or $8, marked down from $21.99 I think (yeah I know the tag is on the shirt but quite frankly I don't wanna go verify it right now! yes i'm lazy at the moment…) It's a size large but doesn't quite fit me right.  Just like an inch off the bust and I'm good!  It's such a cute shirt!  Can't wait to go out for drinks or dinner in it!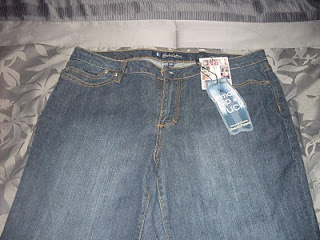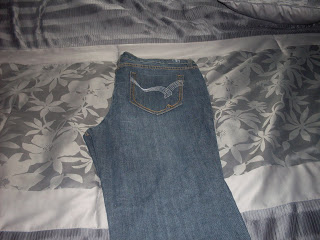 Last but not least are these jeans I got from Ross back in February or March of this year.  I think they were $14.99 and they are a size 14.  But not for real tho! According to this designer, I would say their size 14 is definitely closer to a 12 if not a 10.  So that's disappointing.  I hate to admit it, but it matters about the number on the inside of my jeans you know? Like yeah I could've taken them back, but I really like them.  When I go into Ross I'm usually popping in real quick or I have the kids with me, in both instances I don't get to try on clothes, so that's why they came home with me.  With these jeans, it doesn't matter if I'm a size 10 in everything else, but these fit me like a glove! The irony! 


These are just a few of the things I'm using as qualifiers for my rewards.  I actually have a varied wardrobe I just can't fit most of the things I have.  But that is soon to change my friends!  I was looking on ebay today at nyx cosmetics and was really tempted to get something…I have a credit on my paypal so I was like, it's not spending my money…but I decided to hold strong and I can't buy anymore nyx cosmetics until I'm meeting my goals.  So I'm definitely motivated by these pieces to stay on the road to success 🙂  And as I achieve each of these goals, I will post a pic up here! Yeah I'm putting it out there, I'm forserious. (my madeup word, i say it in real life, don't know where I got it from)