I was just about to work in my planner and avoid laundry when I realized I still haven't shared my planner spreads from August, along with my vacation recap, and many other posts that swirl around in my head often.  Today I'm sharing my August planner spreads round-up.
*this post may include affiliate links, you can read more about that by reading my Disclosure post*
Many of my friends know that I'm a planner girl.  I get asked about planners and stickers often.  There are so many planners and planner stickers out there it can be overwhelming.  So when asked I always recommend the Erin Condren Life Planner of course.  It's my favorite planner, I knew it from the first time I saw it.  But you may like a different style of planner like a Kikki K (which I love too but I can't justify needing two planners for life) or a Foxy Fix, or a Happy Planner (which no offense, is a knock off ECLP) or a Plum Paper planner.  The list goes on and on.  So although I think the ECLP is your best bet if you want a planner that's not too big and not too small, that lets you have your personality and has different layouts, and will stand up to the test of time, I say welcome to the planner community regardless of which planner your choose. 🙂
Enough rambling, let's get on to the planner spreads!
There were two main thoughts about the month of August: beach vacation and back to school.  So when I saw this monthly kit by Lexie Kylee Designs that was beach themed I knew it would be perfect!  And it was!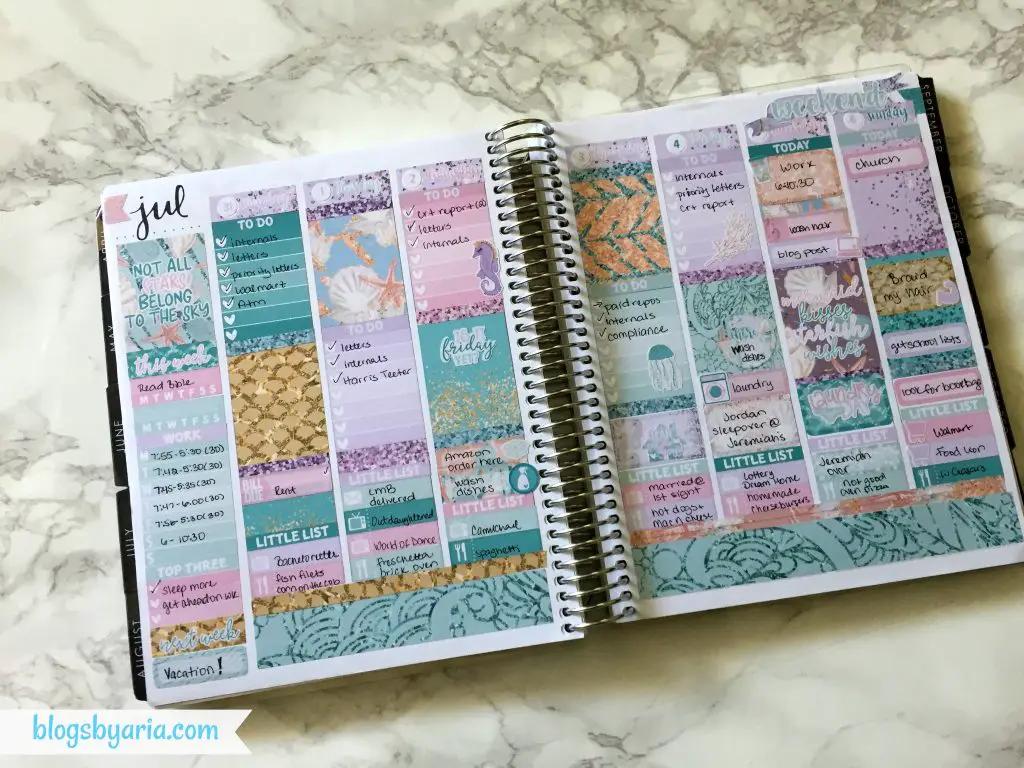 This is the July Little Misstery Box by Little Miss Paperie.  Isn't it gorgeous?  I loved planning with this kit I was just so happy looking at how pretty it is!  You'll see I strayed away from my normal planning style with this kit by alternating my ombre heart checklists with the full boxes.  This kit made me want to step out of my normal planning style box.
I loved the weekend banner that was from Soda Pop Studio.  Each mistery box has a contributing shop and it was Soda Pop Studio this month.  I follow her YouTube channel but I've yet to purchase from her shop.  I like that with these mistery boxes you get to play with a shop's stickers that you otherwise wouldn't have.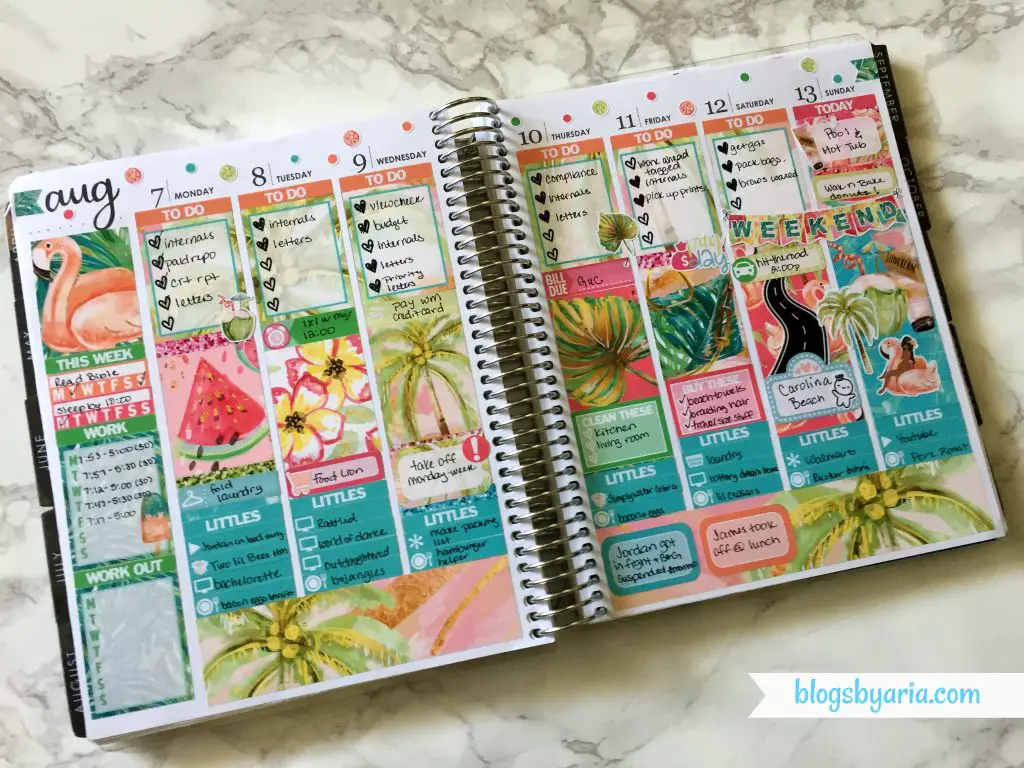 I thought the Glam Planner version of the Paradise kit would be perfect for the week leading up to vacation.  You can see my spread by Little Miss Paperie here. I just love them both.  I shared back when I was planning this spread on Instastory that I appreciate when a kit includes a black/brown girl in their kit.  It's my favorite part of this spread.  As you can see I have struggled all summer long with getting back into a workout flow.  Talk about a fail.  And you can also see that my son got in a fight at the Boys and Girls club.  Completely unlike him, but he's no pushover and he's not going to let you push him and not push back.  Anyway, that could be another story for another day.
I had some leftovers from my LMP kit so I used some of them in this spread.  (like the pay day sticker and a few glitter headers, the movie marquee and the bill due)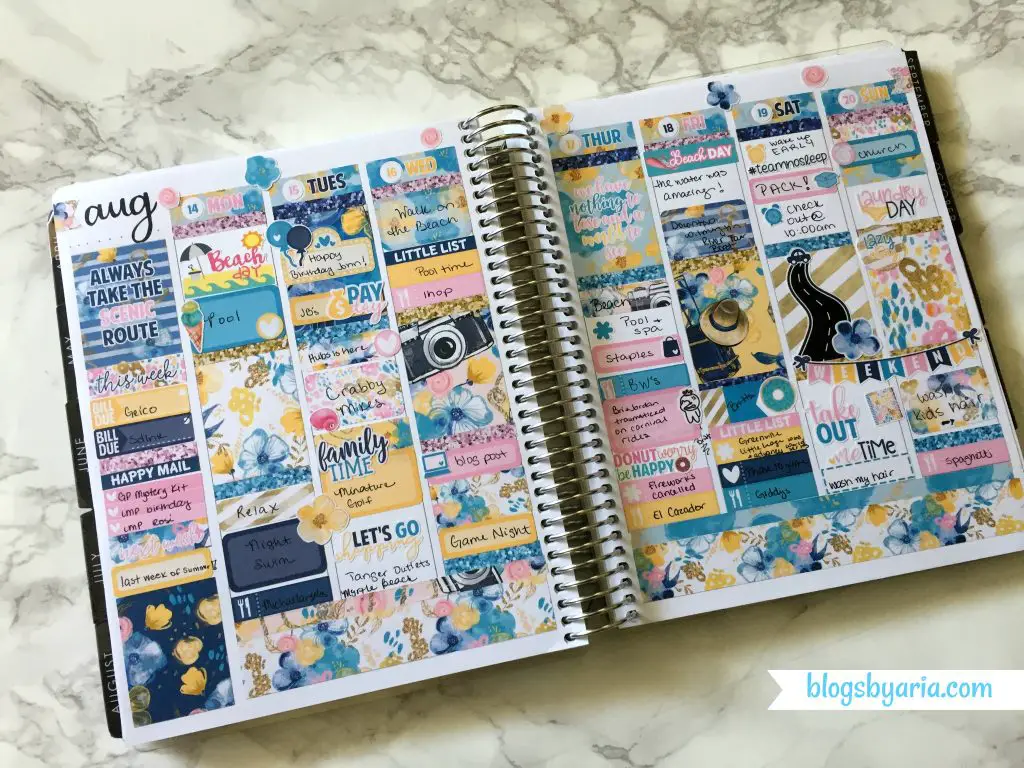 For the week of vacation I was back and forth on which kit to use.  I decided to use this Destination kit by Little Miss Paperie.  I thought it was so cute and since it's travel themed I went with it.  There's not a lot of planning for the week of vacation really, it's mostly just showing what we did.  Of course I took my planner with me, and I enjoyed taking a few days and planning out what we did the day before.  That's considered memory planning when you plan after the fact.  It's such a soothing part of my week, I couldn't leave it out for the week of vacation.
In both of these spreads you see the road sticker, that is from the shop Stickeriffic.  I've shopped with her since the beginning of my planning days.
For the week after vacation I used this Lemonade kit by Little Miss Paperie.  I thought it was summery without being beachy and I liked that for the unofficial last week of summer for us.  School starts next week so this was a week of preparation for the new year.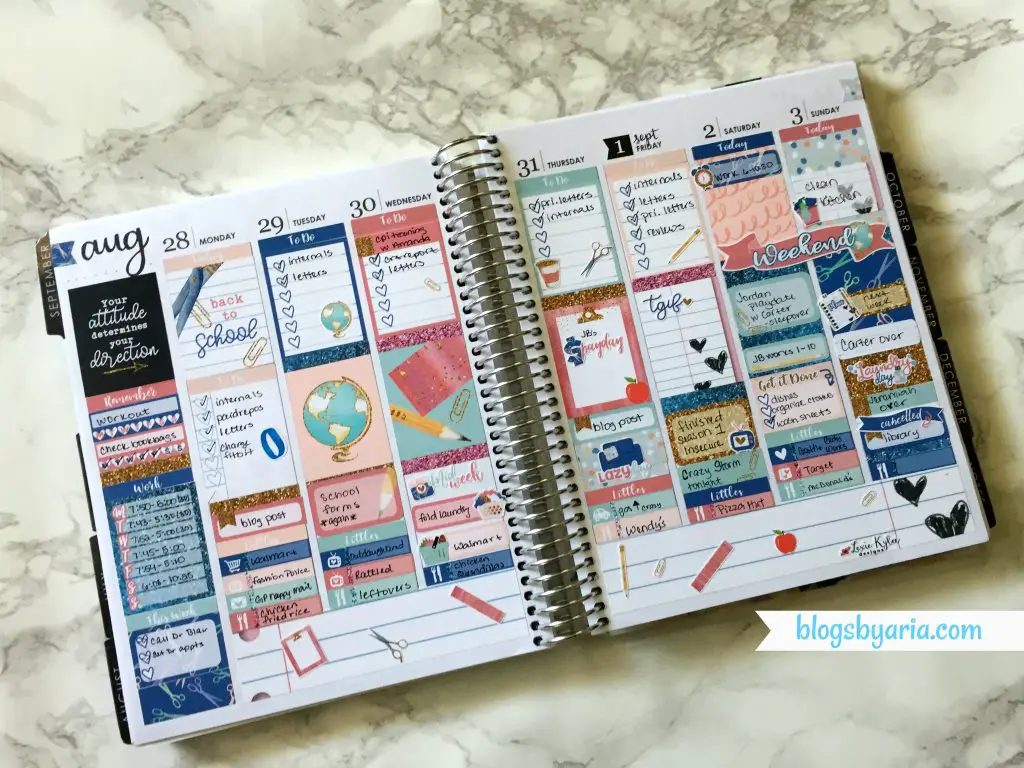 Now I normally would include this spread in my next month's round up, but since it was for back to school I wanted to share it now.  Technically the majority of the week is August but when I share these spreads as a month I usually share what's in the monthly tab section.  It probably doesn't make sense if you don't have an Erin Condren Life Planner but if you look at the top of this picture you'll see the September tab.  Since this is in the September section I would normally include this with that month's round up post.  Moving on!
This is the School Days kit by Lexie Kylee Designs.  When I saw it I knew I had to have it!  She has a couple kits coming out this month that I will be buying.  I saw her Thanksgiving kit and I was in love and her October Mystery Kit is also on my list.  Her sticker paper is so perfect and nothing smudges.
Get 10% off your first purchase at Little Miss Paperie here!
Get $10 off your Erin Condren Life Planner here!
That wraps up the August Monthly planner spreads round-up.  I hope you enjoyed it and maybe found some inspiration.  If you did, please share by using the sharing buttons below.  It lets me know you like these posts 🙂