Hello friends!  I shared in my last post my three day weekend checklist.  I got so much done!  I'm feeling accomplished.  Today I'm sharing my decluttered kid's room and a few before and after pictures of my progress.  Because who doesn't love a good before and after right?
Before I do, let me first share a couple of pics for perspective.
These are the trash bags that are from the kids bedroom full of trash.  Both literal and what I deemed as trash.  And this isn't even all of them.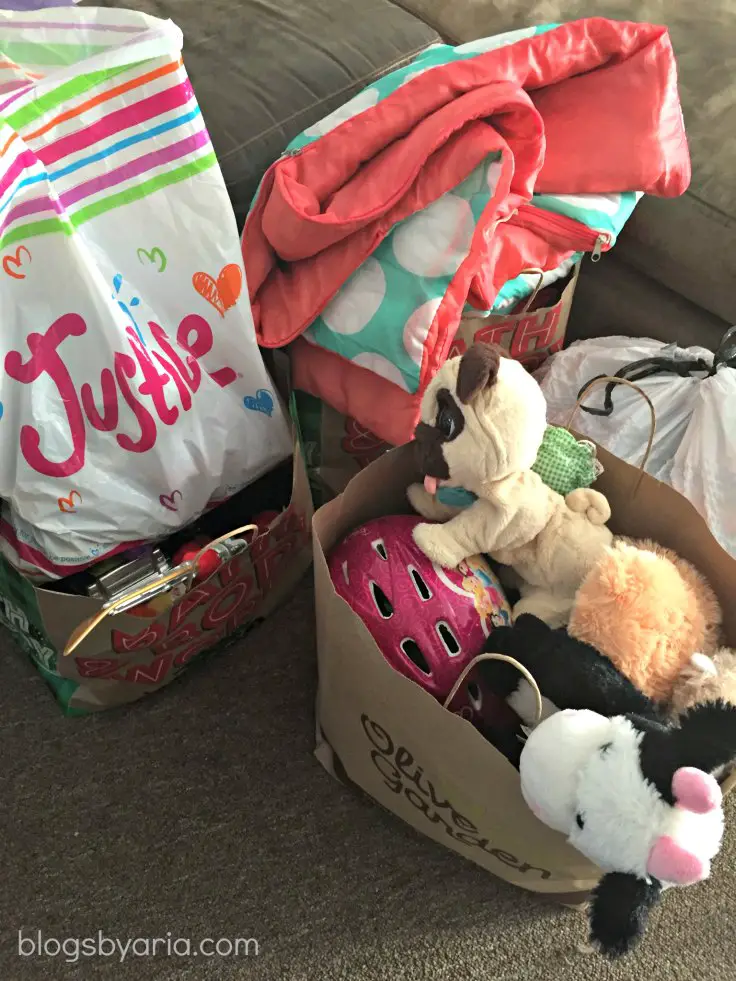 These are the bags that are going to Goodwill.  This round!  I just loaded them up in my car and on my lunch break tomorrow they'll be going to Goodwill.
That alone makes me feel great.  I took all of these before pictures on Saturday.  Their room doesn't always look this awful.  But it rarely looks great.  And I'm tired of repeating myself about cleaning up under the desk and putting your clothes away, and so forth and so on.  So this missing book has been the catalyst that I've needed to tackle this room.  And like I've said before, if Mom has to get involved it's ON.
Now for the before and after pics: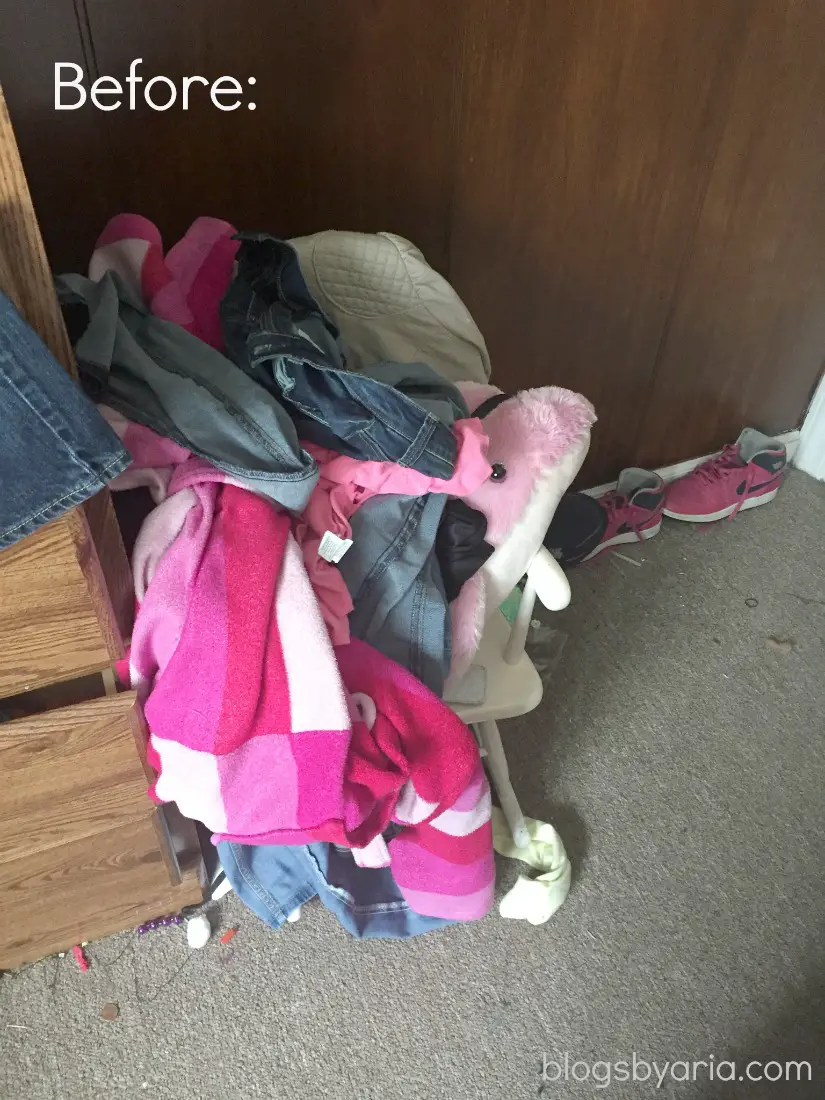 You see how this chair is overflowing with clothes?  It's especially annoying when my daughter claims she doesn't have anymore long sleeve uniform shirts on a Tuesday, and all of the laundry has been done so it's not like all of her shirts are in the dirty clothes, and she has more than a week's worth of long sleeve uniform shirts to begin with.  You know where they always are?  Yep.  Right here.  Well not anymore.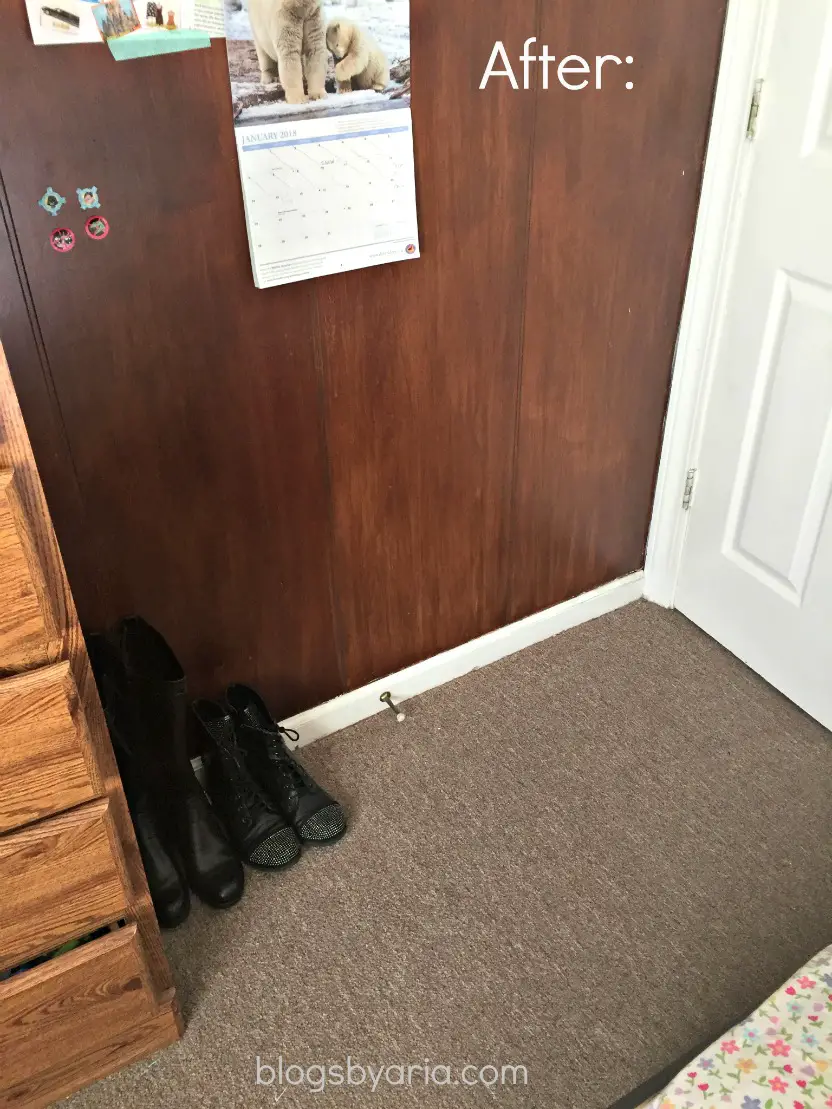 Much much better.  Angels singing better.  Now most of my kids shoes are in our living room in their respective shoe cubbies.  But these boots won't fit in there.  Even tho I've explained that to her more than once since Christmas, she has tried more than a few times to keep her studded combat boots in there and already, you can actually see it in this picture, a few of the rhinestones are missing.  Good thing I got those puppies on sale.  This is there new home.  The chair has been removed and is on it's way to a happy home.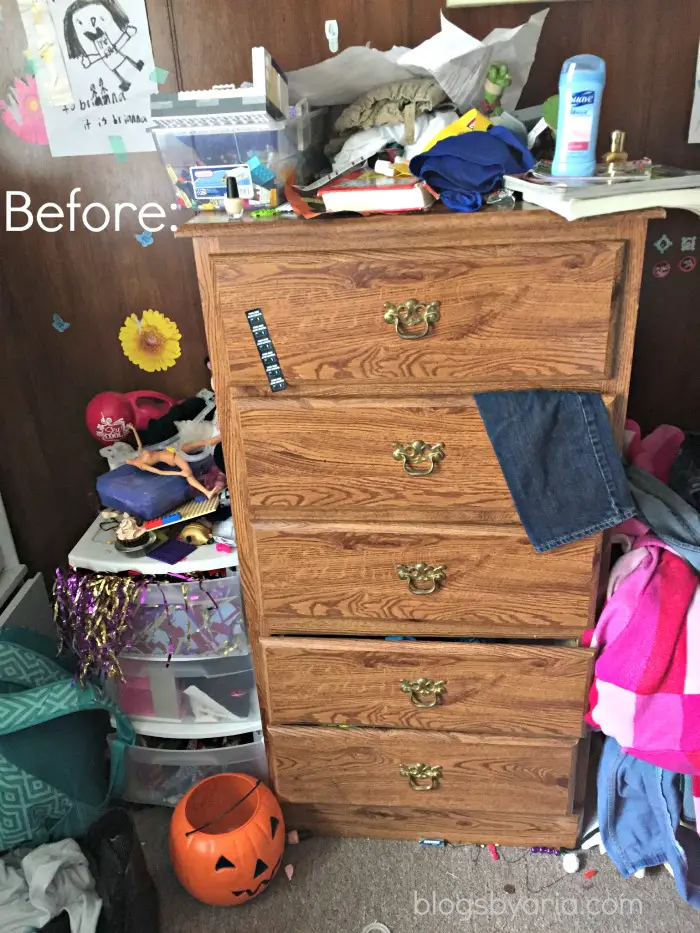 Lord have mercy.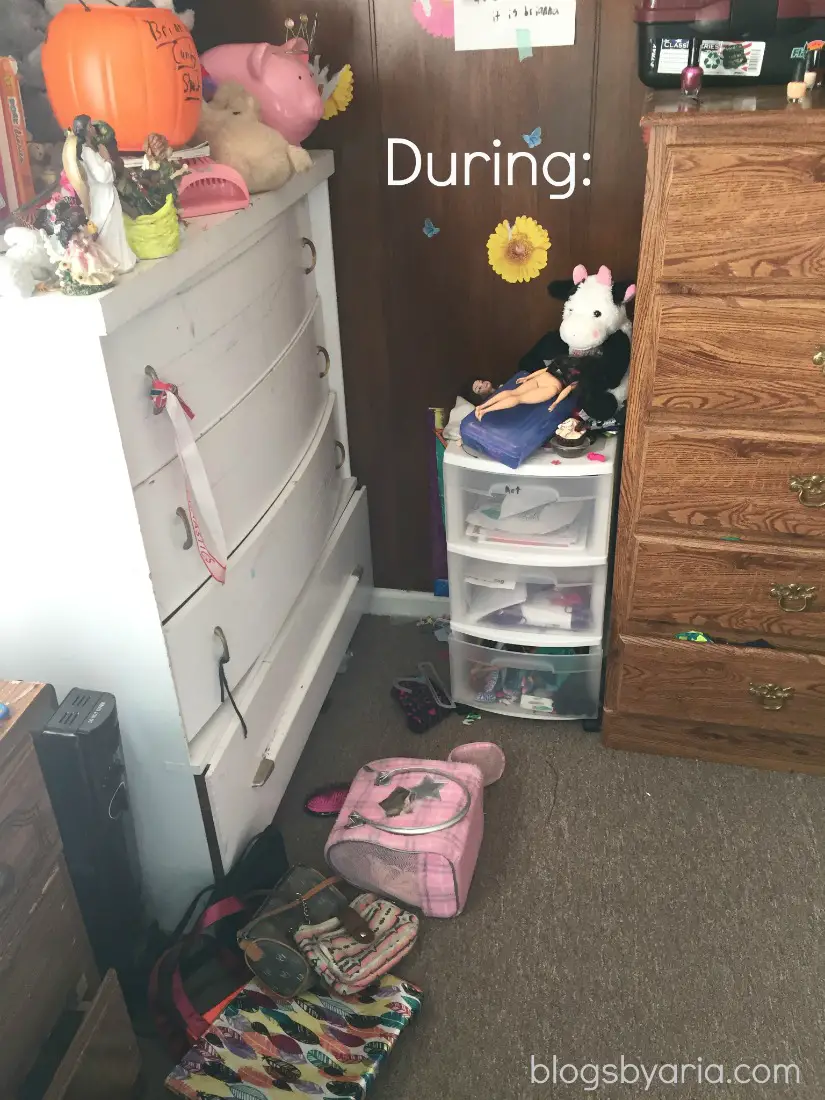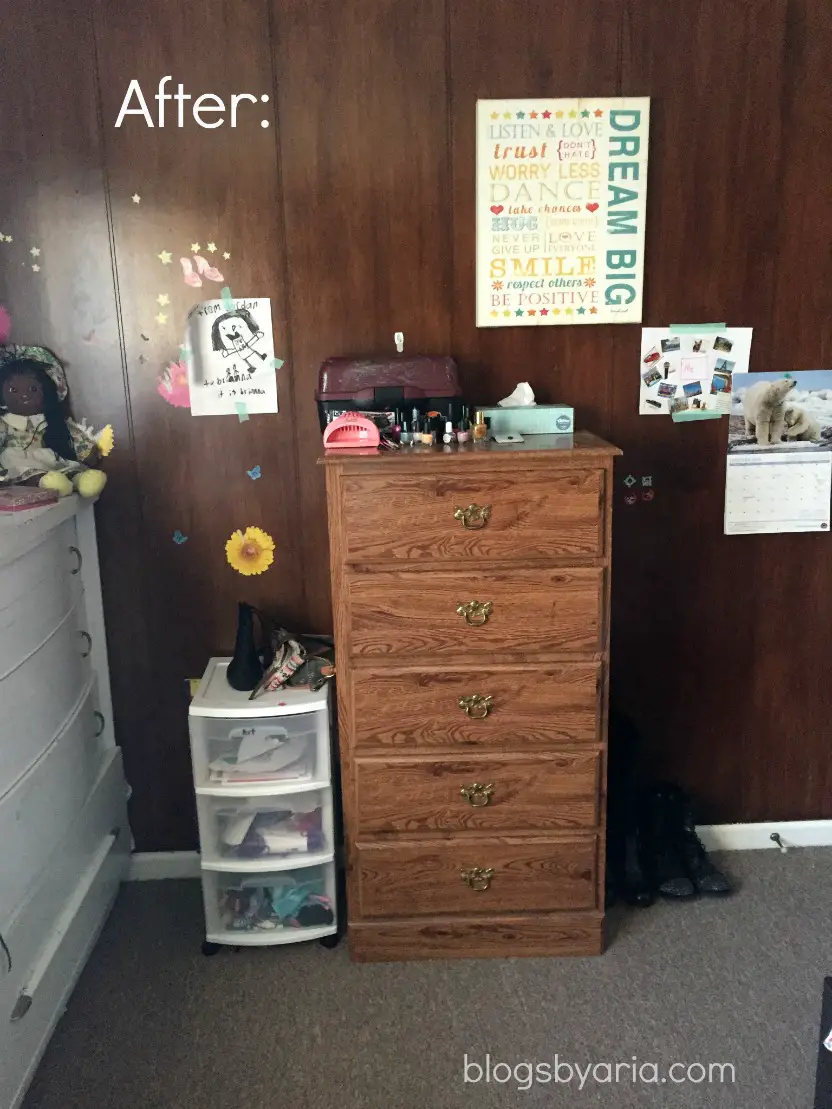 I've had this dresser since I was a kid.  The majority of my kids clothes are in their dressers.  Their closet isn't large enough for both of them to have their clothes in it.  So this dresser or chest of drawers, depending on where you're from 😉 is full of Jordan's non-school clothes.  He has a drawer for short sleeve shirts, long sleeve shirts/sweaters, jeans, and athletic wear/pajamas.
The top is now to hold Brianna's gazillions of nail polish items.  You see that case next to the tissue?  It holds more nail polish and it's full.  And it's ugly.  But that's just my opinion.  I had planned to get her either a Caboodles or a nail polish organizer but before I could, my MIL got her this and I said that works for me.
To the left you see a plastic three drawer organizer cart.  It's not perfectly organized but it's not overflowing anymore.  On top of it instead of a pile of stuff, it holds her few handbags.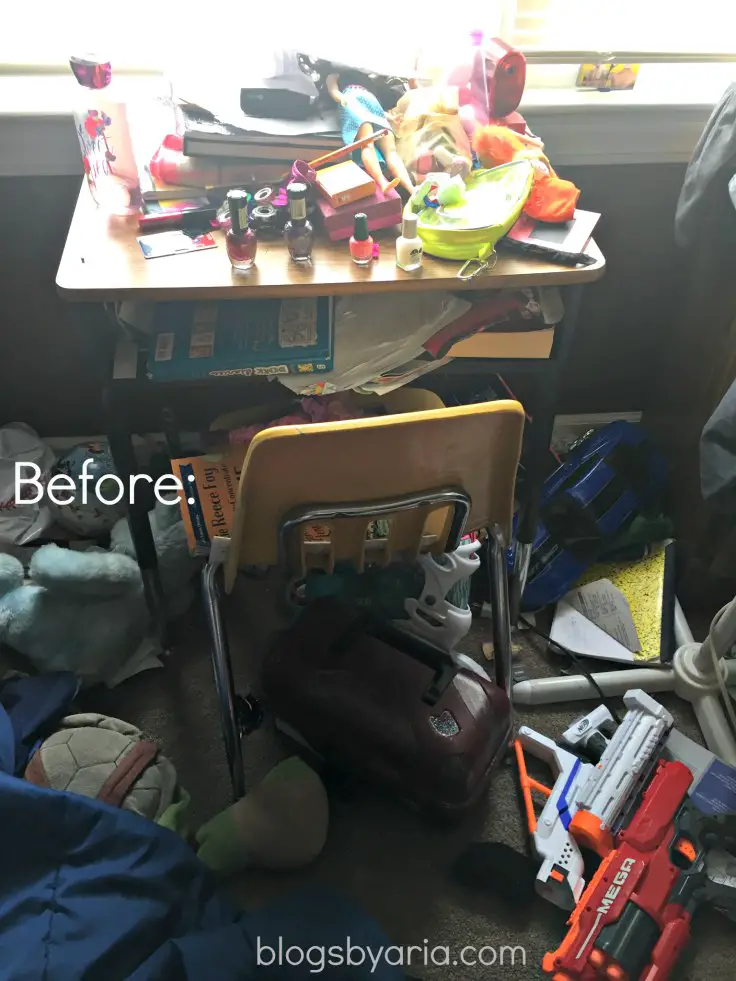 So many levels of ridiculousness.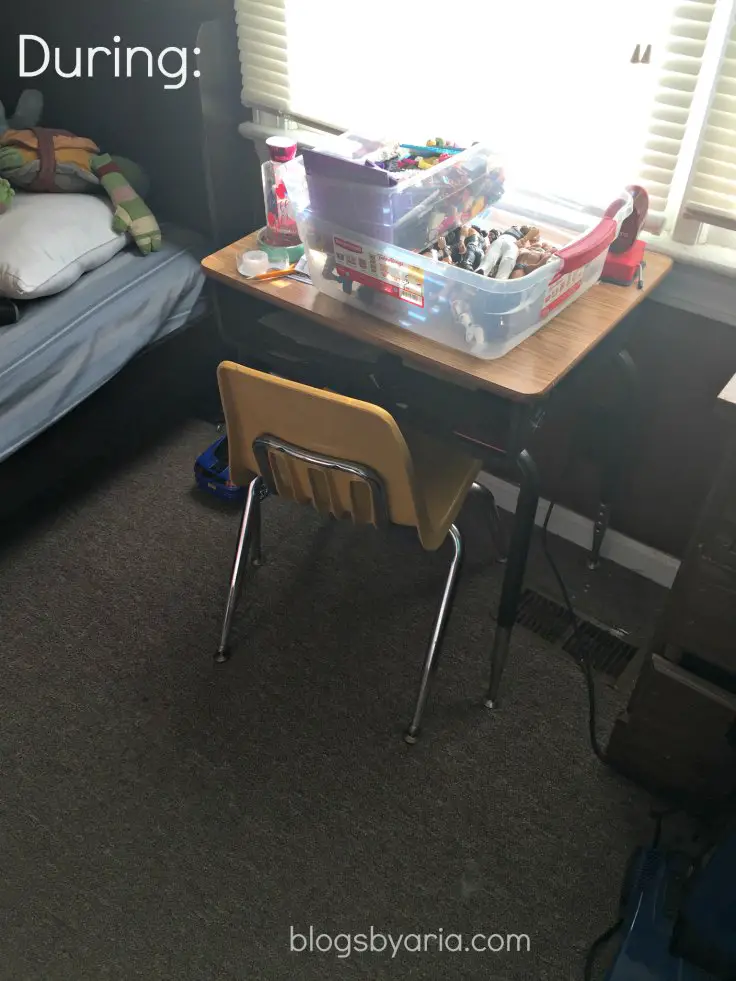 Much better.  A few things need to find new homes.
So much better.  I have so much less anxiety and irritation when I come in here now.
A Few Tips
Focus on one area at a time.  It's really easy to get distracted and move from one thing to the other.  I had to remind myself to stick to this corner, to this spot before moving on to another.  Their closet, for example, kept trying to lure me into trying to tackle it too.  But I knew that was meant for another weekend because I wanted to get these things done now.  It'll be a lot easier to tackle just the closet another time.
Close the door and get in the zone.  I downloaded a few podcasts and closed the door and just went in attack mode.  I think especially when the goal is to declutter this is the best way to do it.
Stay in the zone.  Now, this is much easier if nobody is around to interrupt your progress.  Like when my husband called for me to "come here" as if he didn't know where I was. (insert side-eye here)  Or if you have to stop to fix lunch, ugh like really?  Didn't I just feed you guys?  But when you're done handling the needs of your family, come right back to finish your task.
Take breaks.  Rome wasn't built in a day.  And neither was all of this clutter.  Take breaks as needed.  Just don't let your break turn into not finishing the job.  That's one of the good things about breaking down your to do list.  It's easier to tackle "clean under desk" and "clean under Bri's bed" than "clean kid's room".
Take pictures.  Even if you're not going to share them with anyone but yourself, taking a picture at the beginning, during and at the end is great motivation for you.  Especially if it's a rather large project, like clearing out a garage.
Reward yourself.  After all of your hard work you deserve a treat.  You really do.
Now I started this whole process to find Brianna's missing library book.  I lost my bet that I'd find it in under an hour.  And I was really annoyed that after a full day of purging their room I hadn't yet found it.  But I won't give up!  Hopefully this post has inspired you to take on some decluttering projects in your own home.  I have more to get done but I can do it weekend by weekend.  Fingers crossed for no more snow days 😉