I hope you're all having a great week so far ( I know it's only Monday lol)!  Today I'm sharing my planner sticker organization.  Part of being a planner girl is keeping all of your planners and supplies organized…at least try to.  Sometimes things can get out of hand 😉  I'm not perfect but I wanted to share with you my personal planner sticker organization.
*this post may include affiliate links, you can read more about that by reading my Disclosure post*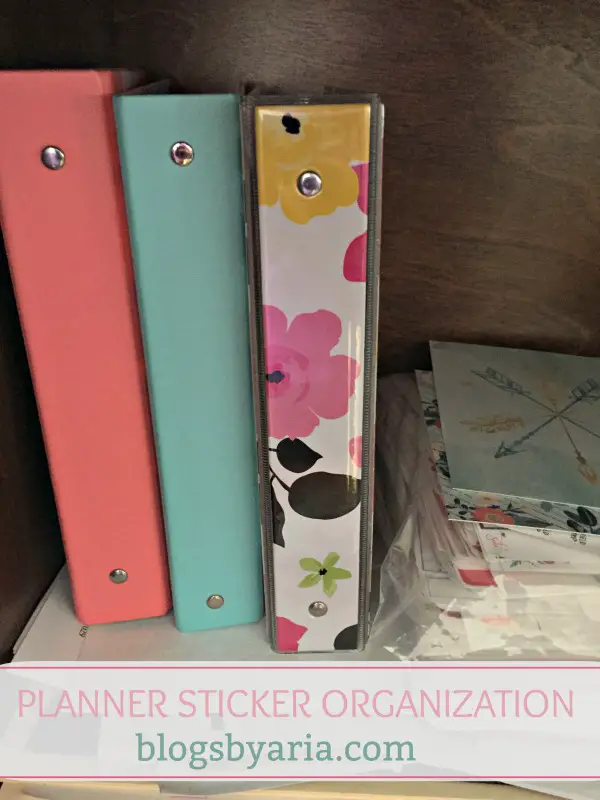 When I first got into planning with stickers I started with a simple expanding file envelope.  That worked for a little while.  It works for small sticker sheets.
I actually found the one I used when I was prepping this post and it still has plenty of stickers in it.  So I definitely am going through this and transferring them to my binders.
I think if you don't use full planner sticker kits that a smaller version, like this expanding file folder would work well.
As I got more into planning with planner sticker kits, I realized I needed a better system.  I saw in a lot of my planner Facebook groups and on Instagram that people were using the mini 3-ring binders from the Target Dollar Spot to store their planner stickers.  I have two of them, but I don't love them. (the pink and blue binders from above are from the dollar spot.)
Instead I love the ones I find at Staples.  You can also find them on Amazon here.  I like the cute designs and that they come with pockets.
You can also get some basic mini binders like these mini binders from Avery.
I use these Avery mini plastic sleeves to keep my kits or my sticker sheets organized.  And in one of my binders I use these Avery write-on dividers to separate my kits from different shops.  And no this post isn't sponsored by Avery lol, but they're the ones who make these products!
HOW I ORGANIZE MY PLANNER STICKERS
Right now I have three but I want to get a couple more and probably nix the ones I got from Target.  The pink striped binder is for my functional sticker sheets from various shops.  The pink and teal swirl binder is for my sticker kits from different planner shops.  Those are the ones I use the dividers for.  The one on the right is for all of my Little Miss Paperie planner sticker kits.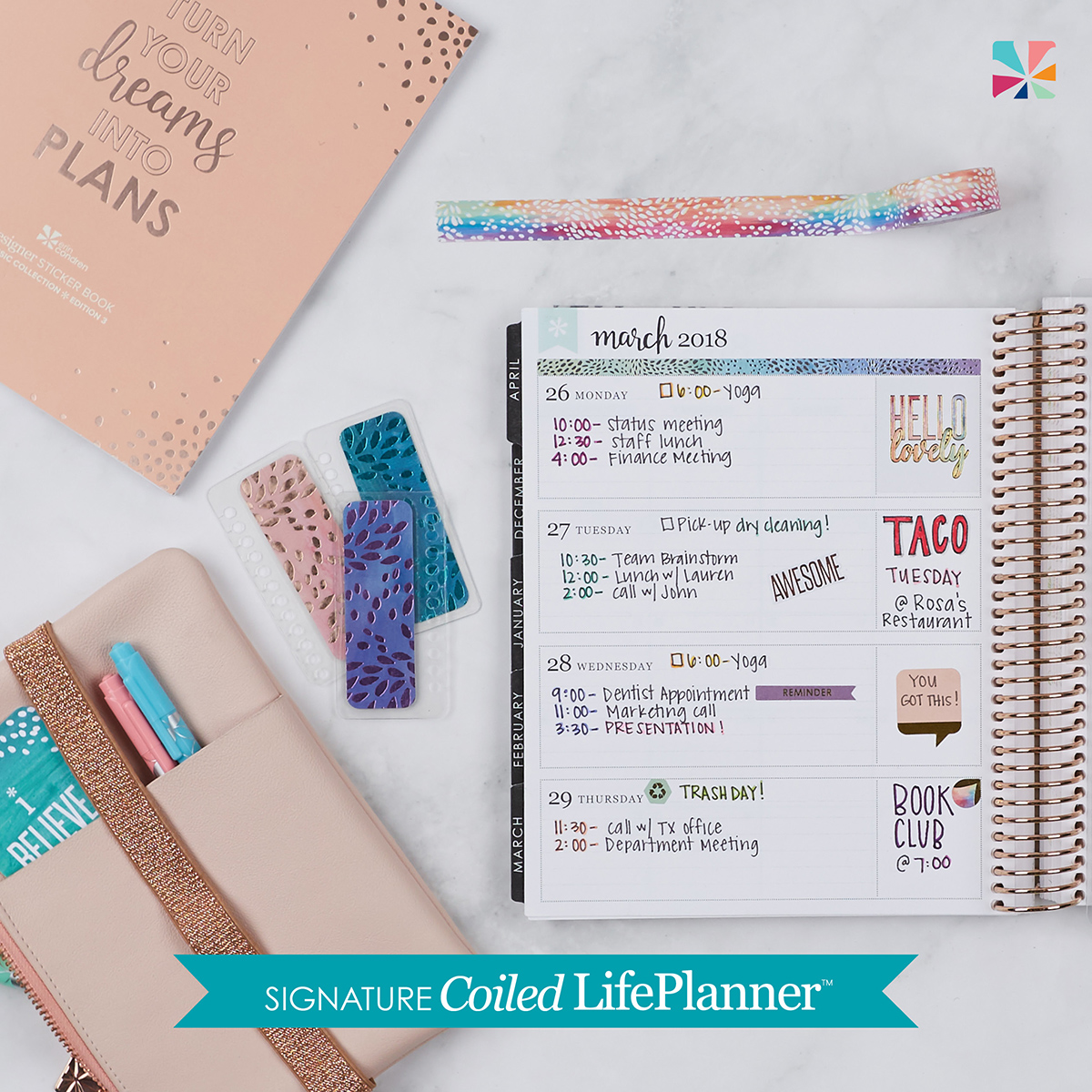 So for me the mini binders are the way to go.  You can go for pretty or for more functional.  There are also some planner sticker shops that sell binders for their stickers.  Sometimes they're limited edition items and other times it may be something the shop offers consistently.  For example, a shop can sell binders once and then from that point on only sell covers for the binder.
MINI STICKER BINDERS
Here's an example from the planner shop Happie Scrappie.  They do double duty by being functional and cute to look at too!
Here's an example from Krissyanne Designs.  They can be an investment depending on how the shop sets them up, but if you shop a lot with that particular shop it may be the way to go.
USE MINI PHOTO ALBUMS FOR SMALLER STICKER SHEETS
Another way that I organize my planner stickers are with the mini photo albums that you can get from the Dollar Store or various stores.  These are perfect for organizing smaller sticker sheets and samplers that most shops send with your order.  I'm actually out of space in my current one so I want to get more and get even more organized.
So you can see I have that aspect of planner sticker organization down.  Where I'm currently struggling is with kit leftovers.  I don't want to throw them away because I still use them but I need them to be better organized.  For now I have them in a storage bag. (You can see them in the top pic of this post)  Let me know if you have any suggestions for me in the comments below!
Update:  I found a new way to store leftover stickers in a sticker collecting album!
ERIN CONDREN LIFE PLANNERS ARE NOW 50% OFF!!!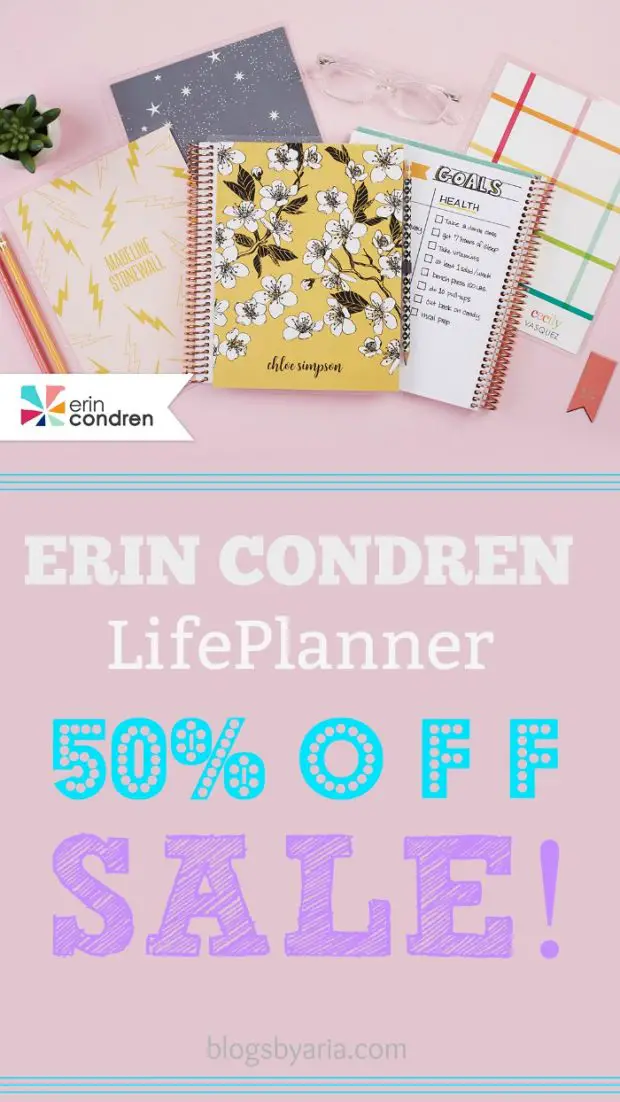 Before I let you go I wanted to share that Erin Condren now has all of their life planners and monthly planners half off right now!  I always like to share that with you all in case you wanted to try out a Life Planner without paying full price.  She usually has the planners on sale until they launch the new planner which may be around the month of May.  So be sure you run, don't walk to take advantage of this awesome sale!
I ordered my first Erin Condren Life Planner a few years ago during this sale and I haven't looked back since!  I love my planners so much, but you already know that! 🙂
Thank you for spending some time with me today!  I meant to get this post up last week but  let's just say that my world was rocked last week.  I won't go into details now but I'll share more in the coming months.  For now I'm just rolling with the punches and preparing my mind and calming my fears for my upcoming surgery that I shared about in my recent post.  I hope you had a great Easter!  We did although when we're rushing out the door to get to church it's hard to get a picture, ugh the struggle.  Anyway, here's to a great week ahead and more posts to be read! 😉