It's officially the final days of Summer and although I'm sad to see it go, I'm excited for Fall.  Bring on the football, boots season, fall TV…I'm here for it!  It's been a while since I've shared planner spreads (or much of anything #badblogger) here on the blog, so today I thought I'd take you through the last few months in my Erin Condren Life Planner with my Summer Planner Spreads.
We've survived the first full week of school and all that goes along with that.  New schools for both kids, being the new kids, new bus routes/walking routes…a lot of new going on.  Definitely a lot of transition.  Before we head into the unofficial start of Fall I want to wrap up Summer, as you know, it was quite eventful.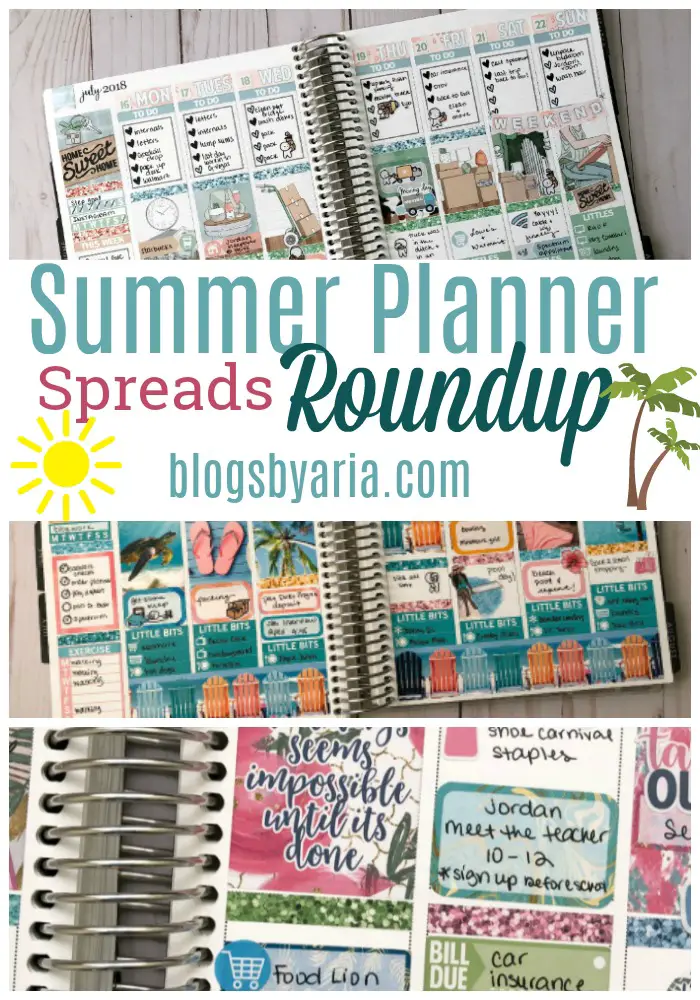 *this post includes affiliate links, which means if you click on a link and make a purchase that I get a small commission that helps support this blog and my family. You can read more about affiliate links by reading my Disclosure post*
JUNE PLANNER SPREADS
Unfortunately many of the kits used in these spreads are no longer available, but I'm mostly wanting to share the spreads with you.  I'll link to all the shops I'm using for you to check out what they currently have.
I started off the unofficial beginning of Summer with this bright and cheerful kit from Lexie Kylee Designs.  Wrapping up the school year with End of Grade testing for both kids.  Jordan attended the Justin Hardy Football Camp which was cool because we love Justin Hardy and claim him as our cousin 🙂  He plays for the Atlanta Falcons but also used to play for my East Carolina Pirates.  (we say he's our cousin because he's from around here and has the same last name as some of my DH's family)
I hate when I don't complete a planner spread because once the week has passed I don't remember what I meant to write down.  #plannerproblems
I wasn't quite ready to go full swing into Summer themed planner kits yet.  I decided to use this mystery kit from Soda Pop Studio.  I really love the florals.  This week was the kid's last week of school.  This weekend my daughter and I went to Cary, NC for the weekend.  We did a program called Passport to Purity.  I had every intention to write a post about it, and I still might, but in a nutshell it's a bible based program to guide your tween into adolescence and help them to understand why it's important to keep their purity from a Christian view.  I thought the program was good so let me know if you want me to talk about it more.  While we were in the Triangle we looked at apartments in the Cary area.  Cary is literally a step away from my job here and I would really like to live there to save time on my commute.  That's another story for another day.  We also had PF Chang's for the first time.  I know I know…I don't get out much lol.  But we enjoyed the food and the weekend.  While we were in the area my friend recommended we check out the townhomes we ended up moving into so that's a plus!
And shout out to my friend Chantal for her birthday 🙂  She's a reader! #truefriend 😉
Third week of Summer is when it all changed for me.  When I decided to use this planner kit from Little Miss Paperie I had no clue this would be the week I'd find out the news of when I'd be relocating.  I shared a bit about that in my We're Moving post.  I think the stressed out emoji's from Once More with Love explain how I felt from that point on.  And the stress eating.  Ermm I've done too much of that this Summer that's for sure.  The packing boxes are also from Once More with Love.
My team at work never went out for drinks before, but this week we definitely needed it!  It was a stressful week for all of us.  I definitely recommend the Happy Hour at Bonefish Grill if you have one near you.  They have featured drinks and appetizers for $5 I think and they were great 🙂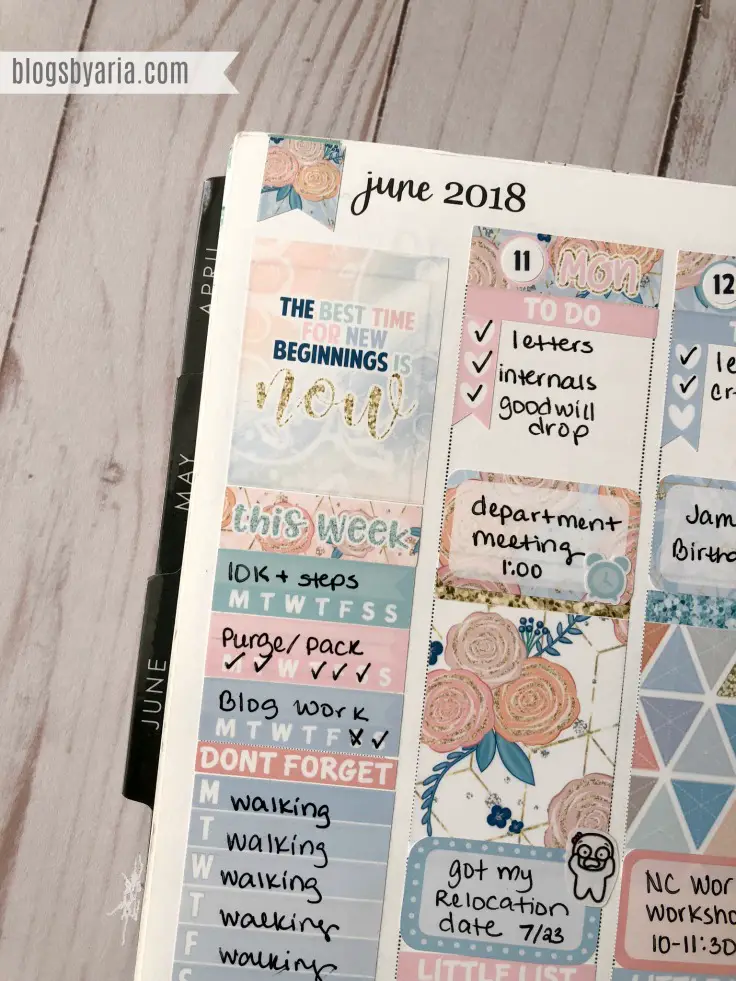 And this weekend Jordan attended another football camp.  He went to the Dwayne Harris Football Camp.  Dwayne plays for the New York Giants and you guessed it, is a former ECU Pirate Football player.  Jordan's been to his football camp for the last few years and enjoys improving his skills.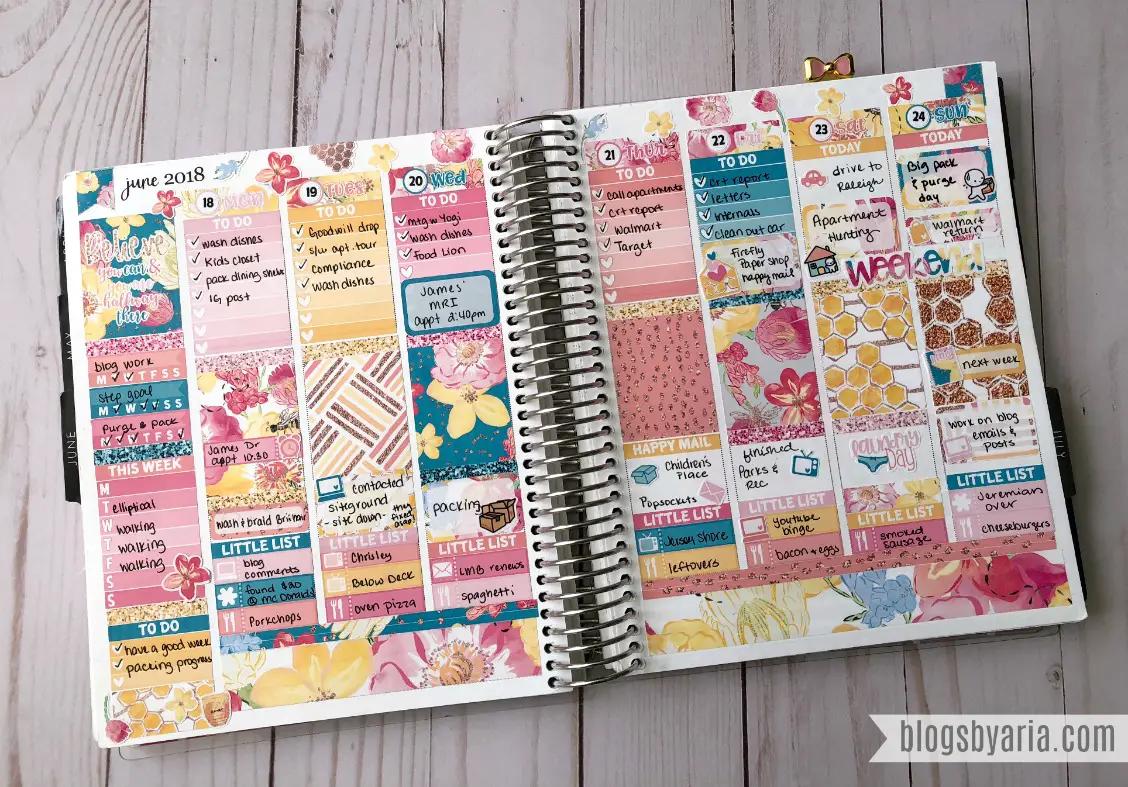 I love the vibrant colors in this Little Miss Paperie Queen Bee weekly planner spread.  Not a whole lot happening this week…just trying to have a better week, or a more positive week than the last.  We went apartment hunting in Raleigh this weekend.
This was one of my favorite spreads from this Summer 🙂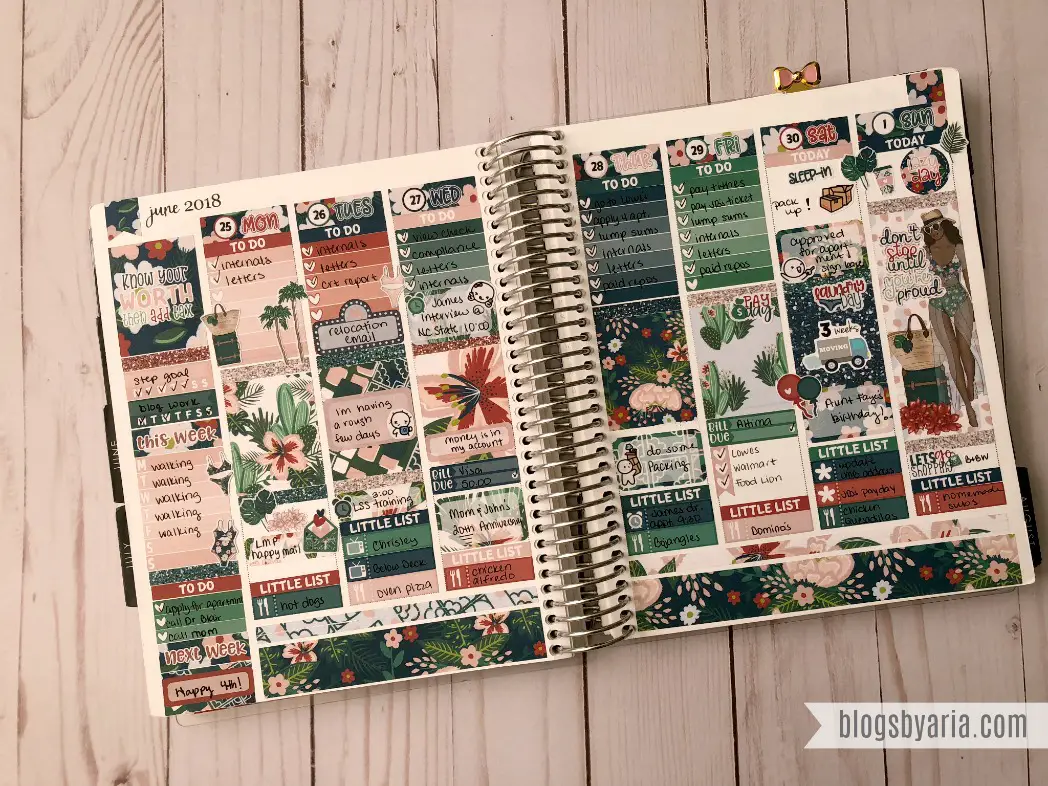 I tried to brighten up the picture without washing it out, so the lighting is off to say the least…but this kit is also from Little Miss Paperie and it's called Palm Springs.  I was still stressed out to the max!  But this week the countdown to moving was real.  I used these moving countdown stickers from Lexie Kylee Designs.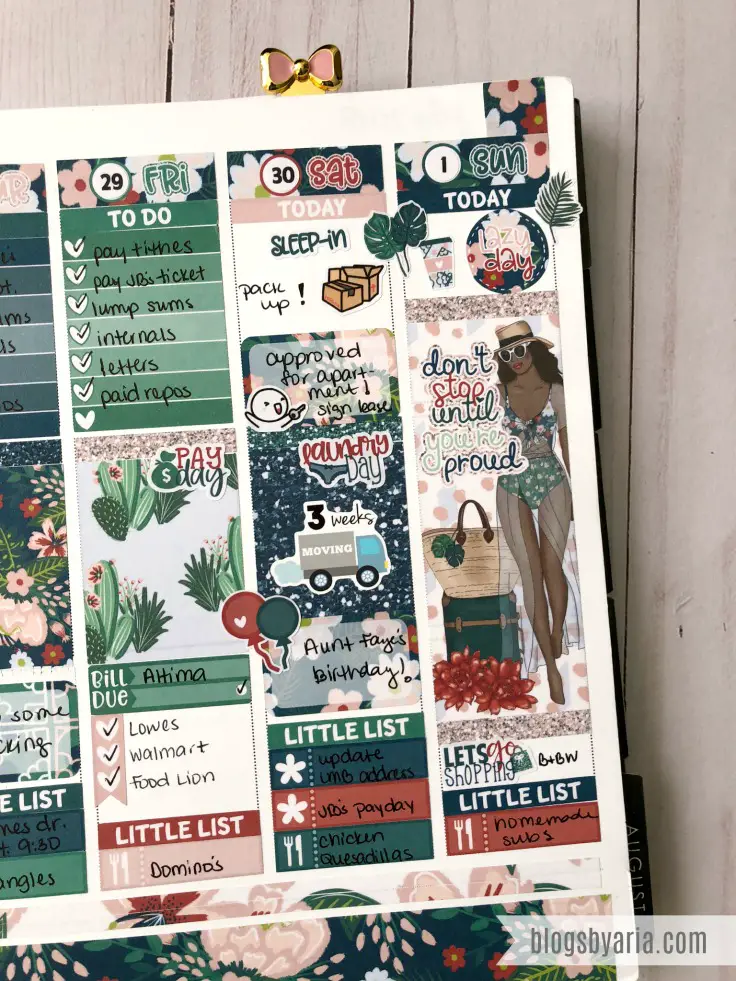 After stressing all week about getting everything needed to apply for the apartment we got approved!!!  You'd think we got approved for our new house or something but I felt like that!  We had to give so much info and provide proof of this and that it was like a mortgage process except we didn't have to donate a kidney or something.  I jest.  But what a relief to have our official address and get the next step in the process underway.
JULY PLANNER SPREADS
Typically I would use a festive 4th of July kit this week but unfortunately my Independence Day planner kit did not arrive in time.  I did order it in more than enough time, and I won't name the shop, but they were behind on orders due to life circumstances and I got the kit around the 6th of July and I had too much going on to back-plan.  Either way I used this kit by Little Miss Paperie.  It's a Misstery Kit and I really loved it in my planner.
This kit featured the shop Chic Street Sticker Boutique.  It's my first time using stickers from her and let me say I am in love with these sticky notes stickers.  I will be ordering many more of them in the future, I love the dimension too.
This week my DH had to have surgery on his hand.  It's the first time I've seen him coming off anesthesia and it had it's comical moments 😉
Also the car wash sticker is from Lexie Kylee Designs as well.
This week the kids and I went to Myrtle Beach for a few days with my mom.  I fell in love with this kit by Firefly Paper Shop.  It's my first time using a kit of hers and it won't be my last 🙂  She has some awesome Fall kits in the shop right now!  While we were away, DH picked up the keys to our new home!  The keys sticker is from the kit I use the following week.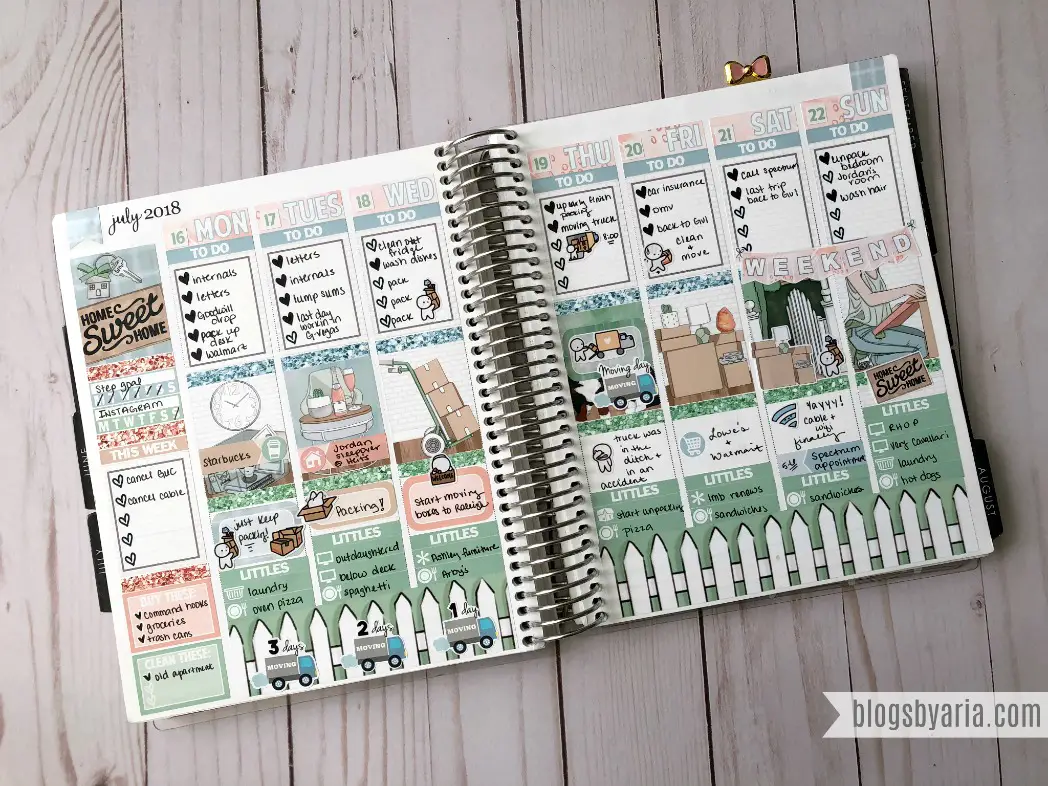 This was moving week!  I love love love this kit by The Glam Planner!  I've seen some other kits come out using similar art with different color schemes but they came out too late.  I would have loved to already have another home/moving themed kit for the following week for us trying to get settled in.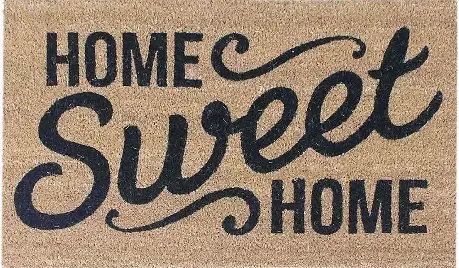 As a bonus, the Home Sweet Home door mat is the same door mat we have for our new home 🙂  I got it from Target and didn't realize it until I was laying down the stickers for this kit haha!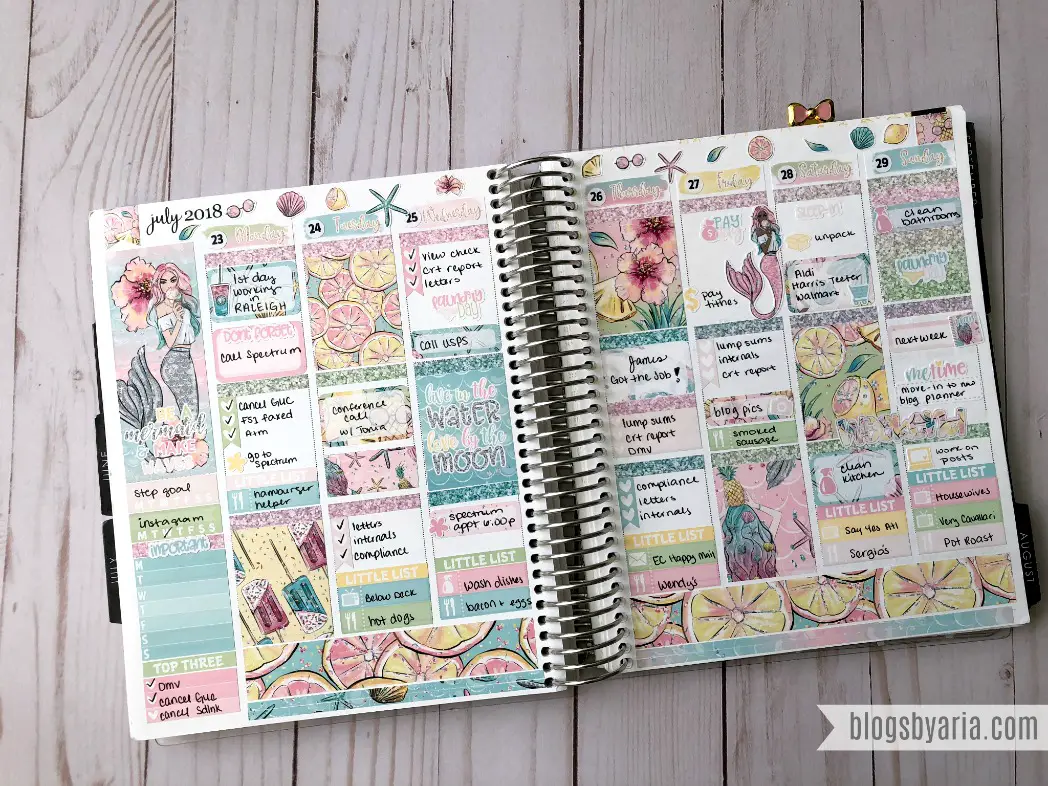 For the last week of July I wanted to get back to my Summer kits.  I love this mermaid planner spread by Little Miss Paperie.  This week I started in my new location in Raleigh, and got lost every day at work.  I went from working in a single building to working on a work campus so to speak.  The great news is that DH got his new job and we're super happy about that!
AUGUST PLANNER SPREADS
I started off August with this pretty Summer kit by Hello Petite Paper.  This is her Summer Mystery Kit and I love the palm leaves and the colors.
Before I forget, the bow clip that you see in all of these pictures is from Hello Petite Paper's Anniversary box.  I love how cute it is.  I'm not sure where she got them from but it's where I got the clip from in case anyone was wondering.
This kit is the Wave kit by Little Miss Paperie.  This was DH's last week working in Greenville and Jordan had his friend come spend the night.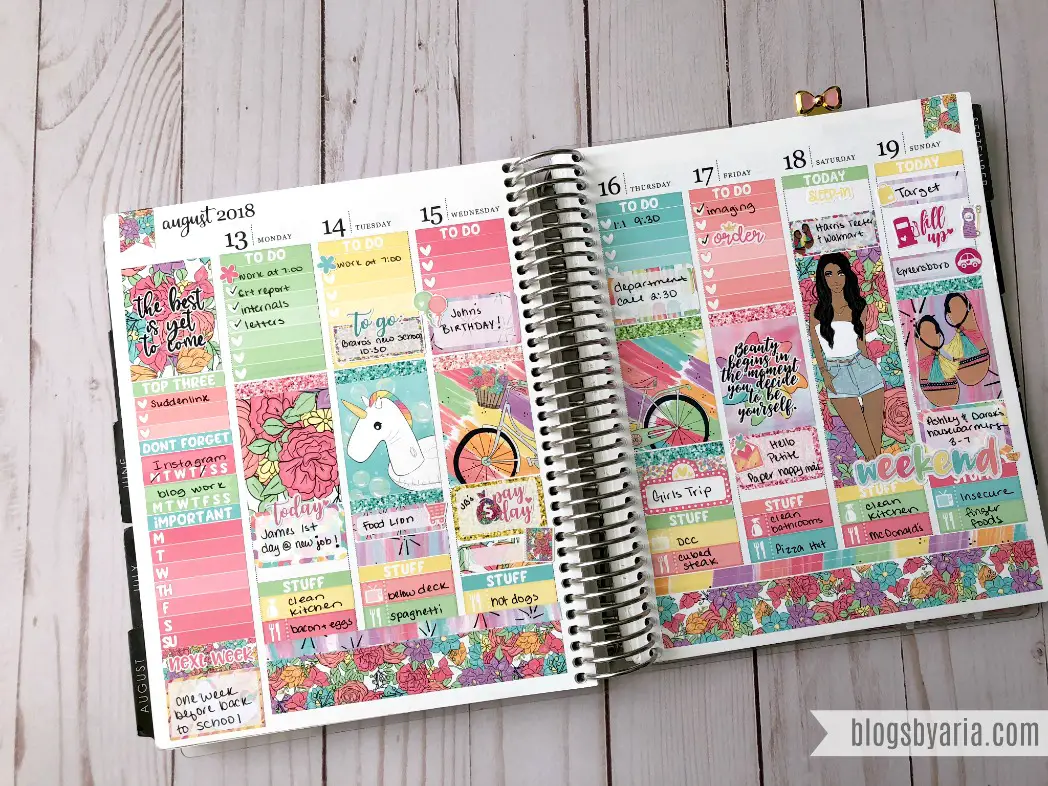 This kit is a Little Misstery Box by Little Miss Paperie.  Aren't the colors giving you so much life?  I love those sandals.  This kit also features the shop It's Planning Time.  My work duties changed up this week and had I known that I wouldn't have used the checklist boxes but you can see in the week below I changed up my style of planning a bit.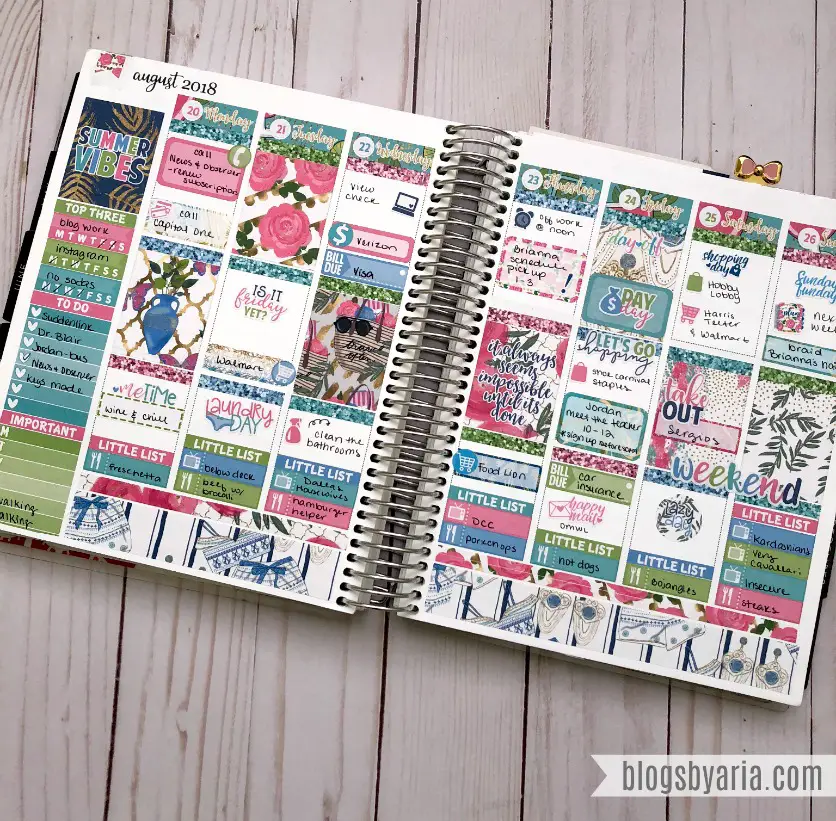 Wrapping up the month of August with another Little Miss Paperie kit.  This kit is actually from the August Misstery Box from 2017 and I held on to it for this year.  This kit also featured It's Planning Time.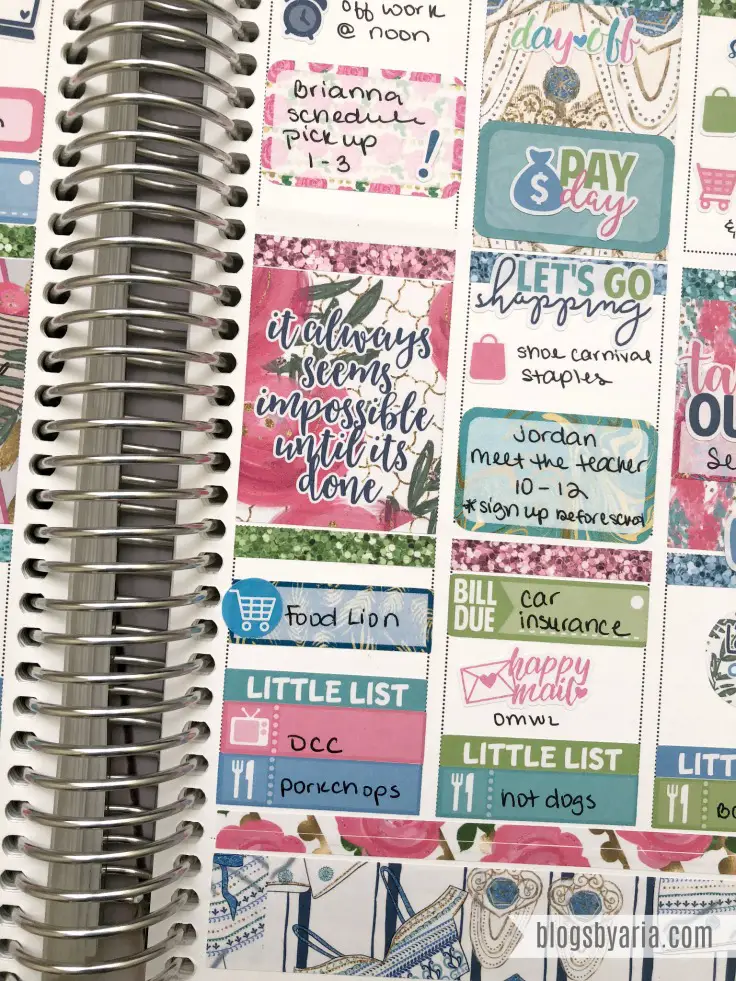 That wraps up my Summer Planner Spreads Roundup.  It's crazy how the Summer flies by but I can say I'm okay with that.  I'm looking forward to getting into a routine now that the kids are back in school.  I feel like now that we're more settled in to our new home that I can get back to a good posting routine.  Here's hoping for a less stressful Fall for me 🙂  Have a great Labor Day weekend friends!