We're in the full swing of Christmas and that means I have our tartan plaid Christmas tree up!! I am absolutely obsessed with our Christmas tree!
If you've been following along then you know I looked at lots of Christmas trees.  Then I finally decided that it would be best to wait for Black Friday so I could get a great deal.
For weeks I stalked the Black Friday sites waiting for Home Depot to leak their ad.  Finally, on Monday they released the ad.  Low and behold, a tree that I had already seen in person and shared here on the blog, was the Black Friday tree!
*this post includes affiliate links for your shopping convenience, you can read more about affiliate links by reading my Disclosure*
The Christmas tree I ended up getting is the 7.5 foot Braxton LED pre-lit tree.  It features 1230 branches with 700 color changing micro LED lights.  It also comes with a remote and foot pedal and has 8 different light settings.
TARTAN PLAID CHRISTMAS TREE
This year I decided to go with the tartan plaid theme for our holiday decor.  You may recall from this post that my Pier 1 pillow I bought last year inspired me to take the print and run with it!
I love the tartan plaid because it is classic Christmas.  It's not overly trendy and even if next year I don't go with this theme, or any theme, many of the items I've purchased will still be used.
With our old tree we didn't have a lot of space underneath it for gifts.  I love how much clearance I have down there!  As my daughter says "look at all this room for presents!"  She's right!
This gorgeous tree comes with a foot pedal, but it also comes with a remote.  It has eight different light settings.  My favorite is the solid clear lights.
Of course the kids love the multi-color lights.
Here it is all lit up at night!  It truly makes me smile every time I see it 🙂
NEW CHRISTMAS ORNAMENTS
Our Christmas tree is a mixture of ornaments from my childhood and ornaments that we've added each year.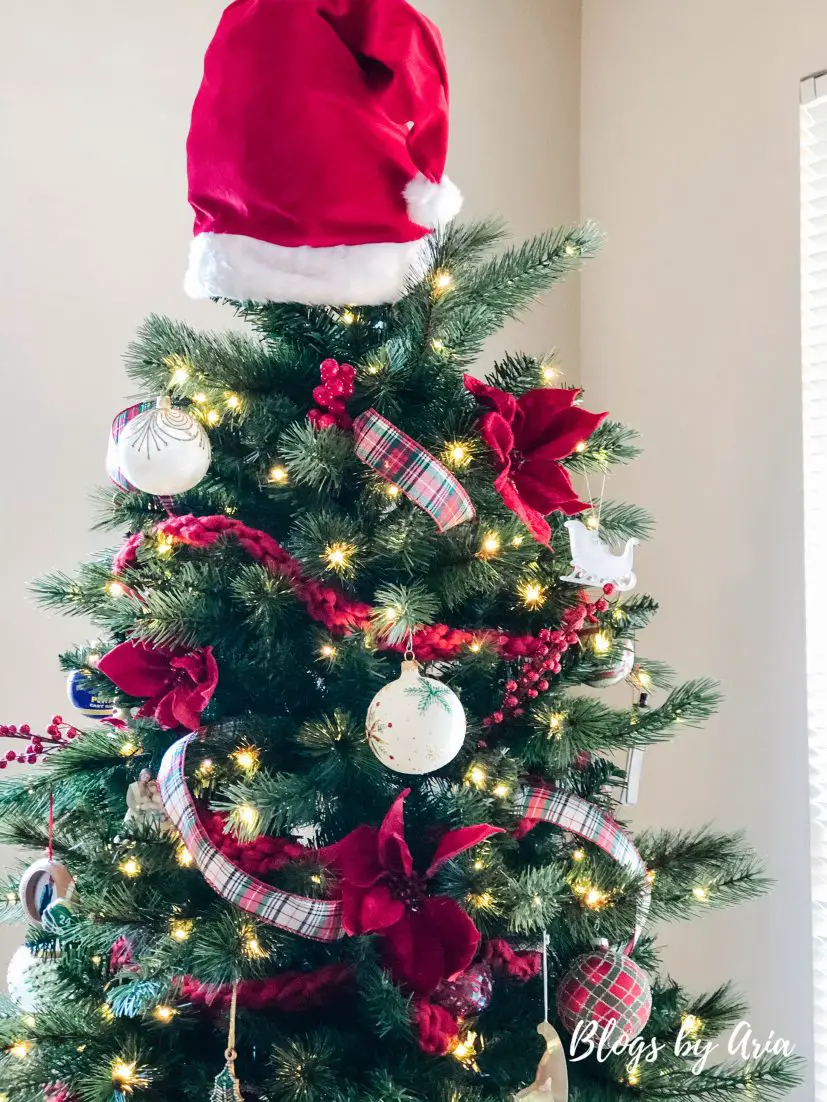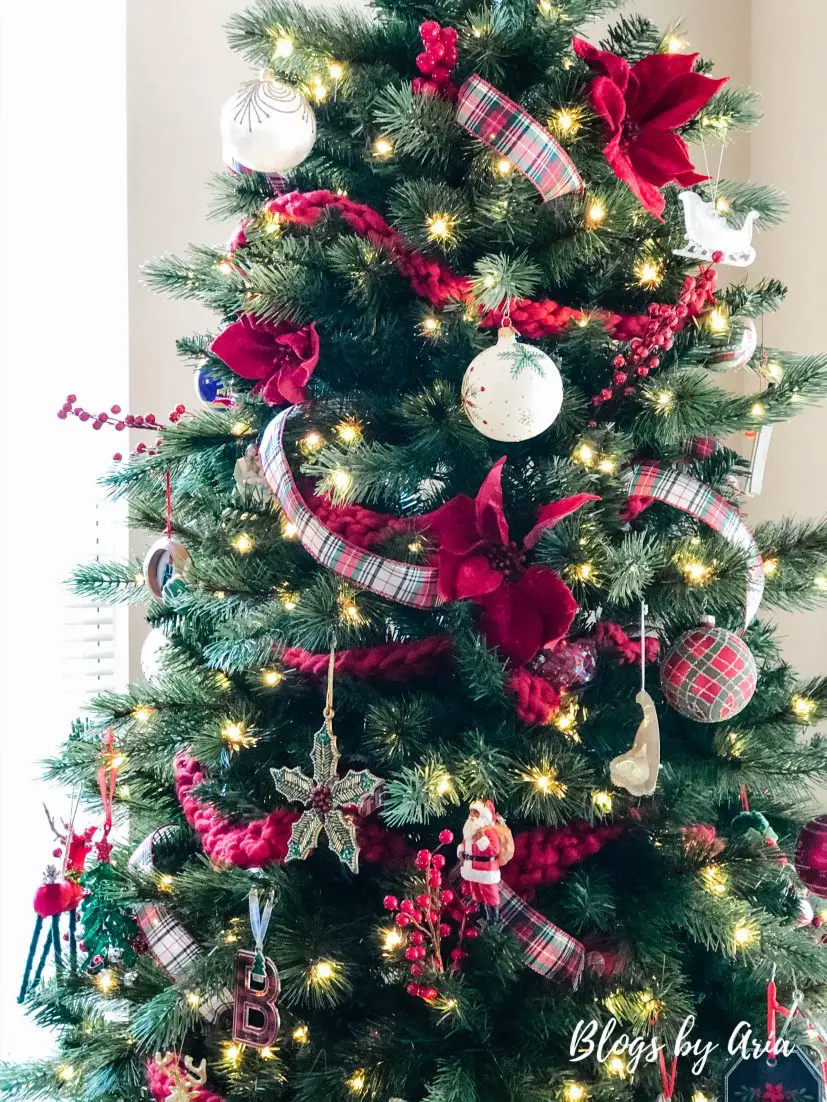 This year knowing that our tree would be larger, I didn't know if I needed to add a lot of new ornaments.  We usually add one to three.  I got a few more than that this time but I feel like we struck a good balance.
I have only a few glass ornaments on my Christmas tree.  Some haven't survived over the years.  But I decided it was worth taking the chance on this gorgeous tree ornament from Pier 1.  It's hand blown and hand painted.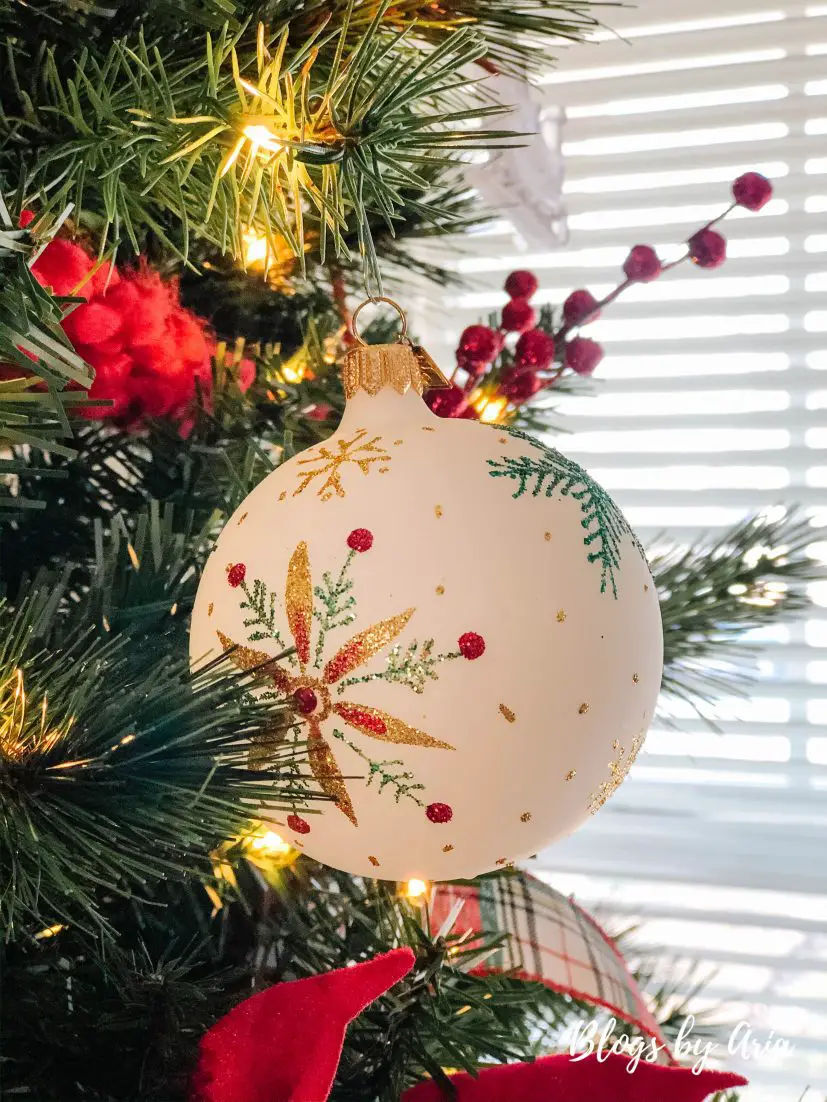 Another gorgeous hand blown and hand painted ornament, this pine and snowflake one I got is also from Pier 1.  They had a buy one get one sale so I couldn't pass it up.
A feature that I didn't know about until I put it up, is that it has three different types of branch tips.  You can see them here…there's the traditional branch which is perfect for ornaments.  A more pine style and the one that the reindeer is hanging from…I don't know how to explain it.  But it's meant to be the more realistic style.  I love all of the branches.
I got the B initial ornament from Kohl's and the red and green plaid ornament from Pier 1.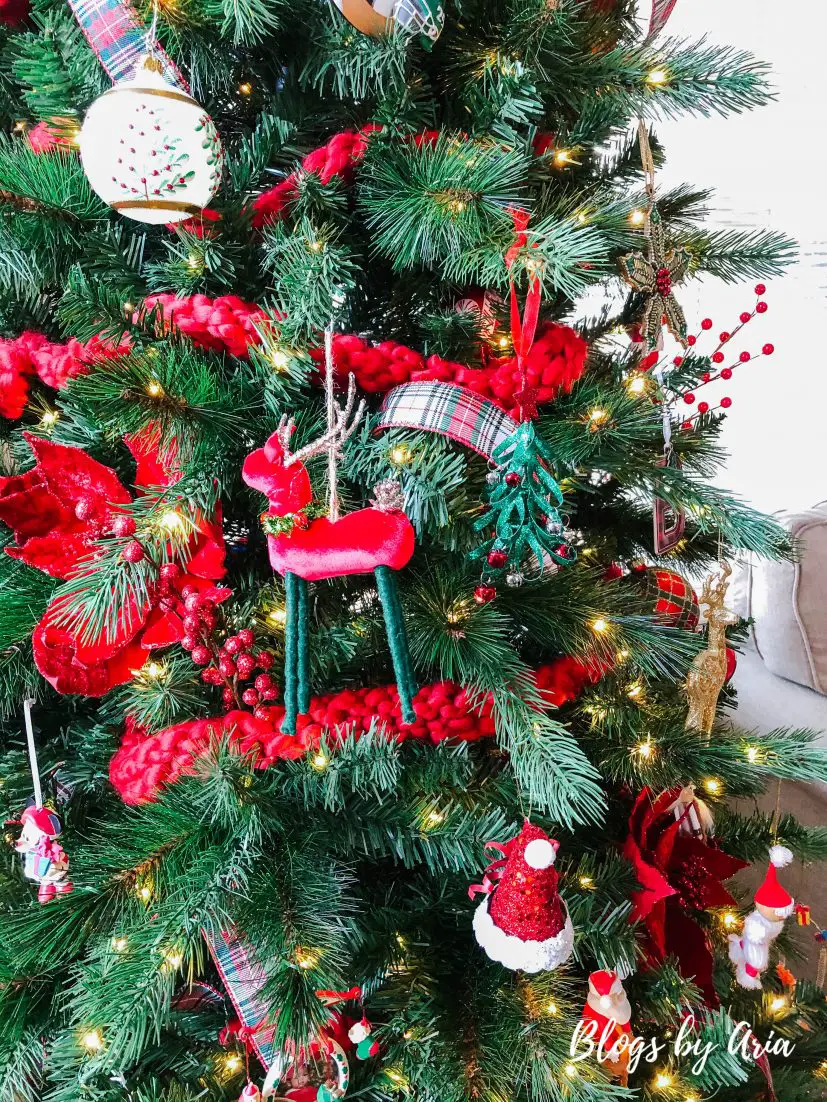 The red reindeer and sparkly red Santa hat are both from Kirkland's.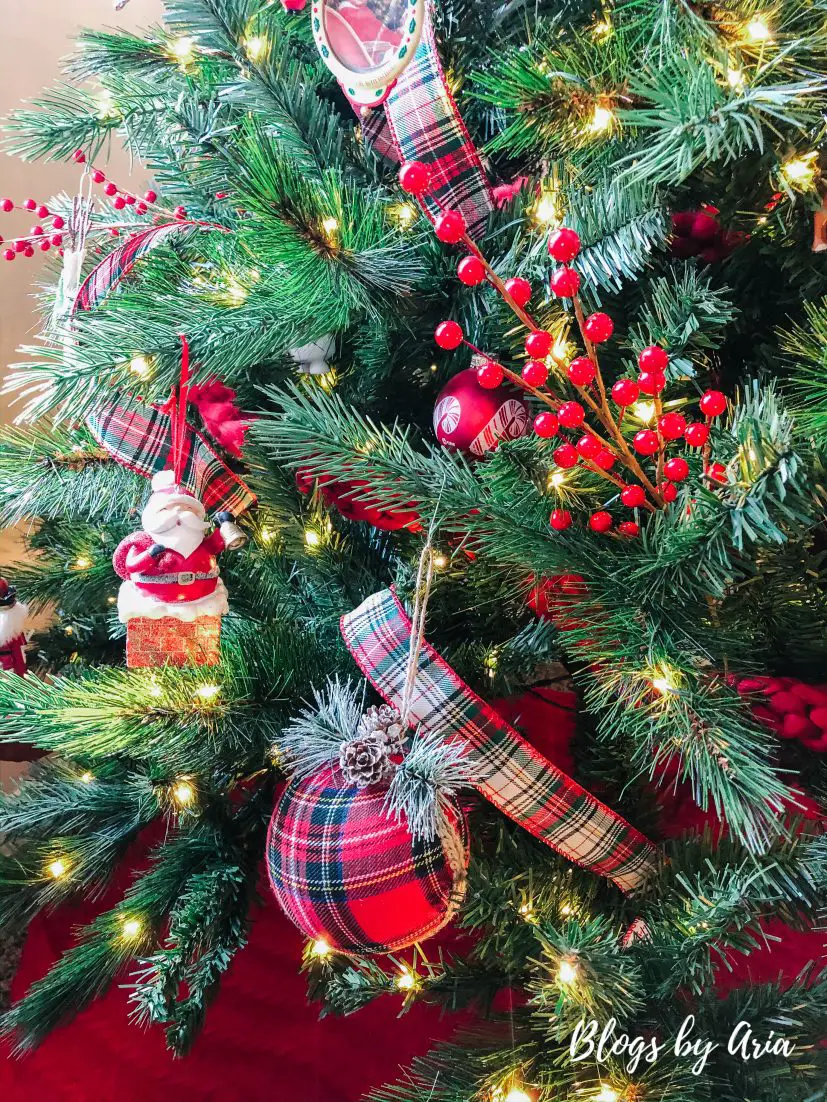 The last new ornament I added is this tartan plaid ball from At Home.  I got two of them.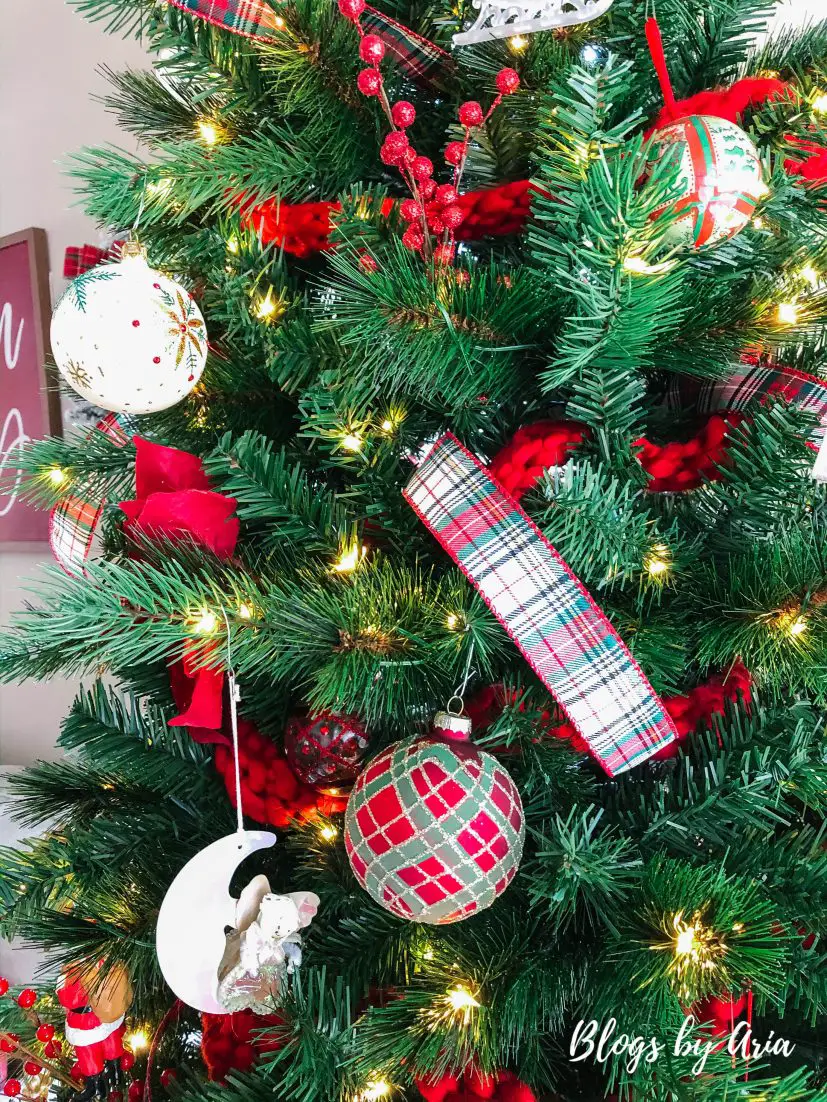 Throughout the tree you can see that I have used this gorgeous tartan plaid ribbon that I purchased from At Home after I saw Kelley Nan feature it on her tree.  I purchased one of each kind and I love how they compliment each other.  You'll see more of it when I share more of my Christmas decor.
CHRISTMAS LIVING ROOM 
I'll be sharing my living room decorated for Christmas later this week…hopefully.  Here's a sneak peek to how it's coming together…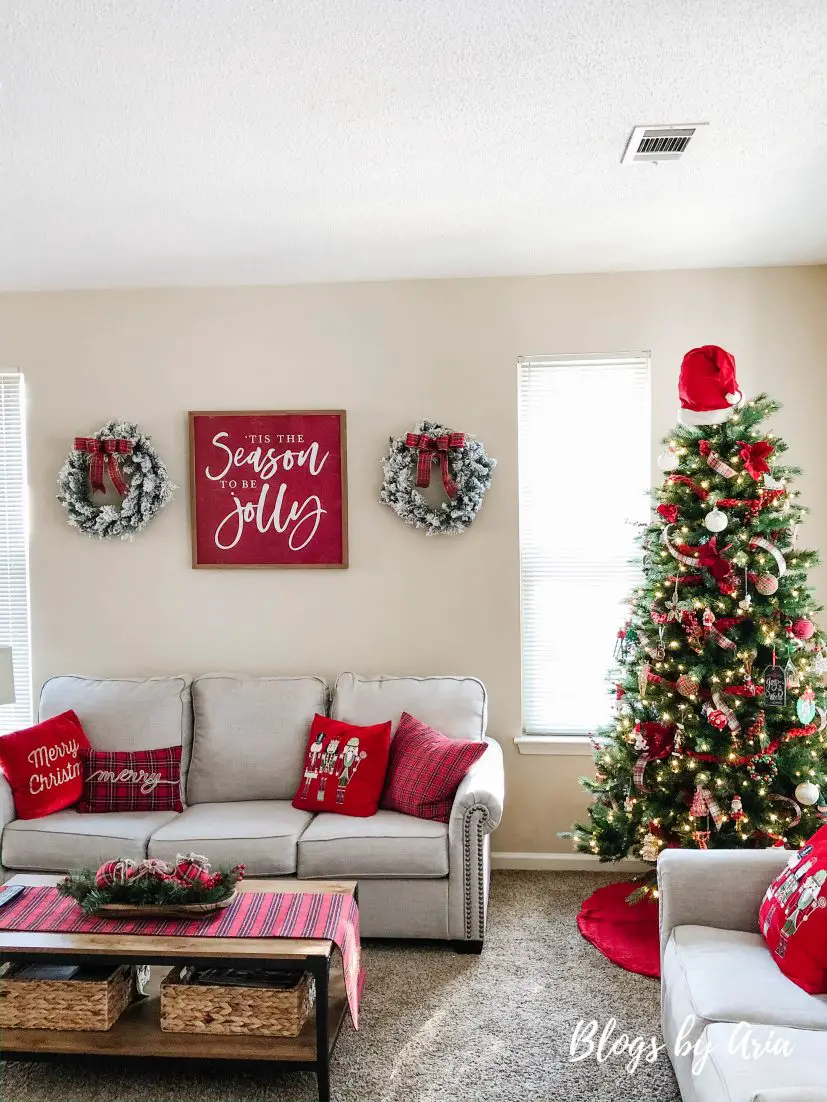 It's my hope that you have enjoyed seeing my tartan plaid Christmas tree decor today.  I definitely enjoyed sharing it with you.  I wish I could have shared it much sooner but my new Christmas tree was definitely worth the wait!
Did I even share the deal I got on it?  It's regularly $229 and I got it for $79!!!
We'll have this gorgeous tree for years and years to come and I couldn't be more smitten with it ♥