So excited to show you my new kitchen!  You've seen a glimpse of it in my moving announcement post but now I'm going to show you the full kitchen.  As a bonus I did a little summer decorating as well.  If you're looking for summer kitchen decor ideas hopefully you'll get a little inspiration today.
For starters this kitchen is a dream!  When we were looking at new houses we toured three townhomes.  This by far is the best kitchen!  I'm not sure why but a lot of newer homes are veering away from white kitchens.  I for one love a white kitchen.  With crisp, clean shaker cabinets.  And that's exactly what I got!
Eventually I will share a full detailed post about the kitchen layout and organization.  To be honest, I'm still working that out.  Because I was very overwhelmed in trying to set up this kitchen.
Enough rambling…
*this post includes affiliate links for your shopping convenience, you can read more about affiliate links by reading my Disclosure*
We've never had a kitchen island before.  I will get counter stools eventually.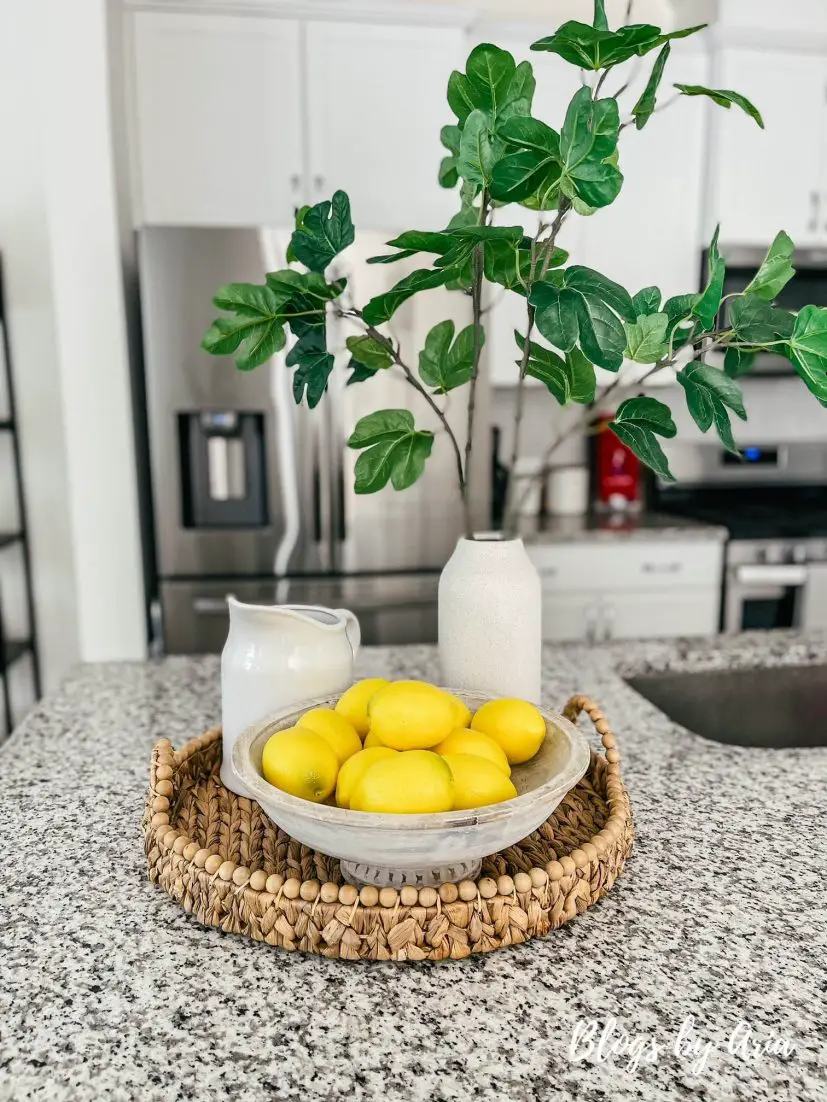 similar woven tray • similar white pitcher • faux greenery • faux lemons • similar bowl
I've always wanted a kitchen island and be able to decorate it.  That turned out to be harder than I thought it would be!  In fact, decorating my kitchen at all has been a daunting challenge.
Where do I put this?  Where should this go?  Should I keep this appliance out?  Is this too cluttered?  It's been a lot.
For my island centerpiece I took my woven beaded tray, added some greenery and to make it feel like summer I added a bowl full of lemons.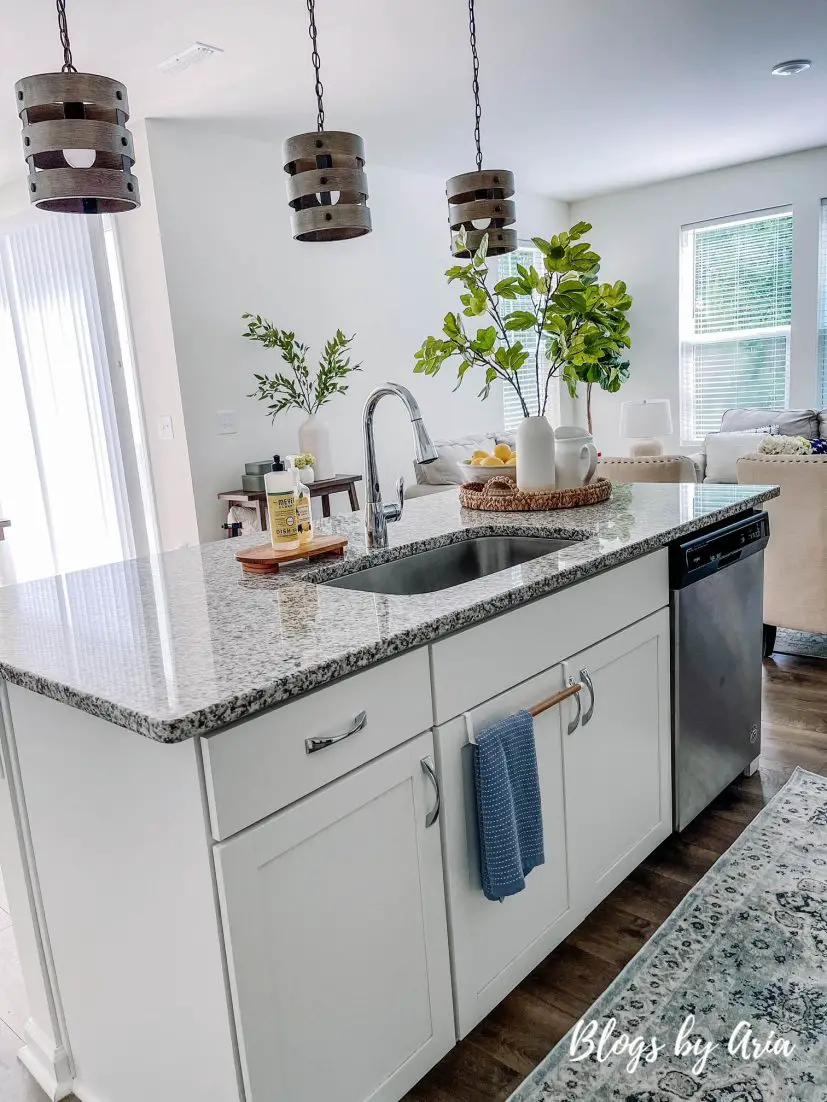 serving board • over door rack • kitchen runner • pendants
Around the sink I wanted to keep things simple.  I've had this elevated serving board for awhile now and put it to use to hold my dish soap and hand soap.
Eventually I will share all of the organization going on inside the cabinets but I did find this over the door organizer from Target that allows me to hang a hand towel for easy access.
The dishwasher is the same kind we had in the last house…that's a bummer because it's not the best.  I know a lot of people prefer a sleek front to their dishwasher but I'm not opposed to a handle to hang a towel on.
Third time is a charm when it comes to this kitchen runner.  First I found an inexpensive runner on Amazon that was the perfect size.  The problem was it was the exact same as my dining room rug.  I didn't like how dark it was in the kitchen.  I'd rather something brighter.
The second runner up is in the blue category but was too long.  Dang those dimensions!  It's in the entryway for now.
Finally I found this option that gives me the perfect blue hues and fits the space.  Which makes it a winner in my book.  I got it from Overstock.
There was a runner from Target that I really liked but it was in a tan/beige tone and the other options were sold out.  It's very popular so I want to share it in case you're in the market for a kitchen runner.  People say it's perfect because it already has a great non-slip backing.
My runner has almost caused some major falls but I just got these washable rug grippers and the problem is solved!
coffee canister • sugar canister • similar mini ladder
To the left of the stove I decided to set up our coffee station.  I probably won't keep the towel ladder here but everything is always moving around in the kitchen these days.
My coffee maker has never felt so visually unappealing so until I can finally get an espresso machine, I've been eyeing this coffee maker from the Drew Barrymore line at Walmart.
bread box • four slice toaster
Moving to the other side of the kitchen I have my bread box and toaster in the corner here.  I've debated storing the toaster in a cabinet but it's used almost daily so it's easier to keep it out.
My tiered tray fits perfectly under the cabinet and I think it will be perfect for displaying my seasonal decor.
utensil crock • wood and marble board • salt canister • pepper canister
I shared a reel and Tik Tok showing how I styled this space to the right of my stove.  It's one of the first spaces I styled in my kitchen.  Then I added a couple of patriotic touches to decorate for the Fourth of July.
And there you have it! My new kitchen decorated for Summer.  As fun as it has been decorating this space I've been getting more pleasure from setting up and organizing my kitchen.
Never before have I had so much cabinet space.  It's been both overwhelming and satisfying as I work my way around the kitchen making it work best for us.
Once I get everything in it's place and time to know that it works for us I will give a full kitchen layout breakdown.  While it certainly takes me a little longer to share in a blog post, many smaller projects or updates are easy to share on my Tik Tok or in my Instagram Stories.  Be sure to follow me there if you want to see updates sooner.
POST SOURCES




If you'd like to get even more home decor, fashion finds, sales and all things random be sure to follow me here: