Updated May 2014



I really like to see when people are tagged on youtube for random questions.  But I'm not on youtube at the moment, until I can be upgraded for my camera.  The way things are looking, that may not be until Christmas, so for now, I will be doing a lot of things that people would post on youtube, on my blog instead.  There will be hauls coming soon, and some reviews, so I figured why not do this too?  So every so often I will be posting maybe 5 questions at a time.  I would love to know what your thoughts are too, so please share!




1.  Who would you love to have dinner with?


Well this is a 2 part answer, because I'd like to have 2 separate dinners with 2 separate sets of dinner guests.


First I would love love love to have dinner with The President and First Lady.  I am in awe of them.  They are my Kennedy's.  I would just love to have a nice dinner and just chill with them ya know?  Me and the hubby, that would be so awesome.  What would we talk about? I have no clue.  I'd probably ask them about how they make it work.  They're like the Huxtables to me, like you wanna just ask Claire and Cliff–how do you do it??
Second, I would love to have dinner with Oprah and Gayle King.  I love them both and I just know they would be a hoot!
2.  Who would I want to go shopping with?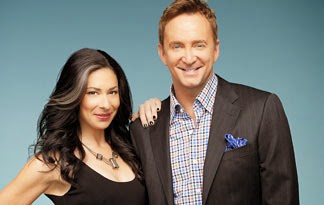 Let me just say, I am in love with Stacy London and Clinton Kelly from TLC's What Not To Wear.  I don't watch the show anymore like I used to.  But I would absolutely love to go shopping with these two.  Can Aria get nominated to be on the show?? Like for real??  I asked my hubby to nominate me after I had Brianna.  I was being serious.  I have yet to be on the show…I would just love to go shoe shopping with Stacy!!!  Even better is if both me and my hubby could go shopping with them!! I would love to see my hubby in something Clinton put together!
Sadly the show has completed it's final season…
3. What is my favorite restaurant?
Red Lobster is the hubby and mine favorite restaurant!!! We love that place!  We are the easiest order, we know exactly what we want every time.  It's rare that it would be changed up, but we get the Lobster Pizza as appetizer and the Ultimate Feast as our entrée every time.  If we won the lottery today and went someplace to celebrate…it'd be at Red Lobster.  You can't go wrong with them!!  There are a couple runners up…like Japan Inn here in Greenville.  I love them for sushi and their hibachi is really good too.  The Cheesecake Factory is delicious.  I've only been there once but they definitely set an imprint in my mind for how tasty their food is.  I love Dragonfly that is local here for my Chinese food.  I eat them too many times a week!
I can't believe I left out Jersey Mike's in this post.  I used to be there regularly.
4.  What is my dream vacation with kids?
Walt Disney World of course!!! I've wanted to go since I was a little girl.  And I'm determined to make this one of those things that my kids get to experience.  I would love to go as an adult sans kids, but it's more important to make those memories for my babies.  Especially Brianna because she adores the princesses.  I figure if I can get us there within the next couple of years, she won't be too old to where she's grown out of that.  What would be super awesome is if we could be in that Disney Vacation Club where you get to go to a lot of Disney resorts and clubs.  I wanna go on the Disney Cruise Line and everything.  Disney does cost an arm and a leg though…but I know the memories will be priceless.  It's a must do for me on my list.  If we won like the big time lotto, this would be our first trip.  I would take all of the family on an all-inclusive trip to Disney World.  That would be the greatest.  Disney World has something for everyone!
5.  What is my dream vacation sans kids?
Well there are a lot of places I want to go in this world.  But if you ask me my dream vacation…then I must say, let's go to Europe!!!  So let's just say that my dream vacay should be at least 2 weeks long.  I would want to spend my first week to week and a half in the city of love…
I studied French in highschool and always knew I would be in France one day.  I must stand on French soil in my life.  Technically I have when I was about 6 or 7, but that doesn't count!  I want to shop on the Champs-Elysees, I want to visit the museums, I want to eat lots of bread and cheese and wine. How amazing that would be!! I just want to sit and soak up the French culture.  I loved when Carrie was in Paris in the last season of SATC.  I even read a really great book Paris Hangover by Kirsten Lobe that made me want to be there sooo bad!!!  And then after Paris, we would do a brief stop in…
Don't know what that is?? It's Amsterdam!!! Ok so besides the obvious reason as to why people want to travel to Amsterdam, I can smoke anywhere, I don't need to travel overseas to do so.  Amsterdam has much more of a draw for me than that.  It's a beautiful little city. (I'm a travel channel nut)  Not only do I wanna see the Anne Frank house, all the museums, smoke in a bar that has different varieties of smokes…like choosing different ales if you were in London, but it also has…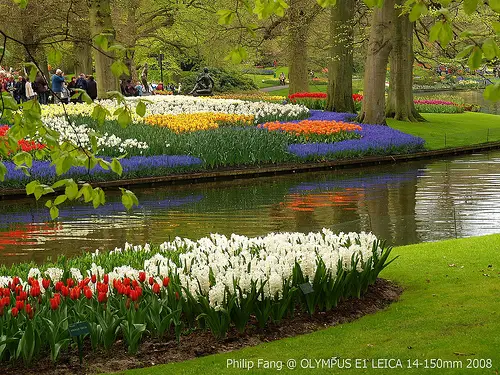 The most beautiful tulip gardens in the world! If you go during the right season, there are bunches of tulip gardens.  Tulips are my favorite flowers and ever since I saw my cousin Samantha Brown in Amsterdam, I knew I had to go too!
If I were to add another question, who would I want to travel with?? I would love for Samantha Brown to come with! I love her personality.  She's real cool peeps.
Well now you know just a few more things about me.  I had fun posting this blog!  Stay tuned for more to come!