Do you want to decorate for Valentine's day without going overboard?  I'm sharing my Valentine's styled shelf decor to give you some easy ideas for adding a touch of love in your home.
It's my first year decorating for Valentine's day and as I started to shop around and see what was available, I realized that I really wanted to go the less is more approach.  After all, I went all out  with fall decor and Christmas decor.  Once I took down all of the holiday decor and had a blank slate, I knew that I wanted to add a little bit of color and adding Valentine's style shelf decor fit the bill.
Although I wanted to add pops of pink and red, I didn't want to go overboard and have my house looking like a third grade classroom.  I decided to focus on a few main spaces to add Valentine's decor:  our bookshelves and our tiered tray.
Today we're going to focus on the Valentine's styled shelf decor.
*this post includes affiliate links for your shopping convenience, you can read more about affiliate links by reading my Disclosure*
Styling a bookshelf can be both fun and daunting.  For some reason it doesn't always come together the way I envision it in my head.
When I purchased this bookshelf I was already thinking of decorating for fall and then Christmas.  So I haven't had the opportunity to just have it styled for everyday.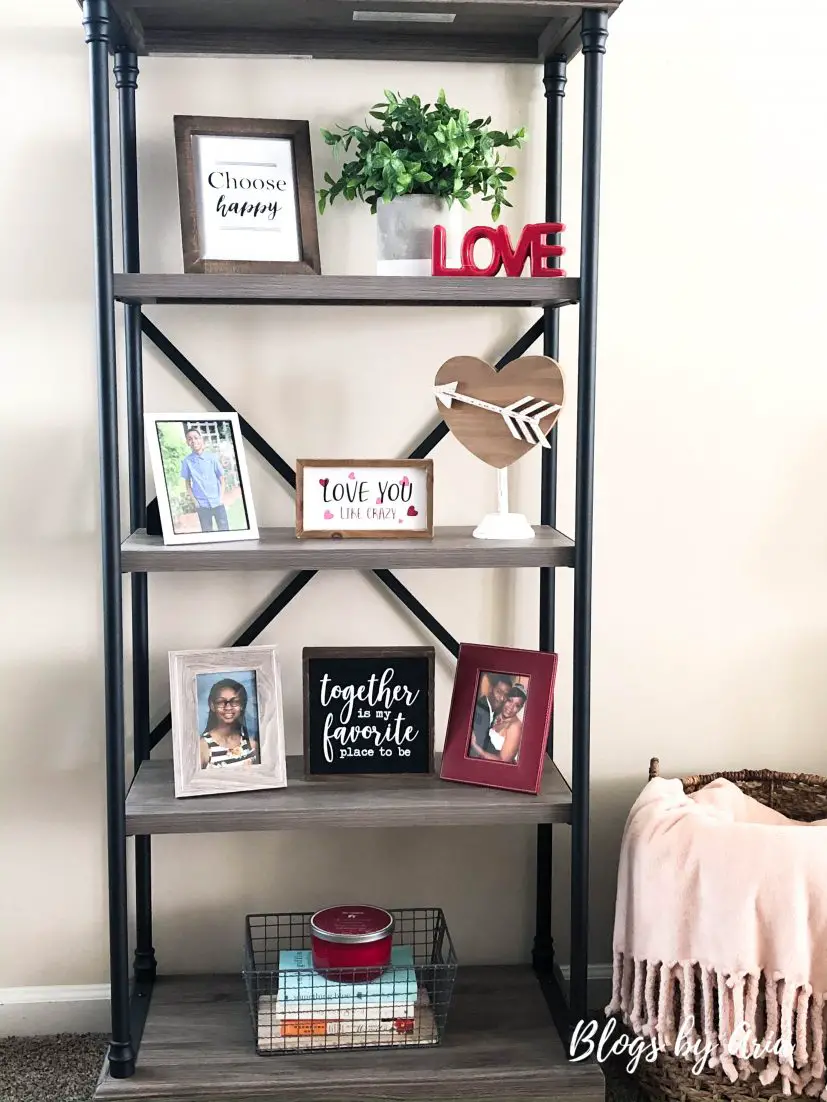 While I'm still figuring out how I want to style my shelves, I decided to go with the less is more approach.  The choose happy sign is a new find from Kirkland's (I can't find it online) as well as the farmhouse heart.  The three love signs are all from Hobby Lobby, most that I shared in my Valentine's Home Decor post.
You may recall this Bliss throw I got from Nordstrom, so I didn't have to buy a new throw for Valentine's decor.  I love when that happens 🙂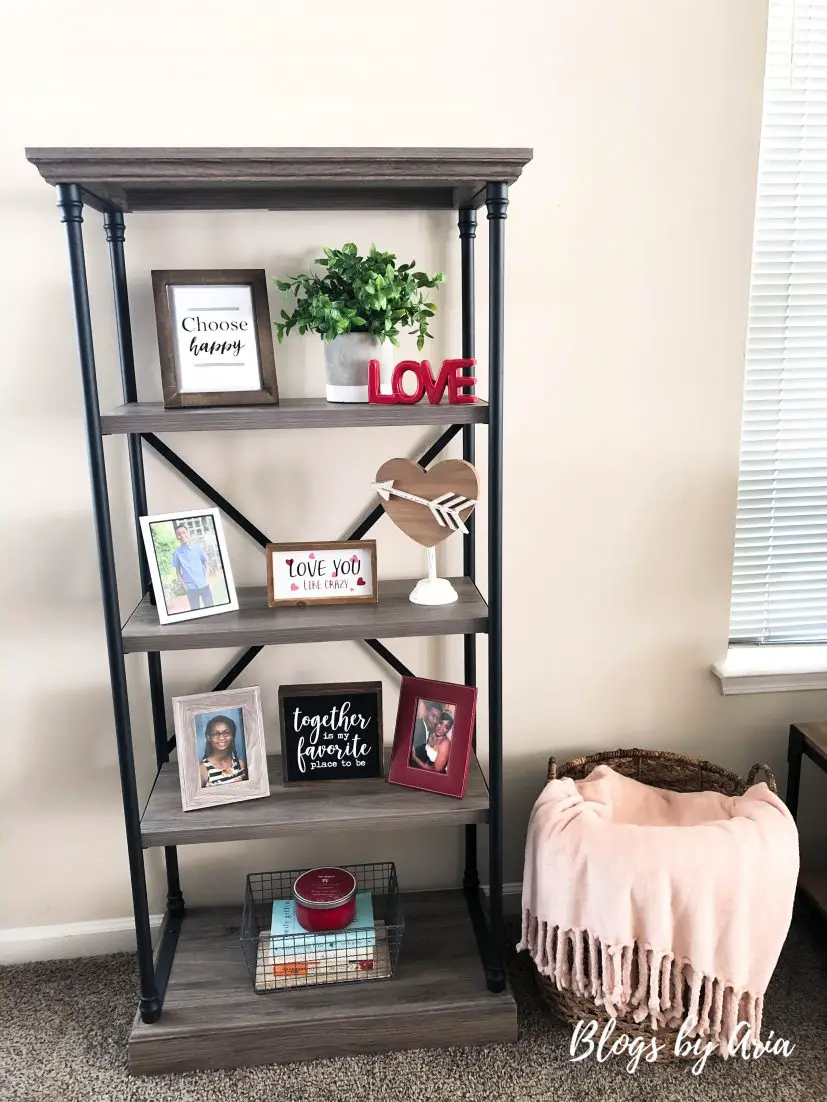 I really wish that I could and would have decorated for holidays like Valentine's day when my kids were smaller.  Just because I think it's fun to celebrate and get excited about.  Hopefully that would be something they will carry on to their children.  Or remember that their mom liked to make things special, just like I think about when I decorate for Christmas. ♥
Moving on to my other bookshelf, I was able to add a few seasonal pieces for Valentine's Day.  I love this Carson horizontal bookcase especially for adding decor.  It works in this space but I can't wait to see it in our next home.
I thought about getting this heart filler for my dough bowl but instead decided to get this rose gold vase filler from Target.  Because it's not Valentine's themed I can use it for a while before I switch to something more neutral or these lemons I've been eyeing.
You may recall I shared these two signs in my Valentine's home decor ideas. This accordion sign fits perfectly in this space.  And I love the XOXO sign and I'm glad I was able to get my hands on it before it sold out.  There were so many items I wanted to get from Hobby Lobby and they all got snatched up so quickly.  Guess I've learned I have to be quicker than that.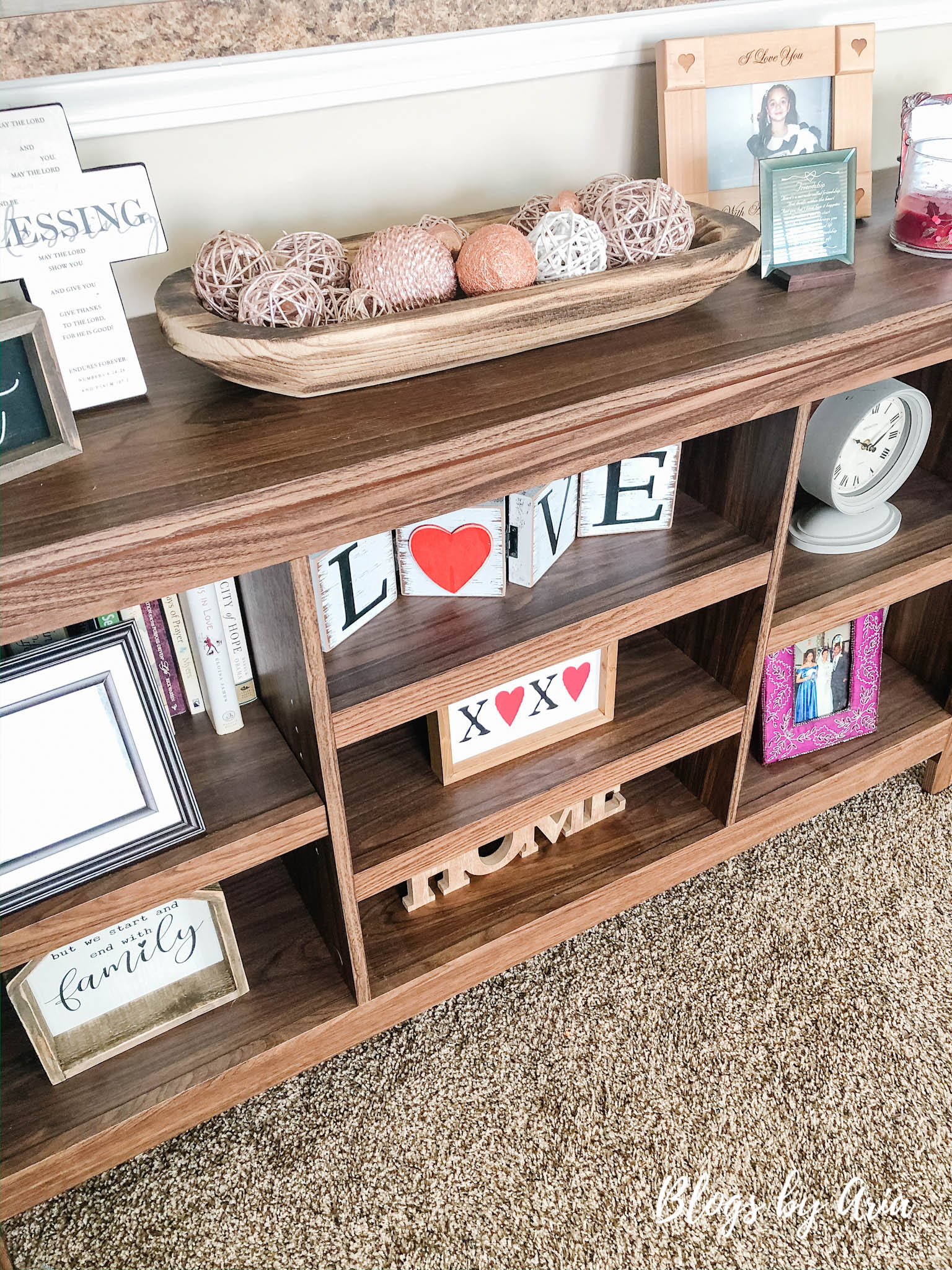 The sign on the bottom left was a Michael's find from their new Spring home decor line.
The "oh my heart" sign is from Kirkland's.  I used to love to find unique picture frames from Pier 1.  This frame and the purple beaded one I got from Pier 1 years and years ago.  I don't find those kind of unique frames there anymore.
That wraps up my Valentine's shelf decor for this year.  I hope to add more sprinkles throughout our home next year.  I didn't share it but I did get the gray plaid heart towels for our powder room from Joann's.  And I got a pair of pink and red striped kitchen towels from Walmart.  I got towels that I could use and not just for looks and they work really well.
Now in terms of decor, my attention is focused on checking off some of the items off of my home decor list next.  I  want to have a good mix of ticking those items as well as getting a few small decor pieces here and there.  All while keeping in mind that we need to think about moving and preparing for that.
I'm finishing up this post as I'm finishing up watching the Super Bowl.  It was a great game and a great halftime show 🙂  And now we'll go into football withdrawals until next fall.  Enjoy your week my friend!  I was proactive and took today (Monday when you're more than likely reading this) off since it's always hard to go to work after Super Bowl Sunday.