Over the weekend we had such beautiful weather I wanted to give my porch a quick refresh for Spring.  This is my first time decorating our front porch for Spring and I knew that I wanted a few pops of color.
My goal with decorating my Spring front porch is to make it inviting and colorful with pops of pink (of course) and to keep it affordable.  I think I achieved my goal!  Let me show you how I refreshed my porch for the season.
*this post includes affiliate links for your shopping convenience, you can read more about affiliate links by reading my Disclosure*
Once I saw these white wood planters I knew that they would be perfect. They're budget friendly too.  I would love taller planters but they can get too pricey.  Since these are wood they have a little weight to them.
When it comes to flowers, I love the look but don't love the maintenance or the bees that come with it.  The last thing I want to deal with is more bees and wasps on the front porch.  I first saw some faux flowers for outdoors on Etsy.  I thought they would be the perfect solution.  But I would have to buy so many to achieve a full look that it wasn't really affordable for me.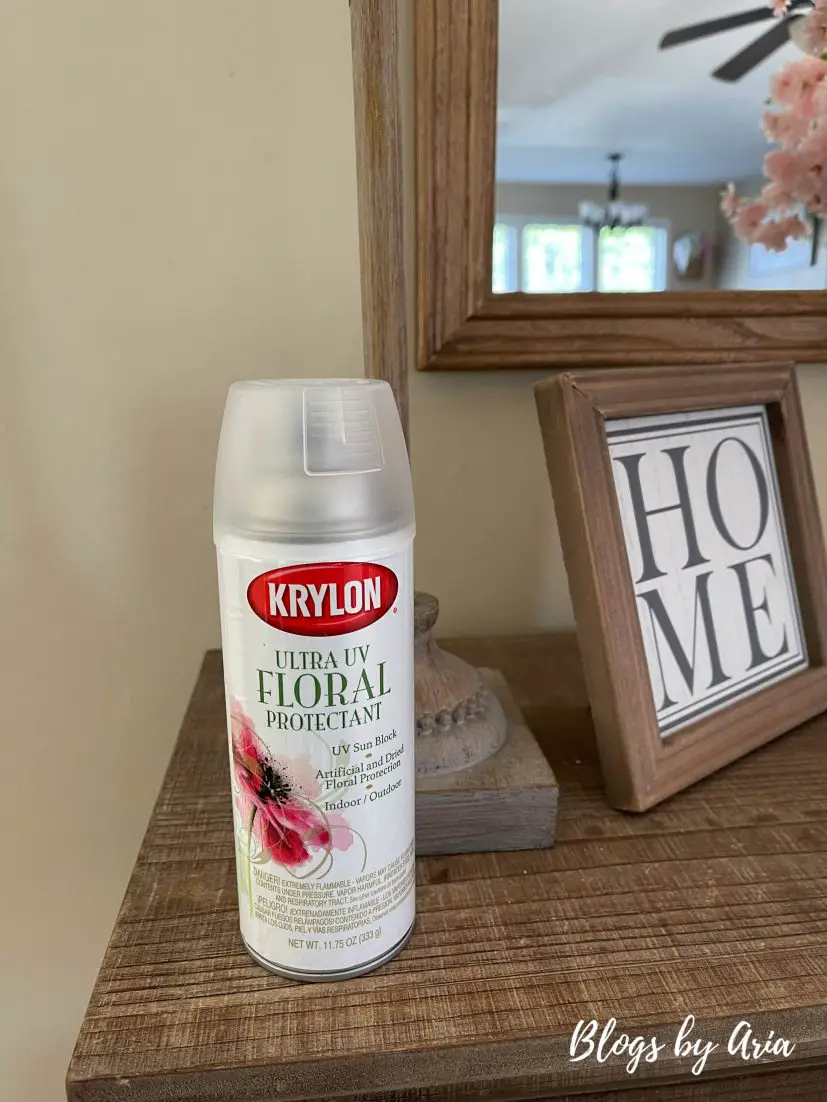 Instead I decided to get a few bunches of faux flowers from Michaels after I found this Krylon UV floral protectant that I can spray on faux flowers in order to protect them from the elements outside.
I learned after decorating my front porch for Fall that under the porch doesn't get the best direct sunlight.  That's another reason I didn't want to go with real flowers inside my planters.
I didn't take pictures step by step but I can still share how easy it was to create this floral arrangement.  It's so simple you won't even believe it!
Taking the planters, I placed a square floral foam brick into the planter.  Because the planters aren't too tall and taper towards the bottom, I didn't need to add anything else to give it height.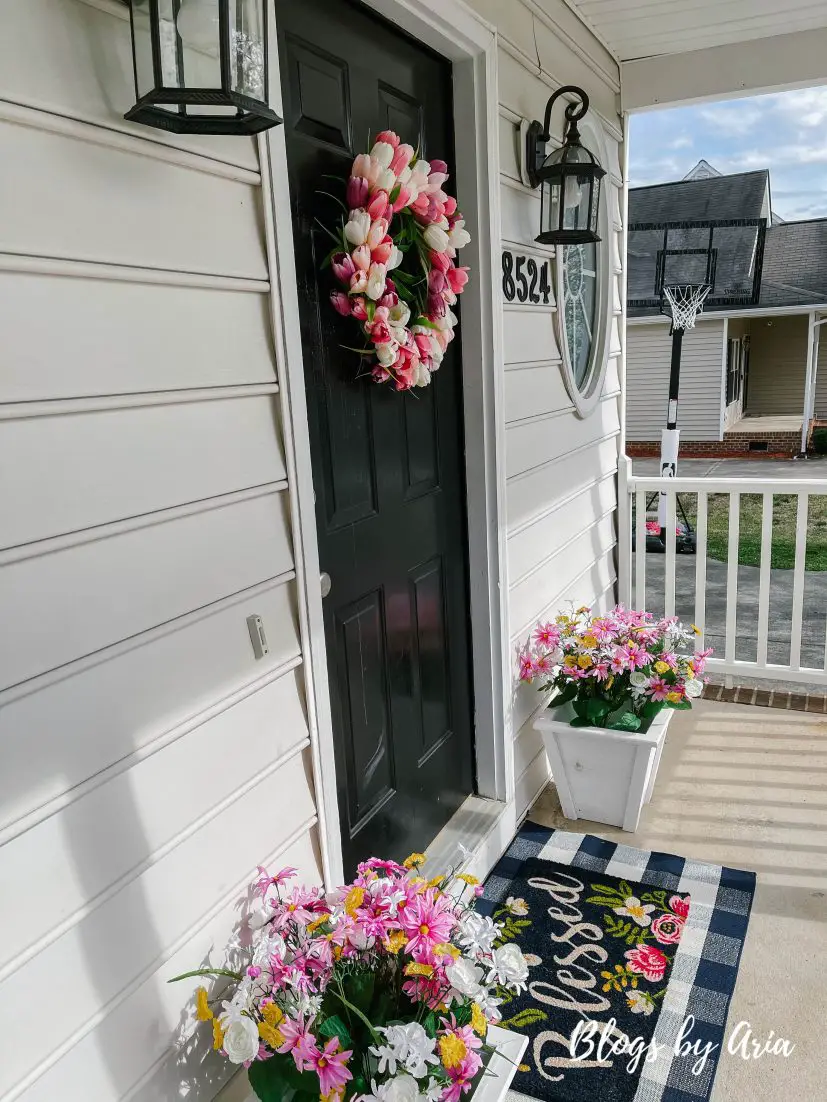 Next I took three bunches of these daisy, mum and ranunculus bushes and stuck them as far down as I could.  These bunches are so full I didn't really mess with them much.  I just spread them out a little.
Once they were in there pretty securely, I took the planters outside and sprayed them with the Krylon UV floral protectant spray.
If you want them to look even more realistic you could add some potting soil or moss, which I may add the potting soil because it would also add more weight.  You can also add more greenery to the base if you want to make it appear more full.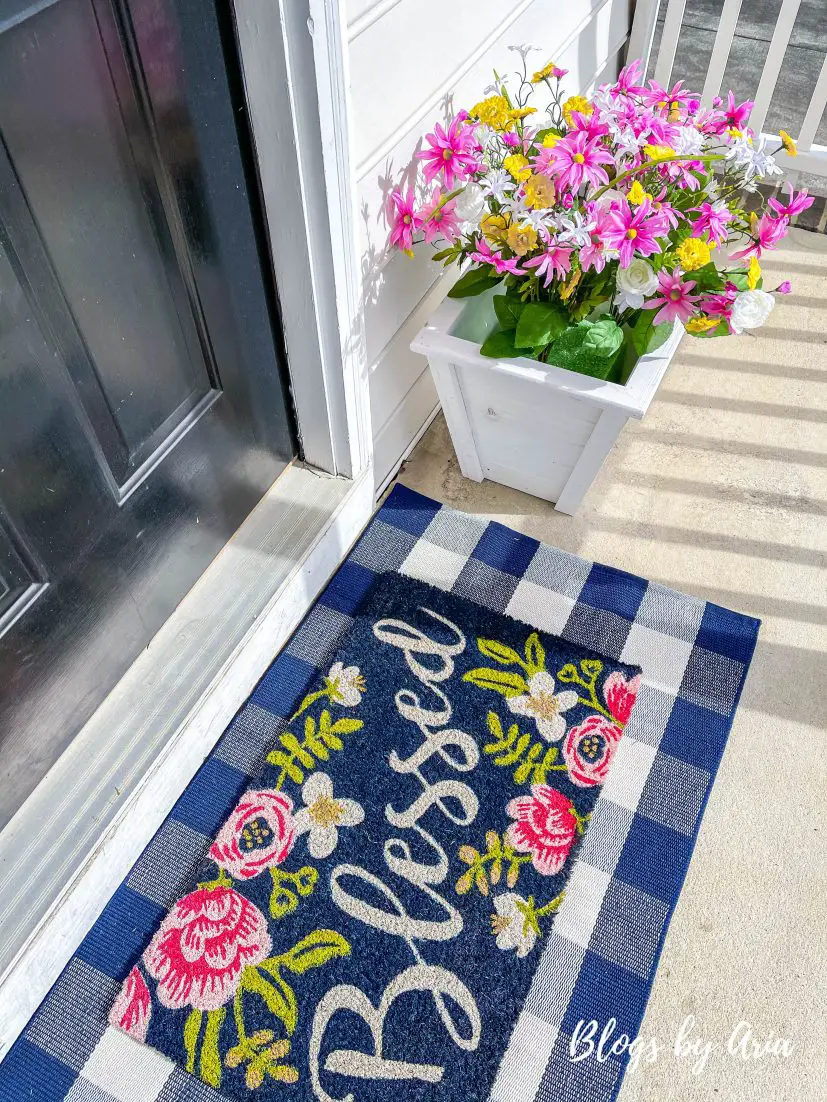 Back in the fall, I purchased this blue and white buffalo check rug to go under my doormat.  I ended up using my black and white buffalo check and didn't return the blue and white version in time.  Turns out that's okay because I paired it with my new blessed doormat that I shared in my affordable Spring decor post.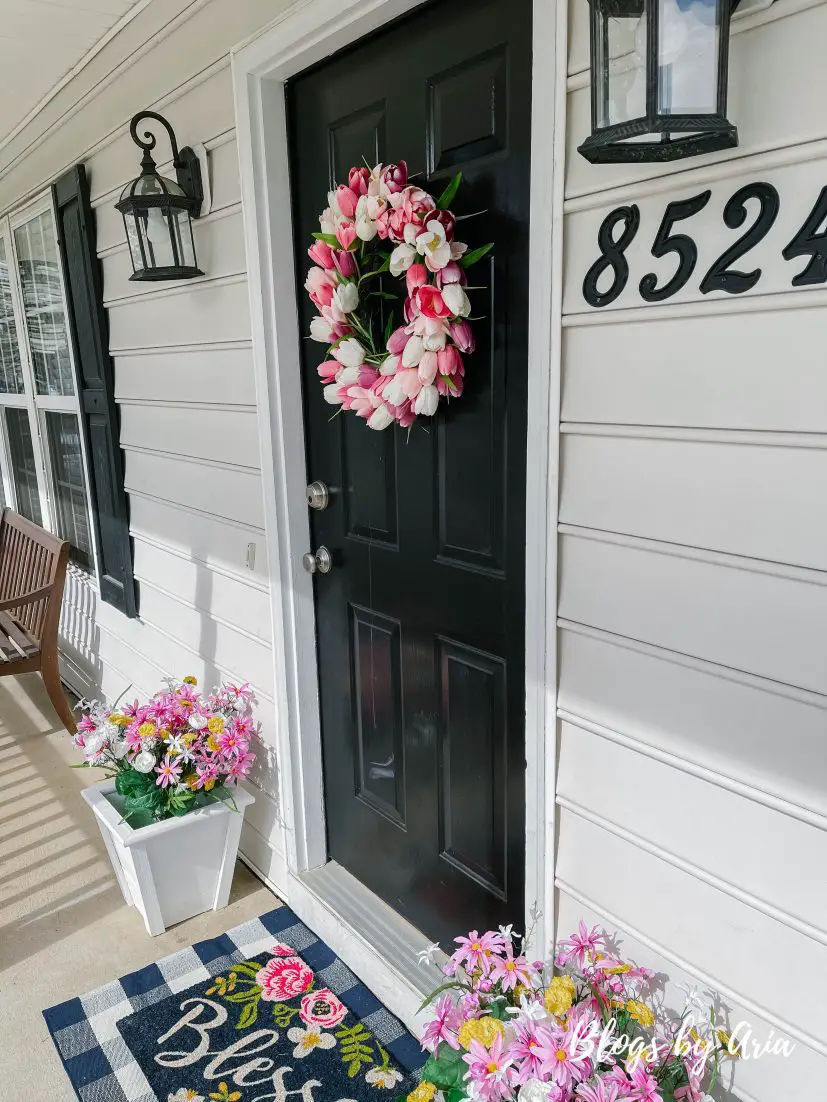 Last year I ordered this tulip wreath from Kohl's and it has held up so well!  It's such a full wreath and is on sale right now!  I've seen so many more expensive tulip wreathes, but this one is both affordable and beautiful!
On one of my recent trips to Michael's I found this cute welcome spring yard flag.  I don't typically find them online, so check your local stores.  I have my eye on one from Kirkland's too for later in the Spring going into Summer.  And this weekend I'll be switching it out for my Easter flag that I got from Hobby Lobby.
The next project is to plant some flowers in this space.  I'll leave that up to my daughter and husband because I do not have a green thumb 🙂
That's my Spring front porch and I love how it turned out!  As you can see, it wasn't difficult at all to refresh my porch for Spring.  All it takes is a few cheerful items to really brighten up your space!
I think we'll get a rocking chair or two to add more seating to our front porch.  We'll see.  For now I think this is great once we consistently have warm weather.  I can't wait!