Today I'm sharing our townhouse kitchen layout.  We didn't have a large amount of time to find a place to live before I had to start my job in my new location.  In one day, we looked at several apartments.  I knew that we wouldn't find everything on our list, but I hoped to find a few key items in our new home.  One of those being a good kitchen.
I didn't share much of our old apartment on the blog, just how much I loathed it.  I truly hated that kitchen.  It was old and tiny. I tried to make the best of it.  Although this townhouse is a rental, and the kitchen isn't perfect, it's ten times better than our old one!
*this post includes affiliate links for your shopping convenience, which means if you click on a link and make a purchase I get a small commission that helps support this blog. You can read more about affiliate links by reading my Disclosure post*
I thought I'd share our kitchen layout.
What I love most about our townhouse kitchen is the size.  It's not huge but it's spacious.  We have plenty of counter space, lots of cabinets and a pantry.
We have upgraded, stainless steel appliances (mostly) as a bonus!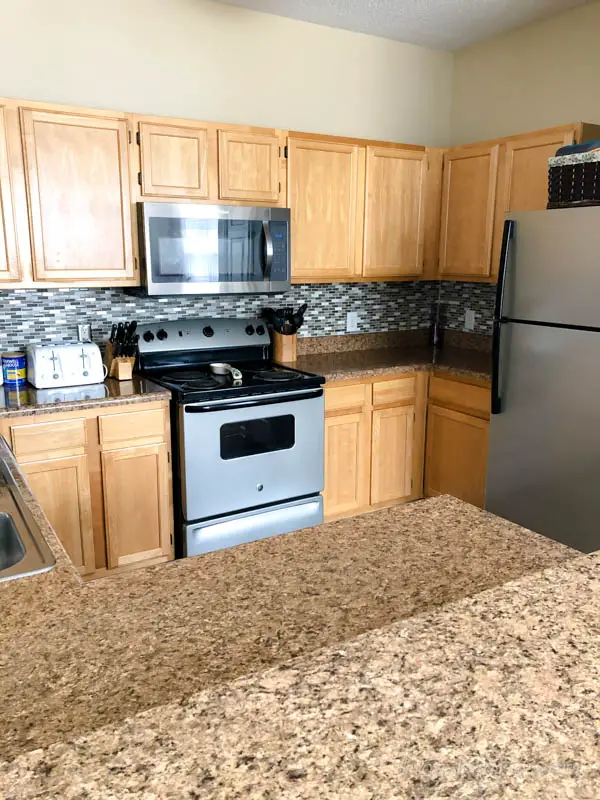 The kitchen features this double island style ledge but it doesn't really serve a purpose.  It doesn't extend enough to use with bar stools.  If it did that would be awesome!
But even without being able to use the ledge as a breakfast bar, I am so grateful for the amount of counterspace.  For so long, even in previous apartments, I would get so frustrated trying to cook dinner and not having enough space on the counters.  If you've ever had to deal with the same you know what I mean 😉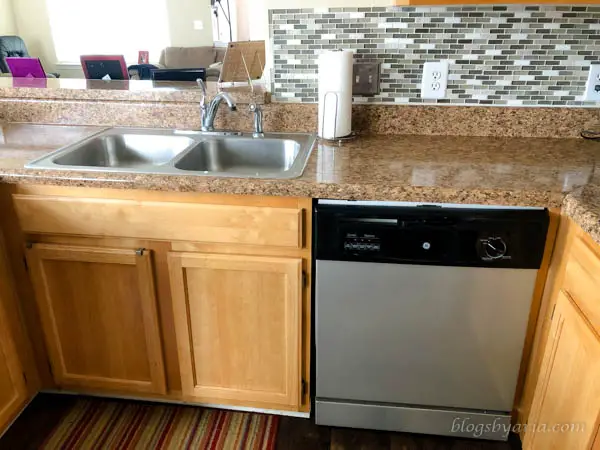 I'm thankful to have a dishwasher. So grateful!! I despise washing dishes.  I do wish it was upgraded, not in being stainless steel, but in being more sleek.  It does a good enough job but I know more updated ones do better.  And I would like it to be more flush with the cabinets.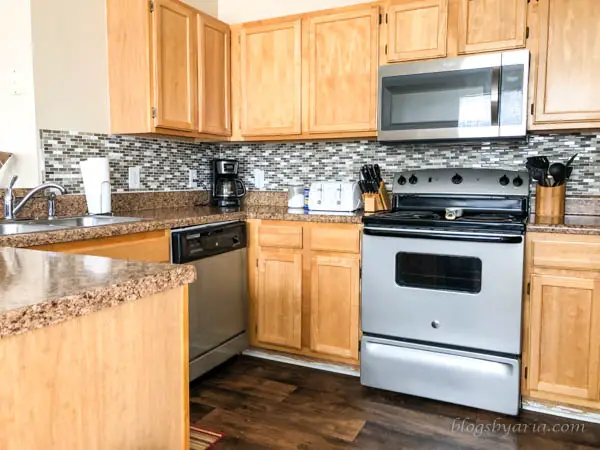 My goal is to keep the counters as clear as possible.  I want to add some decor in the kitchen that will be great for Spring and Summer.  A new kitchen mat for the sink and a few hand towels, maybe some faux flowers should do the trick.  I think it would be cute to add a nice sign or something in the blank wall space next to the kitchen sink.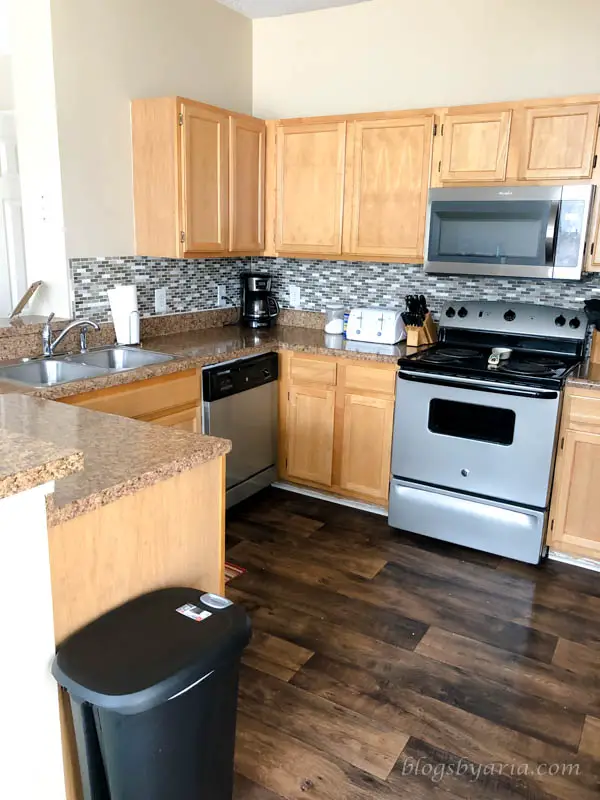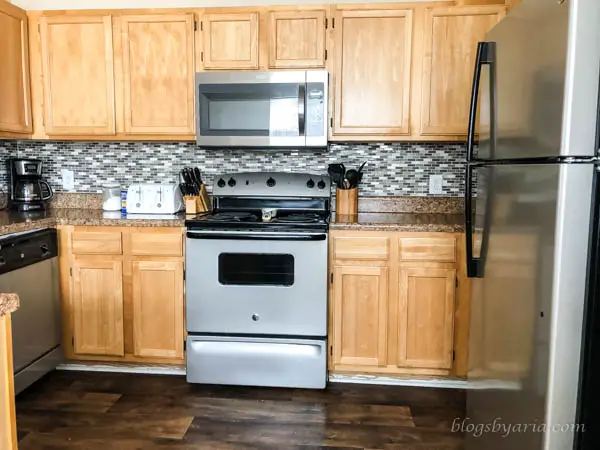 All of our floors that aren't carpeted are this wooden material.  I don't know what it is exactly.  It feels like wood, not like laminate and not like tile.  I love the look of it.  The only issue is that we get these white specks on the floors that I imagine come from the popcorn ceiling.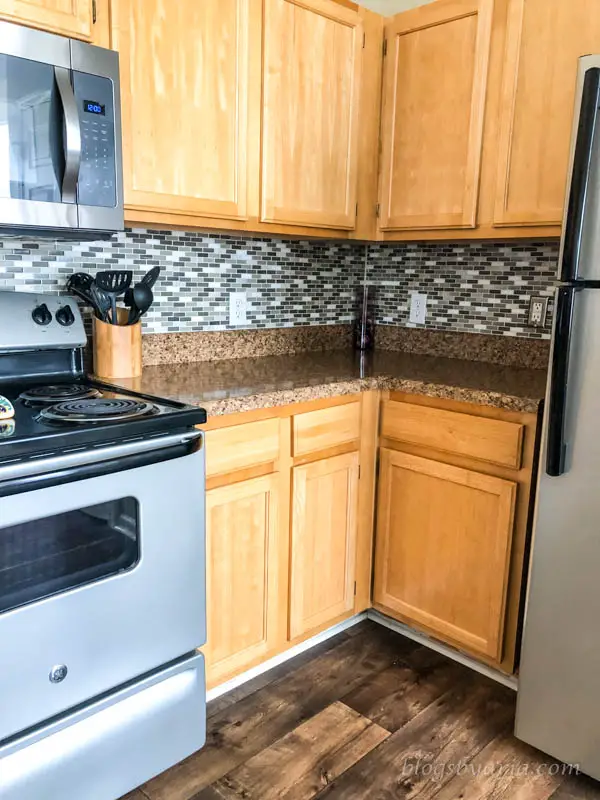 I keep my most used cooking utensils in this bamboo crock.  I like how the back splash adds texture to the kitchen.  And it gives it a little personality too.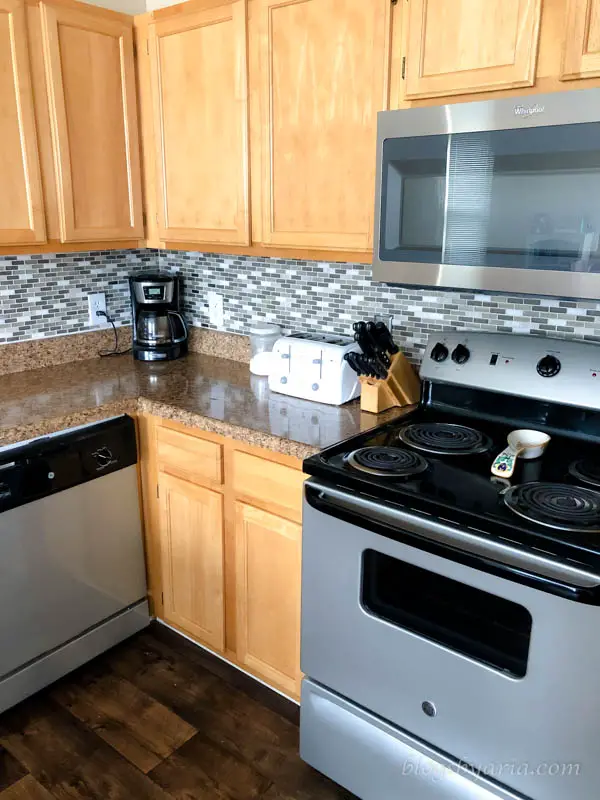 ORGANIZED KITCHEN LAYOUT
Now let me show you my organized kitchen layout.  Some of this is subject to change…after all we've lived here for six months and I'm still not considering us as "situated".  But this is where we are right now.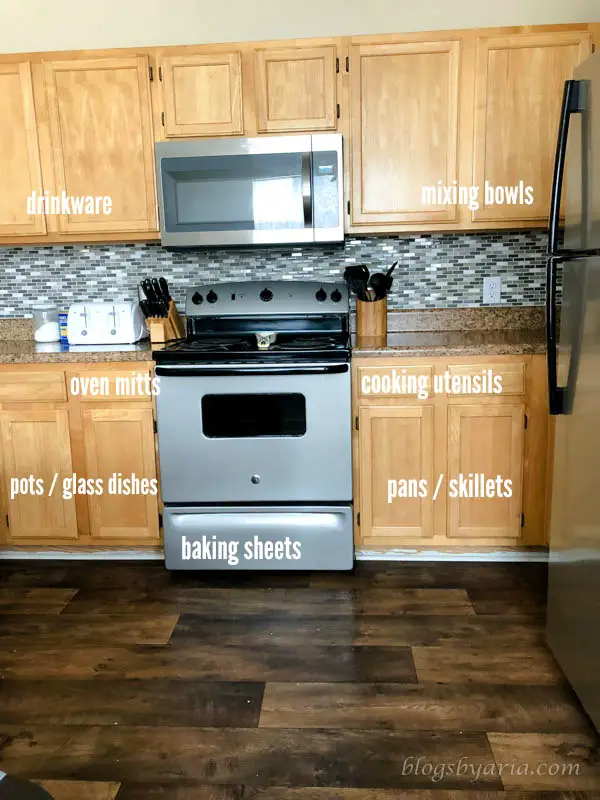 Originally we had the pots and pans in the same cabinet.  I got tired of fighting with them and decided to separate them into their own cabinet.  This isn't a custom kitchen so there aren't pullout drawers in the cabinets.  ( a must have when we own our home)
All of our kitchen prep items are to the right of the microwave.  Mixing bowls, measuring bowls and tupperware.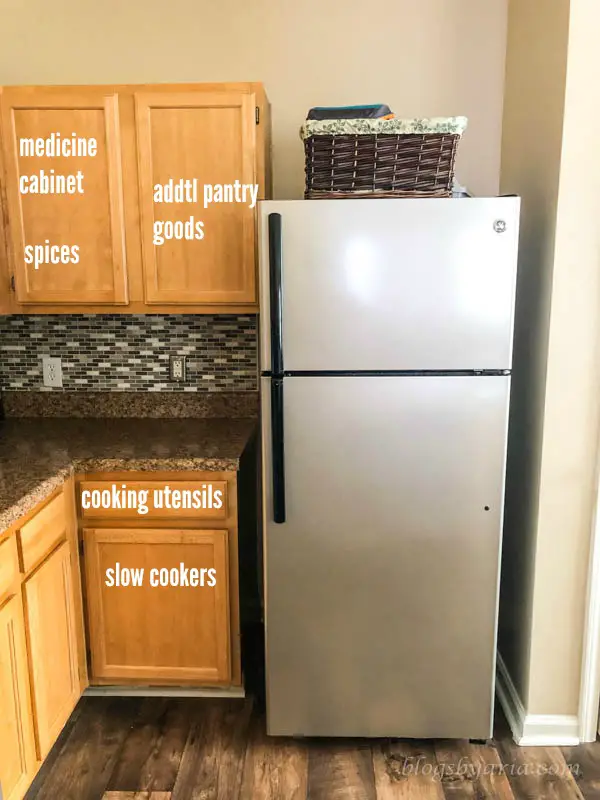 I recently shared this organized cooking utensils drawer and I hope to share the whole kitchen in further detail.  Atop the refrigerator I have this basket that used to hold chips in our previous kitchen.  It currently holds DH's lunch bag I got him last year, and when it's not in use it holds Jordan's lunch bag too.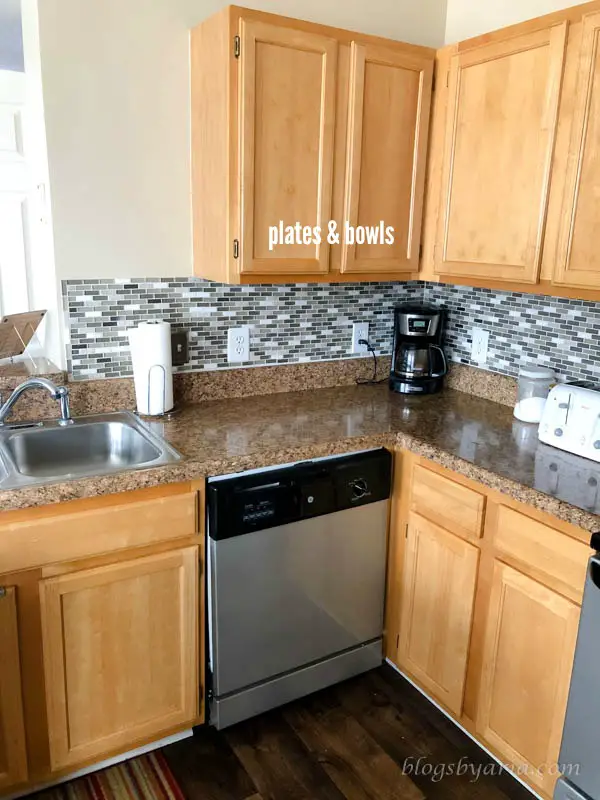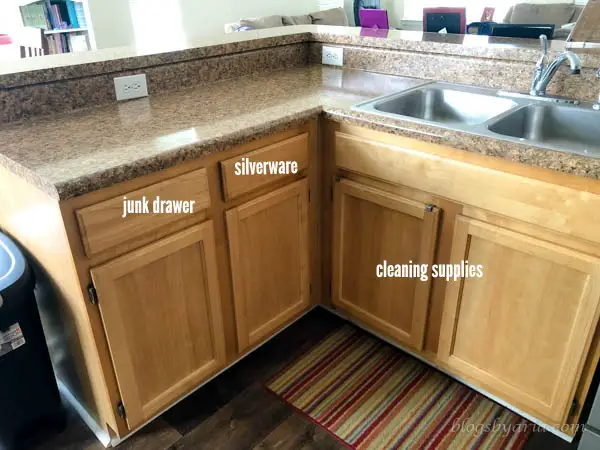 I didn't label the cabinets to the left because frankly, there's no organization going on in there!  It's mostly fully of plastic bags.  And a few vases, my hand mixer and a cupcake storage holder.  I'll share that too one day.  But how could I have said exactly what's in these cabinets?!  They drive me crazy and I will get them handled as soon as I figure out the best resolution.
When we first moved in I wanted to set things up how I wanted them to be.  Well that went out of the window quick because what I really wanted was for things to be put away so we wouldn't be living out of boxes.  And I think that's okay.  I think it takes some time of living in a space to learn how it will work best for you.
I mentioned earlier that we looked at several apartments in one day, and I took pictures and notes to help me keep track of everything.  For our townhouse we looked at two available units at the time and I imagined how we would work the kitchen.  We move in and our kitchen is different than those two models!  So you can't plan for everything.
That's our townhouse kitchen layout.  I'll be sharing more details about how I'm staying organized in the kitchen in future posts.  Stay tuned!