Friends!  I'm excited to share today's post with you!!  Today we're talking about the new Erin Condren Deluxe Monthly Planner.  I've partnered with Erin Condren to share my thoughts on this updated planner.  You may recall my debate about which planner to use for my 2018 blog planner.  Last year I used the Deluxe Monthly Planner and really liked how it worked for me.  I decided to give the Erin Condren Monthly Planner a try and didn't fall in love with it.  I haven't been able to find planner peace.  I even debated after having the Monthly Planner for some time, buying the Deluxe Monthly Planner when they were on sale earlier this year.  But instead, I decided to tough it out and try to make it work with the Monthly Planner.
*this post includes affiliate links, which means if you click on a link and make a purchase that I get a small commission that helps support this blog and my family. You can read more about affiliate links by reading my Disclosure post*
The new Erin Condren Deluxe Monthly Planner recently launched with some great updates.  My decision has officially been made.  I'm going back to my Deluxe Monthly Planner! 🙂
I just got my new Deluxe Monthly Planner this week so let's dive right in!!!  It's been rainy and gloomy all week here so as soon as I got a touch of sunlight I laid everything out on the floor and took pics before more rain decided to fall.  I would have preferred to use a white background for these pics but a girls gotta do what a girls gotta do.  🙂
Since I was placing the order for the planner I decided to go ahead and get a few accessories too.  Erin Condren offers 15% off accessories when you buy 4 or more.  Let's take a look at the accessories and then move on to the planner.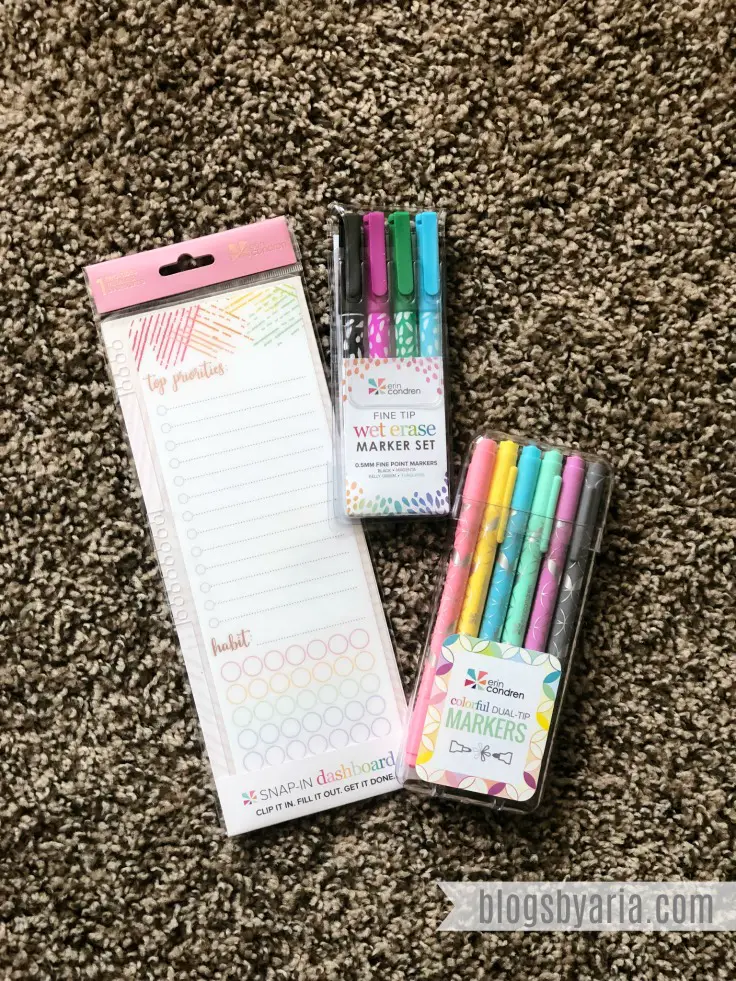 I want to get so many snap-in dashboards but I decided to start with this habit tracker/to-do list option first.  I can use this in both of my planners which makes it a great option.  I think I'll start out with using it in my Deluxe Monthly Planner to keep up with blog goals, habits and to-do's.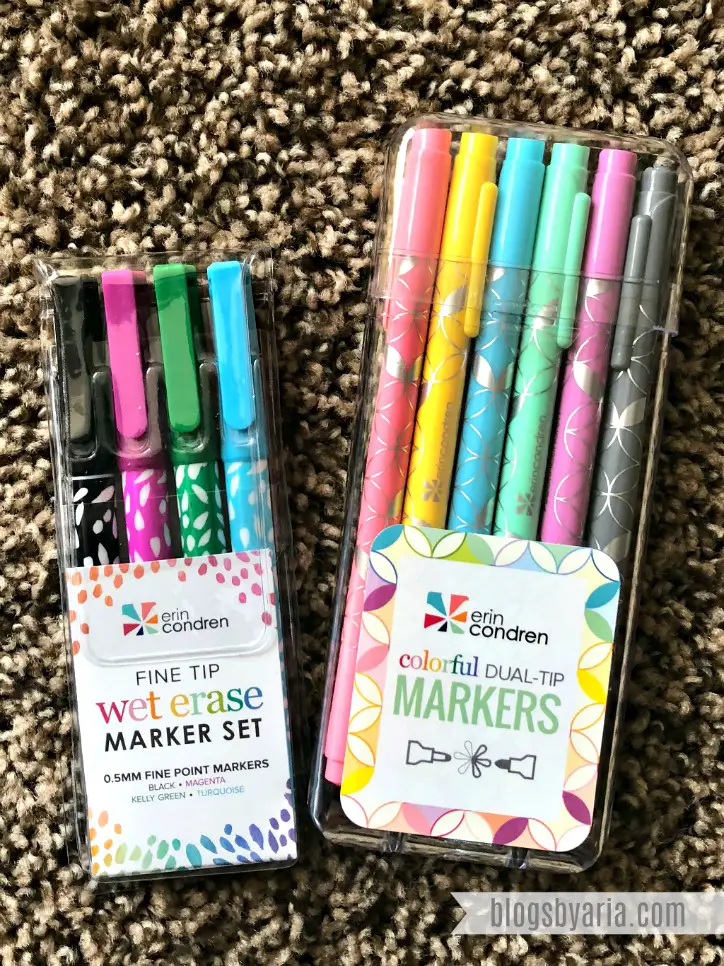 I got the Fine Tip Wet Erase Marker Set to use on my dashboard.  When Erin Condren came out with a fine point option I knew I had to get them.  I always wanted to use the dashboards but I wasn't a fan of using the regular (medium) point wet erase markers.  I'm excited to use these!  I picked up the pastel version of the Colorful Dual-Tip Markers to use in my Deluxe Monthly Planner.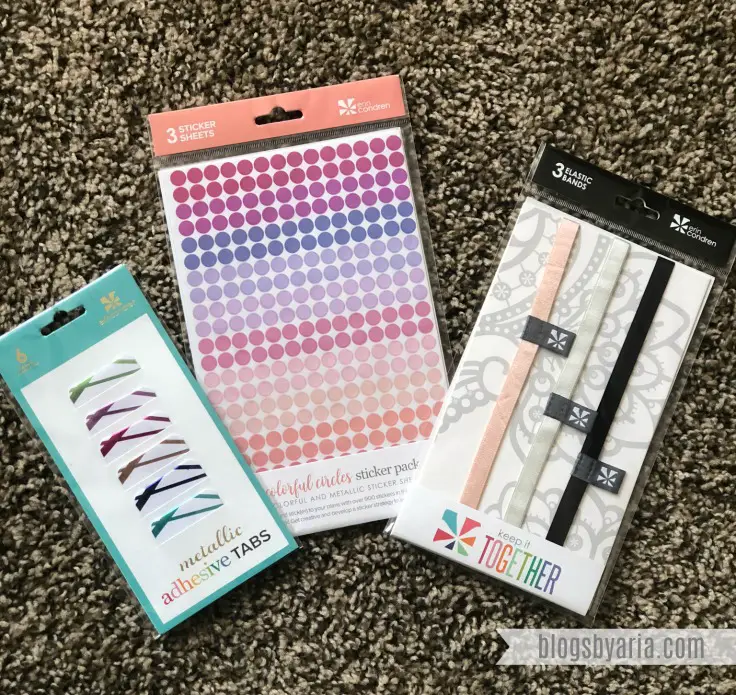 On a whim I picked up the Metallic Adhesive Tabs.  I thought they would work great to organize my notes pages that are in the back of the Deluxe Monthly Planner.  The Colorful Circles Sticker Pack is for use in my Erin Condren Life Planner.  I've shared them before here, and wanted to get them since I never could find the old sheet that I had.  They're perfect for keeping up with important dates for the kids in my year at a glance pages in my ECLP.  The Keep it Together elastic bands are great for holding everything together with my planner.  They're mostly for my Life Planner that I take with me to and from work in my handbag.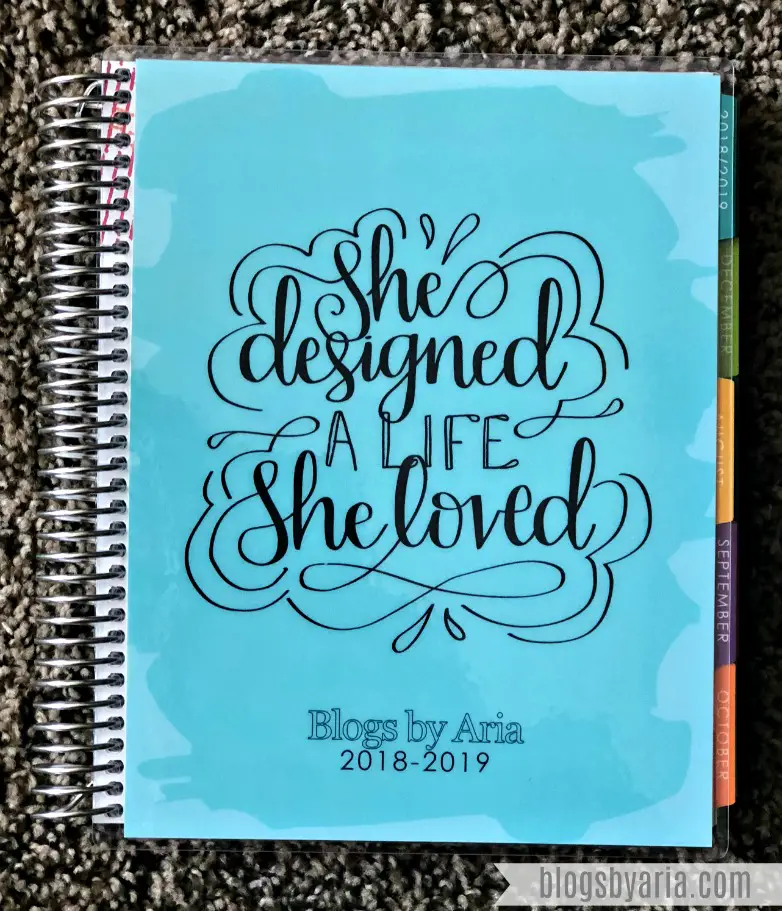 When I saw this cover I fell in love.  It's similar to my previous Erin Condren Deluxe Monthly Planner cover.  Something about the quote really speaks to me.  I customized the colors and I couldn't be more pleased with how it turned out.  I switch out my interchangeable covers with my Life Planner from time to time throughout the year, but I don't change them for my blog planner.  I'm tricky like that 🙂
As you can see I got the colorful version of the Erin Condren Deluxe Monthly Planner.  I like to go neutral with my Life Planner and colorful with the Deluxe Monthly Planner.  An update to this year's planner is the tabs are back!  They used to not come with the monthly tabs and I'm glad they added them back.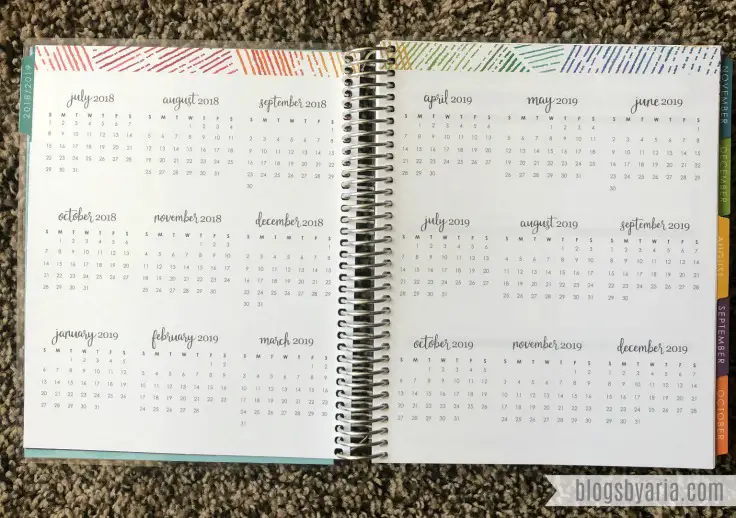 Here's the year at a glance page.
These pages can be used any way you see fit.  Goals for the year.  Monthly to-do's.  Endless possibilities.
There's a lot of great updates to the new 2018-2019 Erin Condren Deluxe Monthly Planner.  One of the updates is the mini calendar for the following month.
You have the option of when you want your planner to start.  I opted with it starting in August and running through July.  You can also choose the size of your planner.  I like mine to be the same size as the Life Planner at 7″ X 9″ or yo can get it at the size of a standard notebook at 8.5″ X 11″ (also the size of the Erin Condren Teacher Lesson Planner).
In the previous version of the Deluxe Monthly Planner in between each month there were productivity note pages.  This year they removed those and included two lined notes pages.  That really comes out to be 5 pages if you write on both sides of the page!
And the notes pages are now perforated.  I love that.  There are the two between each month and 40 pages in the back of the planner.  I opted for an additional 40 pages to make sure I didn't run out of pages.  You also have the option to have 120 notes pages to keep you covered!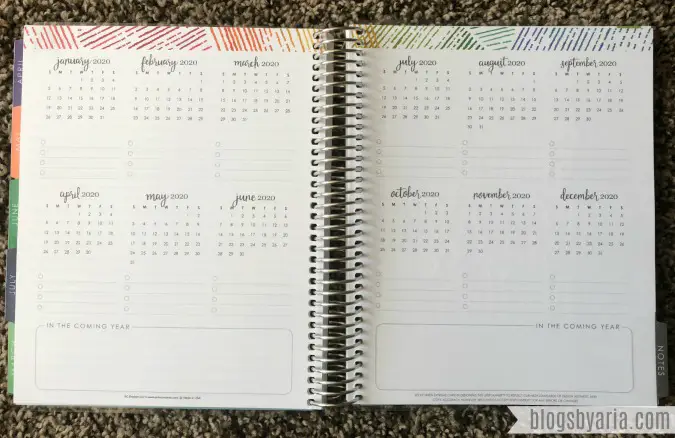 Before you get to the notes pages in the planner, there is the at a glance calendar for the upcoming year.  How crazy is it that 2020 is around the corner?  It's mind boggling.
The Erin Condren Deluxe Monthly Planner includes two sheets of these stickers.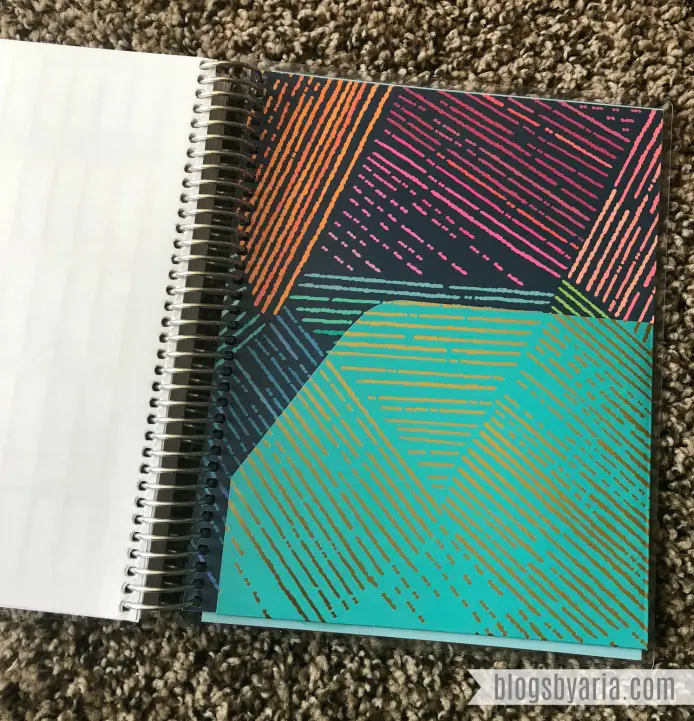 At the back of the planner is this durable folder to keep up with notes or stickers or anything you need to keep with your Deluxe Monthly Planner.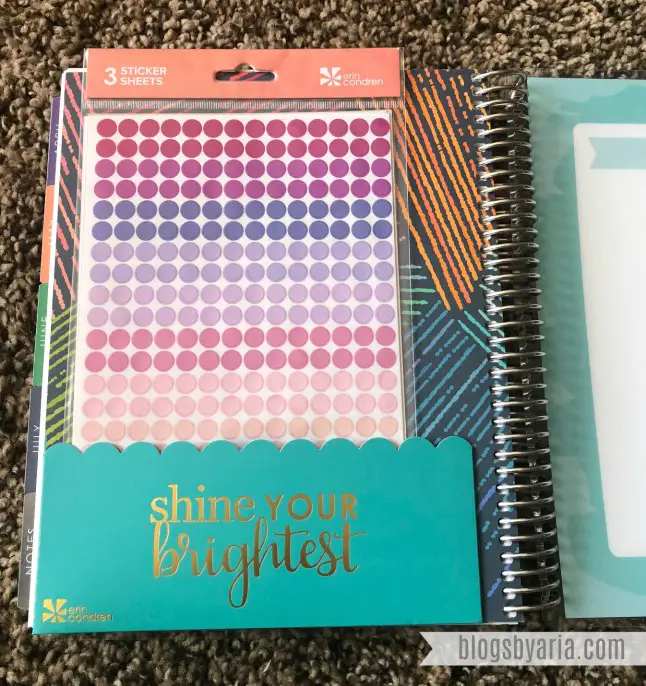 On the opposite side is a pocket to stick any additional items.  Erin Condren designed this Deluxe Monthly Planner to be super functional and I really appreciate them for that.  I think it's all of these details that really make this the perfect blog planner for me.  Trying to go to something different made me realize that I needed my planner to do more for me.  If that makes sense.
I love that Erin Condren has so many planner options to fit so many different needs.  From the Life Planner to the Monthly planner, the Deluxe Monthly Planner, the Teacher Lesson Planner and the Academic Planner…you can find something that will work perfectly for you.  For example, you don't have to be a teacher to use the Teacher Lesson Planner, I've seen a lot of moms use that planner to keep track of all of their kids school assignments, especially if they're in higher grades and they have a few kids.  I've seen many people use the Deluxe Monthly Planner as a budget planner to keep track of monthly budgeting and sinking funds and big savings goals.  So whatever your needs are, there's an Erin Condren product that will help you be organized.
Now that I've shared my new Erin Condren Deluxe Monthly Planner with you I'm going to "move in" to it today 🙂 I'm so excited 🙂