Friends!  The new Erin Condren Life Planner has recently launched and there's lots of buzz going on.  But I've been on the website recently and found some new things to add to my Erin Condren Wishlist!  I'm on a no spend right now but ummm I may have to break that just to get a couple of things.  #enableralert
*this post may include affiliate links, you can read more about that by reading my Disclosure post*
One of the things that I love about the new planner launch is all of the new accessories and goodies that are added to the site.  I don't purchase my new Life Planner until the Fall because I prefer my planner to start in January (which you could still select even if buying your planner now btw) and I like to order it around my birthday as a gift to myself.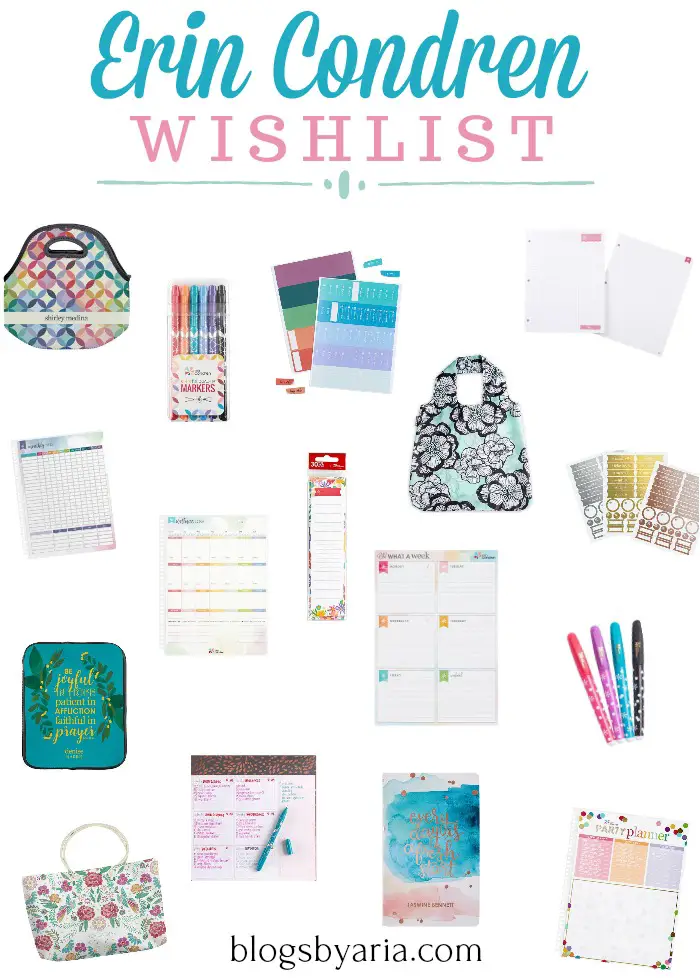 Let's jump right on in with all the things I have my eye on at Erin Condren.  Now is probably a good time to say that this post may get kinda long 🙂  I can't help it, I love Erin Condren and I am always adding things to my Erin Condren Wishlist.
Mid Century Circles Lunch Tote — I'm not normally one of those girls who like cutesy lunch bags ya know?  I'm a Glad-ware and pop it in a plastic bag kind of girl.  But I want to change that up.  I'm living the low-carb lifestyle and the key to my success is being prepared.  I can't just go and eat out on my lunch break.  I have to make my own lunch and take it to work otherwise it's really easy to get off track.  Just like my planner keeps me on track, I need a lunch tote to help me too.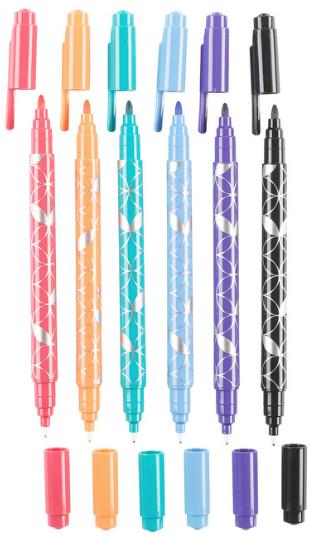 Colorful Dual Tip Markers — My pen of choice when writing is a Paper Mate Ink Joy but in my monthly spreads I want a little more color.  I do have the Staedtler Triplus Fineliner pens but I only like using two of the colors.  So I added these Erin Condren Dual Tip Markers because I love the colors.  The added bonus is they're dual tipped so I get both a fine tip and a thicker one.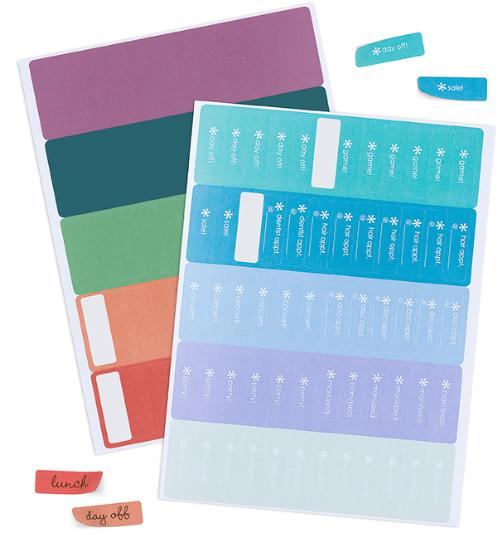 Customizable Event Stickers — What I love about these are that they're customizable.  These fit perfectly in the monthly spread and they're the same as the ones in the back of the Life Planner.  If you prefer not to write it yourself, or you don't love your handwriting it's so easy to get these stickers for recurring events.  This to me would work great for my son's basketball and football games and practices, regular meetings, early release days, days off, the list goes on and on.
Reusable Bags — I'll admit, I'm not always the best about using reusable bags.  Yeah you can keep them in your car and pull them out for each shopping trip.  But here's what I like about these…not only are they super pretty, but they fold down so they're super compact, which means they can fit in your purse and it's easier for me not to forget them.  I'll show you how I use them later in the year, stay tuned!
P.S. the reusable bag also comes in Erin Condren's new signature print Woven Wonder.
Metallic Sticker Pack — These stickers are perfect for the yearly goals page at the beginning of the Life Planner.  But I also love the idea of using them in the notes pages between each month.  Just to add that little something something ya know?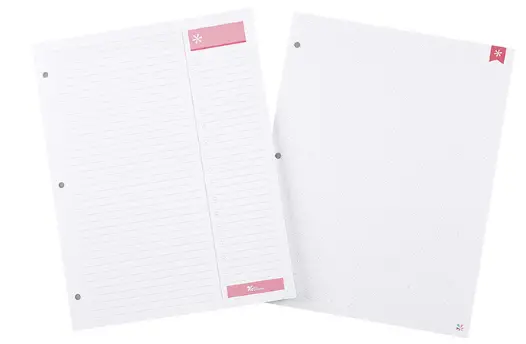 3 Hole Punched Insert Pad —  Okay okay, this is what inspired this post.  I was on the website a week before the new Life Planner launch and I was like, omg I need these now!!  Like seriously.  I have been looking in stores for something just like this and was not impressed with what I saw.  Here's the deal…I am a list maker.  It's what I do.  I have a lot coming up in my life and the only way I can not lose my mind is to stay on top of my lists and make tons of them.  I have a cute new 3 ring binder that I really want both lined paper and dot grid paper in.  When I saw these insert pads the light bulb went off!  Don't you love when that happens! 🙂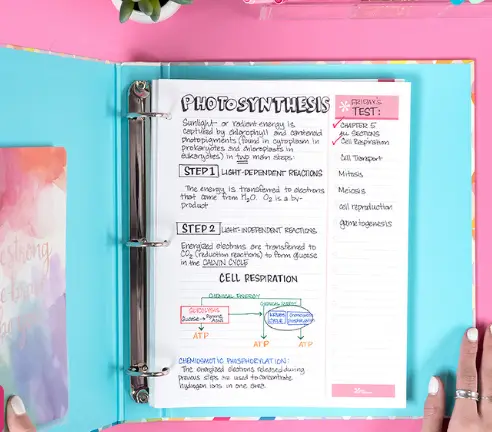 So here's what makes this so cool to me.  It comes in a pad form.  So it's not loose-leaf.  You can use it on a clipboard or however you like and then you tear it off the pad (it's attached at the top of the page) and then you put it in your binder.  So I'm ordering both.  Because I need both.  And all I'm saying is this is genius to me!  Okay I'll move on now because clearly I can write a whole post about these, and I just might once I have them and use them.  You've been warned 😉
Snap-In Monthly Bill Tracker Dashboard — I don't currently use a separate planner for my financial budgeting needs.  I know a lot of people do that separate from their planner.  I currently just use regular pen and paper but I like this dashboard as an option that will keep me on track of my bills.  On the opposite side there is a savings tracker, much like the one I created in my planner.
Snap-In Wellness Dashboard — I currently keep track of my weigh-ins and measurements in a notebook.  I keep track of what I eat and drink every day in apps on my phone.  Yet I still want this Snap-In Wellness Dashboard.  I legit track my meals in two different apps to keep myself double accountable.  This would keep me triple accountable.  Not only do you track what you eat for each meal, your water intake, your activity and your goals.  On the back of this tracker is a target heart rate and BMI chart for reference.
Sticky Notepad — Remember those lists I was talking about?  This is perfect for brain dumps in your planner that don't have to be permanent.  The best way I think to use this is to attach the sticky backing to the ruler that comes with every Life Planner like pictured.  Many people use that ruler as a bookmark for where they are in the planner or they use it in their current monthly spread, so I think that's a great place to have a running list.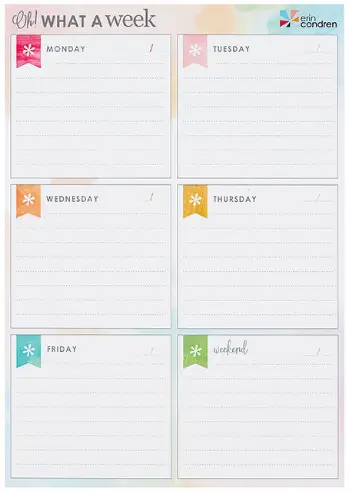 Oh What a Week Planning Notepad — I love this for pre-planning.  I've wanted it for quite some time now and I'm going to be ordering it soon.  It's perfect when you're thinking about what you got going on in a week.  I'm not sure if I like this one more or the Designer Schedule Pad.
Wet Erase Markers — I want to get these for the snap-in dashboards.  These aren't the same as dry erase markers where they just wipe off or smear.  These have to be wiped off with a wet cloth to be removed and they also are for use on the inside of the interchangeable covers.
Faithful Eucalyptus Planner Folio — One of the new things this year from Erin Condren is the planner folio.  It's like a laptop cover but for the Life Planner and has additional slots inside and a pen holder.  It's perfect for stashing your planner in your purse or bag and keeping everything together in a compact way.
Vintage Floral Planner Folio — It doesn't make sense to have two Planner Folios right? So I have to make a decision on which I would rather have.  I can't do that just yet 😉
Designer Schedule Pad — This is very similar to the Oh What a Week Notepad, the difference is the running list on the side.  You know I like my lists 🙂  I don't think it makes sense for me to get both, but I want them both.  Maybe one for my blog and one for my personal?
Watercolor Splash Dot Grid Hardbound Notebook — Now of course I don't need another notebook, but I have wanted to try out the hardbound notebooks.  A lot of people use them as bullet journals but I was thinking of maybe using it for a budget notebook.  But I don't know, since I want the budget dashboard too…deicisons decisions.
Snap-In Party Planner Dashboard — I think this is perfect and I can think of so many ways to use this.  Birthday parties of course but also dinner parties, holiday gatherings, housewarming parties, bridal showers, you get my point.  As a mom I know I'd at least get two uses out of this a year for my two kids.  Here's a couple more pictures: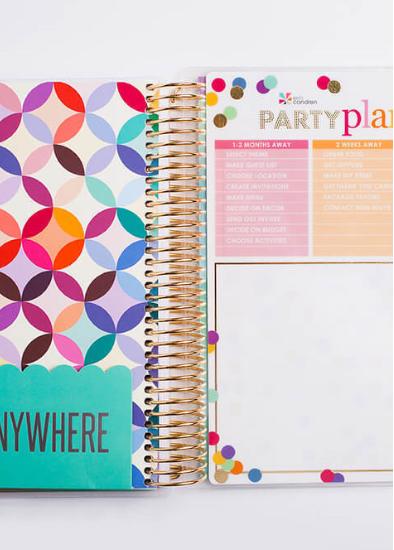 This is the opposite side of the dashboard and it was designed for the well organized.  You have everything you need for planning the perfect party and even better, it can be reused over and over again.
Floral Stitches Oversized Tote — Last but not least, I love a good tote bag especially for travelling on short getaways.  I love this pattern it's so pretty.  This is also great for my daughter to use for an overnight bag when staying with a friend or with grandparents.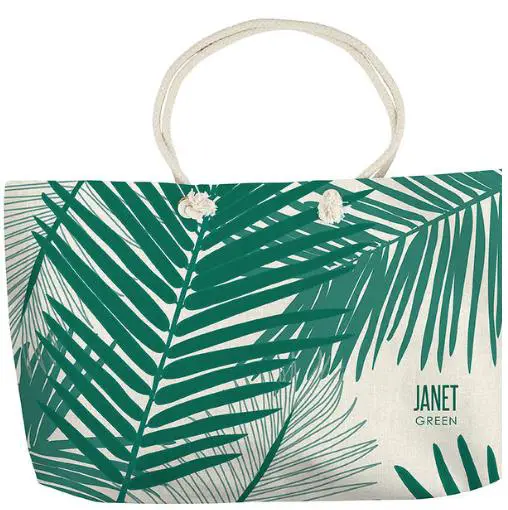 Palms Oversized Tote — I love this one too especially for our beach getaways.  This is perfect for a simple day trip to the beach or overnight.  I'm definitely getting this one first!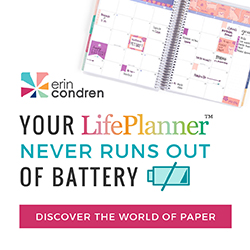 I do have a few last items that I didn't include in the graphic but didn't want to forget to share.  Almost done, I promise 🙂
Modern Brushstrokes Return Address Labels — I already have the Erin Condren address labels in the watercolor floral design.  For our upcoming move, I think I'll switch it up to the modern brushstrokes.  I really am feeling that print. I get them in the rectangle size although I do like the larger circle too.
Modern Brushstrokes Clipboard — I don't typically use a clipboard in my day-to-day life, but I love the look of this clipboard.  And it would work perfectly with the 3 Hole Punched Insert Pads that I'm getting.
Petite Planner Wellness Log Illustration Sticker 2 Pack — Whew that's a mouthful!  The jury is still out on whether I'd get one of the Petite Planners or not.  But I do want to get this wellness sticker pack.  I just love the colors and the motivation it adds to my planner.  And it's pretty cheap so I'm gonna scoop it up.
So for the sake of not making this post a novel, I'm going to end it here for now.  In a future post I'll break down all the goodness about the new Life Planner as well as what I'm thinking will be my choice for my new Life Planner.  Let me know in the comments below if anything on my Erin Condren Wishlist has been added to your wishlist as well.  I look forward to hearing from you and thank you as always, for spending some time with me today.  Until next time friends 🙂