.Can you believe it's the end of June?  2020 has not only dealt us some crazy cards, but it's flying by too!  I added a few red, white and blue touches in my home and thought it would be fun to share my patriotic home decor.  Earlier last week I shared my patriotic tiered tray, in case you missed that.
I don't have much of a stash of patriotic decor.  Everything I have, I purchased this year from Hobby Lobby and Kirkland's.  Oh and a couple of items from Pier 1 and Pottery Barn.
Even though I don't have a lot of patriotic home decor pieces, a little definitely goes a long way.
*this post includes affiliate links for your shopping convenience, you can read more about affiliate links by reading my Disclosure*
PATRIOTIC TIERED TRAY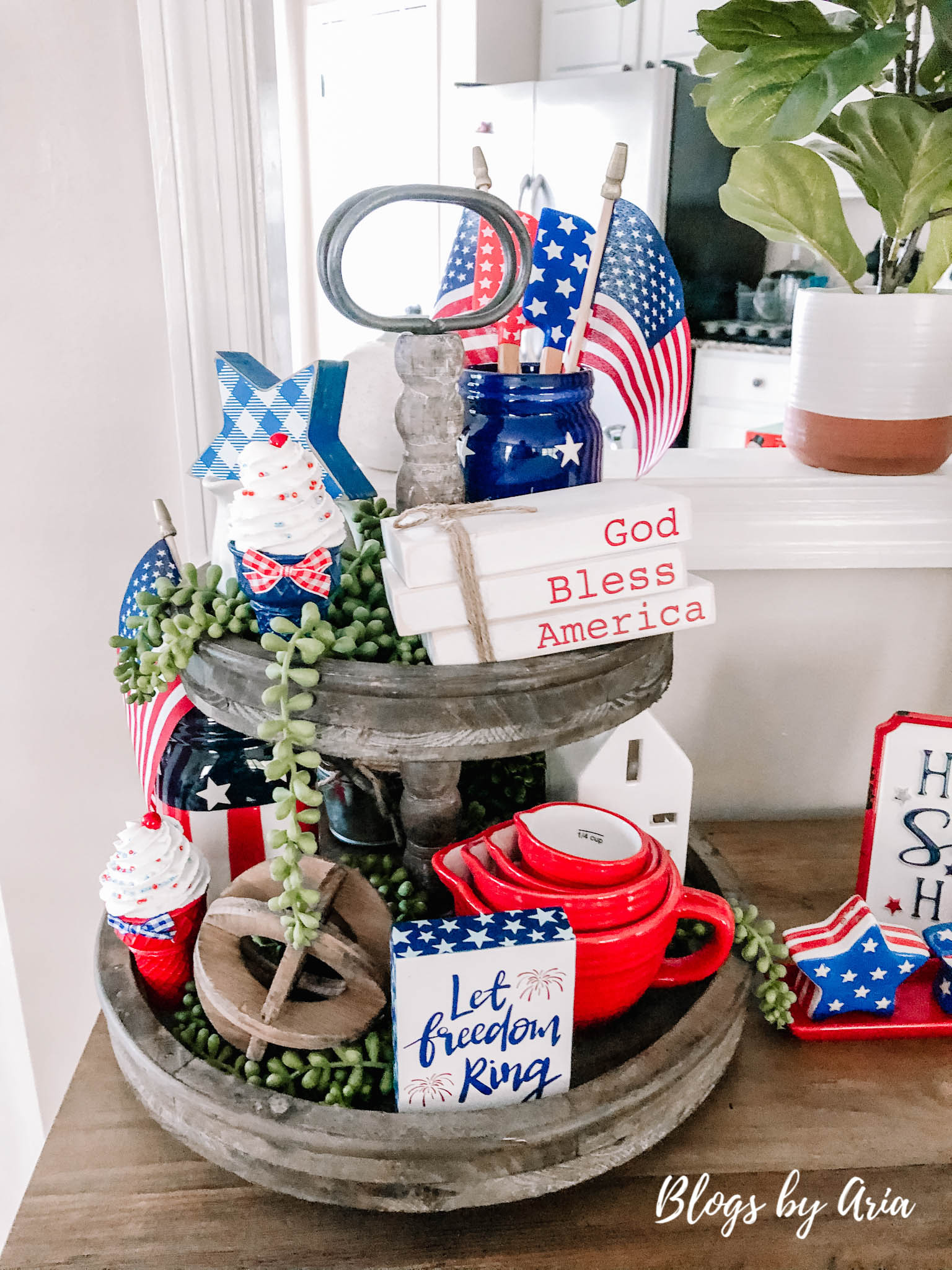 Recently I shared my tiered tray decorated for the Fourth of July, but I've added a couple of extra items since then.  About a month or so ago I was browsing around on Etsy and found these super cute ice cream cones.  I'd never seen anything like it before.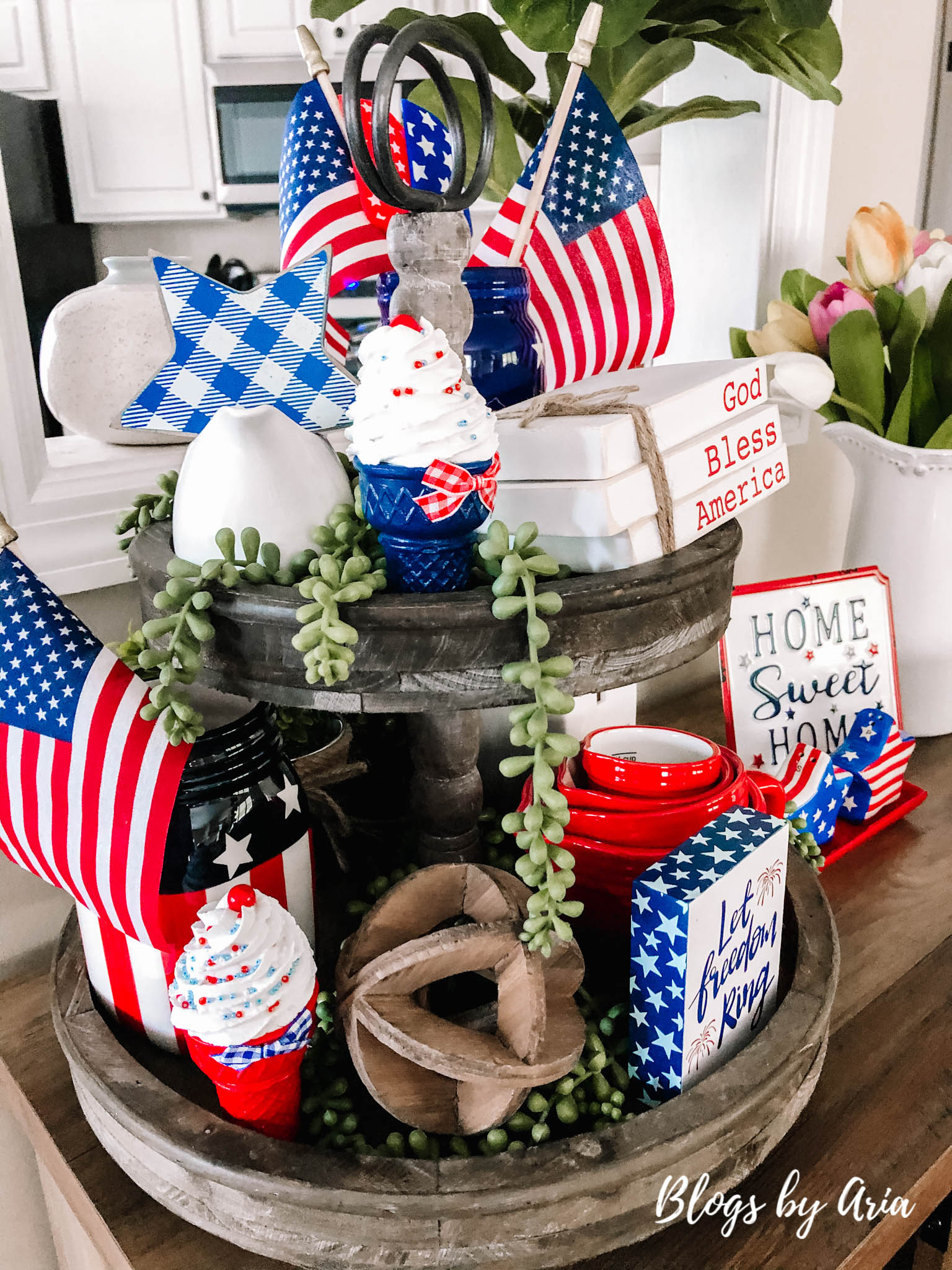 tiered tray | stacked books | ice cream cones
At the time the red and blue ones were sold out and they only had the traditional ice cream cone.  A week or so ago I was browsing around and saw the red and blue cones I wanted were back in stock.  I ordered them and they arrived this weekend.  Such a cute added touch to my patriotic tiered tray!
Have you ever seen anything like this before?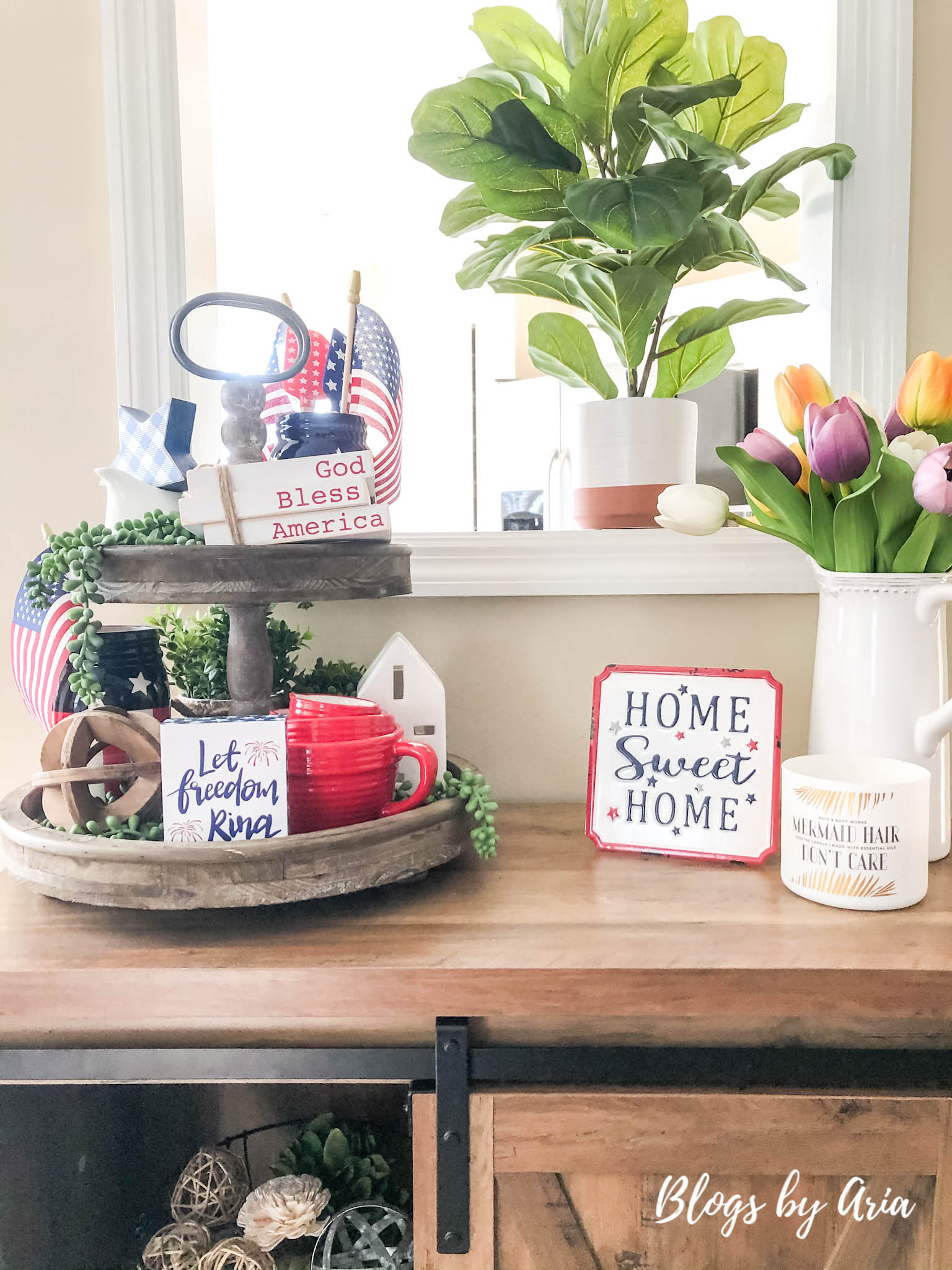 That fiddle leaf fig plant is not meant to be there by the way!  I was trying to hide some of the clutter in my kitchen!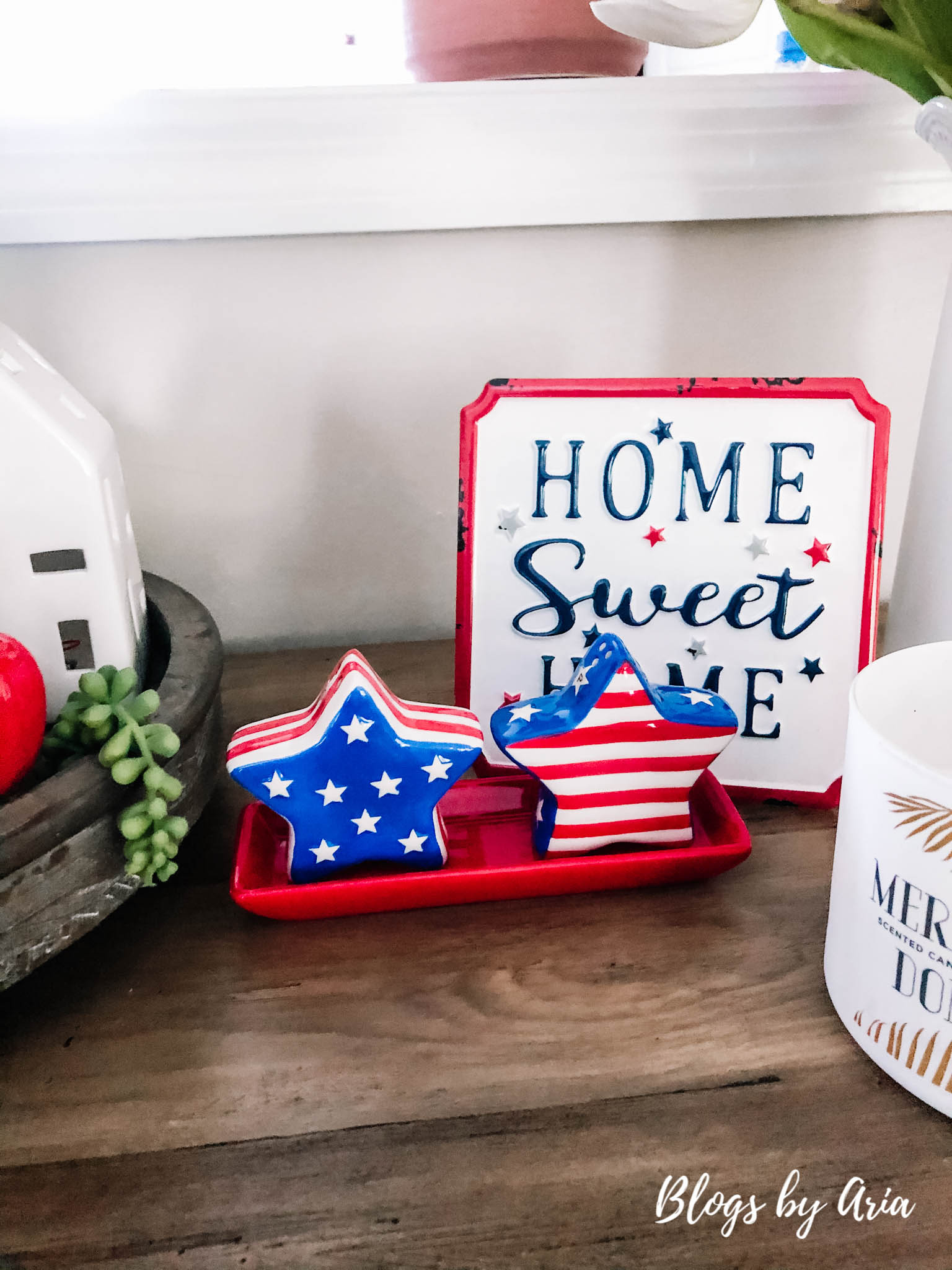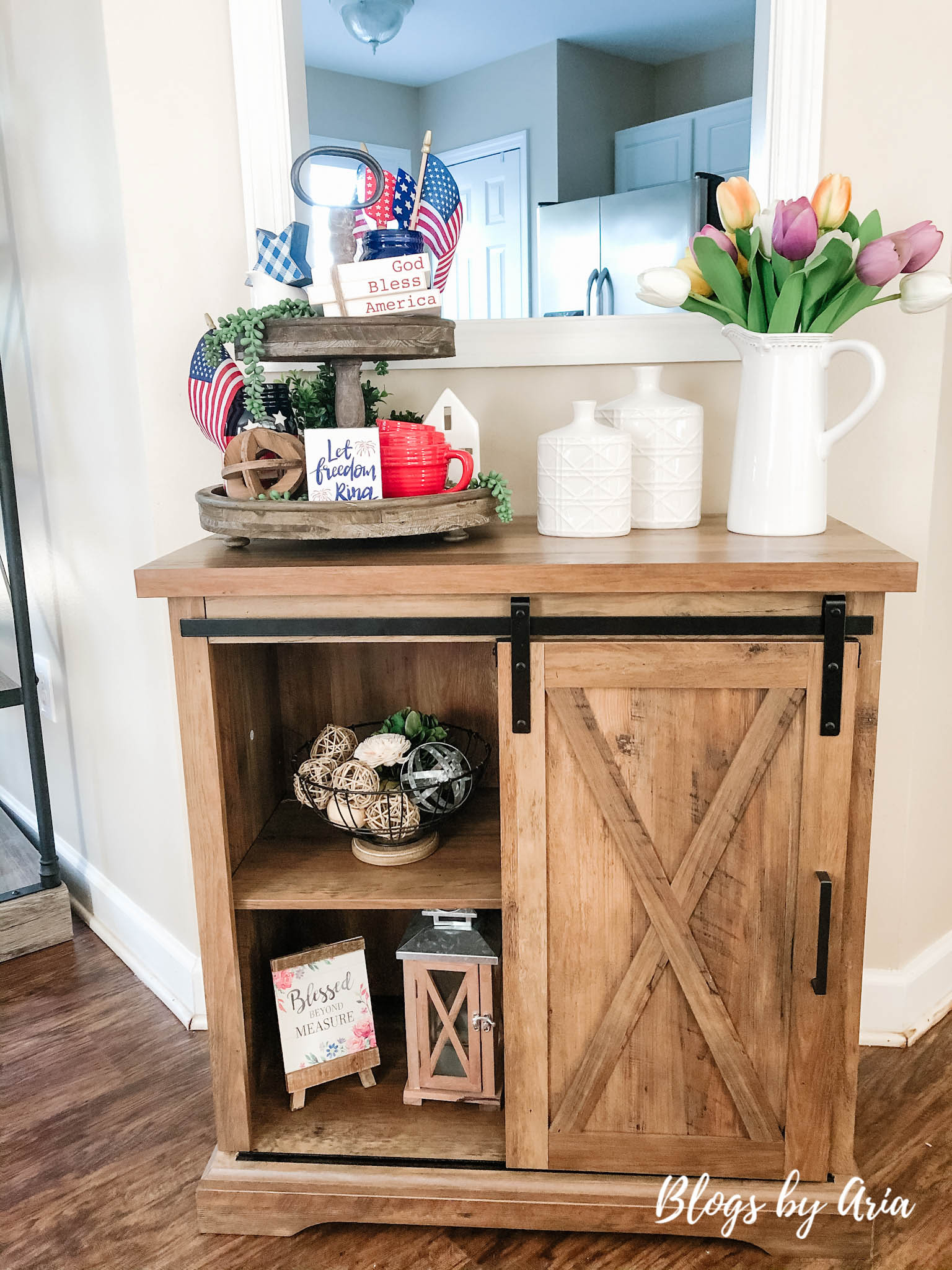 I have my tiered tray on my farmhouse accent table and I added this home sweet home sign from Hobby Lobby and this cute salt and pepper shaker set from Pier 1.
This last shot I took before I added some of my newest patriotic decor pieces.  The tulips are a little out of place I'll admit.  I plan to pop into Hobby Lobby this week to find some other floral options.
PATRIOTIC STYLED SHELVES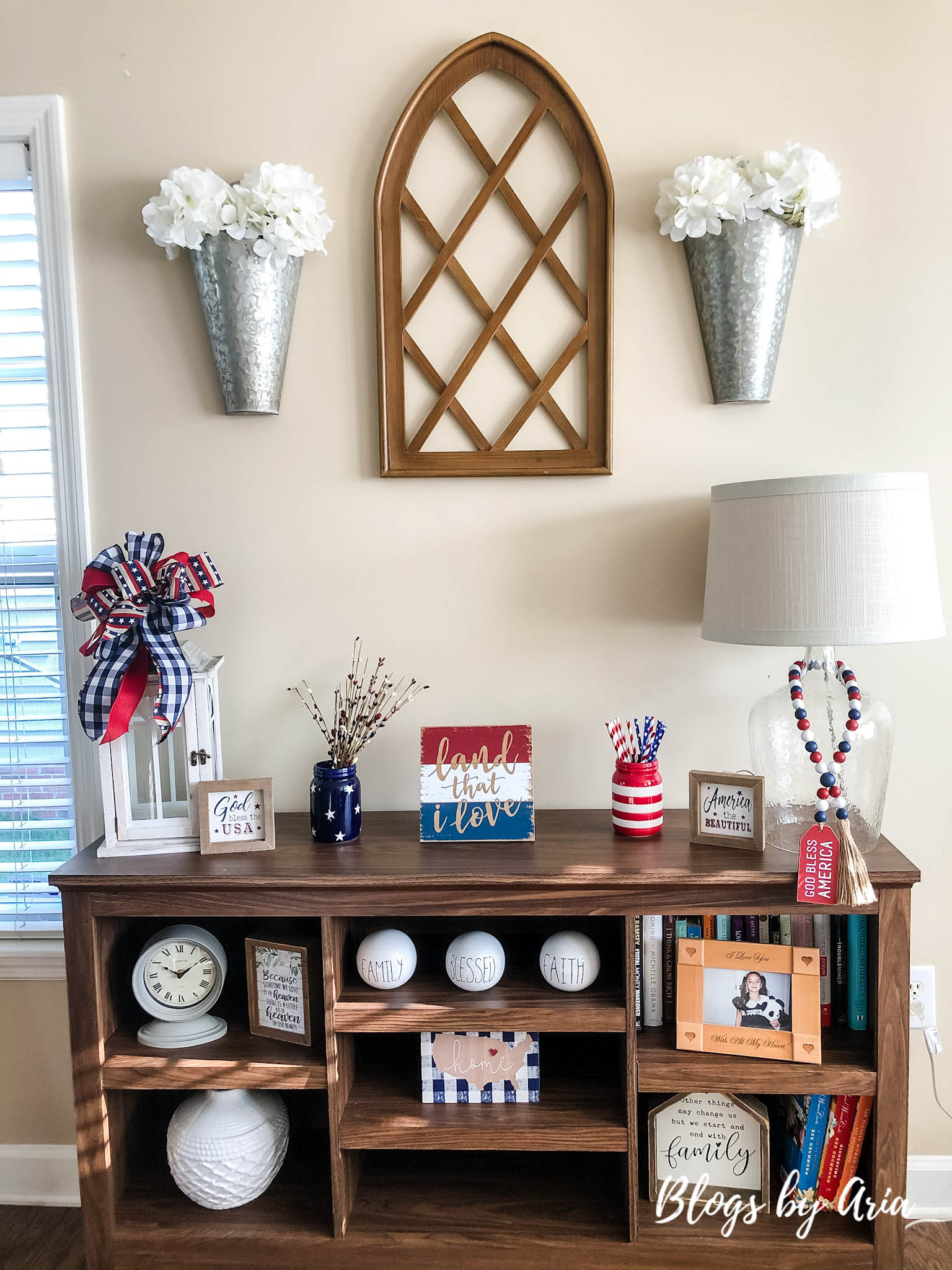 bookcase | lantern | lamp | wall pocket
I'm loving how my bookshelf is coming together!  Like I mentioned earlier, I am hoping to change out some of the existing floral stems that I have with something new.  Some red, white and blue stems would look great here but so would some simple greenery like eucalyptus or lambs ear.
This wood arch is something I've eyed at Kirkland's for so long and before we moved they marked it on clearance and I could use a coupon on it too.  I ended up paying $13 for it!  It's no longer available online, here is a similar option, but if you have a Kirkland's nearby check and see if they have it.  The last time I was in the store they still had a couple.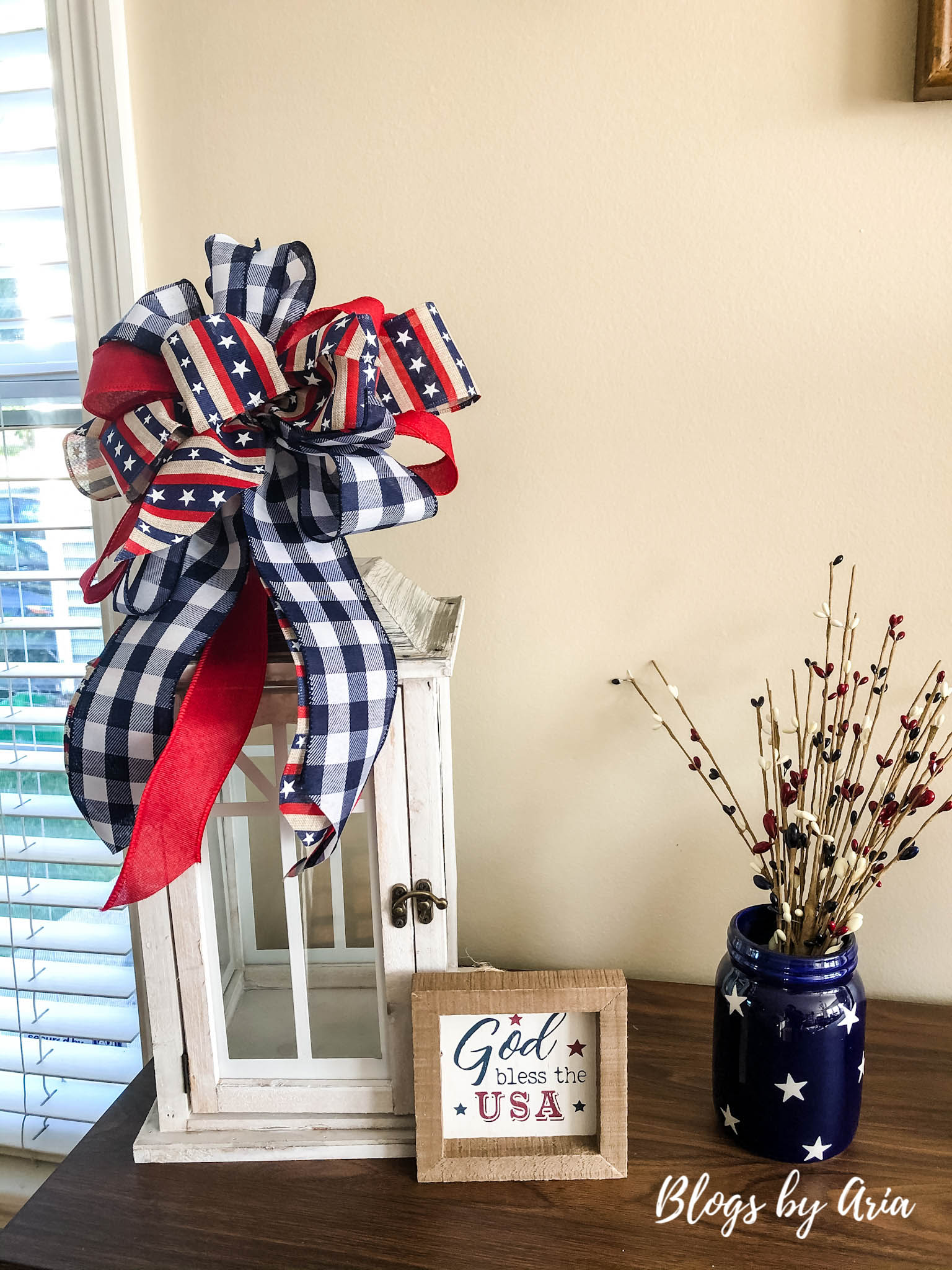 One of my favorite new additions are these beautiful patriotic bows I got from a cute shop on Etsy.  I ordered two of these bows in two sizes to go on both of my lanterns.  They would also be great to add to a wreath!  That's something I may do next year.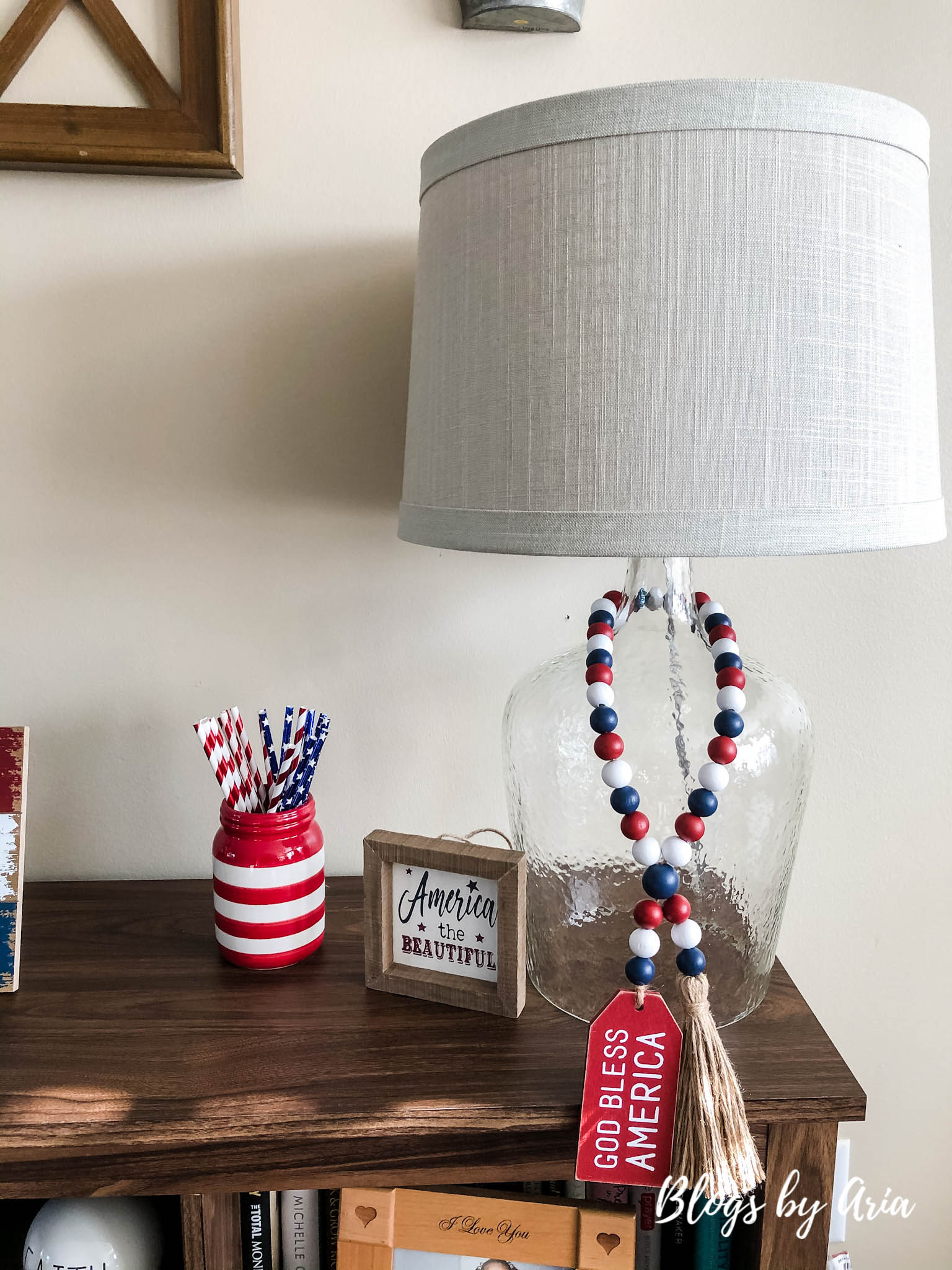 On the opposite side of my bookshelf I thought it would be fun to add this patriotic garland on my favorite lamp.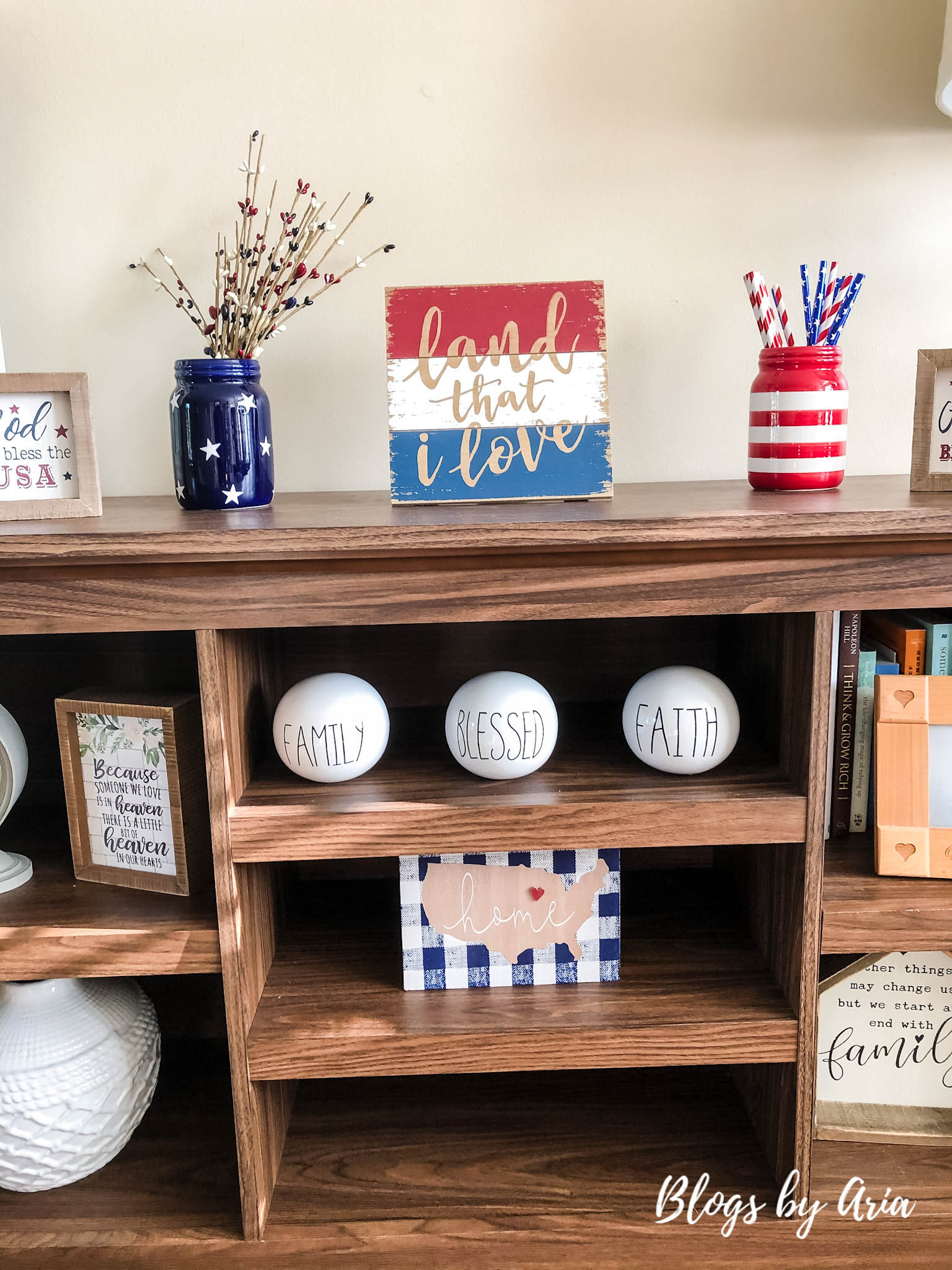 Something was missing from the bottom shelf, I just didn't know what I wanted to put there.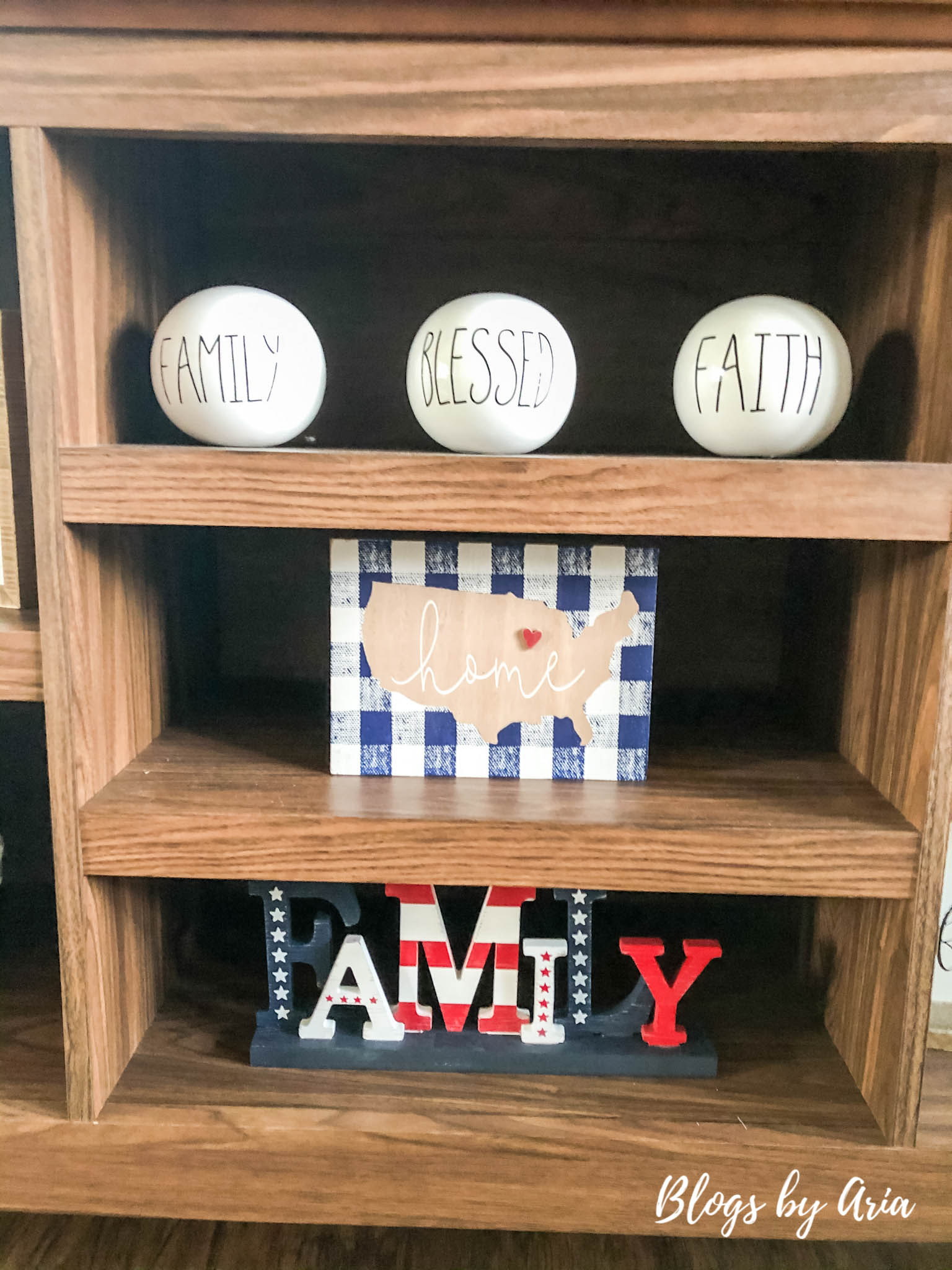 This family sign fits the space perfectly.  If you have a Pier 1 nearby, I suggest you scoop it up while you can.
FESTIVE FLAG PILLOW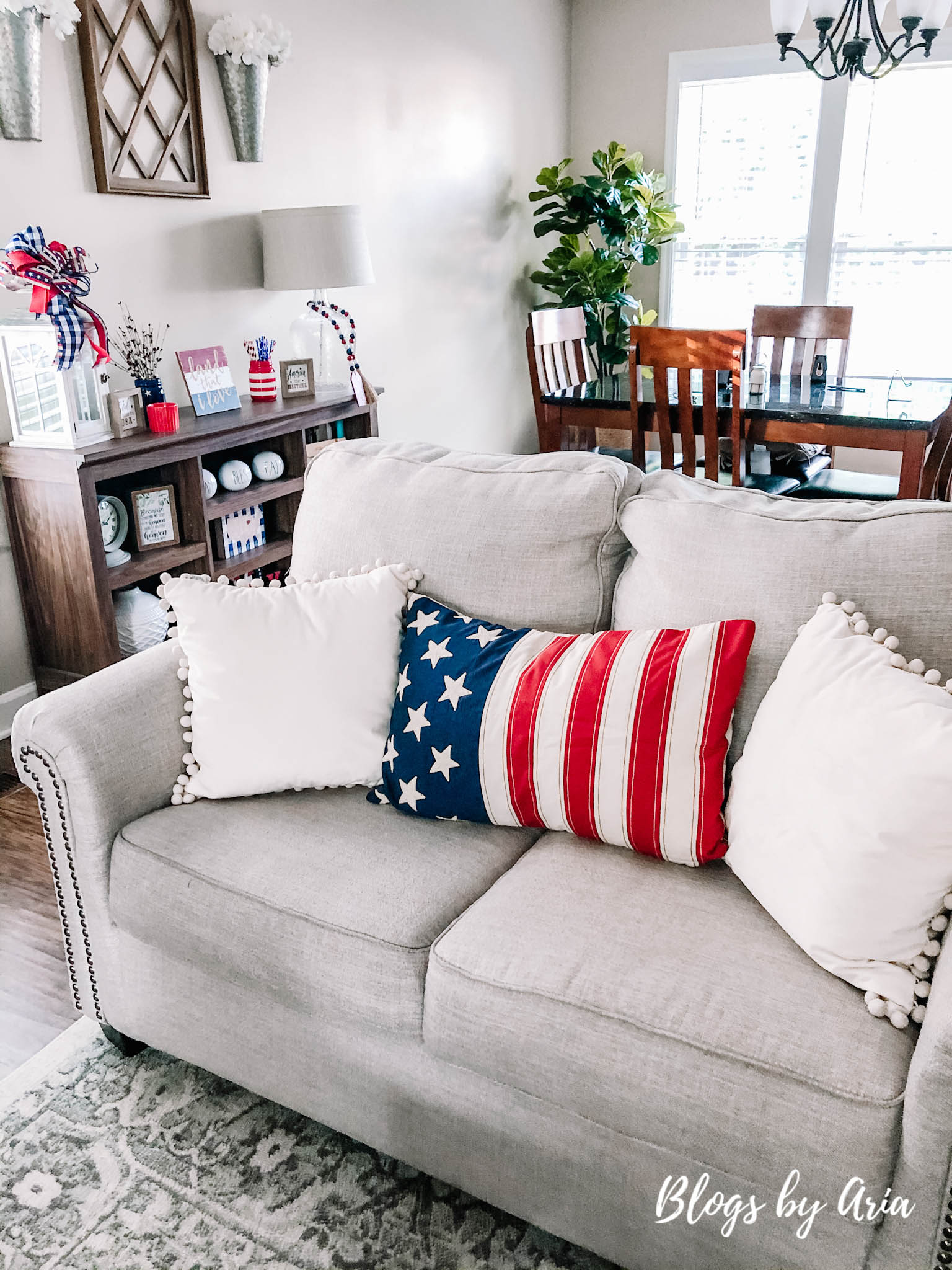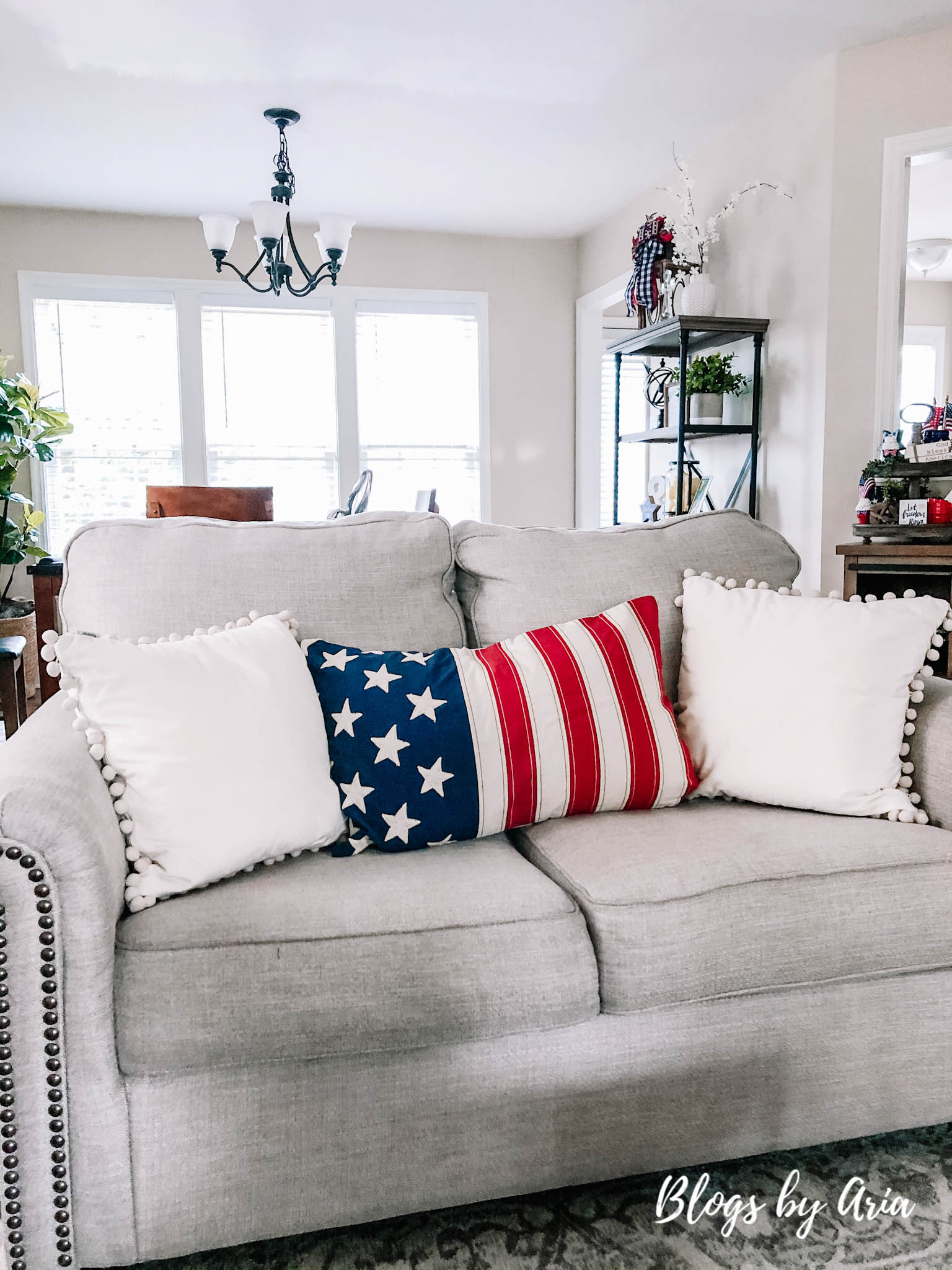 This lumbar flag pillow cover I have wanted for so many years.  It's from Pottery Barn and about a week ago it was on an awesome sale!  But to be honest, I thought it would be brighter reds and whites.  It's more rustic than I anticipated.
I intended to put it on my sofa and not my love seat, but because it's more Americana-style it didn't work with my pillows on my couch.  That I forgot to take a picture of.  They're simple and not patriotic themed but I will share them soon because they'll be around until I switch out my decor for fall.
My eye is on this flag pillow too, hopefully it'll go on sale too!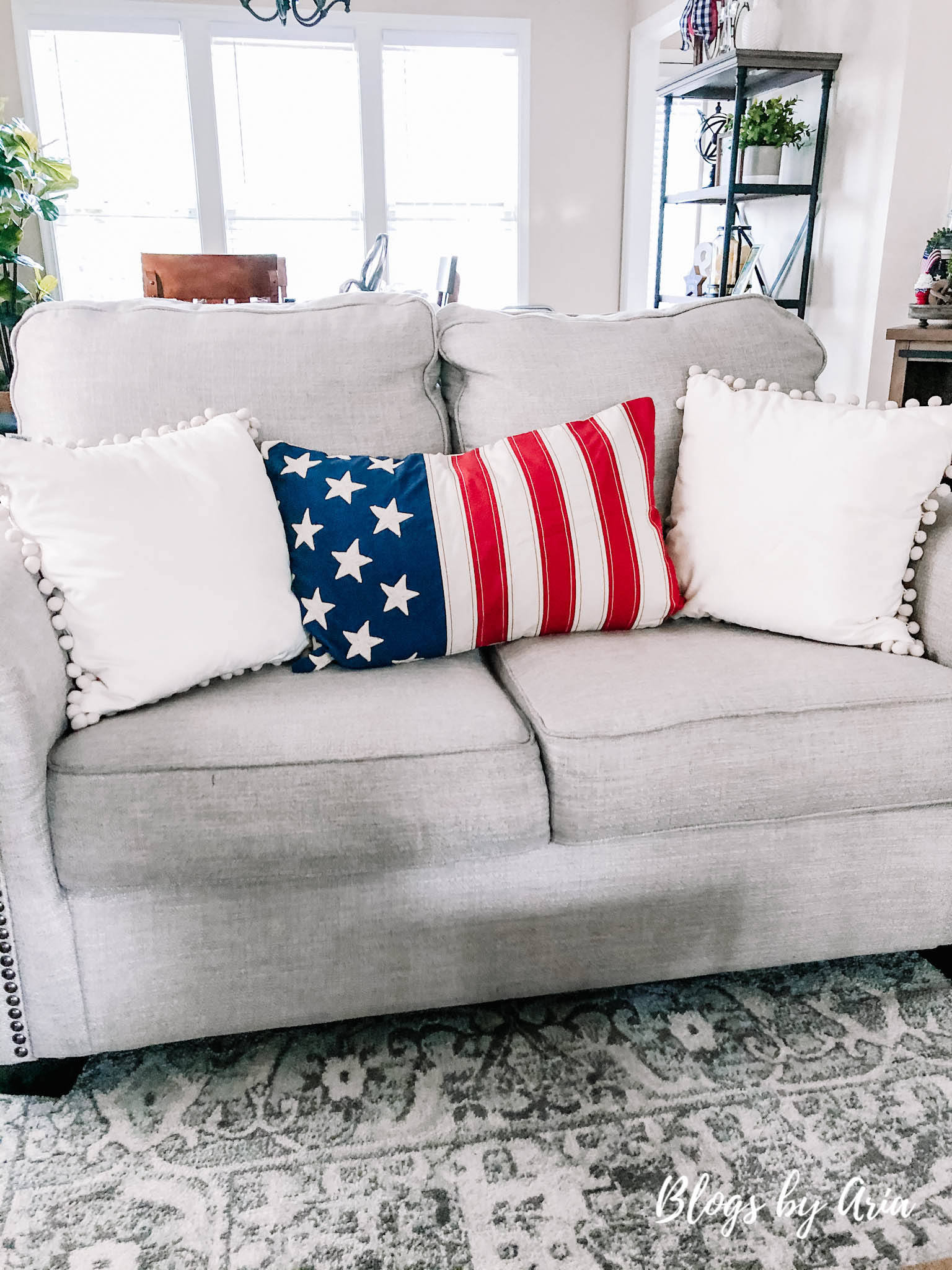 I was running around trying to snap these pictures really quickly so I can try to get this post up and not run out of time.
A FEW MORE PATRIOTIC TOUCHES
bookshelf | lantern | glass lantern | faux lemons
We put our tall bookshelf behind our dining room table.  Based on how we have the furniture laid out, I think this is where it will stay.  But it does pose an issue when I'm trying to get it all in one shot without getting the dining room table too.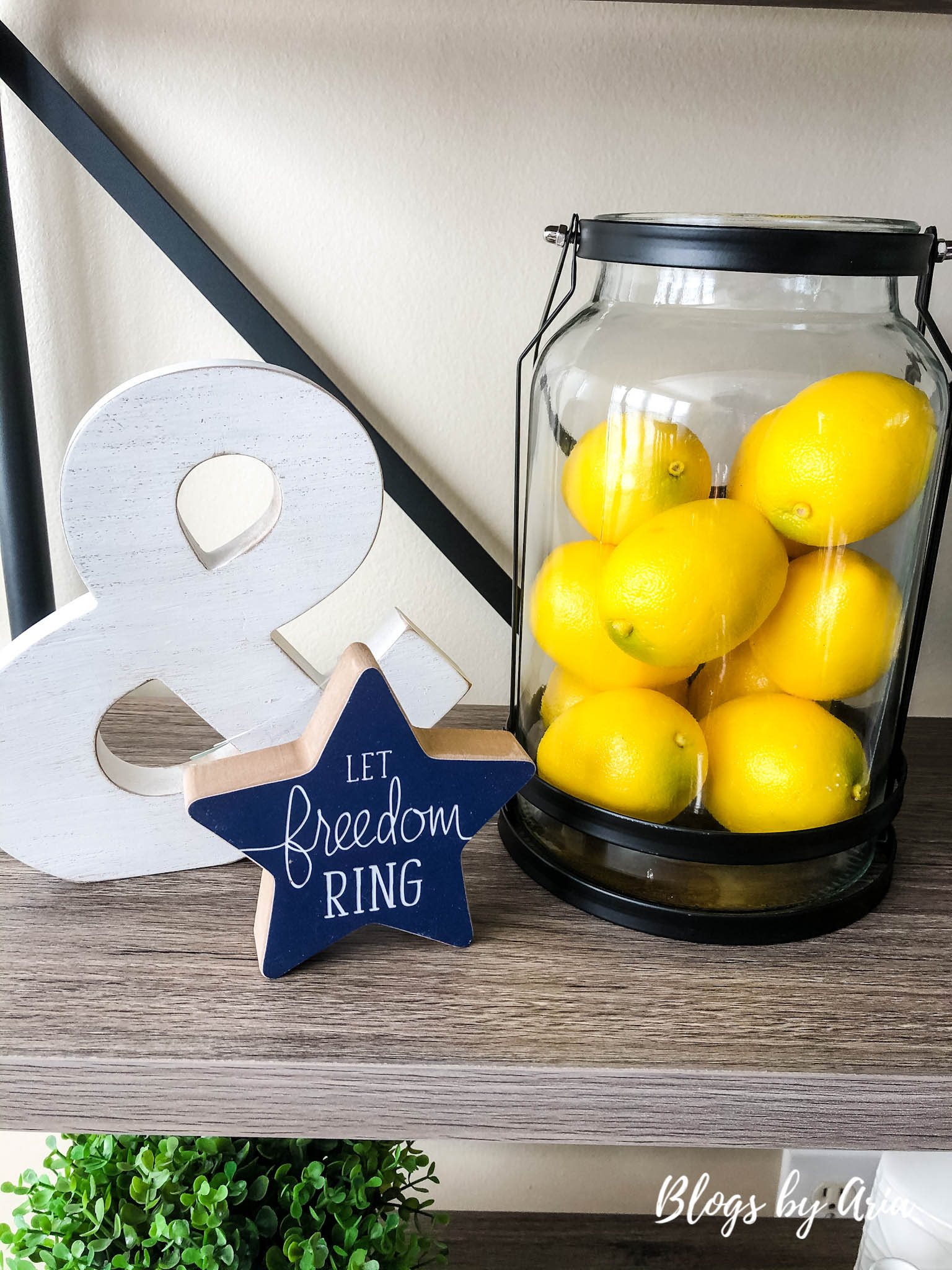 Because we're still getting settled in, I thought just a couple of pops of patriotic decor was enough to make it seem festive.
I've wanted these lemons for months.  They're the Target version and I love the look of them.  Plus they're pretty inexpensive.  Some other stores have lemons like these for double the price of Target.  Even before Covid, I couldn't find them in my local Target but I recently went to one about 15 minutes away and they had them.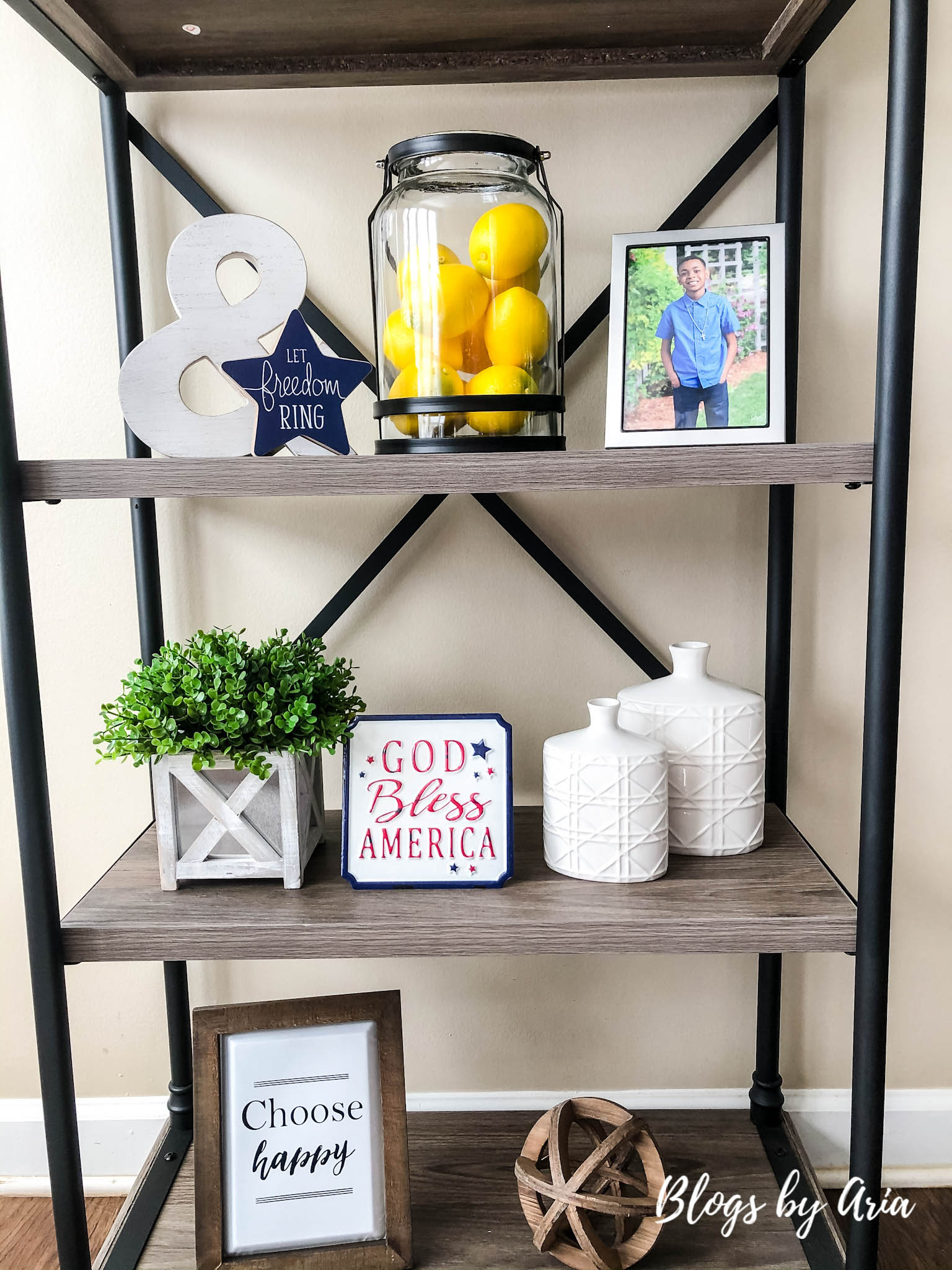 Both the freedom star and God bless America sign are from Hobby Lobby.  If you're thinking of decorating in the future for Independence Day, check out Hobby Lobby after the 4th when things will be marked down.  I'll be stopping by to see if they have any garland or larger decor left marked down.  If so I can use them for next year.
Trying to decorate for the fourth of July and trying to decorate in general is definitely a feat.  Now that I'm done with that, I am trying to slowly but surely check things off the list every day.  Some days are better and more productive than others.  And I'm trying not to put too much pressure on myself.  It's not like I'm not still working full time.
At this point, my goal is to be finished getting fully settled and unpacked and decorated and organized by the end of July.  That's the goal.
I hope you enjoyed my patriotic home decor/mini tour even though it was basically thrown together at the last minute.  I was pretty sure I wasn't going to be able to decorate much with the move but I'm so glad I did.  Sometimes decorating a space can be such a mood booster!  And we can all use that right 🙂