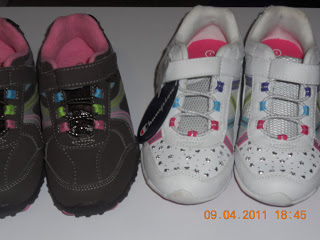 I always love a good deal!  This past Friday I ran into Payless to get my daughter some more school shoes.  I usually don't shop Payless because I tend to find better deals elsewhere.  This time I had a Catalina Coupon from Harris Teeter from a few weeks back: 20% off your purchase and it expired 9/03/11.  I almost forgot about them with the Hurricane and all, because I was going to buy them the week before.
So it was the last weekend of their BOGO event and with my extra 20% off I got my daughter some cute sneaks that hopefully will last at least until the holidays.  She is brutal on her shoes.
The white shoes were $22.99 and the brown were $17.99.  I got them for $8.99 and additional $6.40 off the entire transaction.  Total cost $25.58!  The goal was to pay less than $30.00!
I love a good deal!