As a blogger sometimes you come up with clever titles that are relevant to your post.  This isn't one of those times.  I was literally thinking "man that pumpkin spice candle is giving me so much life right now!"  Pumpkin spice and everything nice, I tell you I love this candle.  It's the Sweet Cinnamon Pumpkin candle from Bath & Body Works.  When I picked out my first fall candle this season I got something much sweeter but this time I went for the Sweet Cinnamon Pumpkin and it's the best.  So random and so weird.
Candles anyone?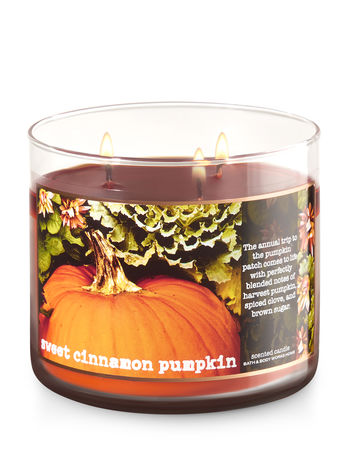 Recently I picked up several candles from Bath & Body Works and I refuse to buy anymore.  Not until the holidays that is.  Which I'm even more of a sucker for holiday candles from Bath & Body Works than any other time of the year.
I purchased several but I'm only sharing the one right now because it's the one I've been burning every single day 🙂
10 years…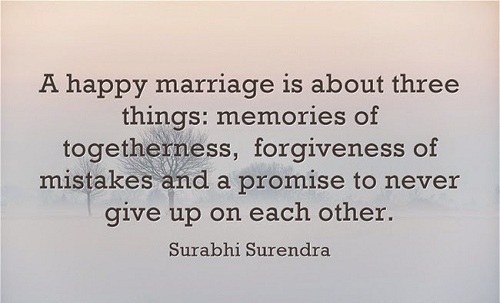 Last week DH and I celebrated our 10 year wedding anniversary.  We've certainly gone through ups and downs and I'd like to say that I'm much wiser than I was 10 years ago…but I'd be lying.  Maybe I can say that at year 15 or 20.  For now I'm just grateful that he's sticking with me and I'm sticking with him.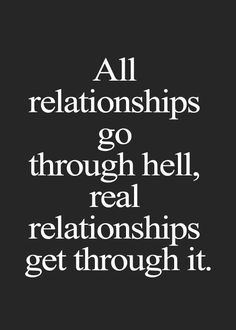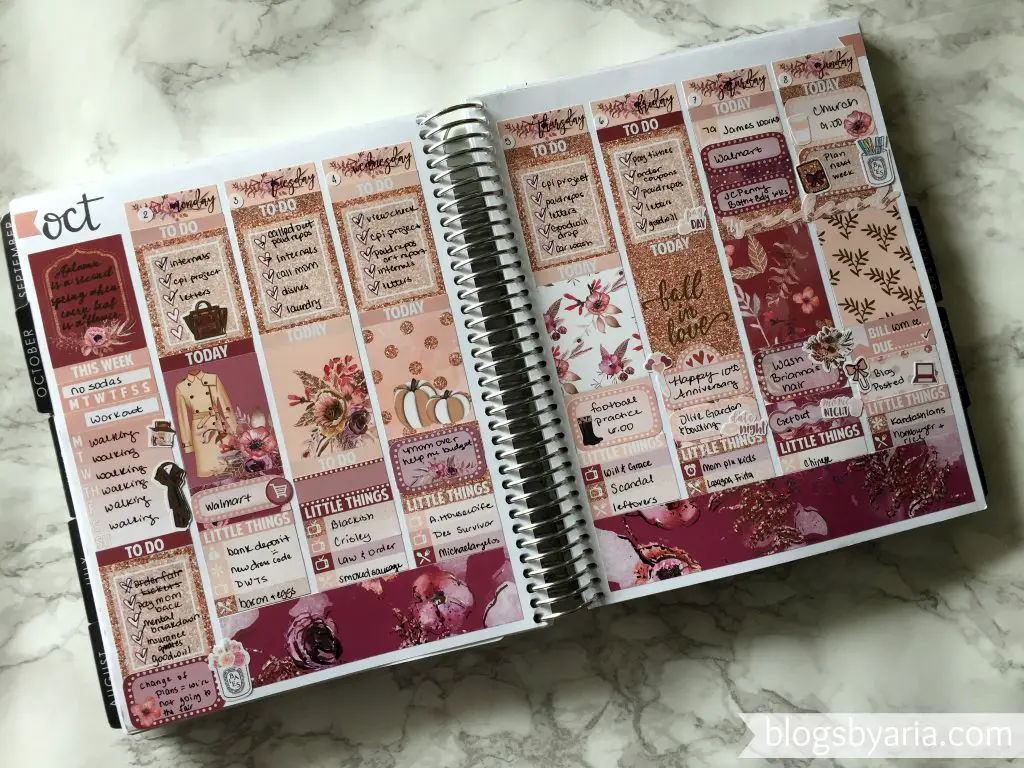 I used this gorgeous fall kit by Simply Watercolor Co.  I thought it was romantic and perfect for our anniversary week. It has the perfect blend of autumn and romance with the gold foil.
Kick in the butt
Planning is soothing for me.  I don't  pre-plan weeks in advance typically.  But sometimes I do.  Sometimes I can't help myself, it's just fun for me to lay down stickers.  I totally understand if you don't understand 😉  But sometimes planning far ahead can bite you in the butt.  Plans change.  Life gets in the way.  Life flips on you.  Pick a saying and insert it here.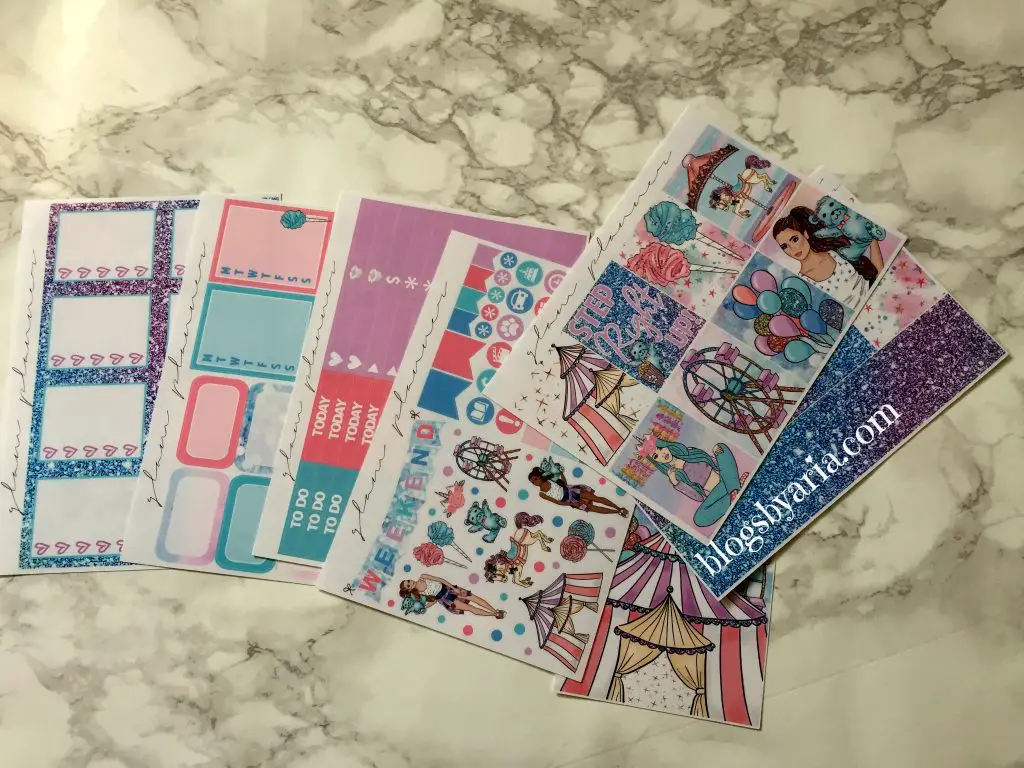 I ordered this carnival sticker kit from The Glam Planner months and months ago knowing that I would use it for the week we went to the state fair.  Even after our beach vacation when my kids were traumatized from going on an amusement park ride, I knew we were going to the state fair.  Welp… while my kids were with my parents while DH and I were celebrating our anniversary they went to their county fair.  The kids wanted absolutely nothing to do with a ride.  All they wanted to do was play the games.  Needless to say, we aren't going to the state fair and I've already planned with these stickers.  Lesson learned and I'd say that unless it's like Christmas or something like that, don't pre-plan weeks in advance.  Something always comes up.
I'll share the full spread eventually, the picture I took was so blurry and I didn't have time to take another picture with the lack of good daylight we've had lately.
No Fake Zone
Recently we've had a few rainy days.  I noticed a girl who I see often has been carrying around an alleged Louis Vuitton bag.  I say alleged because although I may not own my own Louis Vuitton, I do know my bags.  As a future collector of a good size selection of Louis Vuitton canvas bags and luggage pieces I do know my share of factual information that one who wants to or who does own Louis Vuitton items should know.  I know my shapes of bags and styles and different leathers used for the bags.
Like I was saying I saw someone with an alleged Louis Vuitton bag that looks like it wants to be a LV Speedy 25 in monogram canvas.  Now with monogram canvas bags from Louis Vuitton they use a particular type of leather for the straps and handles that one must be very careful when using and handling the bag.  One must be especially sure to check the forecast before venturing outside with that handbag because it should not be used when it is raining or damp or humid outside.  So the fact that the second time I saw this person and it was pouring down rain sealed the fact that this bag surely must be fake.  Now I know you may be saying right now that perhaps this person doesn't know any better.  That could be the case, but I'm leaning against that seeing that aside from perhaps not knowing anything about handling and caring for your Louis Vuitton bag prior to getting it; the bag does come with care instructions so one would hope if you're going to spend a large amount of money on a handbag that one would take the time to at the very least read the care instructions.
Anywhoo, I said all of that to say that I detest a fake handbag.  One time a few years ago my friend was having a purse party.  I went out of support but there's nothing like seeing a bunch of fake handbags and wallets appearing out of a trash bag.  Reminds me of that episode from Sex and the City when Carrie and Samantha were looking at buying designer dupe bags.  I'm sorry but when I have my Louis Vuitton items  each and every one of them will be absolutely authentic.  It means something to me to own the real bag.  Now I know everyone doesn't feel that way and to each their own.  But I do not like a fake bag, I'm sorry.  Some things I believe in buying dupes for, sunglasses for example, but very few items I think should not be the real deal.  Just my opinion.
If you made it to the end of this all over the place post, you my friend, are the real MVP! 🙂  Until next time friends!