I went on a quick run yesterday to

Harris Teeter

.
Although I've had a heads up on the coupon event, I'm still a bit out of sorts with my current coupon stash.  What else is new?  Like honestly.
Anyway, in preparing, I didn't see a lot of items that caught my eye as must haves.  I went while on my lunch break and was pretty pissed that of my very small list, much of it was not available to me.  I didn't get rain checks because I'm hoping the items will be available again Saturday.  I'm willing to check another HT today.
Wanna know what really irks me the most when it comes to

Super Doubles

??
when you go to get something on Wednesday or Thursday only to get your email Friday morning from HT that shows that the same item is either now an evic special or a Saturday Special.
But we needed paper towels since my stockpile has significantly dwindled.  I paid $3.99 after coupon yesterday.  Today the email shows that if I waited till Saturday I would have paid $1.97 tomorrow.  I doubt I have another coupon but I'll double check.  But hey we needed paper towels.
I can't find my receipt at the moment but I did take a quick pic of it: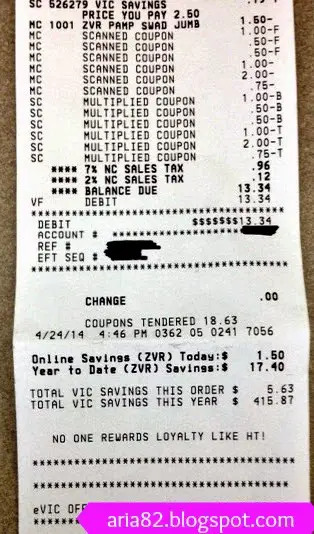 I got diapers and wipes for an expectant co-worker.  Diapers under $5 is amazing!  I didn't load the evic coupon for the wipes but the coupon was good so it was ok with me.  I didn't wanna take the chance of it being gone.  The wipes coupon was left by a coupon fairy.  Love them!
In addition to those items and the paper towels… I got hamburger helper and rice.  We eat a lot of rice and I got a good supply this trip.
Overall outside of the items that weren't available I was glad I was able to get things we needed and blessing my co-worker with something a new mom can never have enough of.
I saved 58% on this trip.