Welcome to my Spring home tour!  I'm excited to share my home refreshed for Spring.  You'll notice a theme as I take you on this tour…lots of pops of pinks and lots of flowers.  Spring is one of my favorite times of the year with all the beautiful blooms outside so why not bring that inside too?
So come on in!  Let me take you on a tour of my home.  If you're new here, this is our first Spring in this home.  We moved in last Summer and I feel like I've finally found the right layout and mix of both function and decor.
*this post includes affiliate links for your shopping convenience, you can read more about affiliate links by reading my Disclosure*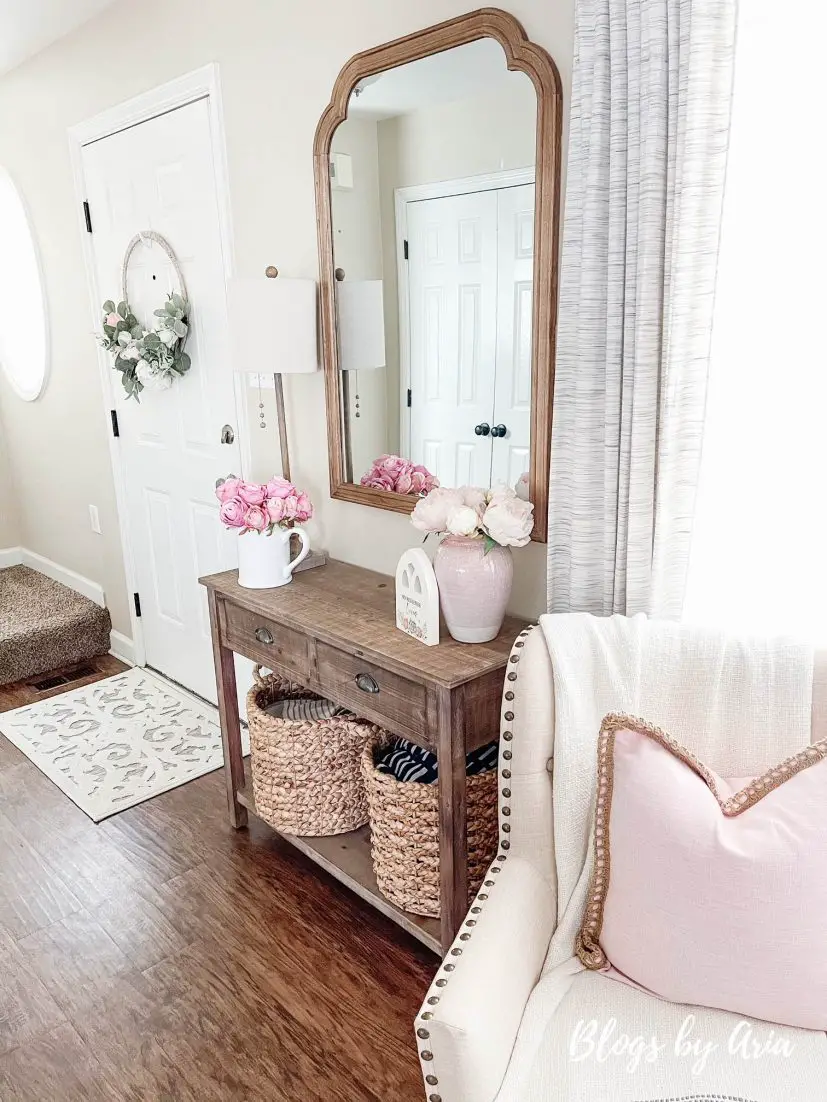 wreath | doormat | mirror | lamp | entryway table | baskets | closed peonies | peonies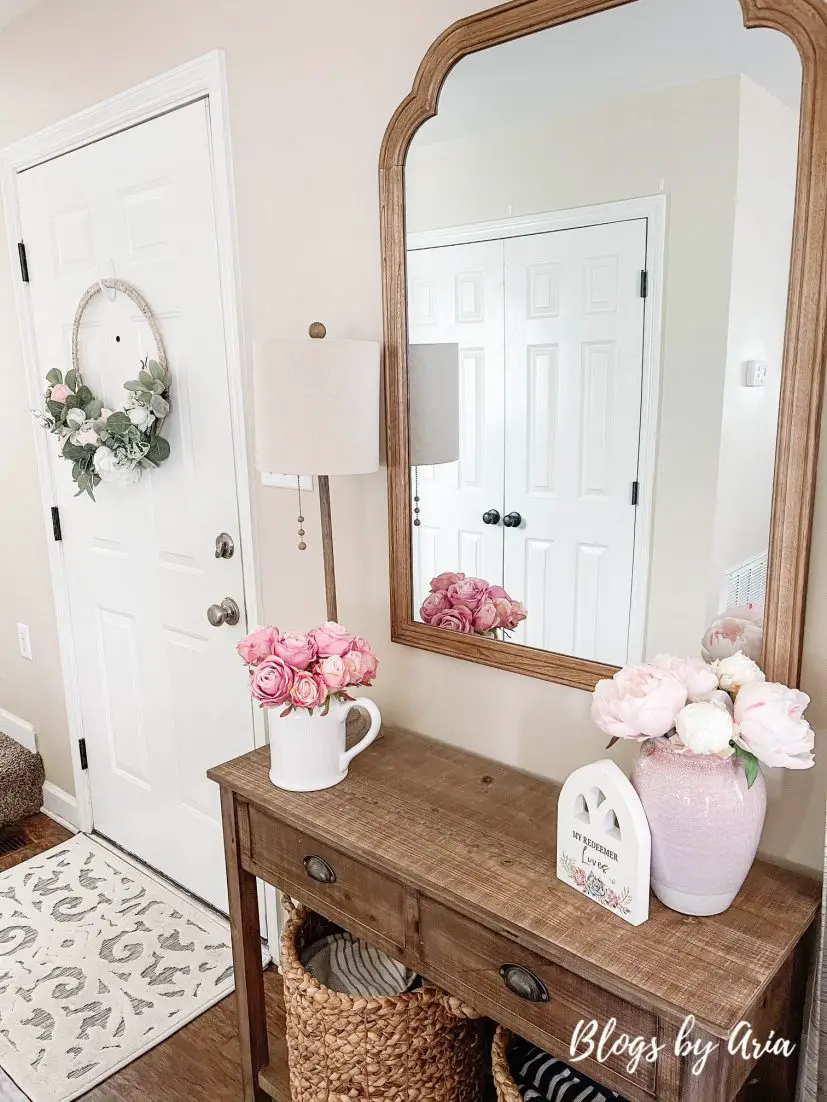 Starting in the entryway I wanted to keep this space simple yet bring in flowers.  Recently when I shared affordable Spring decor finds from Kirkland's I had my eye on this wreath.  A couple of weekends ago, or was it last weekend?  Either way, the wreath went on sale for half off!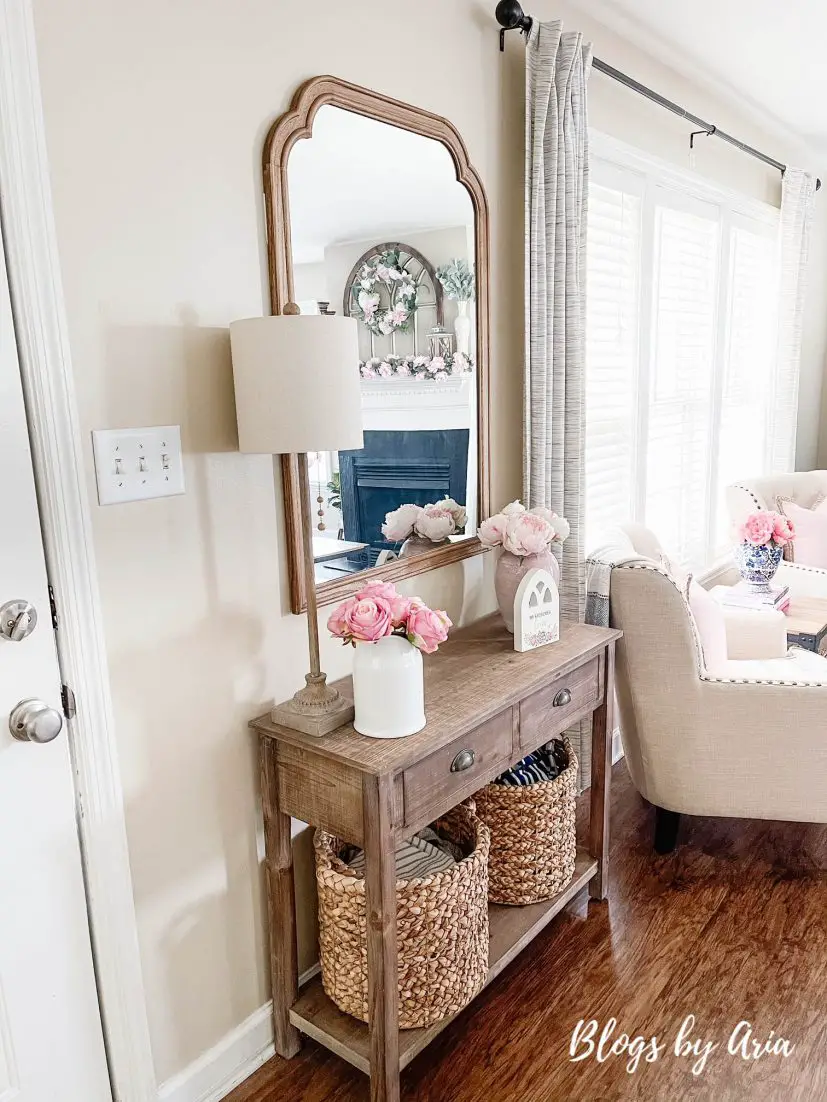 This beaded lamp is also from Kirkland's and I love how light it is in this space.    I added a few more flowers but didn't want to clutter up this table too much.  It's where the majority of the mail gets set so might as well leave a clear space for it.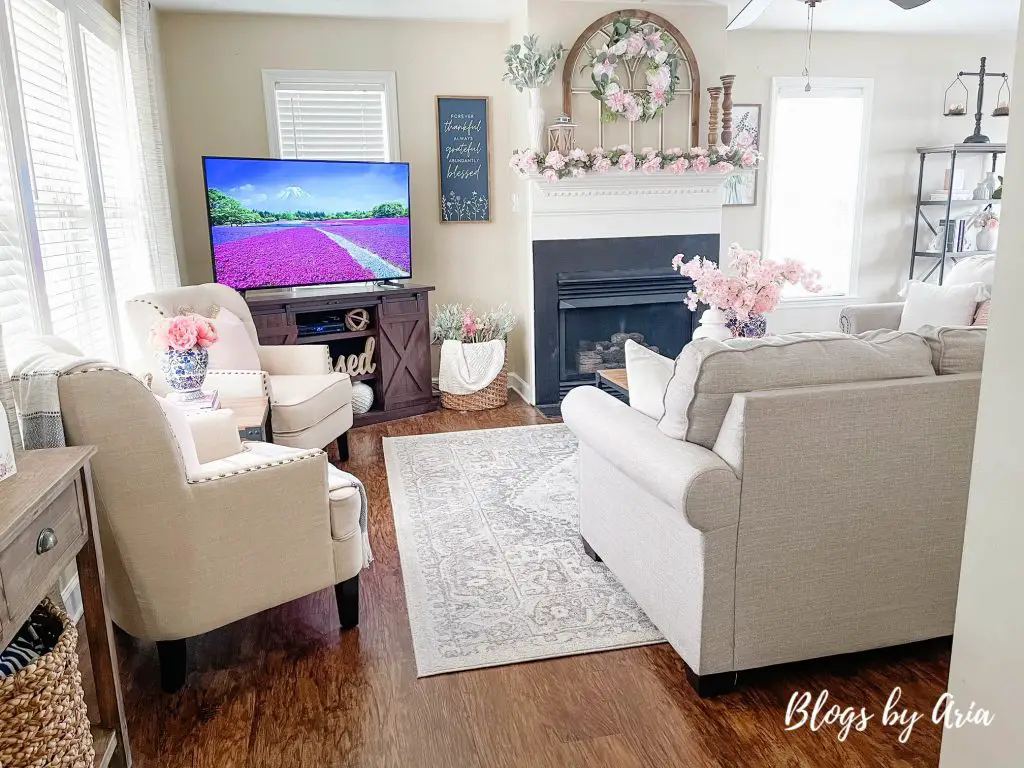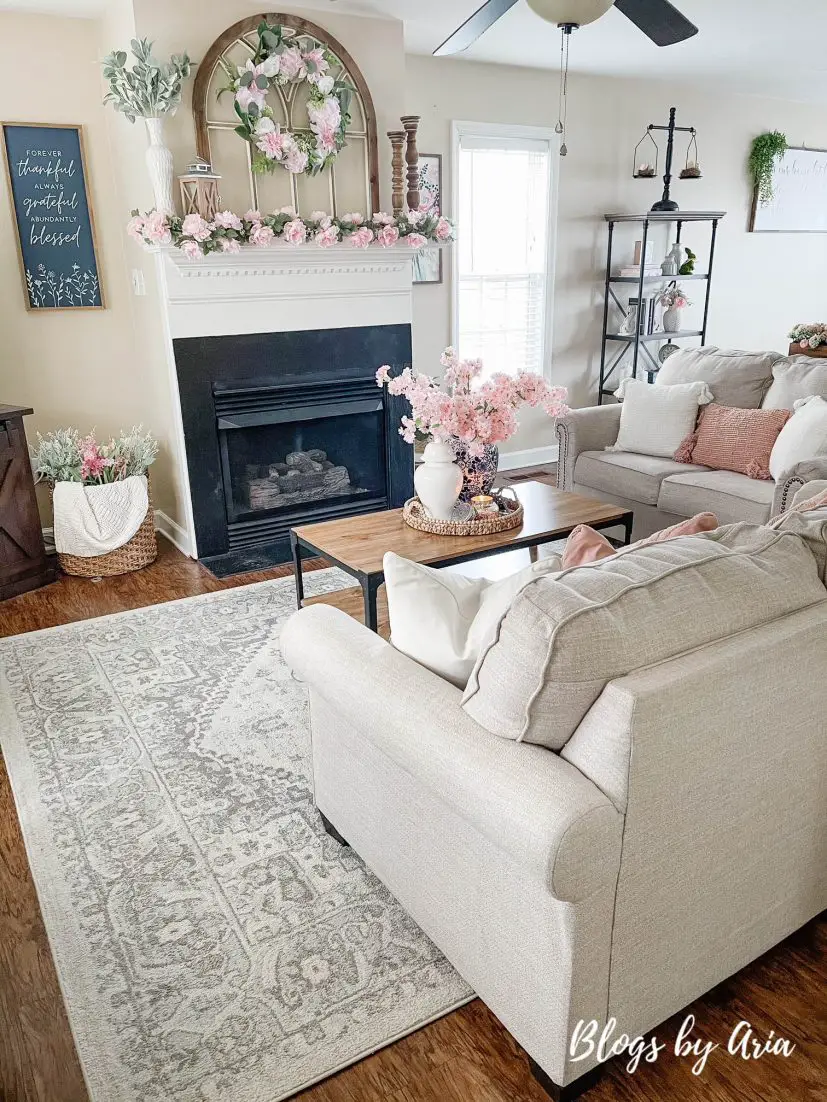 Coming into the living room you can see all of the beautiful pops of pink!  I thought of adding flowers to the arch but once I found this peony, rose and dahlia wreath I knew that I wanted to add a floral garland along the mantle.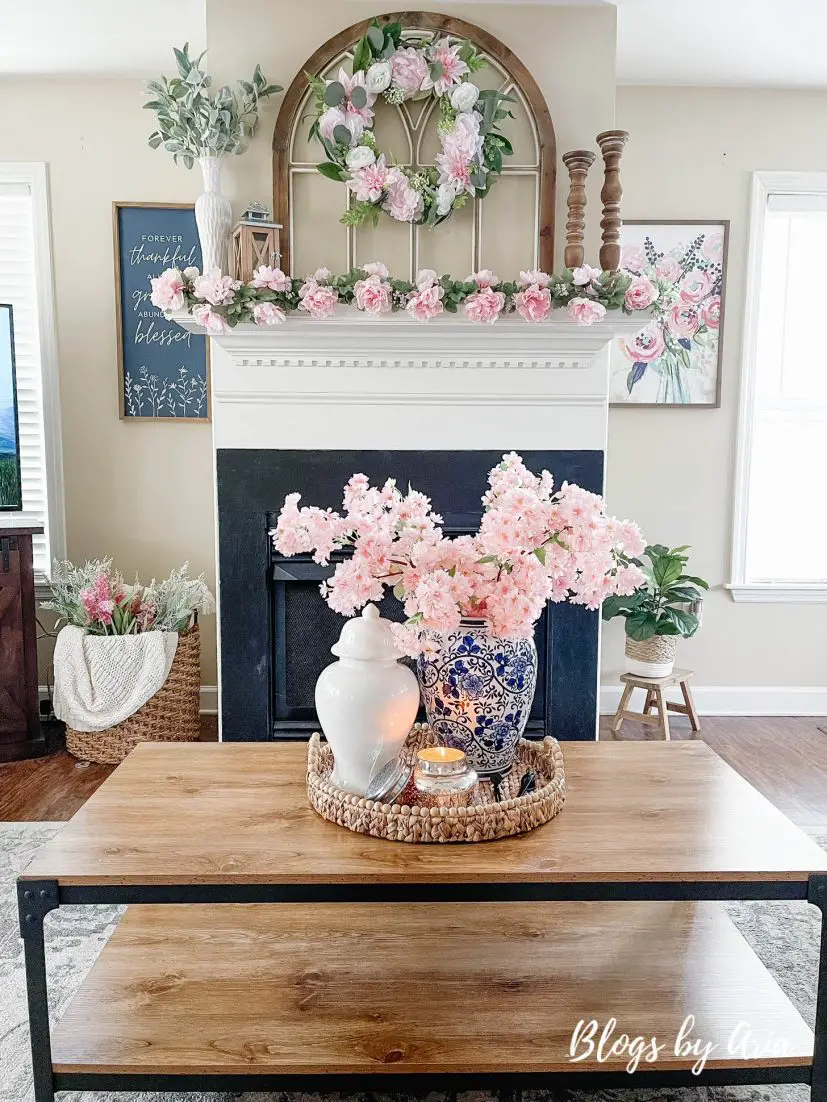 flower wreath | peony garland | wood arch | candlesticks
white ginger jar | large ginger jar | anthro candle | cherry blossoms | wicker tray
I've moved my cherry blossom stems around from my entryway to my coffee table and I think this is where I like it the most.  Normally I wouldn't like large centerpieces but it really works on my coffee table.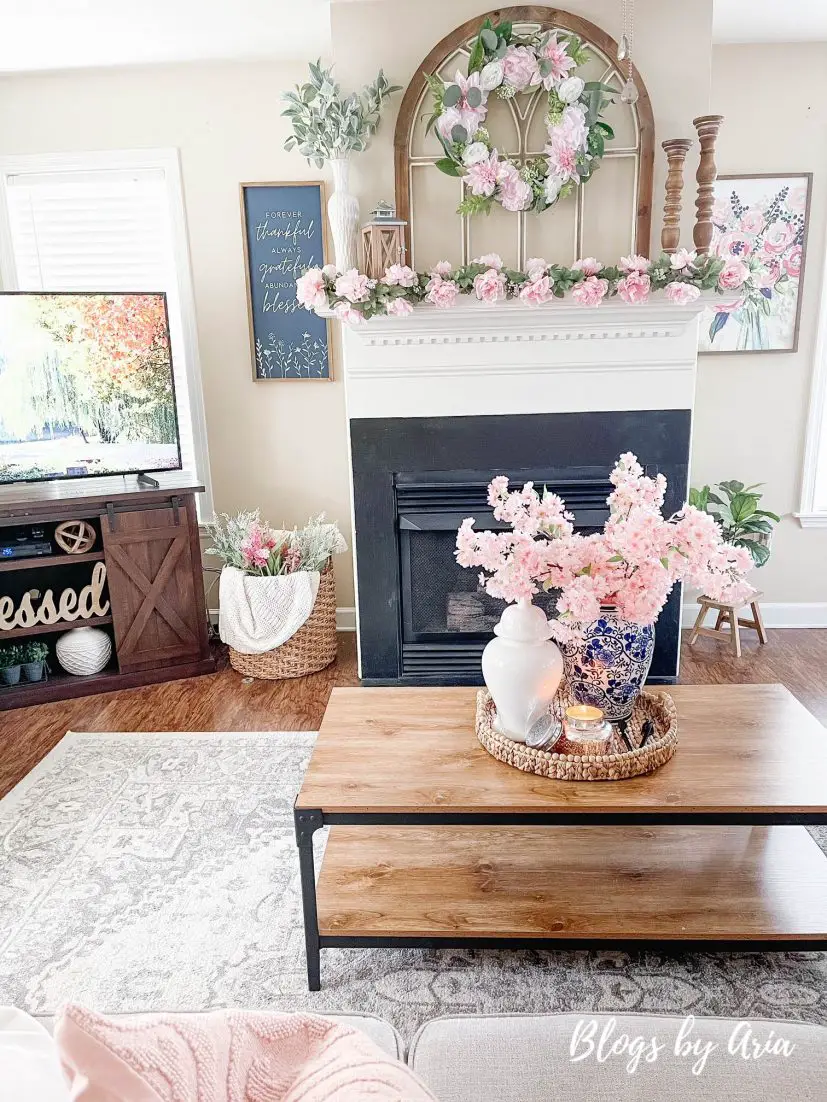 area rug | coffee table | farmhouse tv stand
Next to the fireplace I have a basket filled with a few wildflower stems I got from Michael's.  An easy way to add pops of color with flowers is to throw them in a basket.  You don't have to have a vase in order to style flowers so keep that in mind.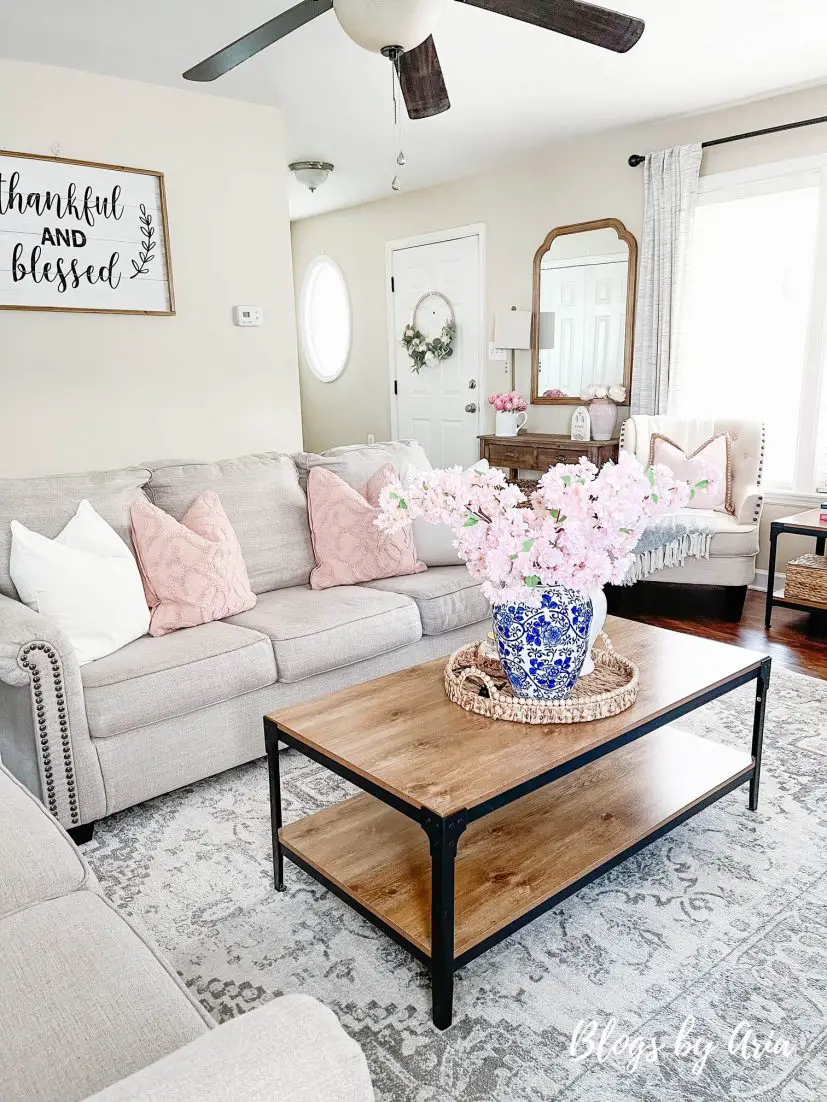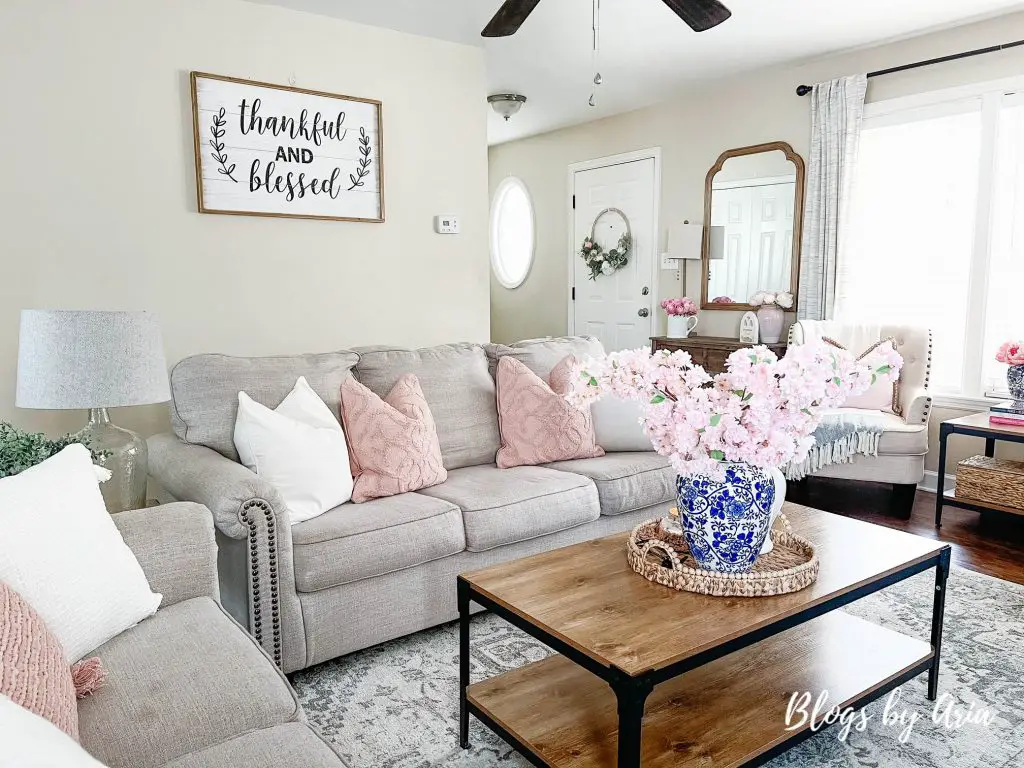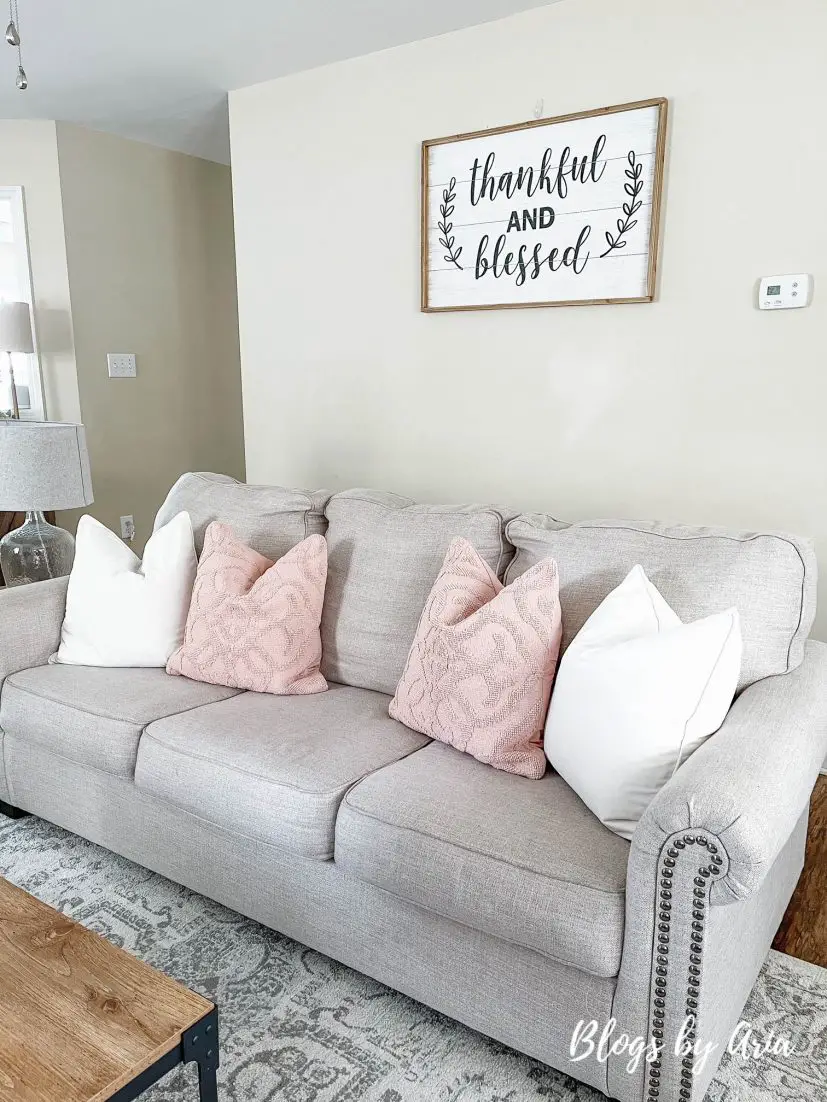 sofa | pink pillows | similar white pillows here and here
The My Texas House Collection at Walmart recently launched and I've been so excited to use my new pillows.  Erin who is @mytexashouse on Instagram is someone I've followed for years and I love her decorating style.  She came out with a rug line a couple of years ago and this month she launched a home decor collection with Walmart.
Her items are really affordable and I had a couple of pillows that I wanted to grab.  When she first launched everything I wanted sold out.  But when they restocked a couple of weeks later I was able to grab the pillows.
The pink pillows on my couch are actually pillow covers and are only $14!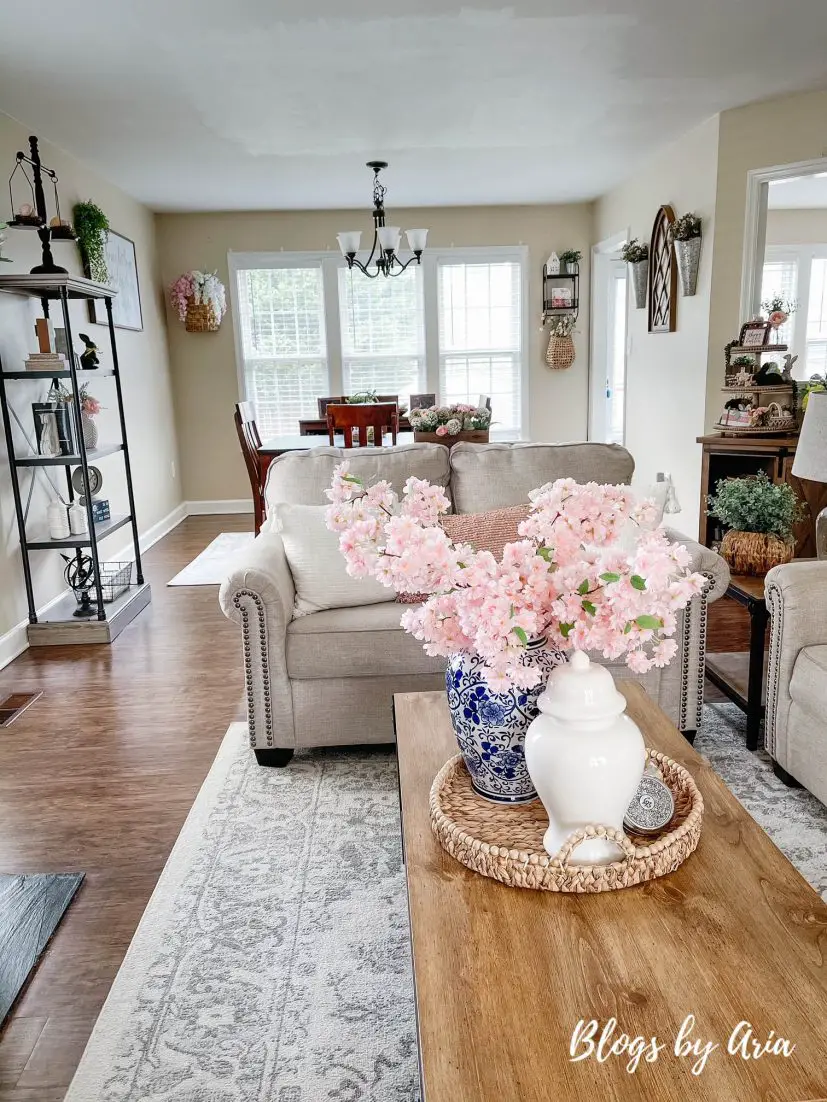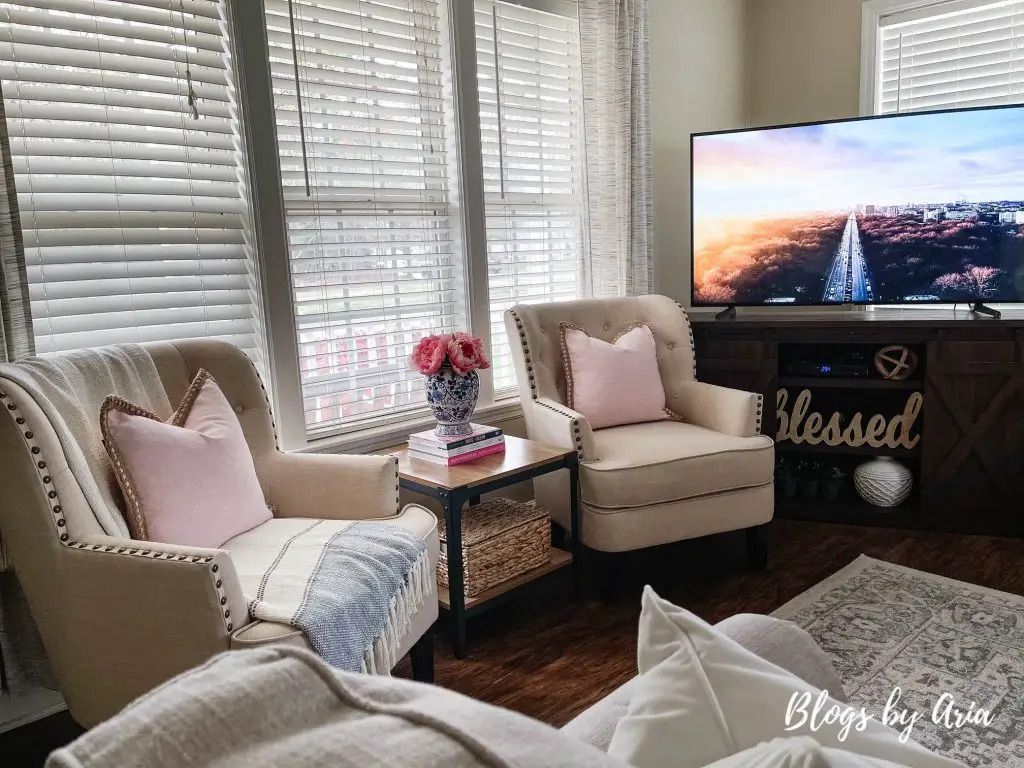 accent chair | throw blanket | pillows
Unfortunately the lighting is not good anytime I try to share my tufted accent chairs.  As you can see there are more pops of pink over here too with my pillows and flowers.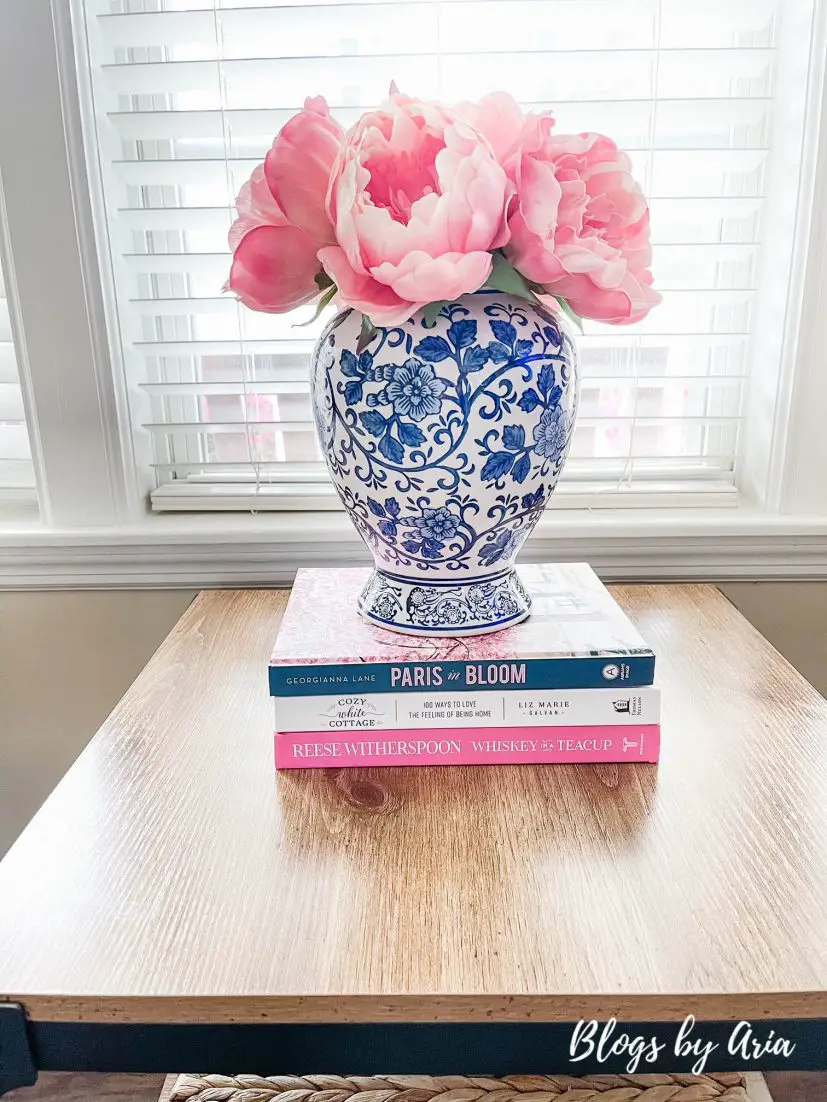 peonies | cabbage roses | ginger jar | Paris in Bloom | Cozy White Cottage | Whiskey in a Teacup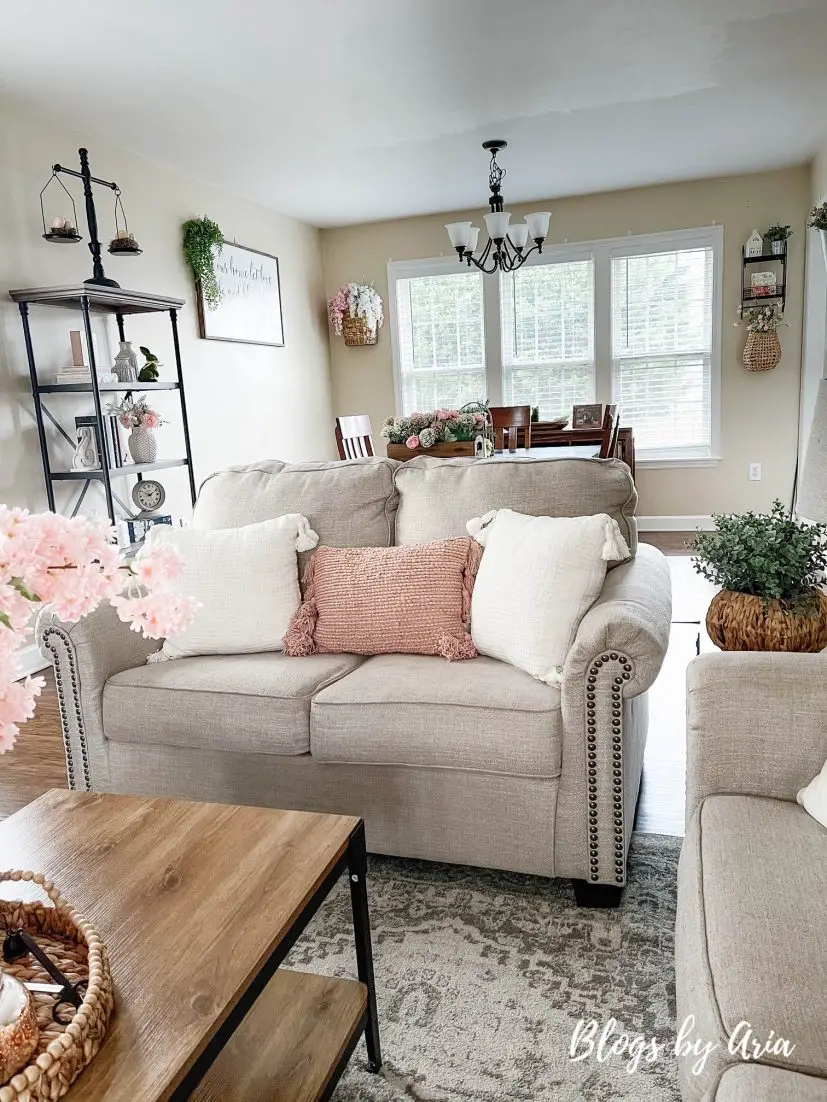 This pink lumbar pillow is also from the My Texas House line and is so affordable at $18.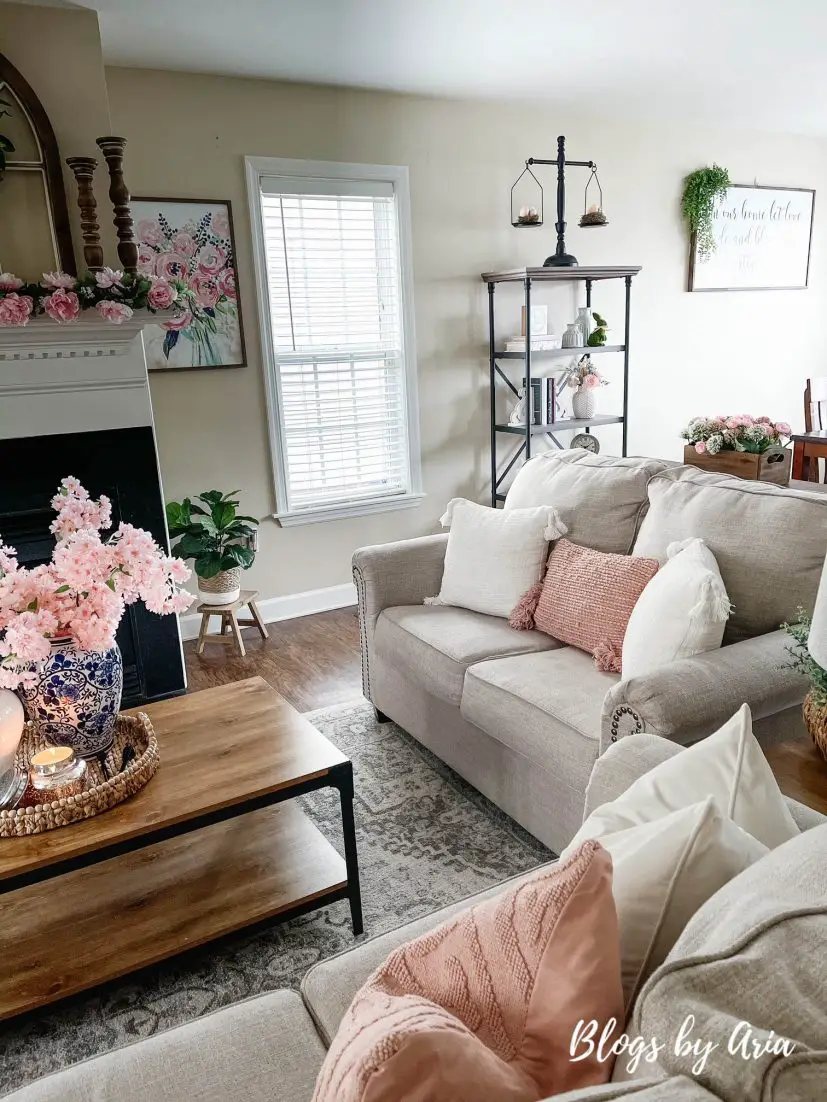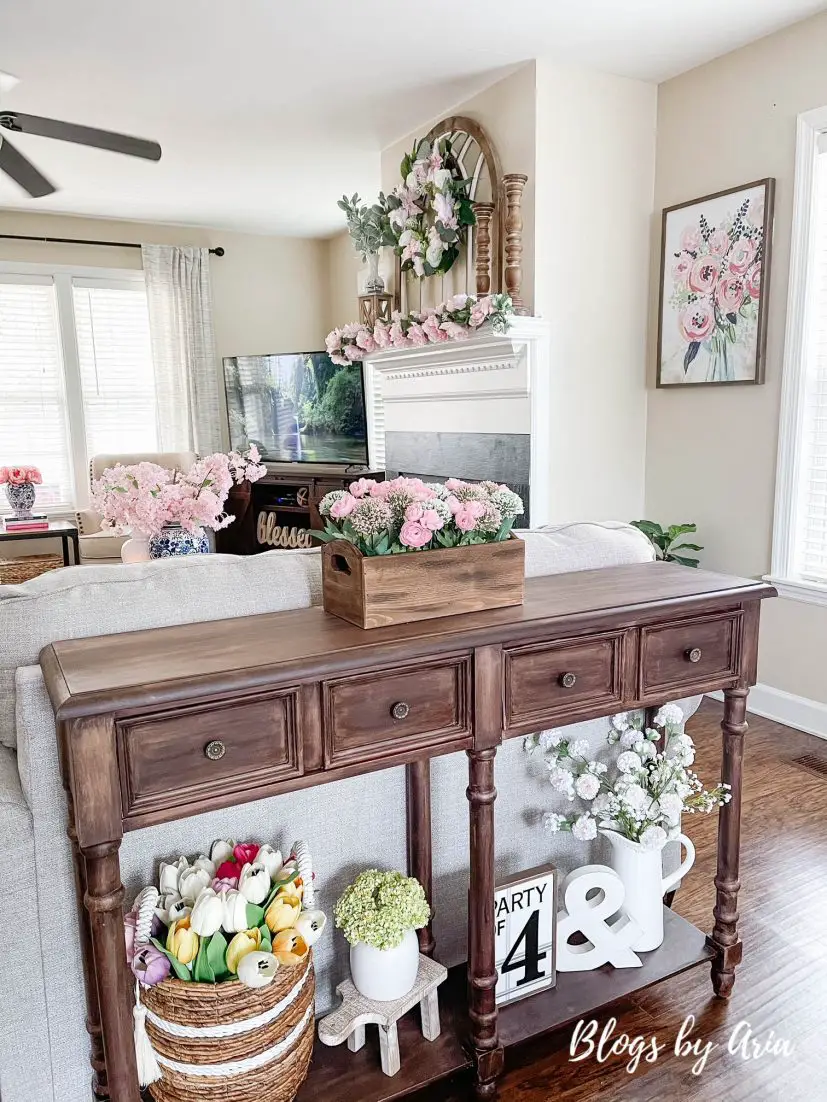 I've kept my sofa table pretty much the same as the last time I shared it but I wasn't loving the top.  Turns out I prefer a less is more approach so I am showcasing one of my very few and rare diy projects.  Using this wooden container and some spring florals I created a centerpiece.
Every time I went into Michaels' I'd be drawn to these flowers but didn't know how I could use them.  Then I realized that instead of trying to find a floral centerpiece I could easily make one of my own.
Here's everything I used:
The flowers came in a bush and I used the wire cutters to cut them down and separate them.  Then I stuck them down into floral foam and voila!  For someone who isn't crafty, this was pretty darn easy.  As a bonus I can change it out seasonally if I choose.
The pink floral print fits perfectly in this space.  I got it last year from Hobby Lobby.  You can check out last year's Spring home tour here.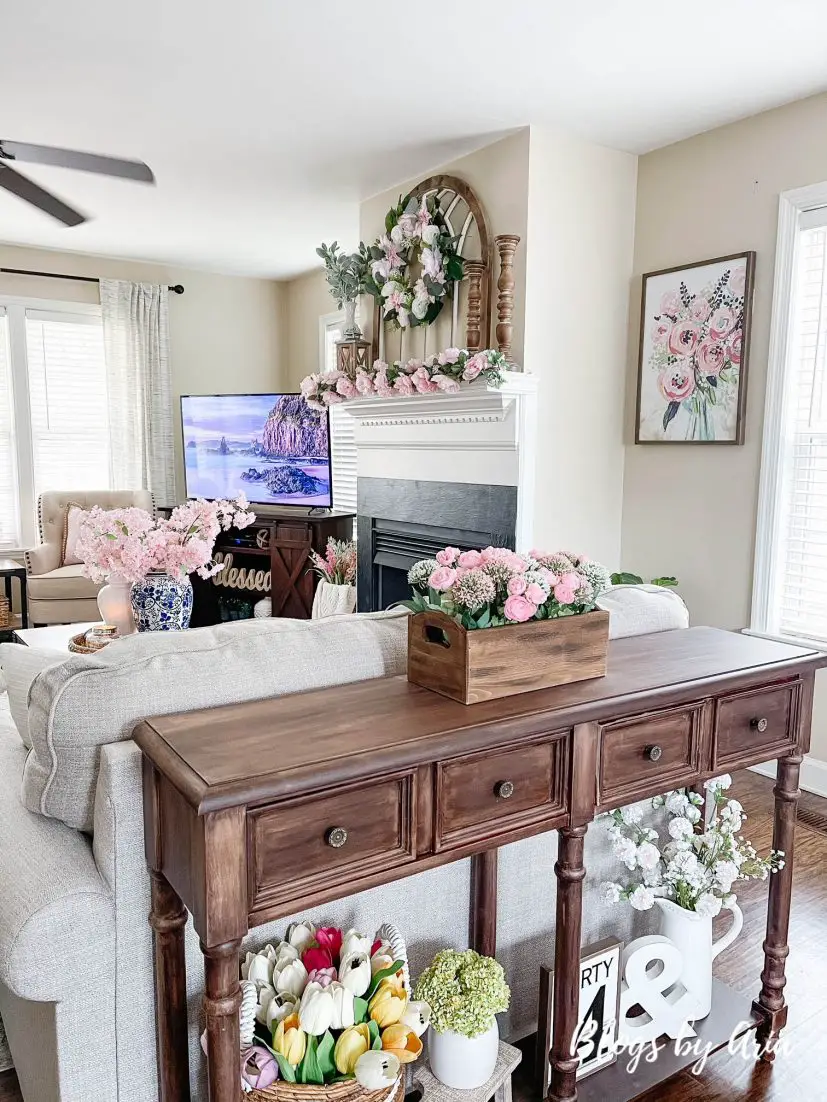 Believe it or not I have more to share!  But I can't fit it all into this one post.  Stay tuned for part two of my Spring home tour and I'll share the rest of my main floor decked out for Spring!
For me, decorating for Spring has been so much fun.  I've never had so many flowers in my home at one time!  Turns out I really like the look 🙂  What do you think?