Currently we're looking for a new dining room table.  I have an idea in mind of what I want it to look like and a price point I'd like to stay under.  Unfortunately I'm finding dining room tables can get very very expensive.  In my search I've come across a lot of great modern farmhouse dining room tables that are affordable.  In case you're in the market for a new dining room table too, I wanted to round up some of the options that have caught my eye.
First, some backstory.  Our current dining room table we've had for years.  We got it from Kmart way back in 2013.  Surprisingly it has held up pretty well!  The table did, the chairs were not good from the beginning.  One of them even broke within the first week.
My style has evolved over the years and I no longer wanted the faux black granite top.  I tried to Retique it the same way I did my console table, but that was a fail.  Aside from the look of the table, it no longer functions for us as a family.
My husband and kids are always knocking their knees against the table when they're sitting down or getting up.  I do mean always.  And when we do have company over we have no extra room for them to sit.
Each year around tax time we try to get at least one thing for the household.  We've really been wanting to get a sofa for our bonus room but we need a new dining room table.
*this post includes affiliate links for your shopping convenience, you can read more about affiliate links by reading my Disclosure*
MY INSPIRATION TABLE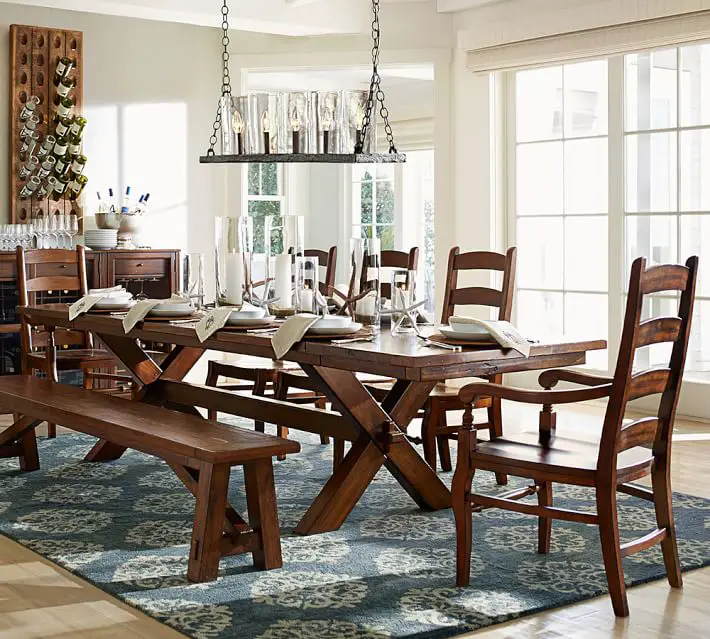 Before I ever realized that I liked modern farmhouse design I fell in love with the Toscana table from Pottery Barn.  I've wanted this table for years!  I even shared it way back in 2014 that's how long I've obsessed about this table.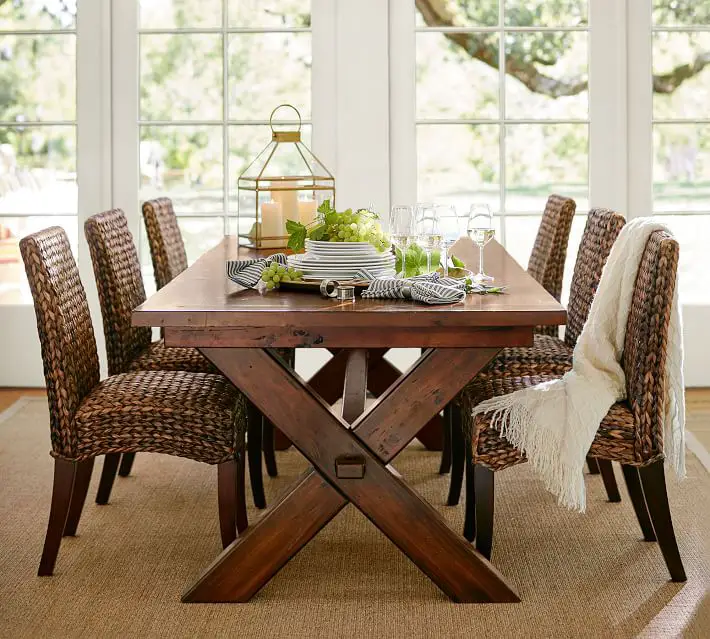 What I don't obsess about is the price.  You know me, I'm always on the hunt to get the look for less.  And I'm up for the challenge!
Currently I'm only looking for a table.  My mom got us four chairs when we first moved into our townhome a couple of years ago as a gift and I don't feel the need to get new chairs.  Which means the new dining table needs to match our existing dining chairs.  Or at least come pretty close.
That narrows down a lot of the tables I've seen.
WHAT I'M LOOKING FOR IN OUR NEW DINING ROOM TABLE:
Trestle legs – I really like the farmhouse look
Extendable – This table is going to be our table for years to come and I'd like to be able to extend the table when we have people over
Dark brown – In some areas I'm learning to like white oak and lighter tones but since it needs to match our chairs I want a darker wood.
Affordable – I don't want to spend an arm and a leg on a table.  Our current table was under $300 and is almost 10 years old!
Now that I've scoured the internet and read all of the reviews I've rounded up 9  affordable modern farmhouse dining room tables to share with you.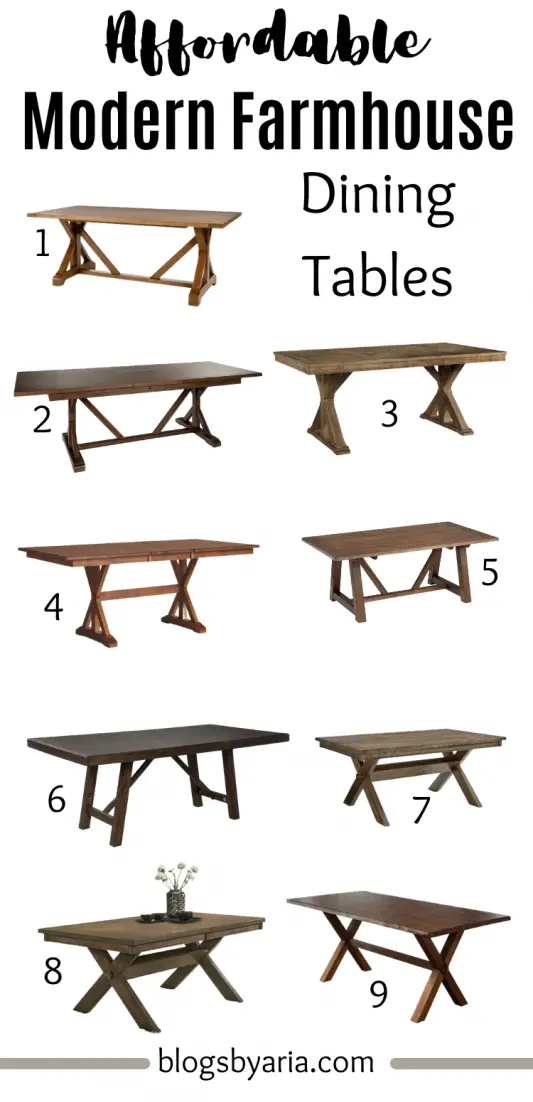 1 | 2 | 3 | 4 | 5 | 6 | 7 | 8 | 9
Throughout my search for the perfect affordable modern farmhouse table I have gone back and forth between which table was the front runner.  I still couldn't tell you which table is going to be ours.  For the ones that I can see in person, I will go look at them in store.
If you know me, you know it can take me a long time to make a decision about a furniture purchase.  On the one hand, I could just focus on buying for the space I'm currently in.  Would it be great to have seating for eight?  Yes, but seating for six would still be more than what we have now.
On the other hand, I try not to shop for my current space because it's temporary.  I don't want to spend over $500 on a table that won't work in our next dining room.  This is why it takes me so long to decide.  Either way, I'll let you know whatever decision I do make.  Stay tuned!
Hopefully if you are in the market for a dining room table that has modern farmhouse style and is affordable, you got some good ideas from this post.
Which table is your favorite?