Happy Monday friends! I don't know about you but as Summer is winding down I feel like I'm just going and going non-stop.  Back to school shopping is in full swing and at the same time I just want to decorate our home.  Throw in the fact that I have to go to work and feed my family and I'm just tired.
Over the past couple of weekends we've been exploring and becoming more acclimated to our new neighborhood.  I've been doing a lot of window shopping and getting ideas for things to buy for our new home.  I'm going to share what I've been saving in my phone.  I have so many things on my "to-buy" list and I have to remember to pace myself and that I don't have to try to get everything at once.
And to remember the cardinal rule :  Never pay full price!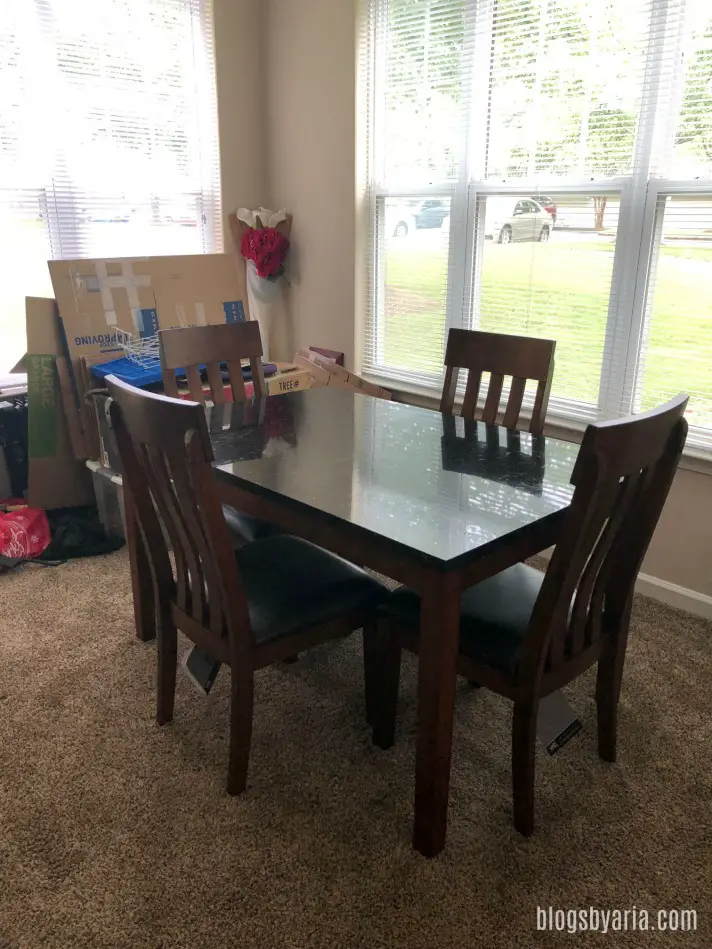 Before we get to what I've been eyeing in stores I want to share a new addition to our home…new dining chairs!  They look like they came with the table!  They're from Ashley Home Store.
We got this table years ago from Kmart and the chairs that came with the table literally sucked from day one.  So when it was time to move my mom wanted to bless us with dining chairs and I'm so grateful!  Don't mind the clutter in the background, we're still getting settled 😉
*this post includes affiliate links, which means if you click on a link and make a purchase that I get a small commission that helps support this blog and my family. You can read more about affiliate links by reading my Disclosure post*
KIRKLAND'S
I really love Kirkland's stores.  The store near me now is so much bigger than the one in Greenville.  They're reasonable with their prices which I really love and they have really cute decor items for the home.  I like that they have a lot of faith based decor too.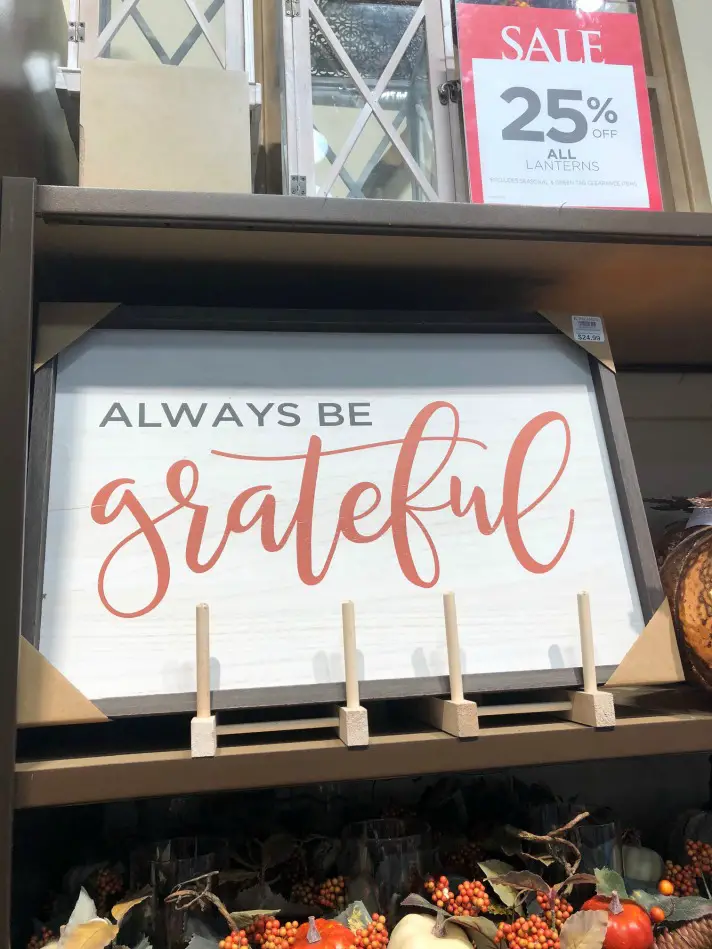 This always be grateful wood plaque is on my must get list.  I always try to be grateful but I also like this for fall decor with the colors.  Orange isn't something I'd be down to have up all year round but I think this would be perfect in my home.
I'm excited to be able to decorate seasonally in my new home.  I definitely have my eye on this happy fall wreath framed art.  It's understated with muted colors so it doesn't scream at you.
Kirkland's has so many cute pumpkins that I have to pace myself!  My new home is bigger than my last one but it's not that big to go crazy with the pumpkin decor 😉  I really like the look of these scripted tag pumpkins.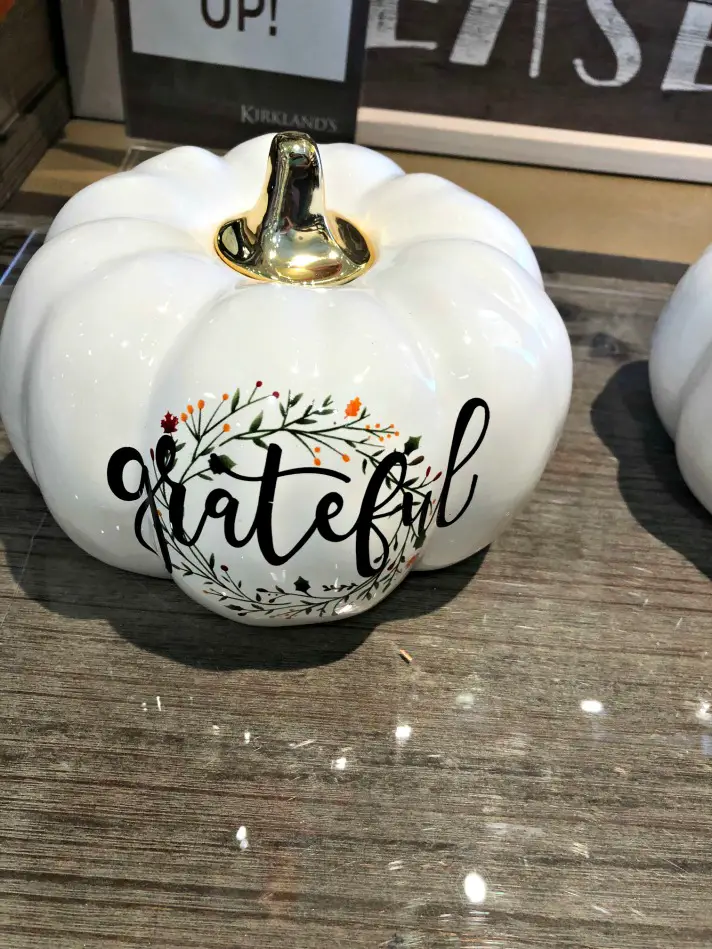 I love this white wreath grateful pumpkin.  It gives off a more sophisticated vibe that I like.  I have to find a spot for this to go because this is definitely coming home with me!  I also like the blessed version of this pumpkin, it's a little larger so they'd be perfect to compliment each other or group together.
I don't have a place to put this, at least not that I can think of at the moment, but I do like this Praise Him Shadowbox.
I need so many more walls because every time I come across scripture artwork that speaks to me I want to buy it.  I don't know where this would go but I do want this God is Love Framed Canvas Print for sure.  And people ask why I want such a big house, ummm this would be reason #564 😉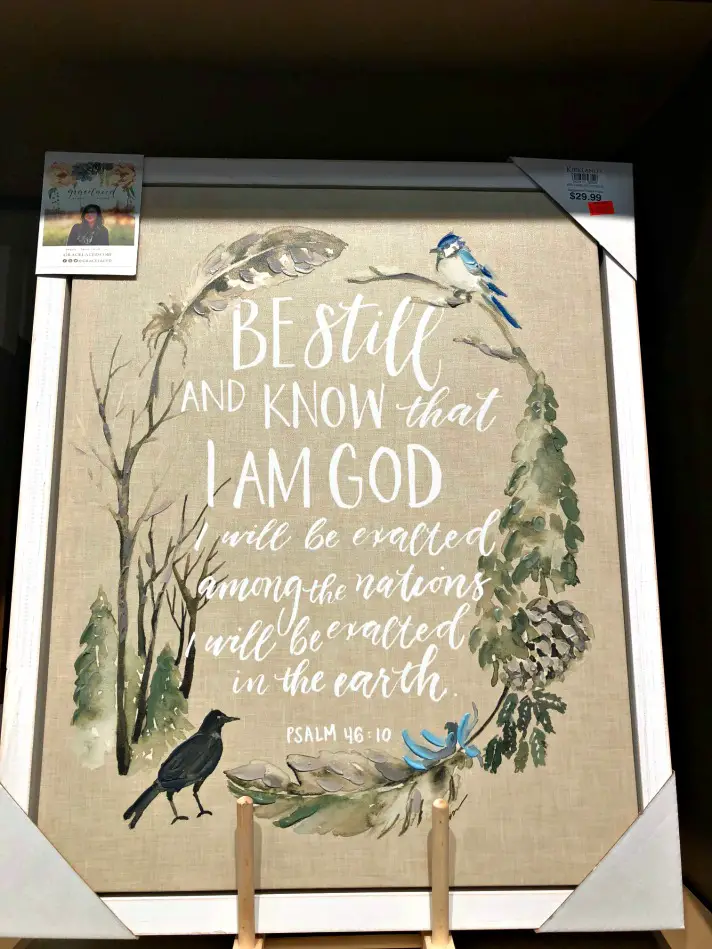 This be still and know framed print is on clearance so I gotta scoop it up fast!  If not for me, it would make a great gift!
I could go on and on about Kirkland's I just love that store so much!  They're great all year long but I can't wait for their holiday decor to come out 🙂  I'm not rushing it, but still!  Like I mentioned before, Kirkland's has great prices and they usually have some kind of sale going on to help too.  Getting great home decor for less, is a win win!
WORLD MARKET
Not far from Kirkland's we have a World Market.  I didn't see a whole lot that caught my eye but I wanted to share a few things.  The main items that I can see myself shopping at World Market for would be the foods.  I used to live in Germany when I was a kid and I took a little stroll down memory lane in their German foods aisle.  All these cookies and candies that I used to eat…yes I'll be back for them 🙂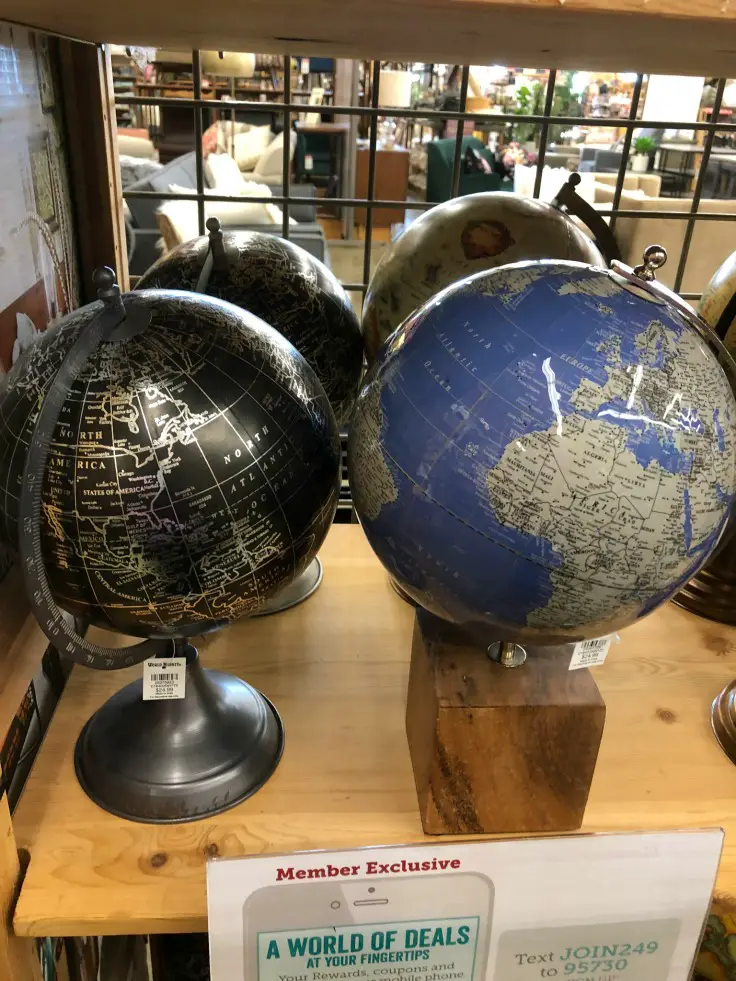 Hi.  My name is Aria and I am obsessed with globes.  I can't even tell you why I just love globes.  I'm going to buy one, one of these days.  But I can only buy one.  I literally wouldn't have anywhere to put anymore globes than just the one.  I can't find the black one online but the blue lacquered globe is so stunning to me.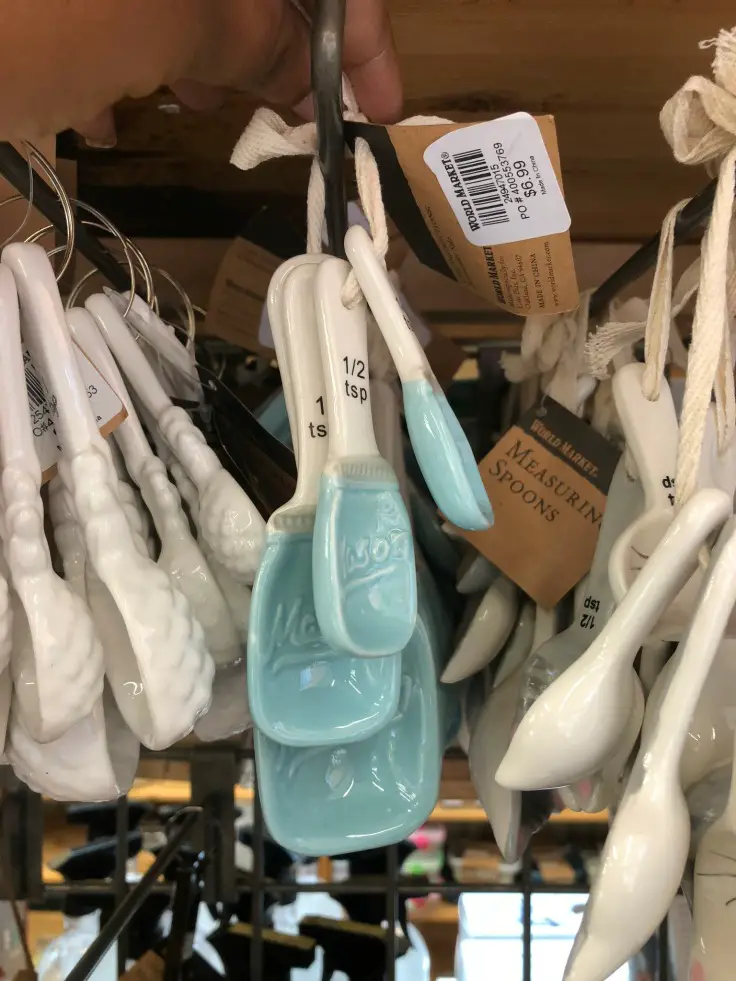 Aren't these mason jar measuring spoons just the cutest?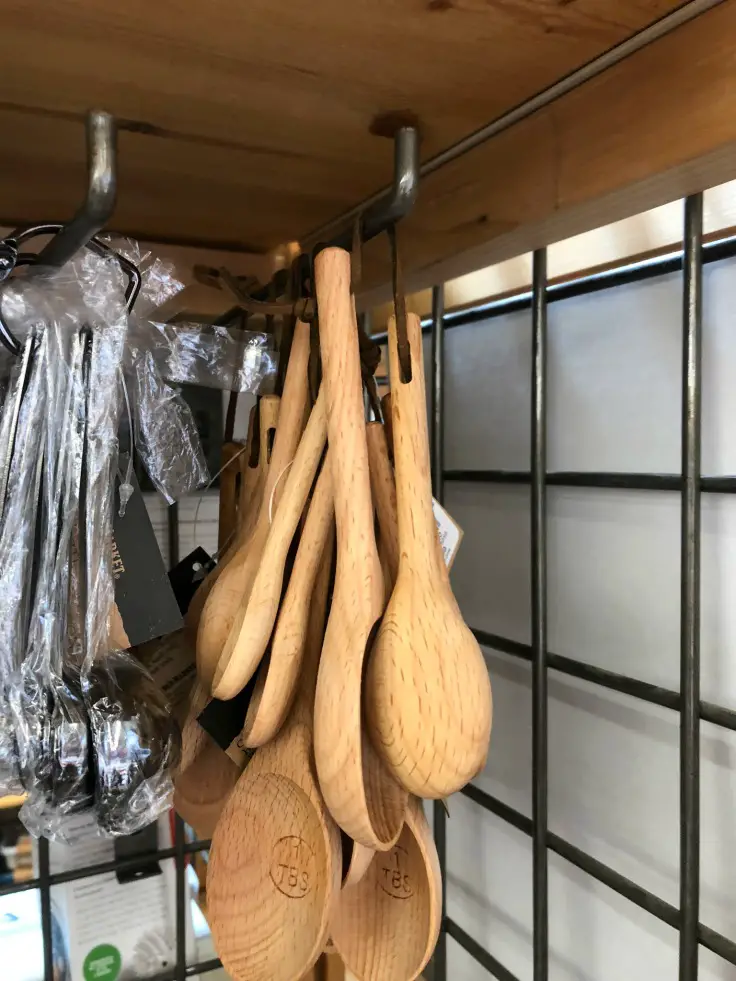 I also like these natural wood nesting measuring spoons too.  Honestly, I don't bake/cook enough to want as many of the measuring spoon sets that World Market has, but I want so many of them!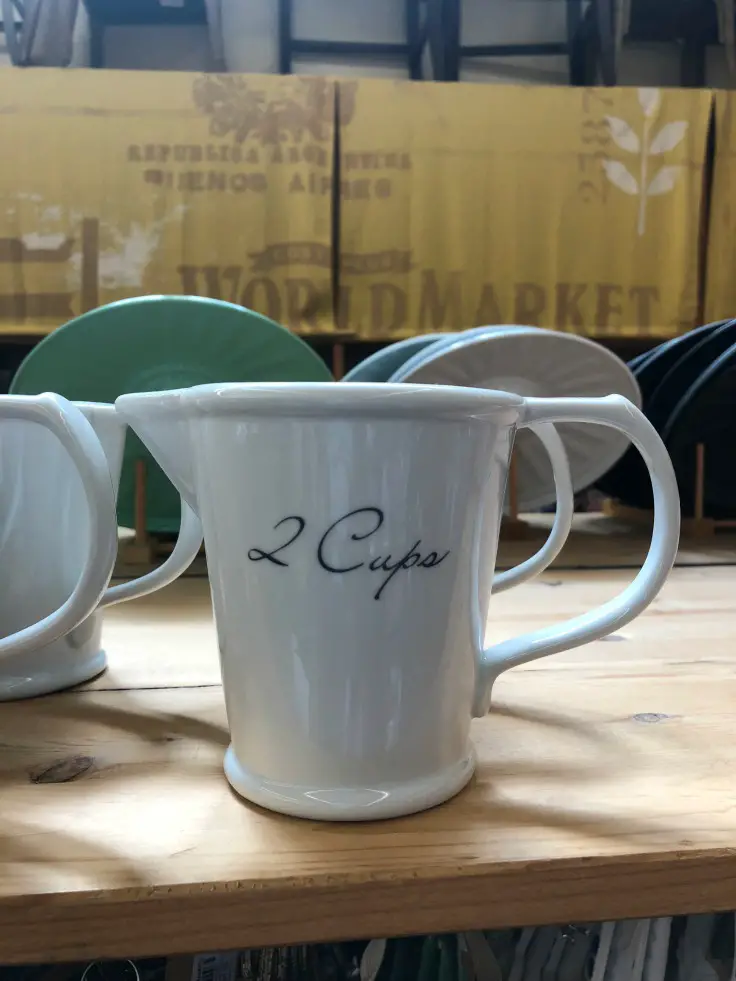 This 2-cup measuring jug is cute to me.  I can find some use for it I'm sure 🙂
HOBBY LOBBY
Okay Okay Okay.  I love Hobby Lobby and having one right down the street from me may or may not be a good thing.  It depends on how you look at it 😉  I love Hobby Lobby for the same reasons I love Kirkland's.  They have great prices, great sales and home decor that I love.  I get so many great home decor ideas from there…again, I need more walls! haha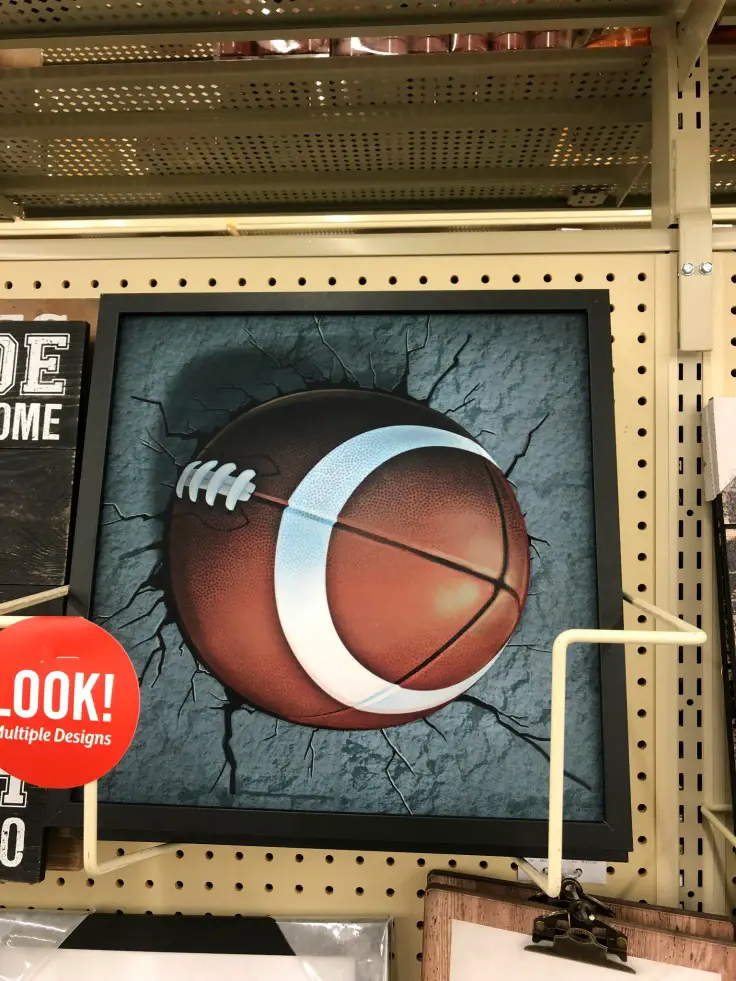 Let's start with my son's room.  I am not doing a themed room for him but I do want to decorate it with things that he loves.  He loves football and the Avengers specifically Black Panther.  Right now he has an Avenger's framed poster and I want to find a Black Panther framed poster or something like that and the rest can be football.  Out of all of the pictures I'm showing about football he loves this football wall decor one the most.  It just went off sale this weekend and I hated that because I didn't know it was on sale until they were almost closed and I couldn't make it there in time and I didn't want to pay for shipping.  It'll go back on sale and I can be patient.
He also really likes the Work For It wall decor too.  I really like the One Chance wall art myself but I gotta get what my baby wants.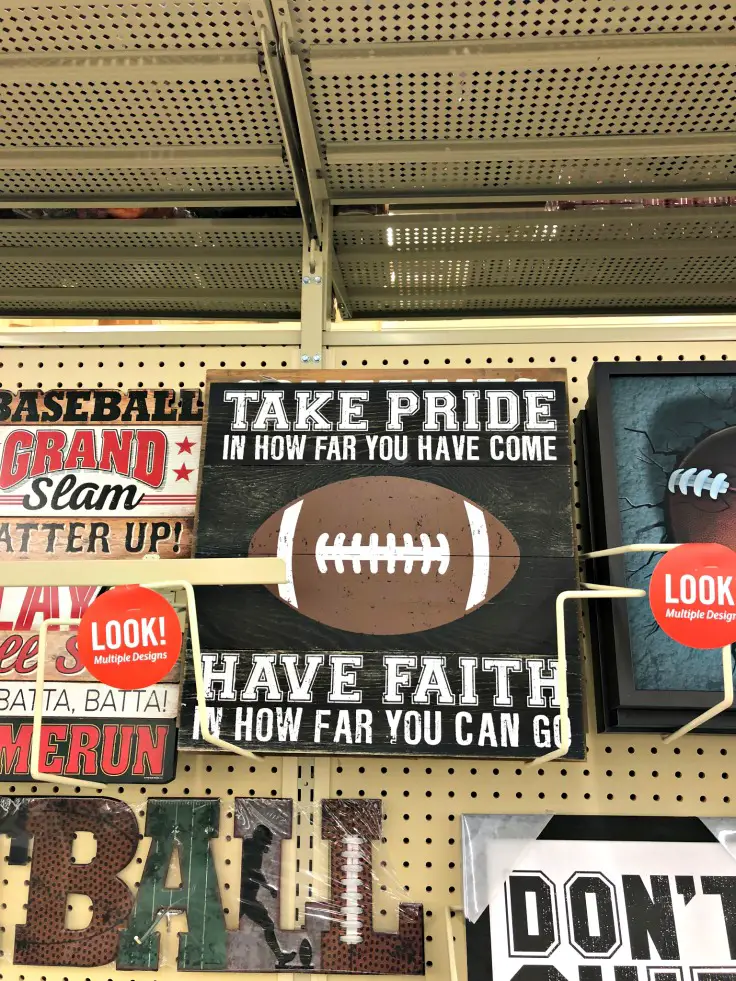 This take pride have faith sign is one of my favorites.  I may try to convince him to let me get it for him.
I like the message of this Hustle Hit Never Quit wooden wall sign but it's a little too weathered for me.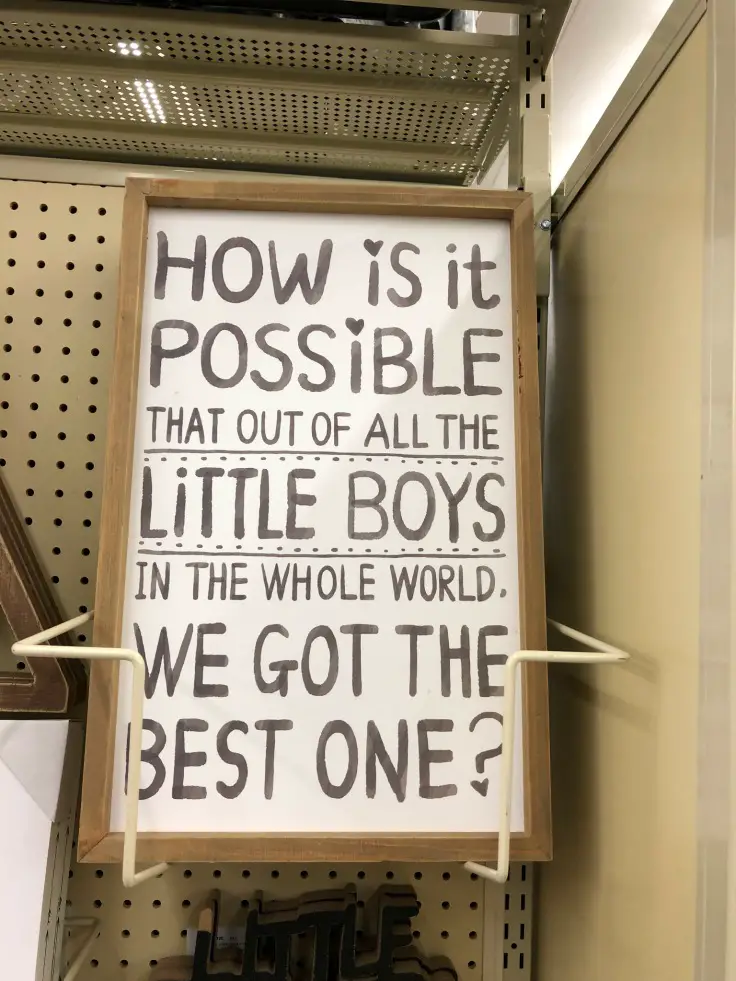 I can't find a link for this one, but both me and Jordan think this would be great in his room 🙂 <3
Moving on from my buddy's room let's move on to my daughter's room…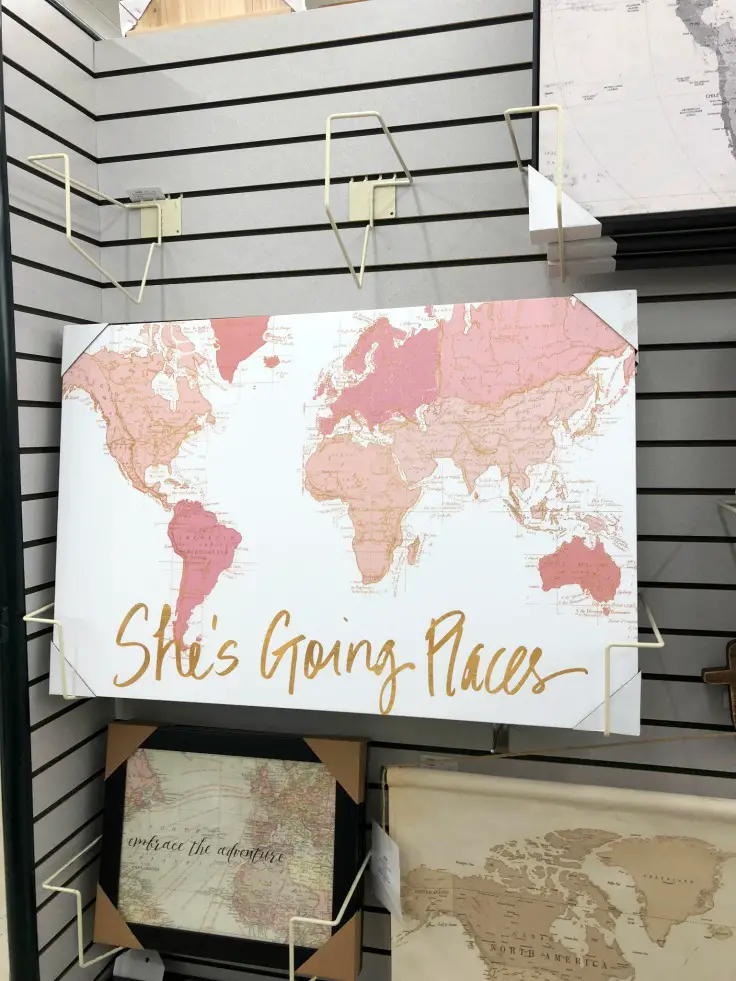 I of course, with my love of globes, love this pretty pink She's Going Places Canvas Map.  My daughter doesn't.  Probably just because I do.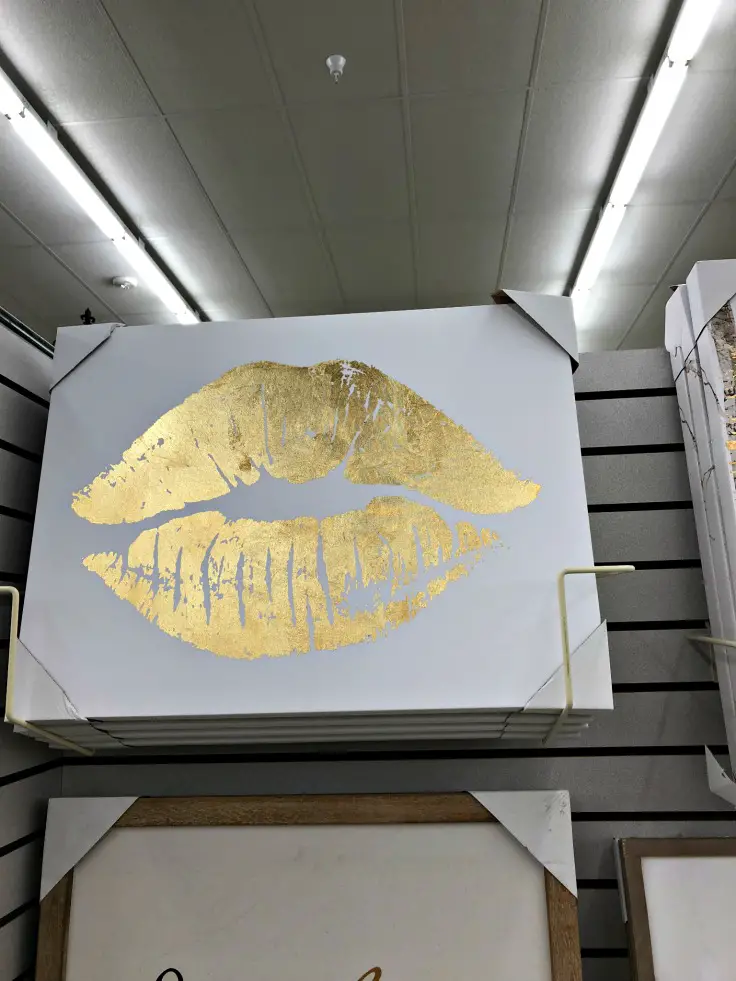 But she does like this gold lip canvas art.  I'm on the fence on whether I'll get it or not.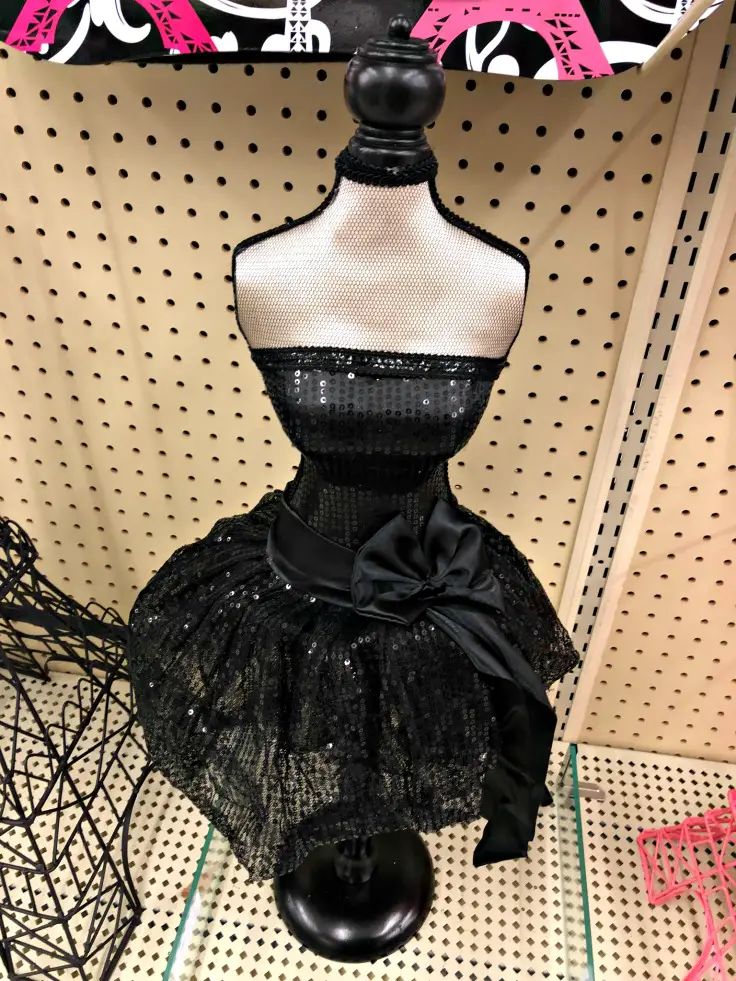 She also wants this black mannequin dress form.  I may end up getting this for her but I'd prefer to get her one of those that are full size so she can put clothes on it.  We shall see.
Moving on from her room, I saw a few other home decor ideas from Hobby Lobby.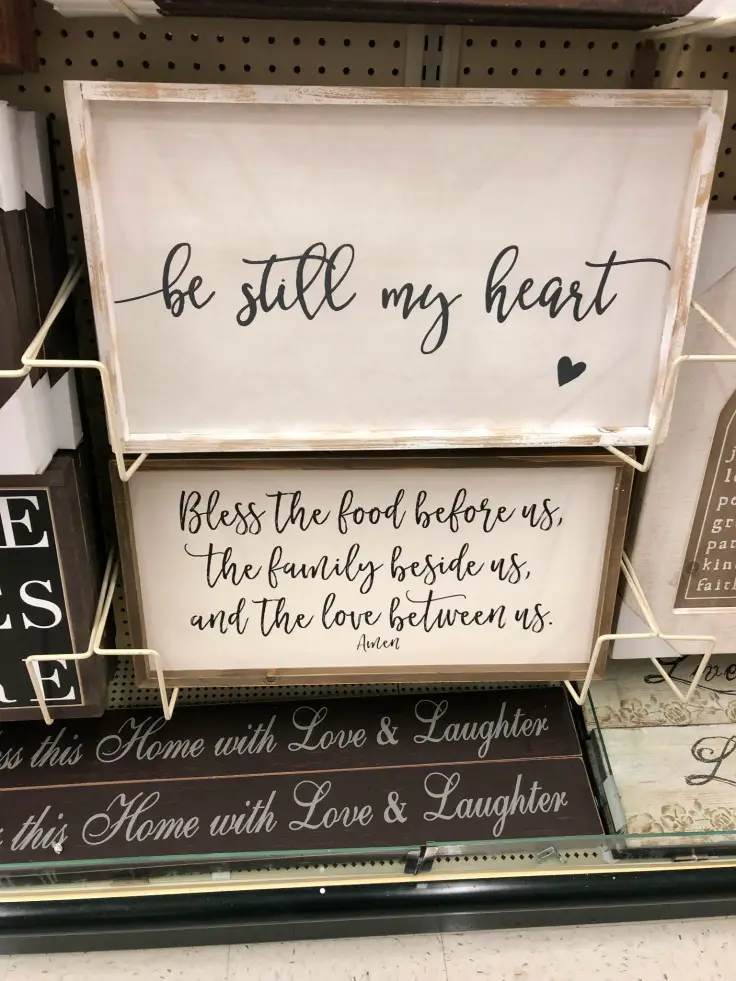 I love this Bless the Food wall decor and if my measurement guessing is right, then I have the perfect spot for it.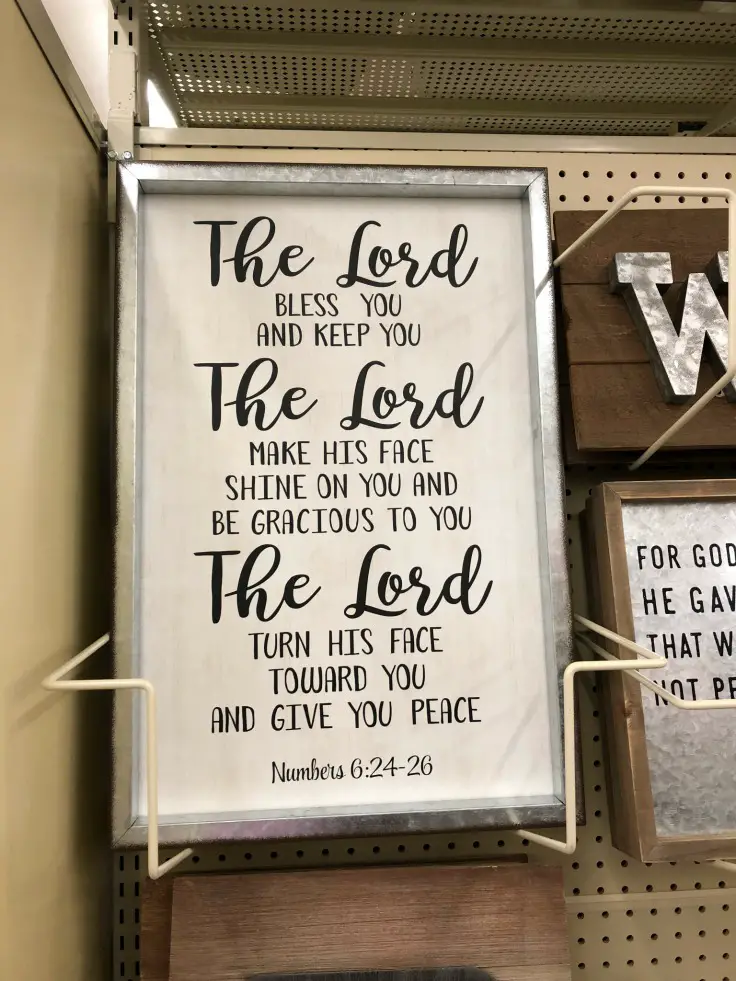 I like this Numbers 6:24-26 printed wall art.  I can't find a link for it right now but I still wanted to share it because I love it so much.
Now of course I have to have my "as for me and my house" wall decor up in my home!  I can't find the exact link for this one though.  I'll keep looking.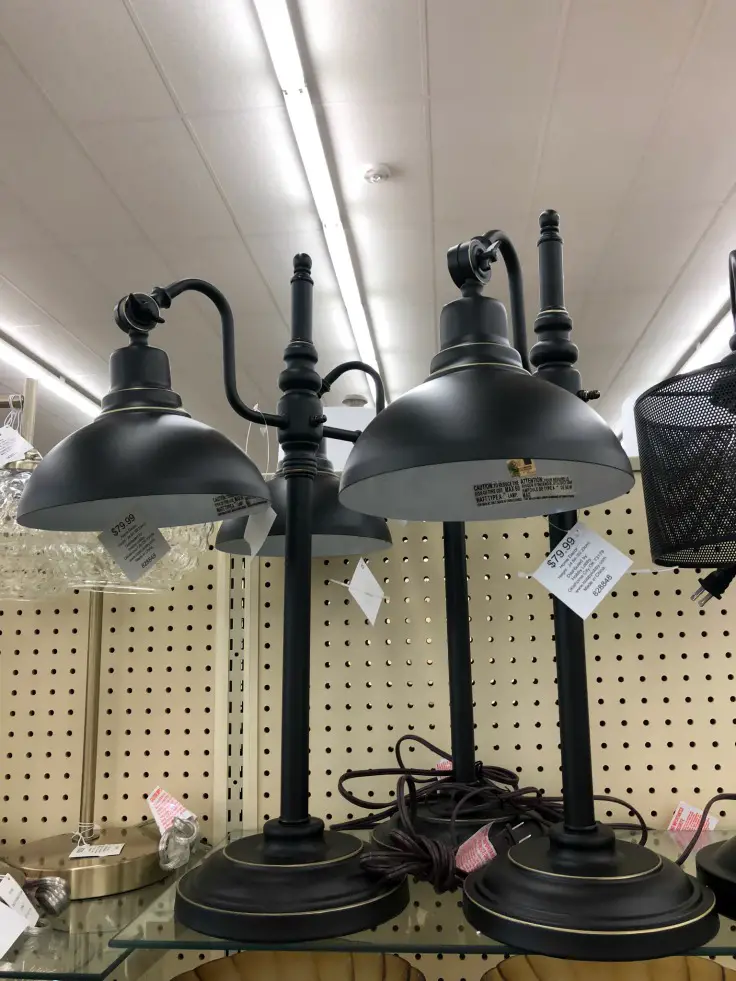 I am on the hunt for lamps.  I do not like the idea of spending a lot of money on lamps and these aren't badly priced.  I really like this industrial style black desk lamp.  I'm weird when it comes to lighting, I really like the industrial look but then I don't like anything else industrial lol.  Well I do like old fashioned alarm clocks and rotary phones, or even what were the older phones called? I don't know, but the antique phones where they had to pick up the little thing and put it up to their ear and talk into the other part.  Point being, I like those kind of things for decor items but would that even count as industrial?  I don't know, I'm going on a tangent.  I'll stop.
That's it for what I found at Hobby Lobby that I wanted to share for home decor ideas.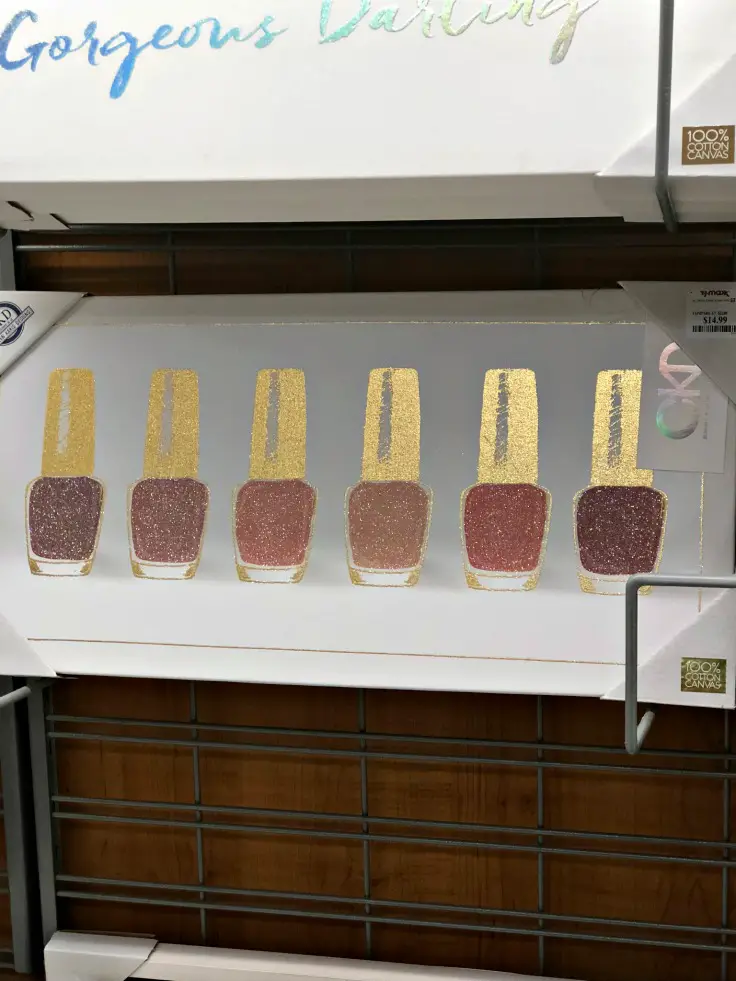 I wanted to share this last canvas that I saw in TJ Maxx back in Greenville and it wasn't until I was looking through my pictures in my phone for this post that I realized that this was in TJ Maxx and not Ross.  So now I'm on the hunt for it in one of the local TJ Maxx's for my daughter's room.  She loves nail polish and all things doing her nails so when I saw this I knew it would be perfect for her.  I should have picked it up when I saw it.
I hope that by sharing some home decor ideas that I'm looking at that you'll find some items that you like for your home too.  In the coming months I'll be sharing how my decor is coming along.  Hopefully before the holidays come around!  That's the goal!