Today (yesterday) was one of those days where I just couldn't get it together.  After a fun and productive Saturday, today was the complete opposite.  Nothing got done.  I had to drop Jordan off at his basketball camp and decided that if I was going to get out of this funk today I needed a pick me up.  What I knew I wanted was Starbucks.  I decided to go to Target.  And Target is always a pick me up 🙂
this post is not sponsored by Target but hey, Target!! Wanna sponsor my posts? 🙂
I went to get some hair products.  (that I didn't snap pics of)  I went because Bri wanted to show me something that she wouldn't stop asking when can we go to Target.  And I wanted to check out the new Victoria Beckham collection.
I had a good amount of time to kill, so I took my time walking around the store.  The first area I came to was fashion.  There wasn't much of the Victoria Beckham collection.  But the first thing that caught my eye was this super cute monokini.  I really want to try a monokini one of these days.  I feel that's more practical than a bikini for family vacation.   But you cannot be slacking on your body when it comes to rocking a monokini.  No ma'am.  No love handles.  No back fat.  None of that!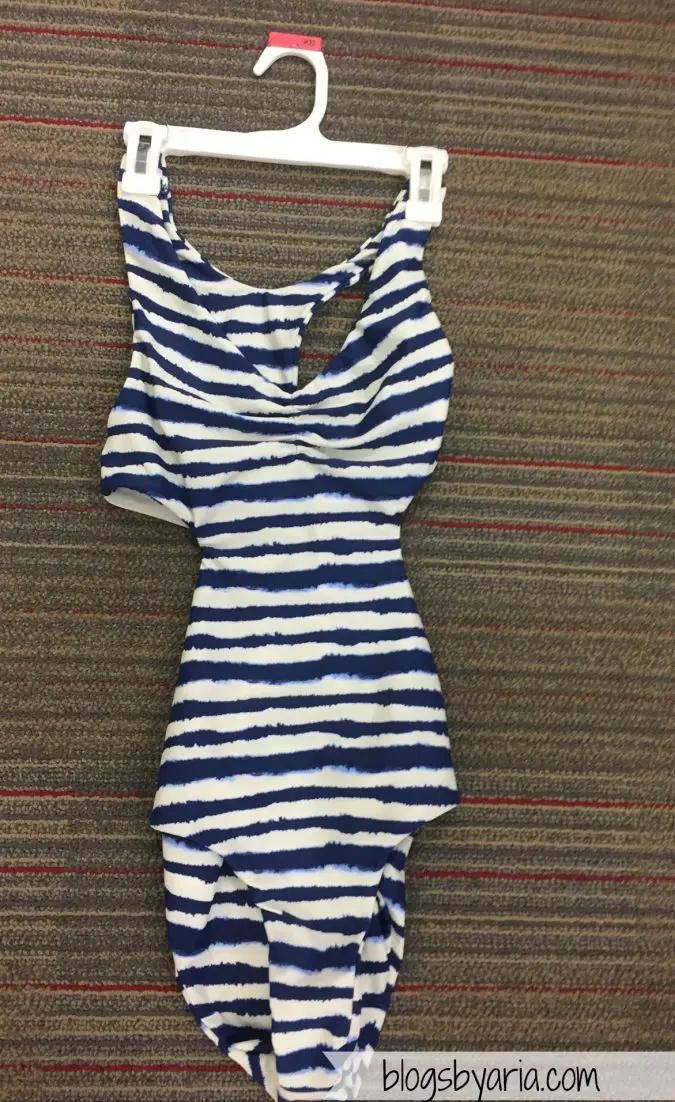 I really thought this was super cute and I pictured it on my body.  Now yes me and Pilates need to become besties again, but I feel like it could look better on my curves than on the model.
I was looking on Target.com trying to find the link for the monokini and I saw this adorbs swimsuit that I also need in my life!!!  Isn't this gorgeous?!?
The model is a size 5/small.  My dream.  Actually my dream size is a 4 but how did I get on this topic?  lol #goals
I turned from the swimsuits and saw this boho chic dress.  I love how flowy it is.  It would be great for the weekend.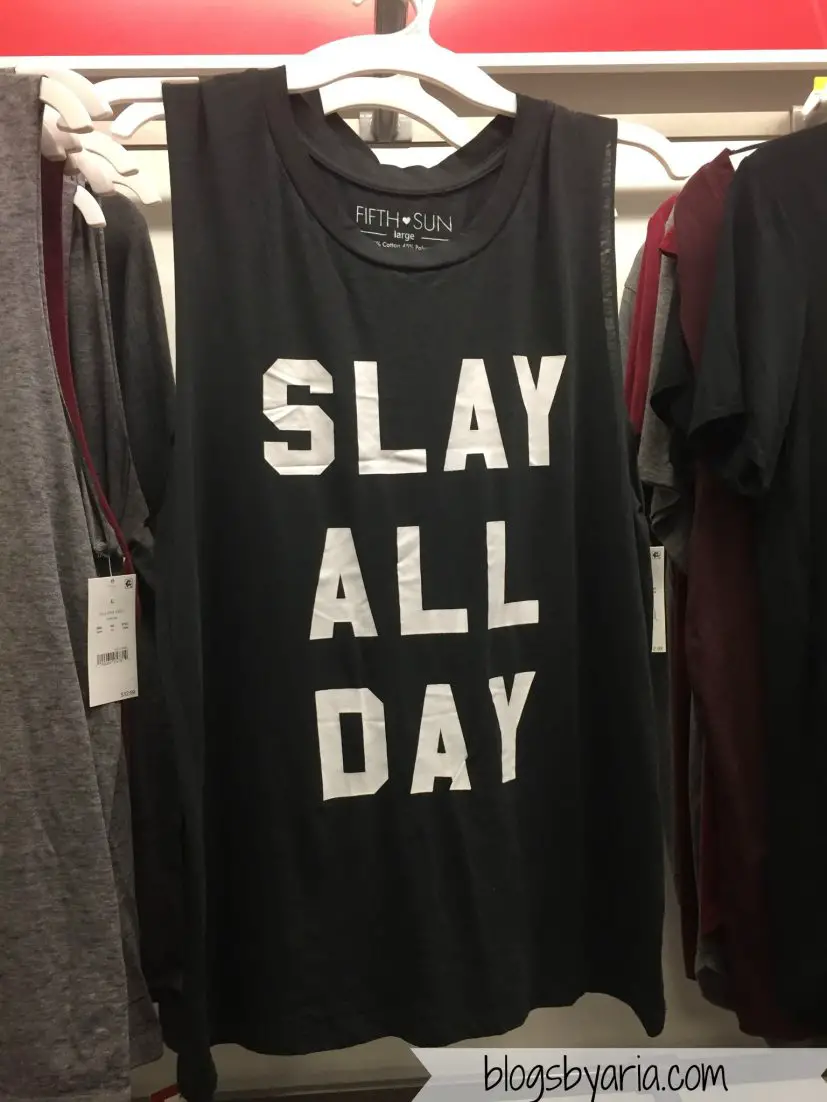 Slay all day.  Yes.  I need this shirt!  It's available it Juniors and Plus sizes.
Right now Target's shoes are BOGO Half Off.  I have to come back later this week when I'm by myself and pick me out a couple of pairs.  I loved all of these cute shoes.  They're perfect for work and church.
This cute pair is a bit dressier to me.  Perfect for date night.
Our local Target just finished being remodeled.  Needless to say it's easy to get lost with so many departments moved around.  As I was wondering around I saw these adorable baby swim pants.
Aren't they the cutest thing you ever saw???  We didn't have these when my babies were babies.  No need for little swimmers with these.  Just pop these on and go to the beach or pool.  Love these.
When we move to our new home I will be someone who decorates.  As of now I only decorate for Christmas but I'd like to decorate for all kinds of holidays.  For now I really don't want to bring anything else in my home that isn't going to be eaten or worn.  When I saw these egg fillers for Easter I thought twice about that rule. Ha!  I mean they are so cute and I know I will use them for years.
When it comes to Easter for me it has nothing to do with eggs or bunnies.  But these are so cute I can see them filling up all kinds of bowls and vases.  I also love this Easter egg wreath.  I'll see if the egg fillers are still there after Easter and see if they're marked down.
Okay soooo I talk about how much I want a DSLR like all the time.  And I will have mine one day soon.  I go back and forth on which one I want.  I know it's going to be a Canon.  But the Canon I fell in love with was the T3i.  But the Canon DSLR's seem to be like iPhones.  They come out with new ones like every year.  So now we're up to the Canon T6 and T6i.  Really I think they're pretty similar.  I don't care if I get a T5 or T6.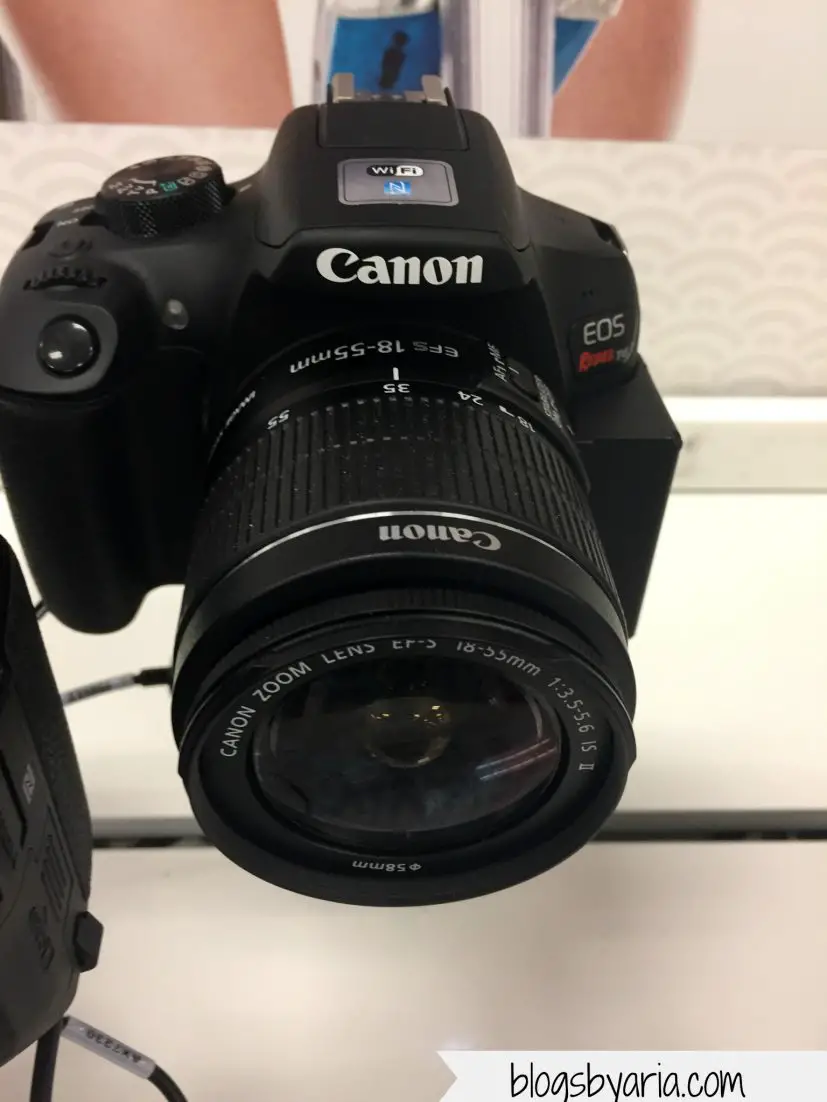 They didn't have the T6i on display so these are all pictures of the T6.
This is the Canon Powershot.  Both this and the T6 have wifi.  I want multiple cameras so I think it would be nice to take this smaller, more lightweight camera with me day to day.  I think the lenses fit both of these cameras but I want to do more research.
As I was heading out the store I saw these cute books.  I love any book that tells a good story about a little black girl.  I think black and brown and all races of little girls and boys need positive stories that have a main character of their race.  And for black kids specifically, every story cannot be about slavery.  There's so much more to us than that.
I love the Pioneer Woman and this is her latest children's book.
When we first walked in the new Starbucks in Target was packed.  I decided to wait till after we checked out to pick up a coffee.
Now I'm usually a person who doesn't stray away from my normal coffee choices.  When I go to Starbucks I usually get a Venti caramel macchiato with extra caramel and sometimes an extra espresso shot.  There's a super fancy way to say that but I typically keep it simple because I don't change out my milk type or anything like that.  If it's cold outside or if I'm taking my coffee to work then I get my coffee hot.  If I want a pick me up on a hot day then I get a caramel Frappuccino.  But today I decided to step out of my box.  I ordered a Grande (because if I didn't like it I didn't want it to be too big) Iced Caramel Macchiato with extra caramel.  Or extra drizz as it was marked on my cup.
I actually liked it.  I may want it with two extra drizzles.  I'll have to order it a few more times at a few more Starbucks locations to see if it's a keeper for me.  But I'm glad I tried something new 🙂
And if you made it to the end of this post…you're the real MVP!! lol 🙂