Long time no post!  I've missed ya'll so much!  If you've been on my Instagram or Tik Tok then you already know, but a couple of weeks ago we moved to a new home!  Of course I'm so excited to decorate a new space in a new way!  But first we have a lot of unpacking and settling in to do.
Even though it's been a couple of weeks it hasn't been easy to get fully unpacked.  I'm working around my work schedule and we've had a couple of busy weekends.  Brianna had her senior prom right after we moved.  And last weekend we had a lot of running around for my son.
The school year is winding down but we're about thirty minutes away from the kids schools.  Which means we're driving a lot.  I'm definitely counting down these last few weeks so I don't have to wake up as early.
Hopefully we'll be more settled by then because I can't wait to get organized and more importantly…decorate!
*this post includes affiliate links for your shopping convenience, you can read more about affiliate links by reading my Disclosure*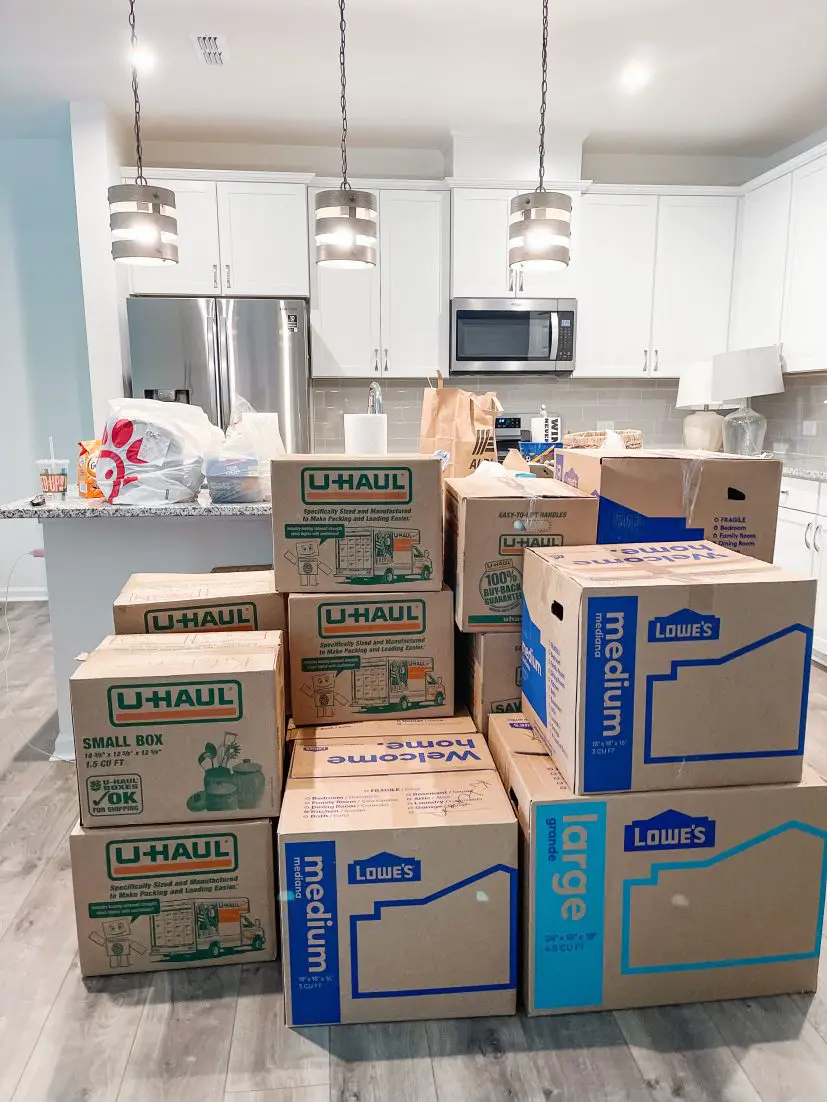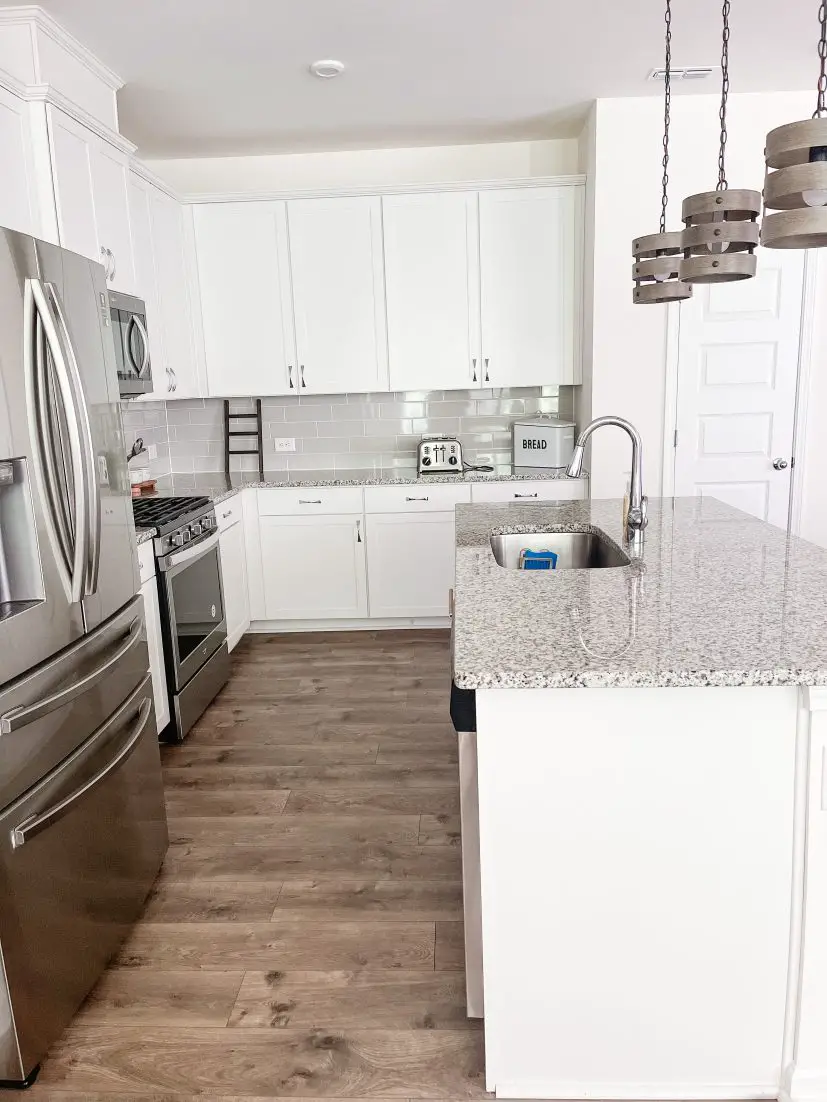 There's not many spaces that are photo ready just yet but here's a sneak peek at our new kitchen!  I'm obsessed with our kitchen!  Never before have I had such big beautiful cabinets!  And this fridge!
It's also our first time having a gas stove.  And an island.  Just need some counter stools to complete the look.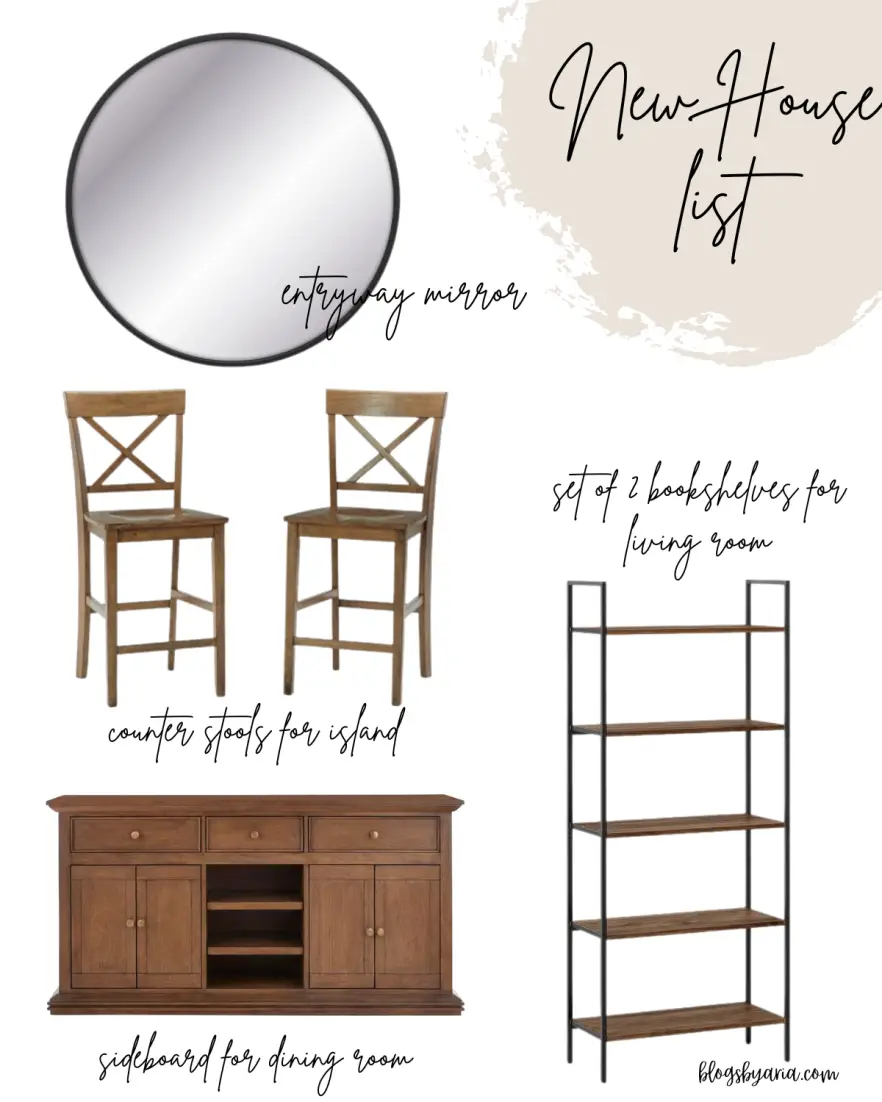 entryway mirror • counter stools • sideboard • bookshelf
In order to make the most out of the space we have there's a few things on top of my to buy list.  I'm all about finding what we need at an affordable price point.  And I'm hoping that with the combination of Memorial Day and then July Fourth that I can get some good deals.
The first priority is counter stools.  I've scoured the web to find a style I like at a price I like.  I've always wanted these from World Market but they're out of my price range.  So I found these neutral wood tone counter stools that still give me the X back but are more budget friendly.
Our new house doesn't have a fireplace and if you know me you know I dream of having built ins flanking said fireplace.  The layout does allow for me to add bookshelves flanking the TV.  These bookshelves are an affordable option and I like that they're open on the top.  That way I have more options when styling them.
My entryway mirror from the old house will be used in a different space so I want to get a round mirror.
Many pieces that we have are being used in different ways in other spaces in the house.  So although I don't need it now, I do have my eye on this sideboard for our dining room.  It's so affordable and provides the right amount of storage I'm looking for.
When I first found the sideboard it was half off so I'd definitely buy it on sale.  Again, I'm in no rush for it.
A few other pieces I want is a runner for the kitchen and entryway.  I finally got my hands on this leaner mirror I've wanted for ages and it's finally back in stock.
We do want to get nightstands but for now I'm using this console table I already had and I'm thinking of getting a second one for DH's side.
Once we finish unpacking and getting settled in I'll start sharing decorating and organization ideas.  Both here on the blog and on my YouTube.
For now I just wanted to let the cat out of the bag!  If you want to see some of the progress I'm making as I go I'm sharing that on my Instagram Stories and Tik Tok.
If you'd like to get even more home decor, fashion finds, sales and all things random be sure to follow me here: