It's that time of the year!  The time when the planner community turns to all things holidays!  The planner community runs faster than even the stores holiday displays…with the exception of Hobby Lobby…they have Christmas décor up in the summer! 😉  Today I'm sharing a roundup of my must have holiday planner sticker kits.
I wanted to share Halloween planner kits but I missed the boat on that and although the next holiday would be Thanksgiving, there's already tons and tons of Christmas kits that are being sold now and if you wait too long you won't be able to get your hands on them.  I've learned my lesson a time or two with that.  When you see something you like, you have to jump on it if you want it.
I for one love Christmas in my planner!  It's so festive and fun!  I've already ordered some of my Christmas kits and I want to share some that I've purchased and some that I've seen that you may want to get your hands on.
*this post includes affiliate links, which means if you click on a link and make a purchase that I get a small commission that helps support this blog and my family. You can read more about affiliate links by reading my Disclosure post*
The Ultimate Planner Sale is coming up October 12-14 and it's a great time to grab some planner stickers/kits on sale!  I have my eye on a few in particular 🙂
Enough chatting, let's see some of those kits!
THANKSGIVING KITS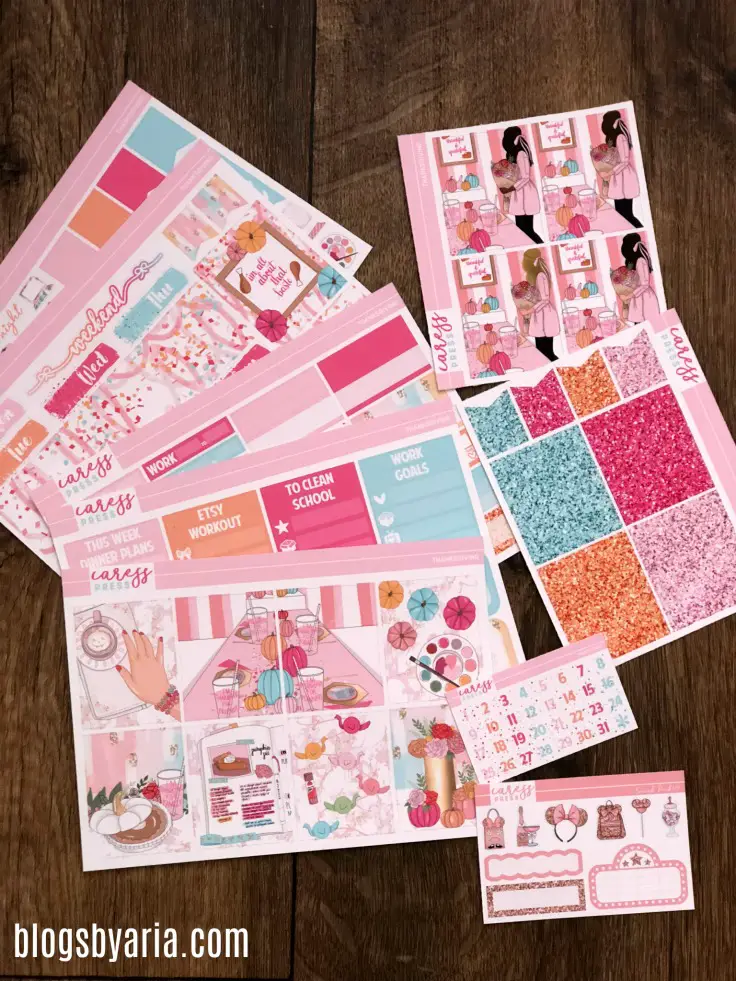 There's still some time to grab the perfect Thanksgiving kit for your planner!  Let me share the one I got first.  I ordered this Give Thanks kit by Caress Press.  I saw it and fell in love of course!  I love the colors and that it's not just orange and brown!  I ordered this kit in the mini version.  I typically like to get full kits but for holiday weeks I am okay getting the mini kit because I typically have a less structured week that week.
You may recall that I've shared a Caress Press kit on my blog before when I used this pretty kit to celebrate my daughter's birthday.  It's been a long time since I've been able to purchase a kit from her shop because she took maternity leave for a while and recently opened back up.
This is a cute and festive kit for Thanksgiving by Firefly Paper Shop.  It's called Give Thanks.  I love the colors.  Not too overly Thanksgiving themed, just the right mix to me.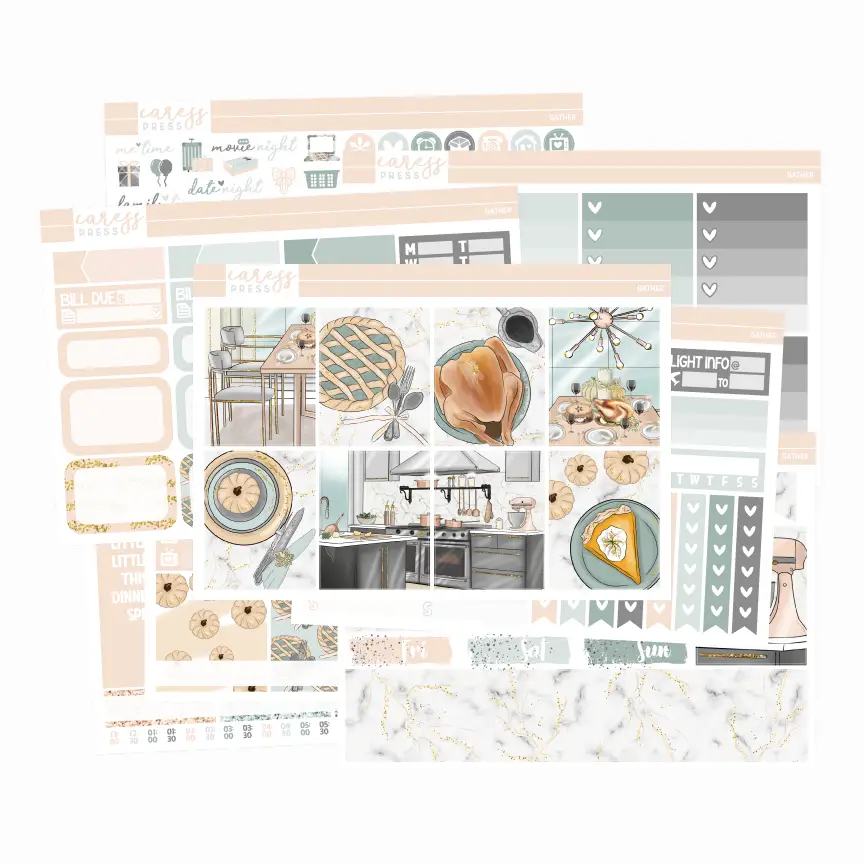 Okay, maybe I should say that this post is not sponsored by Caress Press! haha  She just has so many great kits in her shop right now and I've shared a lot below.  This is the Gather Kit and I love the muted colors.  If I could have two thanksgiving kits I'd get this one too.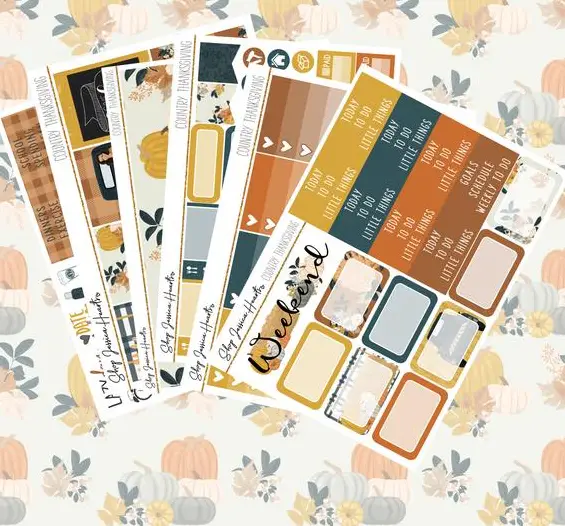 This Country Thanksgiving kit by Shop Jessica Hearts is very cute.  Isn't that weekend banner simply adorable?!  If you're looking for a Thanksgiving kit that doesn't involve a turkey then this one might be for you.  As a bonus, Shop Jessica Hearts is participating in the Ultimate Planner Sale this weekend and you can get 20% off!
CHRISTMAS KITS
Let's dive in to the Christmas kits!  There's so many gorgeous holiday kits that I wish I could use them all but I only have about 3-4 weeks to be able to use!  Unfortunately some of these kits will sell out but I still want to share with you what I have my eye on.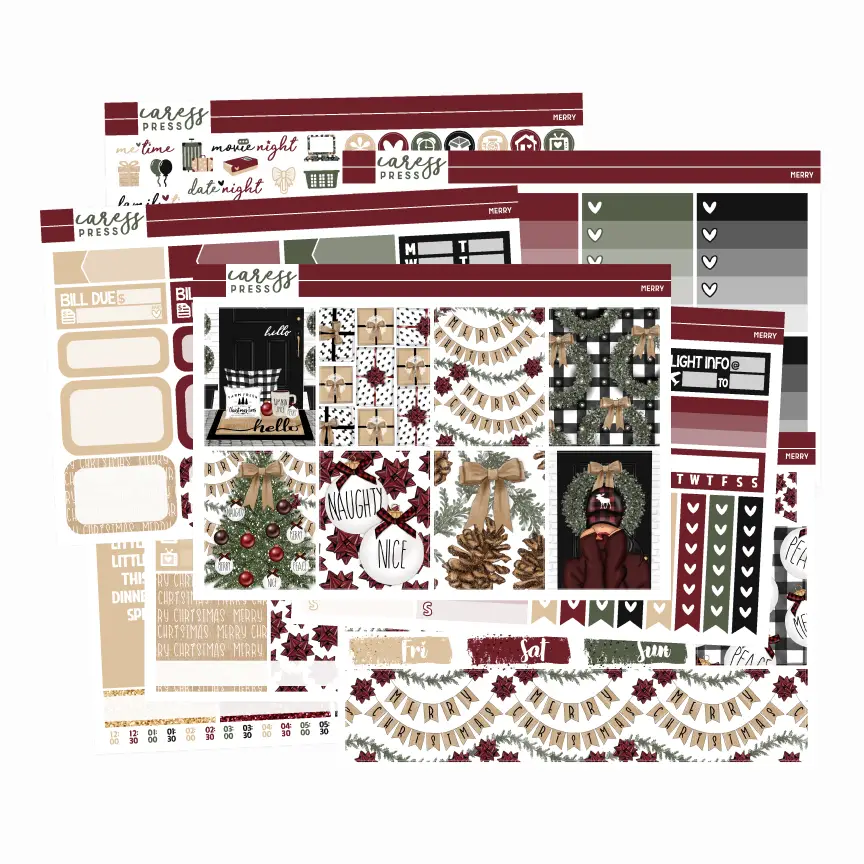 I love the colors in this Caress Press Merry Full Kit.  It's very farmhouse Christmas vibes to me.  It includes an extra full box that comes in a darker skin tone which I love the inclusion!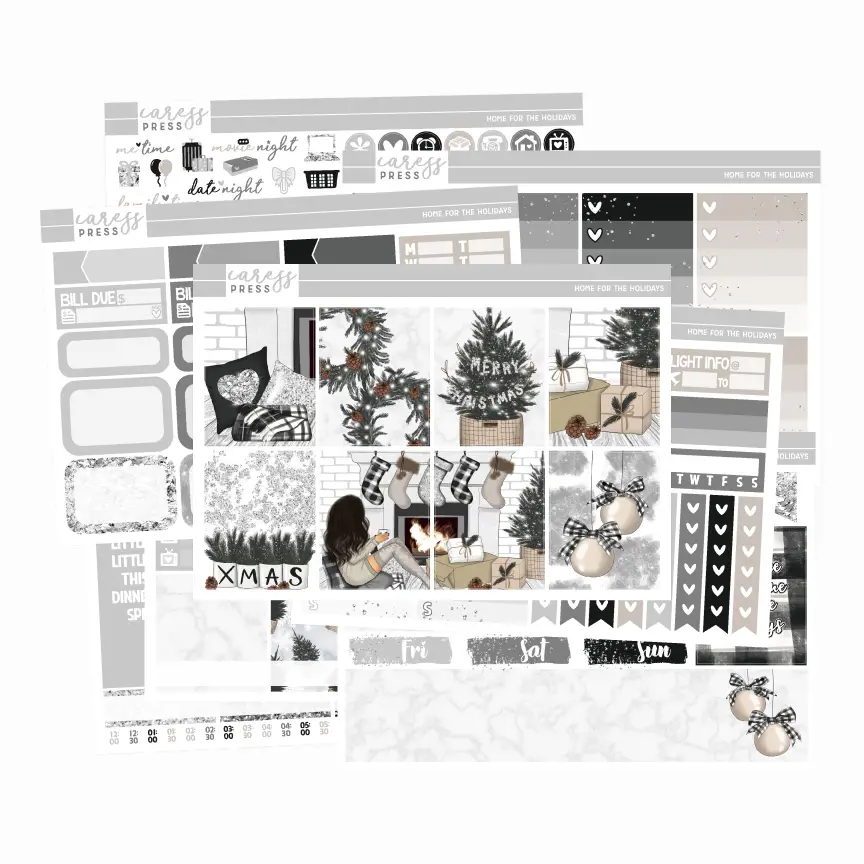 This Caress Press Home for the Holidays planner kit is what drew me back into her kits.  I'm probably going to get it, because I love how cozy it feels.  I just wish it didn't put the X in Christmas.  That's something I really abhor so I can't see having that in my planner.  On the other hand there is an extra full box I can use in place of it so that would work for me.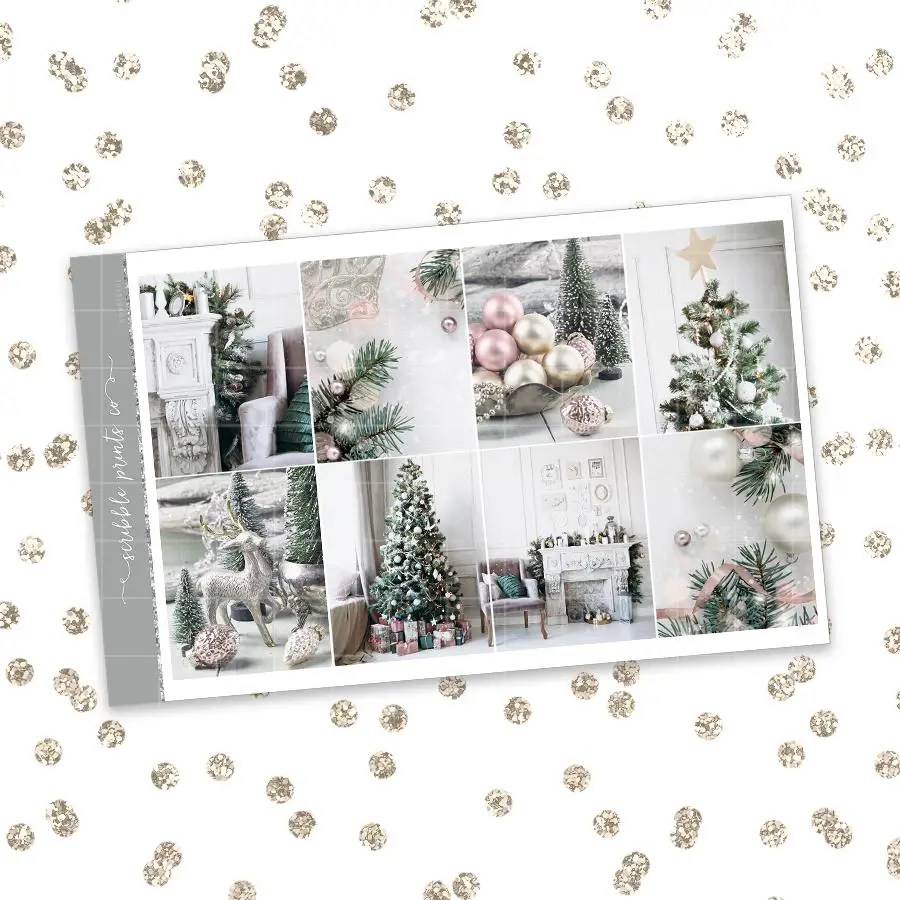 I ordered this absolutely stunning kit from Scribble Prints Co.  It's her Wonderful planner kit and I'm smitten!  It's on it's way to me as we speak and I can't wait to have it!  This is my first order from SPC and I'm sure it won't be my last.  She has such great kits and I'm excited to join her mystery subscription this month.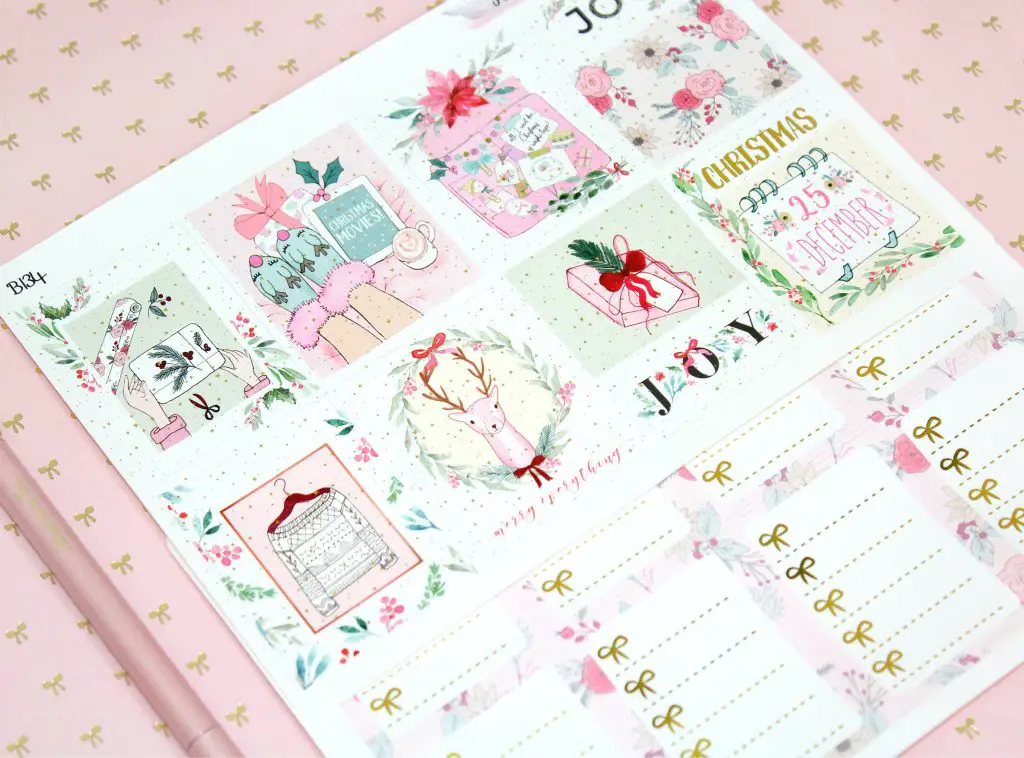 This Planning World Foiled Christmas kit is so pretty!  Gold foil touches are throughout the kit and the colors are so pretty.  The kit includes darker skin tones on another page in this kit, which again, truly is something I love and appreciate.  This kit is definitely going on my list.
I wanted to be sure I showed you the full boxes from this Shop Jessica Hearts Dear Santa holiday planner kit.  That ornament reminds me of some of my ornaments.  I think I just have to get this kit!  And maybe I should get a few extra kits than what I need this year so I can save them for next year?  Let me stop enabling myself lol!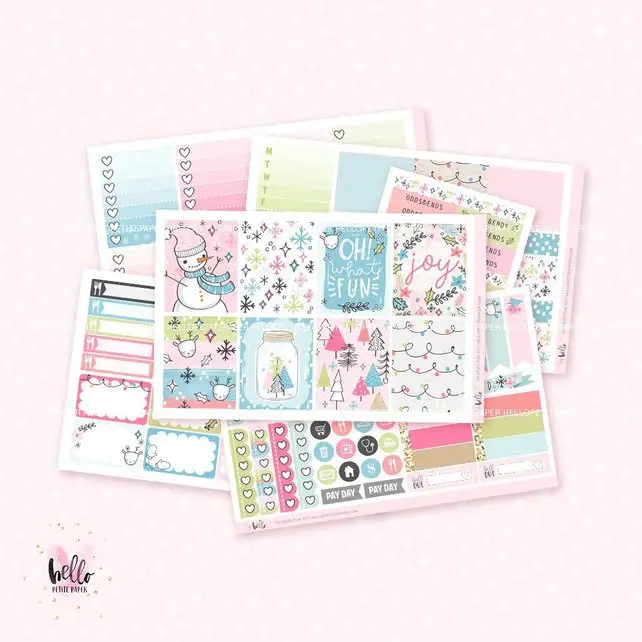 If you've seen my Instagram feed lately you can see that I'm obsessed with Hello Petite Paper!  Her hand drawn kits are so pretty and they're exclusive to her.  I know she plans to release another holiday kit soon but for now I wanted to share her Oh What Fun holiday planner kit.  I definitely have to scoop this up!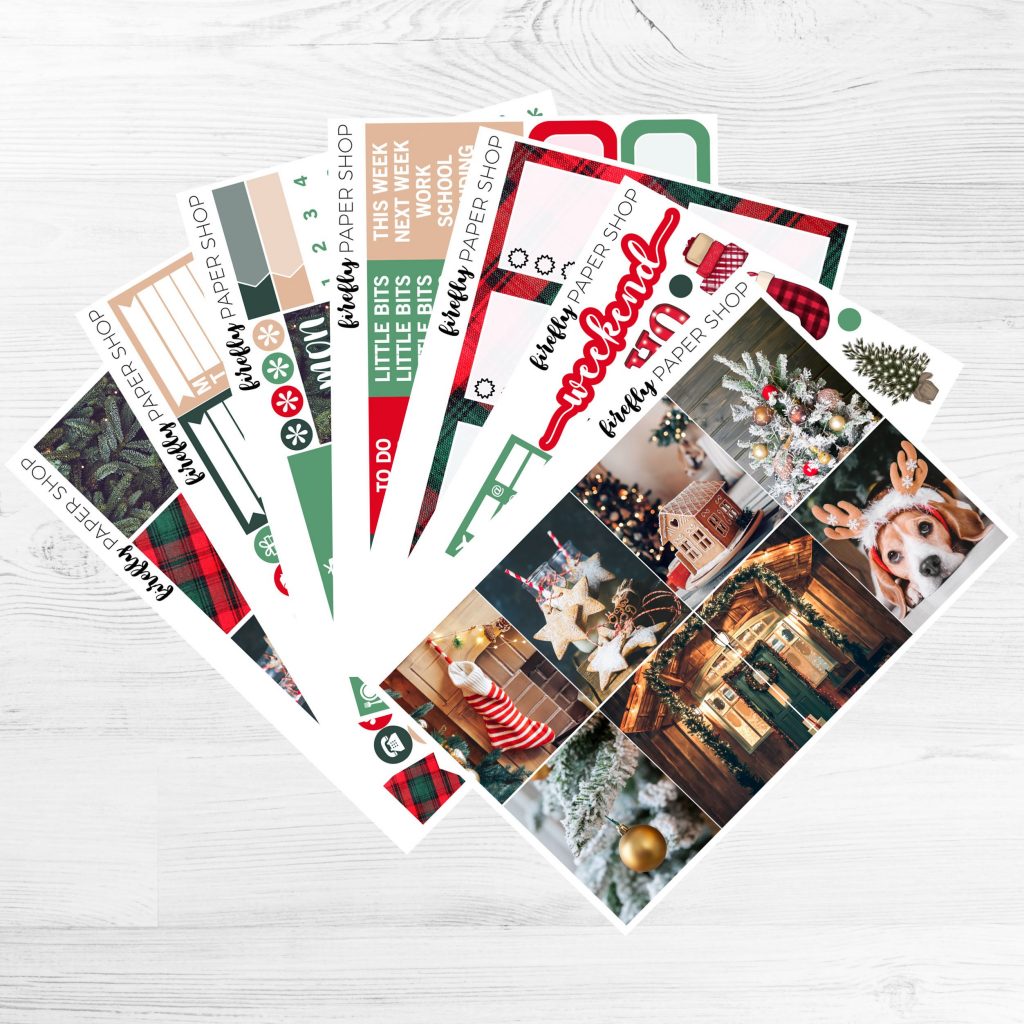 This festive Firefly Paper Shop Home for the Holidays planner kit gives me so much life!  The bottom washi is gorgeous Christmas trees and it's one of the few kits that I like with the traditional red and green colors.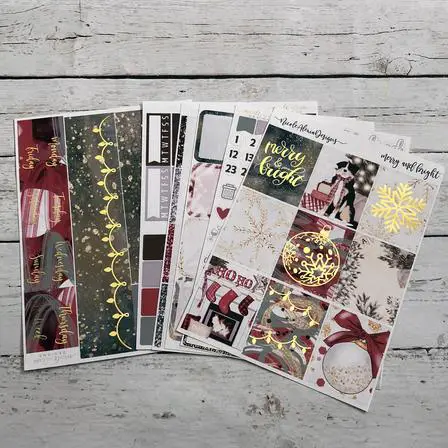 This Foil Merry and Bright Deluxe Weekly kit is from Nicole Alexia Designs.  I love the foil!  She is also participating in the Ultimate Planner Sale this weekend and is having 30% off!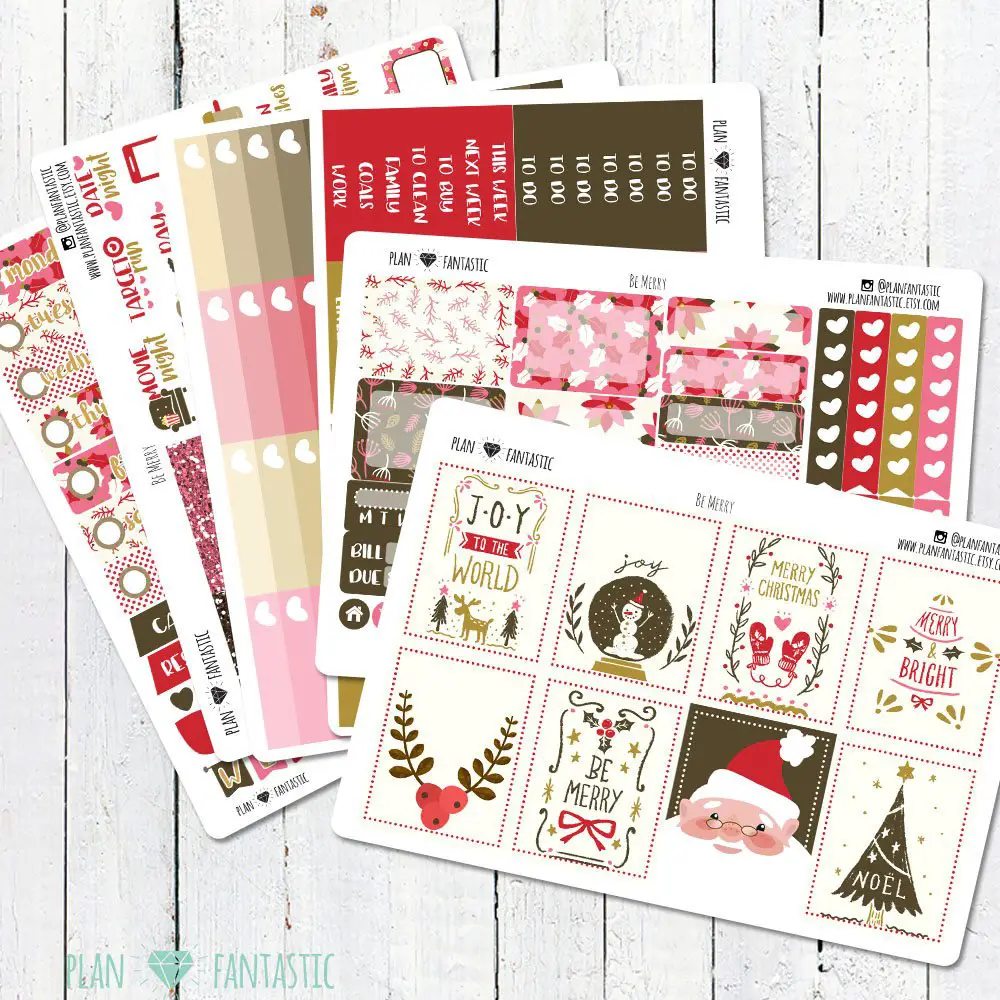 I love the simplicity of this cute Vintage Christmas holiday planner sticker kit by Plan Fantastic.  It has a vintage feel that makes me nostalgic from when Christmas was so simple.  So cute!
During the holidays going to see The Nutcracker is a tradition I've wanted to establish for a while now.  If I can get tickets I'd love to take my daughter to go see The Nutcracker ballet and it would be perfect to use this Caress Press Nutcracker kit for that occasion.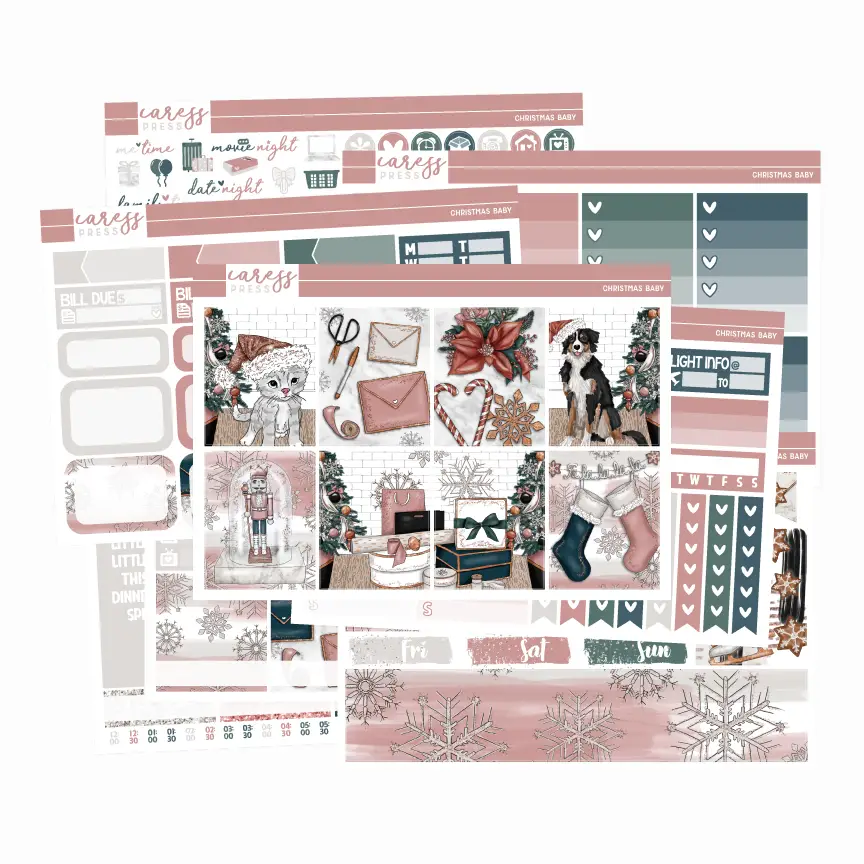 My last Caress Press kit I'll share is this Christmas Baby weekly planner kit.  I just love the colors even though I'm not usually a fan of dogs and cats in my planner kits.  These are too cute though!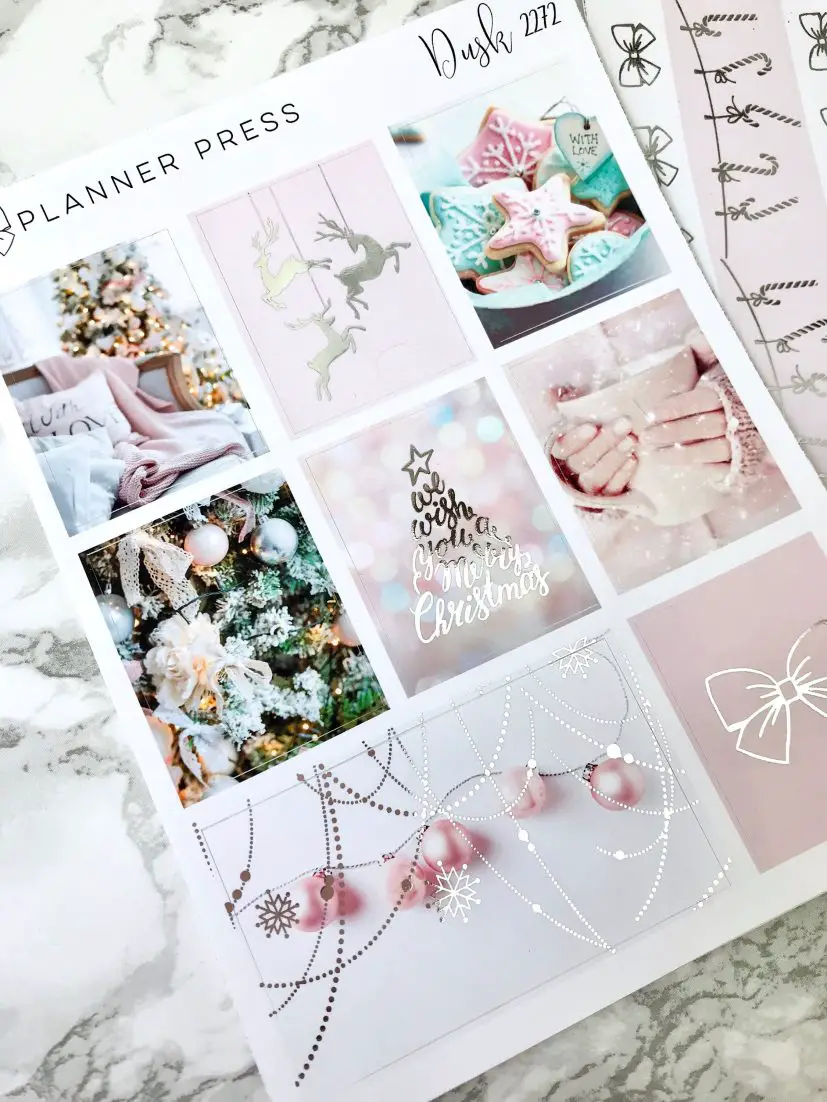 This Christmas Blush planner sticker kit by Planner Press is so pretty.  It's a mini kit so it's a great choice if you don't typically use full weekly planner kits.  I love the foiling and the softness of this kit.  Super feminine.
I could seriously go on and on sharing must have holiday planner sticker kits.  But I'll stop now and if I come across some that pop up in the next few weeks, I may do another round up post.  I just get so excited about holiday planning and festive spreads in my Erin Condren Life Planner.  It's the most wonderful time of the year after all 🙂