Happy weekend friends!  And Happy Veterans Day to all who have served our country including my parents.  It's been a while since I've had the opportunity to share a post.  Today I thought I'd jump back into the blogging swing sharing my 10 year old's boys bedroom.  This is just the beginning stages of Jordan's bedroom decor.  I have so many ideas for his bedroom but I want to keep it on a tight budget.
In our previous home the kids had to share a bedroom and I always hated that, even when they were really small.  But as they got older it really became an issue.  So when we started looking for apartments here in the Raleigh area we knew three bedrooms was a non-negotiable.
*this post includes affiliate links, which means if you click on a link and make a purchase that I get a small commission that helps support this blog and my family. You can read more about affiliate links by reading my Disclosure post*
For the first time, my now 10 year old has his own room!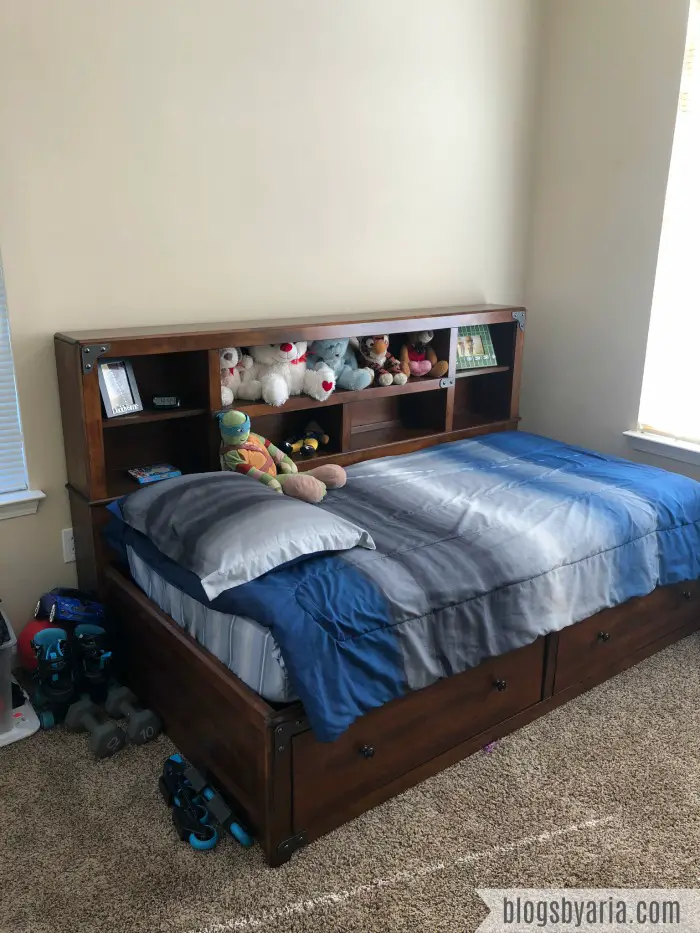 We're in the beginning stage of decorating his room so I'll be sure to share updates along the way.  Let's start with the basics though, and talk about his bed.  My mom was generous enough to buy the kids new beds from Ashley Furniture.  We definitely had an ordeal with them.  We waited over a month to get the furniture delivered and when they first delivered it they gave us the wrong bed for Jordan's room.
As you can see we still have some organizing to do…not sure why he insists on keeping a set of my weights up here 😉
This is the bed they delivered to us first.  Which would be fine if this was what was ordered and paid for.  Even still, at this point they couldn't assemble the bed due to missing pieces.
Finally the Delburne Twin Bookcase bed that we ordered was correctly delivered and assembled.  This gives me some ideas on how to decorate these bookcase shelves.  What I love about this bed are the storage drawers on the bottom and the storage shelves.
Even though we went through our ordeal with Ashley Furniture, we now know it was due to the salesperson who is no longer employed with them.  Apparently they had multiple issues with her and customers orders not being handled correctly.  Both me and my mom have had other pleasant interactions with them that went as they should.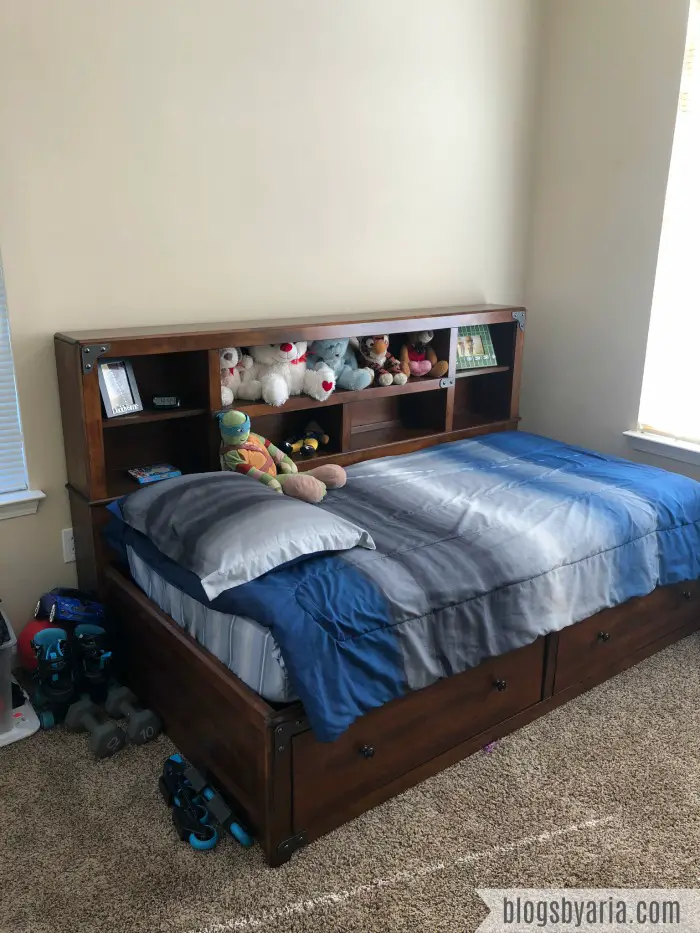 I didn't take close up pictures of his bookshelves but there's a frame with a picture of him and dad and a football frame that doesn't have his picture in it.  I have the hardest time finding a great horizontal picture to go in this frame.  Also since taking this picture, Jordan wants nothing to do with all of these stuffed animals.  He's 10 years old now you know.
Right now we have this Ombre bedding set on Jordan's bed.  When we got it a year or so ago, we weren't sure if we wanted to get him a specific bedding set that was with a theme.  Kids grow out of what they like and don't like so quick and we didn't want to be stuck with Ninja Turtles bedding if in a few months he didn't care about them anymore.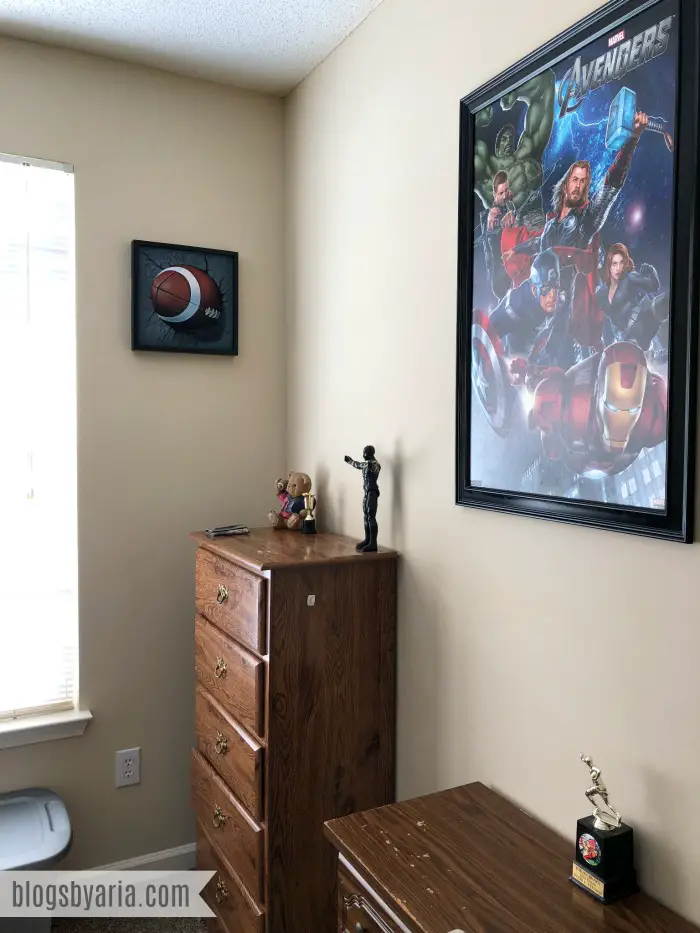 We decided to keep the dressers we already had for now.  They're old but they still work so that works for us.  Eventually we'll have more decor on these dressers.  I've had this Avengers poster for years.  I got it from Ross.  The football decor I've previously shared in my This & That Home Decor Ideas post.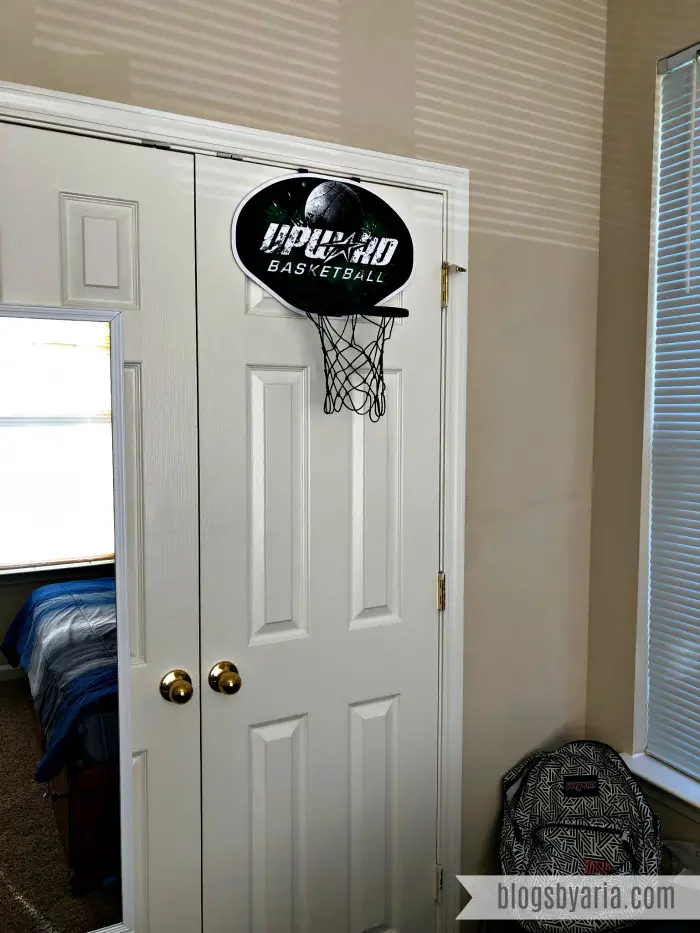 I still have a lot of work to do in his bedroom.  Including organizing his closet.  For now we have a mirror and a basketball goal on his closet doors.  He has another basketball goal on the back of the bedroom door.  That one I'd like to get rid of eventually.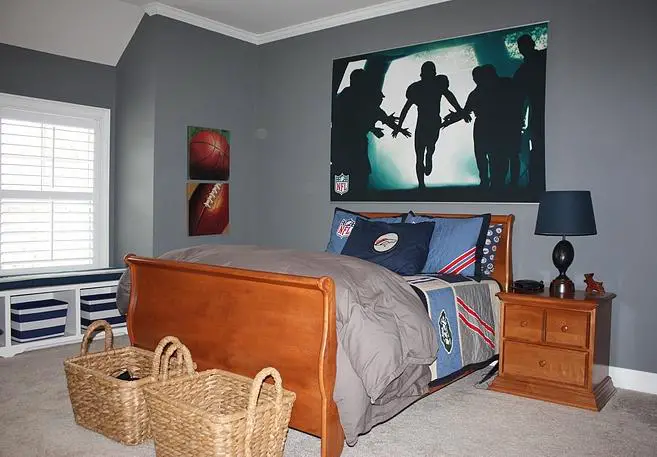 I've always loved this Rush the Field wall mural from Pottery Barn Teen.  Maybe when he's a little older we can settle on a specific theme like this.  This would be perfect over his bed.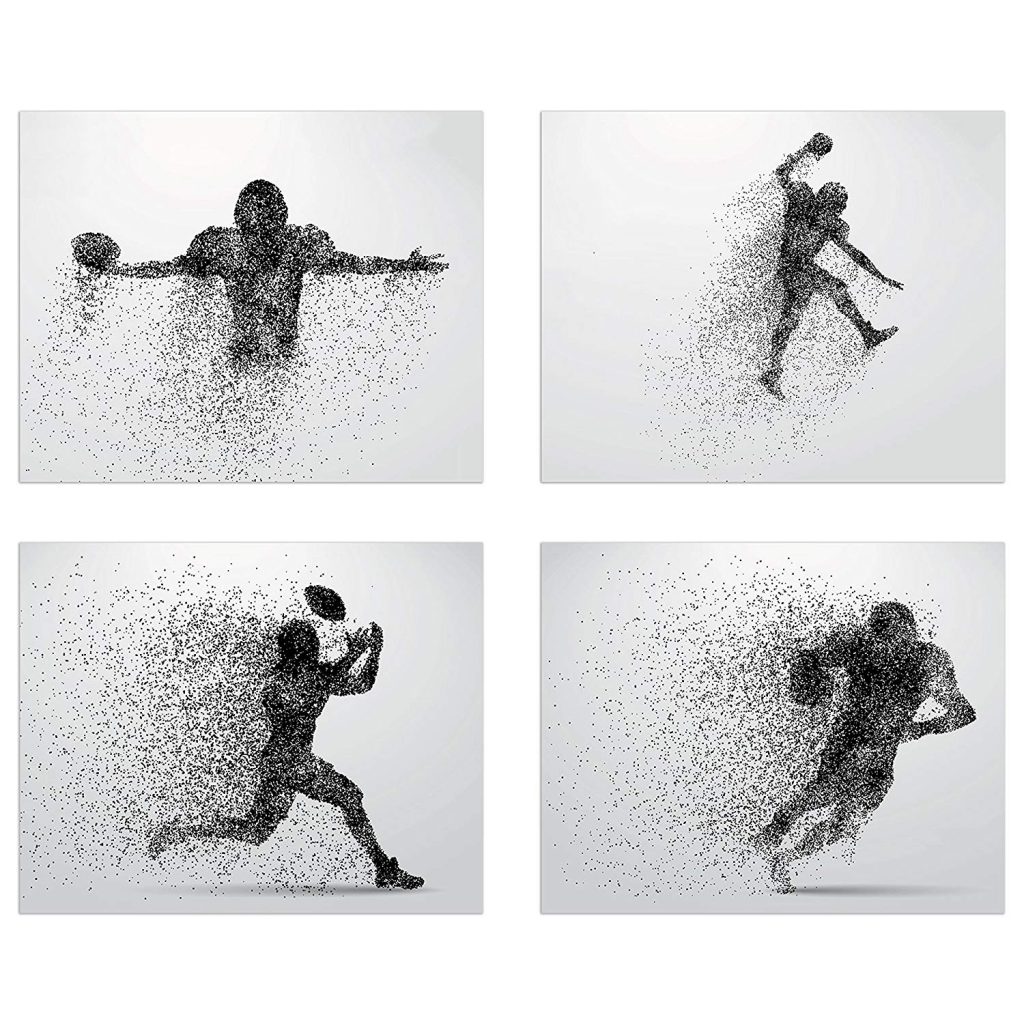 I also like this set of 4 football prints that could look nice over his bed too.  We'll see what we can work out.  I don't want to put too much money in the decor of his bedroom at this point.  But I do want decor that's not too juvenile you know?  Things that can grow with him throughout out his teenage years.
I'm looking for a few more decorative items for his bookshelves, dressers and art/posters for his walls.  I want to get some Black Panther themed items, not too many.  I don't want to go overboard.
I want to get a few more pillows for his bed soon.  I'll be sharing how I end up finishing up the decor in his bedroom, probably after the holidays.  It doesn't take much to personalize a space, just a little effort and a few good ideas.  I'm working on both of those!
I'll also be sharing my daughter's room coming up in the near future.  I've got the itch to start decorating for Christmas…DH isn't as excited as I am.  But the kids are on board.  I just think it's been a tough year and we can at least experience the holiday decor for a couple of weeks longer than usual.  We'll see, I may just start adding a little here and there.  Until next time friends, enjoy your week!