Come explore with me as I share Pottery Barn Fall decorating ideas as well as Pottery Barn bedroom inspiration for styling your home this season.
Last weekend we were in Wrightsville Beach to soak up the last few days of Summer.  That doesn't mean my mind wasn't on all things Fall!  If you've been keeping up with my Fall decorating progress, you know I've been looking for the perfect pillows.  In my search I found the perfect pillows from Pottery Barn.  Instead of waiting for shipping I opted to pick them up in store.  The two stores in Raleigh and Durham didn't have them in stock, but the Wilmington store did.  It worked out perfectly since we were going to be at the beach.  While I was in the store of course I had to look around…and snap a few pictures!  Pottery Barn inspiration coming right up!
*this post includes affiliate links for your shopping convenience, you can read more about affiliate links by reading my Disclosure*
malta lantern · flameless candle · ceramic vase · candle holders · seedstitch pumpkins · waffle and sherpa pillows 
It's always nice to see pieces in person that I've only been able to see online.  Like these seedstitch pumpkin pillows that would be the perfect accent to a bedroom.
I love these waffle and sherpa pillows too.  They're so soft and would be perfect on a sofa or a bed.  They're standard size and perfect to cozy up on.
This Pottery Barn location was beautiful.  All Pottery Barn stores are beautiful, but my local ones seem to be a little cramped.  This store was laid out with a lot of space and we got there pretty soon after opening so it wasn't crowded at all.  We essentially had the store to ourselves.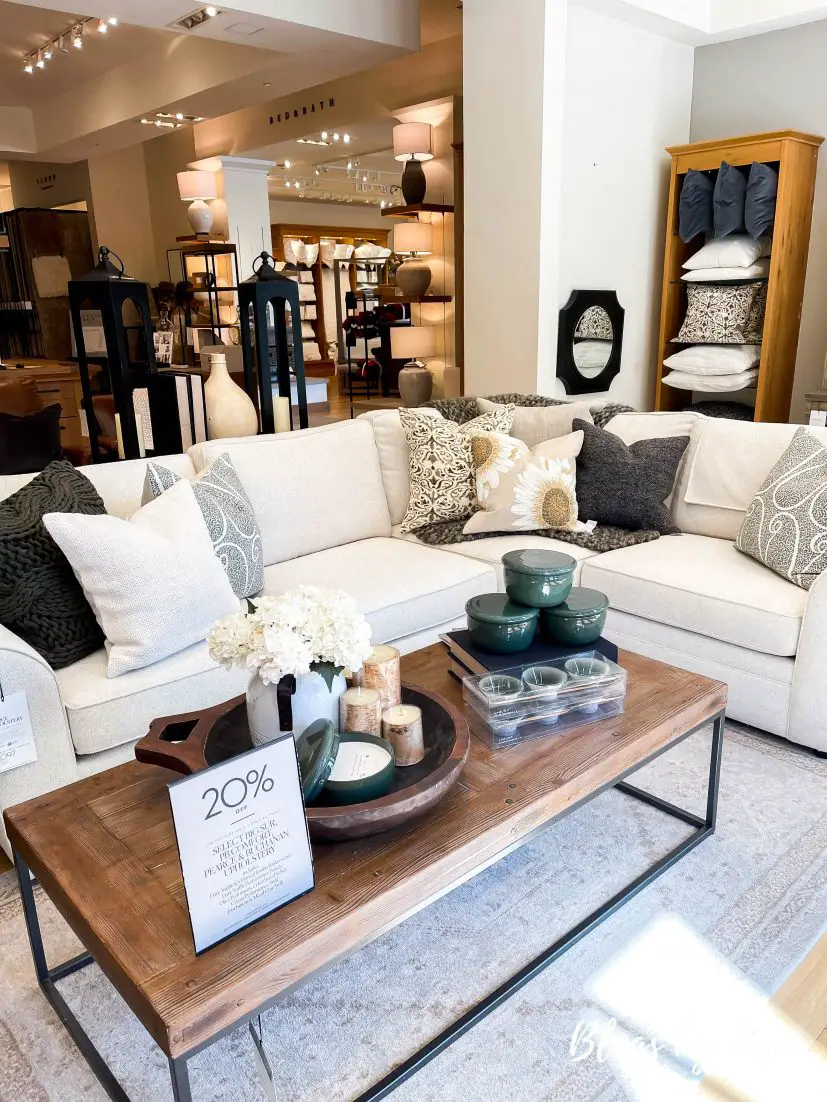 Pearce roll arm sectional · Malcolm coffee table · round dough bowl · birch flameless candles · Remington eco-friendly rug
I've always loved Pottery Barn sectionals!  And no, it's not just so that I can add even more pillows!  Although that is a perk!  One thing I like about going inside the Pottery Barn store is being able to get decorating ideas when it comes to centerpieces and pillow combinations.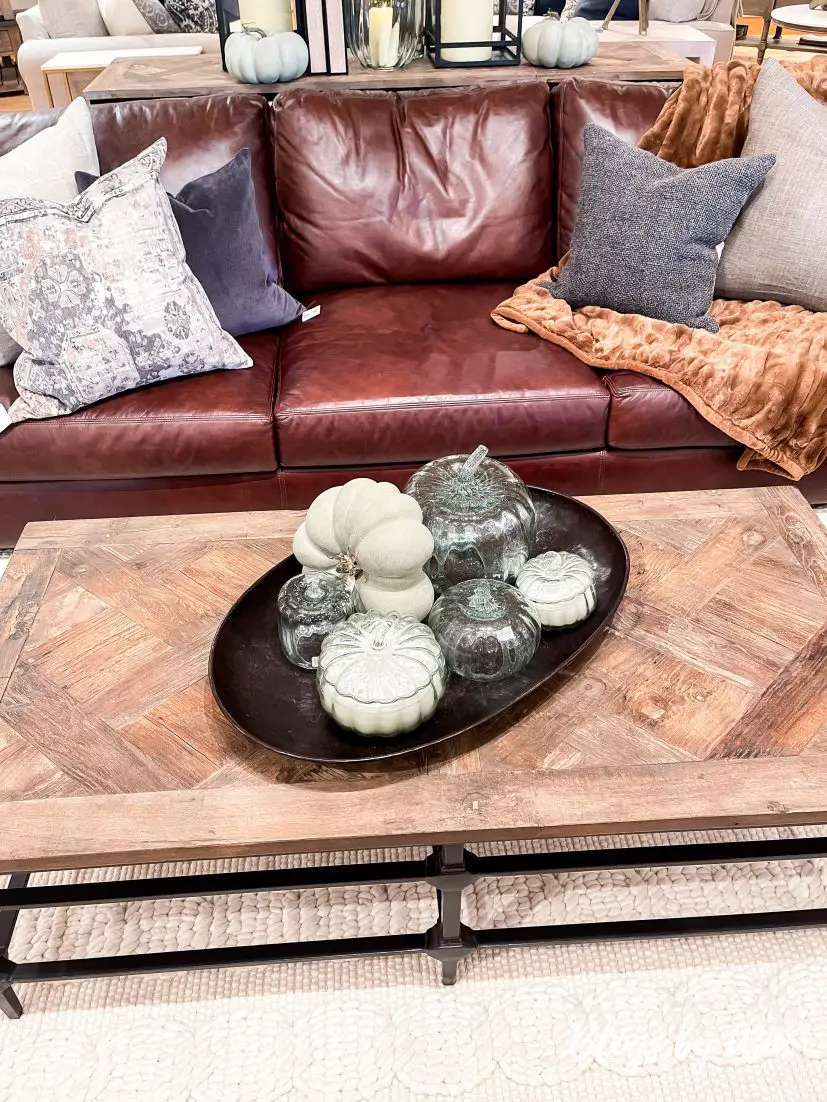 Turner square arm leather sofa · reclaimed wood coffee table · metal charger candle tray · recycled glass pumpkin candle · recycled glass pumpkin cloche · colossal knit sweater rug
These recycled glass pumpkins are such a lovely touch to any decor style!  I want them all!  The texture on this coffee table is so beautiful in person by the way.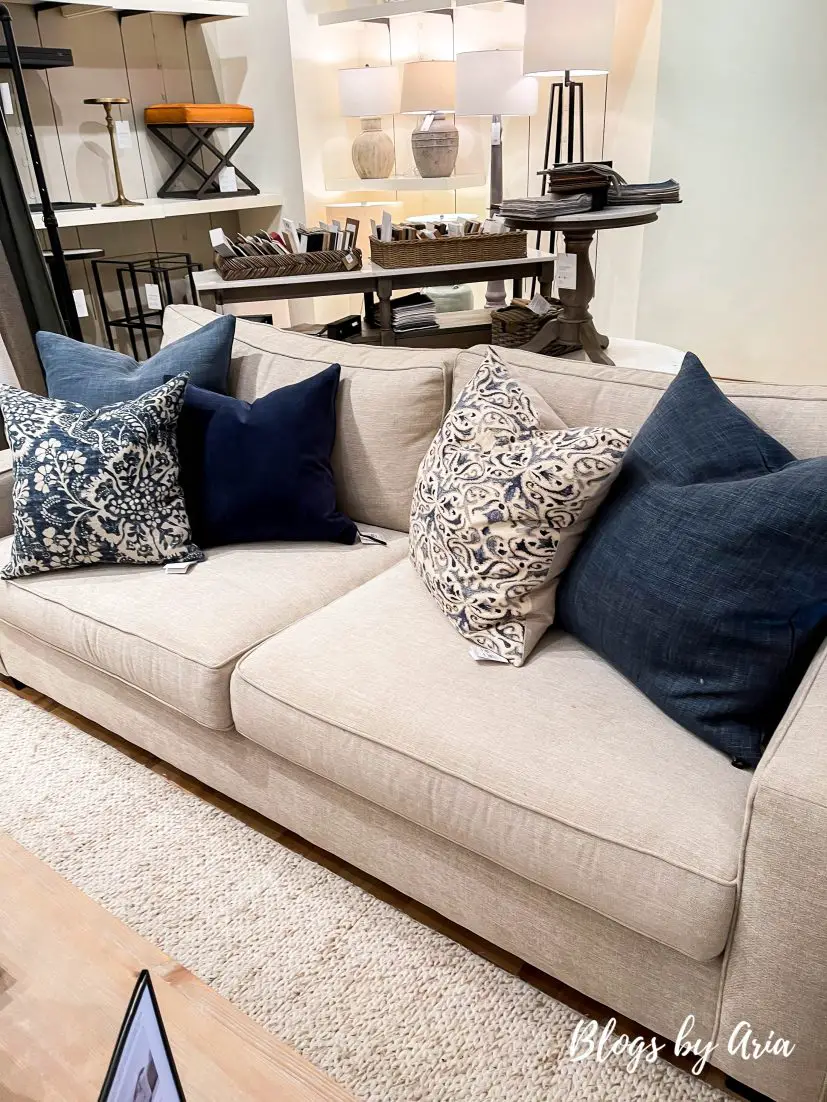 Carmel square arm sofa · Bernyce printed pillow cover · Reilly linen embroidered pillow cover · Belgian linen pillow cover
cozy pumpkin pillows · faux fur throw
I'm obsessed with these cozy pumpkin pillows!  I hope they bring them back again next year so I can add them to my collection.  I think they'd be perfect on a bed or to add to a collection of pillows on a sectional sofa.
POTTERY BARN FALL DECORATING IDEAS
Now that I've seen the Pottery Barn pumpkin selection in person I can see why they're so popular.  They're great quality and look very realistic.  That being said, they're pretty pricey and can be quite the investment if you want to buy a lot.  My suggestion would be to add one or two to your collection over the years because they will last a very long time.
POTTERY BARN FAUX PUMPKINS

POTTERY BARN BEDROOM INSPIRATION
Now let's move on to the bedding department!  Ugh don't you just love their bedding displays?  Keep reading and I'll let you in on a little secret I found out recently 🙂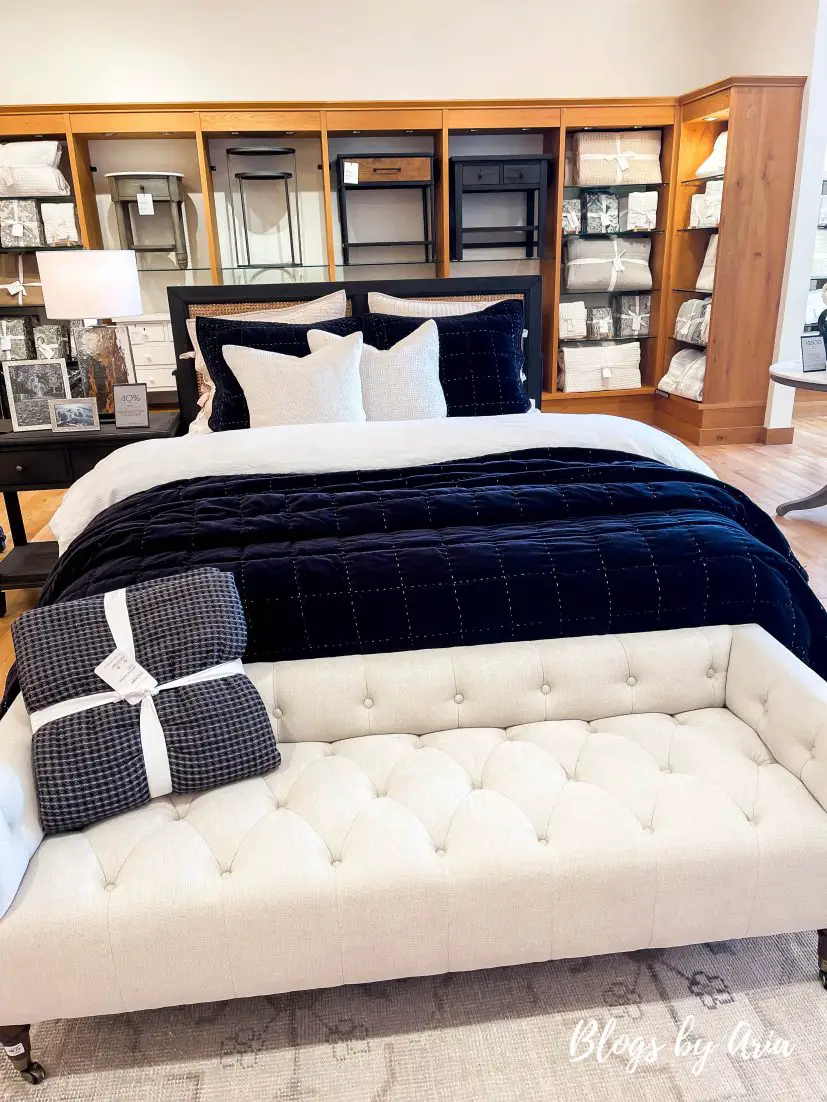 sausalito bed · colt upholstered settee · box stitch quilt · waffle weave blanket
farmhouse canopy bed · Berlin tufted bench · Bliss quilt · waffle weave blanket · Berkeley table lamp
farmhouse bed · round marble end table · ceramic table lamp · European ribbed linen duvet cover · faux fur alpaca throw
Looks like this nailhead settee isn't available anymore.  I've tried to find something similar that's not too tall and not tufted.  This Irving Roll arm settee from Pottery Barn is similar and this Serena and Lily Belgian Club loveseat is an option too, but it comes with a hefty price tag.
Jake upholstered platform bed · Malibu woven bench · Belgian flax linen floral stitch quilt · faux fur ruched throw
Toulouse bed · velvet lattice quilt · Jacquard medallion duvet cover · Mongolian faux fur patchwork lumbar pillow
Have you ever wondered why the bedding in stores like Pottery Barn look so good and when you're home the look isn't exactly the same?  Kind of like getting your hair done at the salon and you can never quite get it to look the same yourself?
Well here's a little secret…they layer up!  There's more than just a duvet and a quilt on those beds.  It's more like two to three duvets under the duvet that you see.  So don't feel bad!
I learned that in a decorating Facebook group I'm in and someone who works at a Pottery Barn store spilled the tea!
I don't know about you but there's just something so nice about walking through a Pottery Barn store and soaking up all the decorating inspiration!  So I hope you were able to get that inspiration here today.  I've linked just about everything I've shared down below.
Do you love Pottery Barn as much as I do?
{POST SOURCES}