Happy October!  How is it already October?  On the one hand, it means we are heading into my favorite time of year, but on the other hand it's going oh so fast!  I don't know about you, but Halloween isn't really my jam.  Sure I liked dressing up my kids in costumes and taking them trick or treating.  And I enjoy seeing the houses that go all out with the spooky factor.  But for me, I get scared pretty easily so I don't like a lot of the spooky decor.  Although I am a scaredy cat, I wanted to add a small amount of Halloween decor this year.  Starting with my Halloween mantel.  If you're looking for an easy way to add a touch of Halloween into your home, I think my Halloween mantel is a simple and easy option.
As much as I loved my updated fall mantel decor, I hated to take it down to switch it up for Halloween.  But it was time to make the change and the next change will be for Christmas!  Okay, one step at a time.
*this post includes affiliate links for your shopping convenience, you can read more about affiliate links by reading my Disclosure*
Starting with a clean slate, I took down the wall clock and replaced it with this trick or treat sign.  I'll bring the clock back after the holidays, even though I use it every single day.  This isn't a large sign but I think it works well over the fireplace.
The first thing I knew that I wanted were these glittery bats from Kirkland's.  Now there are lots of inexpensive options for bats like these paper bats, and I recommend using painter's tape to stick them wherever you want them to go.
But I knew that I didn't want a ton of bats and I wanted them to be substantial.  So these bats are the perfect choice for me.  I hung them using mini command hooks.  And in my non-professional opinion, I'd say these are good for a wall or a porch.  If you want to use bats on your kitchen cabinets however, I'd suggest going with paper bats.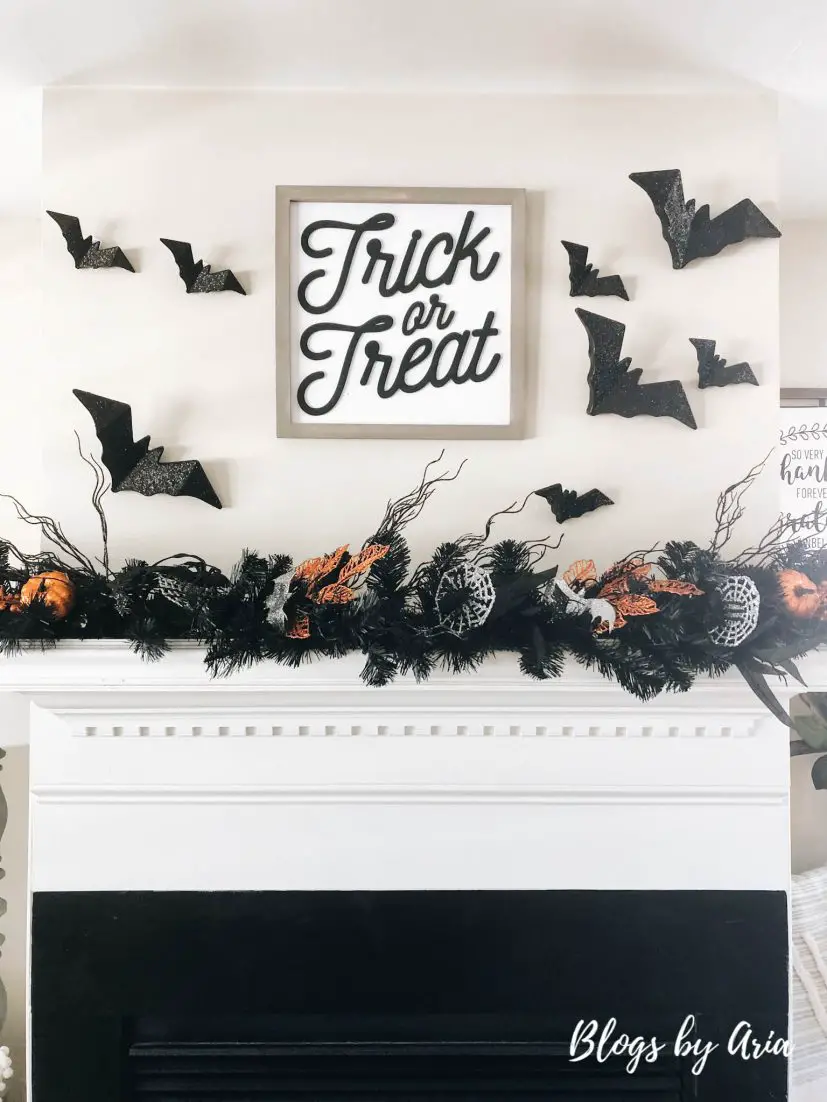 When I was thinking of how I wanted to decorate our mantel for Halloween, I was leaning towards using a spider web lace mantel scarf.  But then I was in Michael's and saw this black bat garland.  (here's a similar option from Amazon without bats) It's just like Christmas garland, it's just black and I knew that would be great so that I could add picks to it.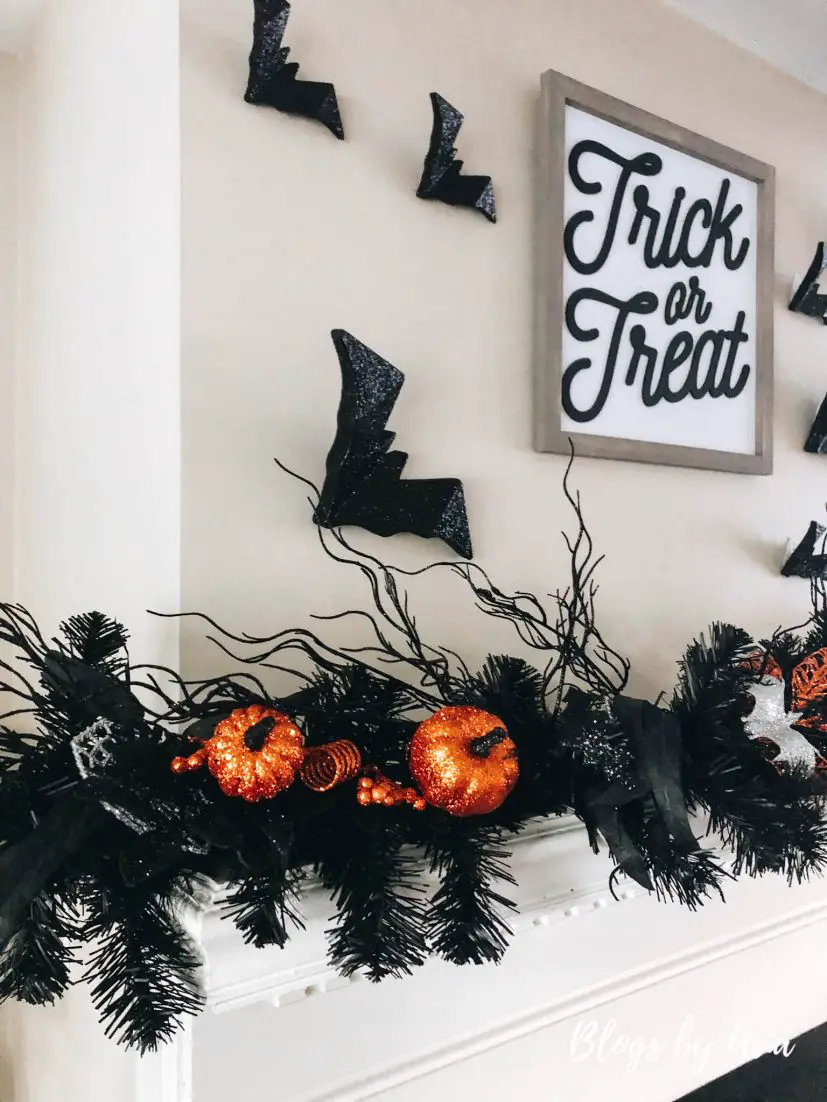 In theory it works out well.  There's tiny glittery bats on a few parts of it.  The issue with decorating for Halloween, I'm sure specifically in 2020, is that everything goes out of stock so fast.  One minute I go in a store to look.  I go back a couple of days later and buy some pieces.  Go back in a week and it's practically empty.
So I worked with what I could get my hands on.  I didn't really want to do anything orange because I wanted to go for a very black and white look.  But if I didn't get the orange picks, it would look pretty sparse.  And when I thought of getting a second garland to make it look fuller…they were all out of stock.
Three Michael's stores, within 15 miles of me and the shelves are all bare.  You can still find fall stuff and tons of Christmas, but Halloween?  Nope, it's gone.
Oh well.  What are you gonna do?  But I can show you what I did with what I have.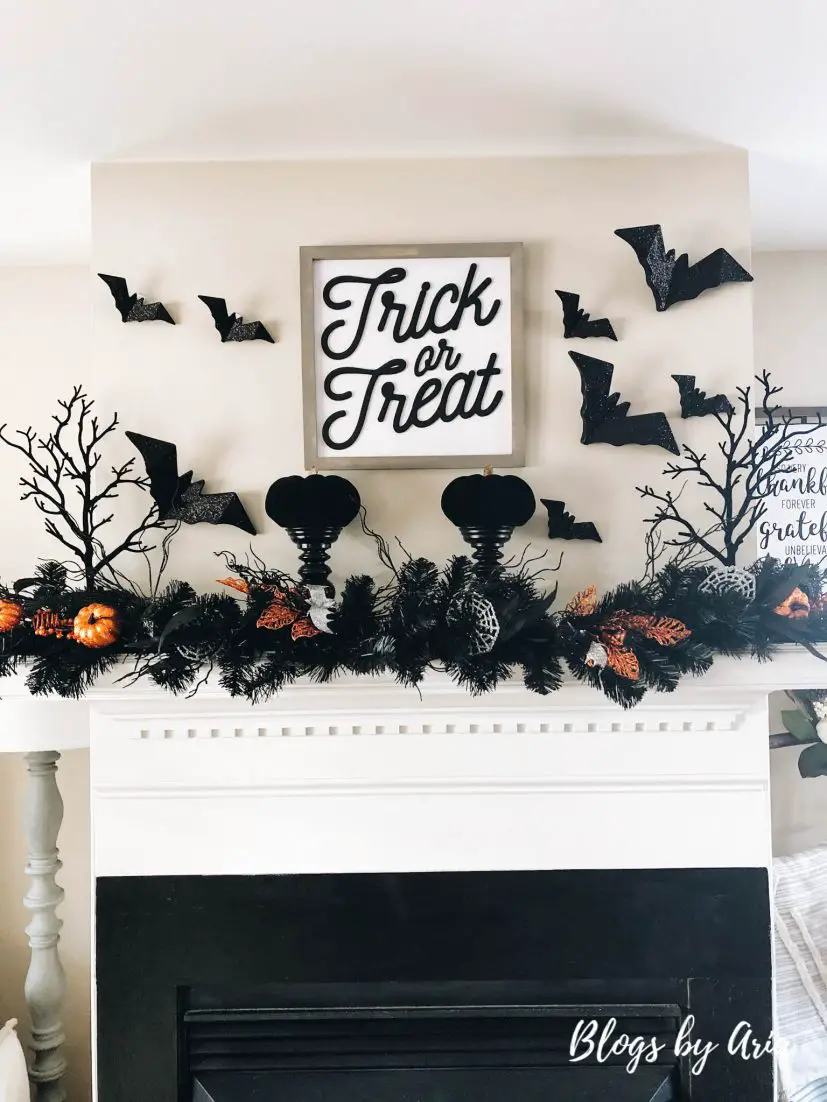 Almost everything that you see, aside from the glitter bats, trick or treat sign, the black velvet pumpkins and the trees are from Michael's.  A few picks are from Joann Fabrics.  Michael's had the best selection of Halloween decorating pieces whether you wanted to go all out ghoulish or do more of a child friendly theme.
I was looking for something in between.  Sparkly bats and black pumpkins was my threshold.  Some of the picks I have do have spiders, but I hate spiders!  And I think they are all the spiders I can handle.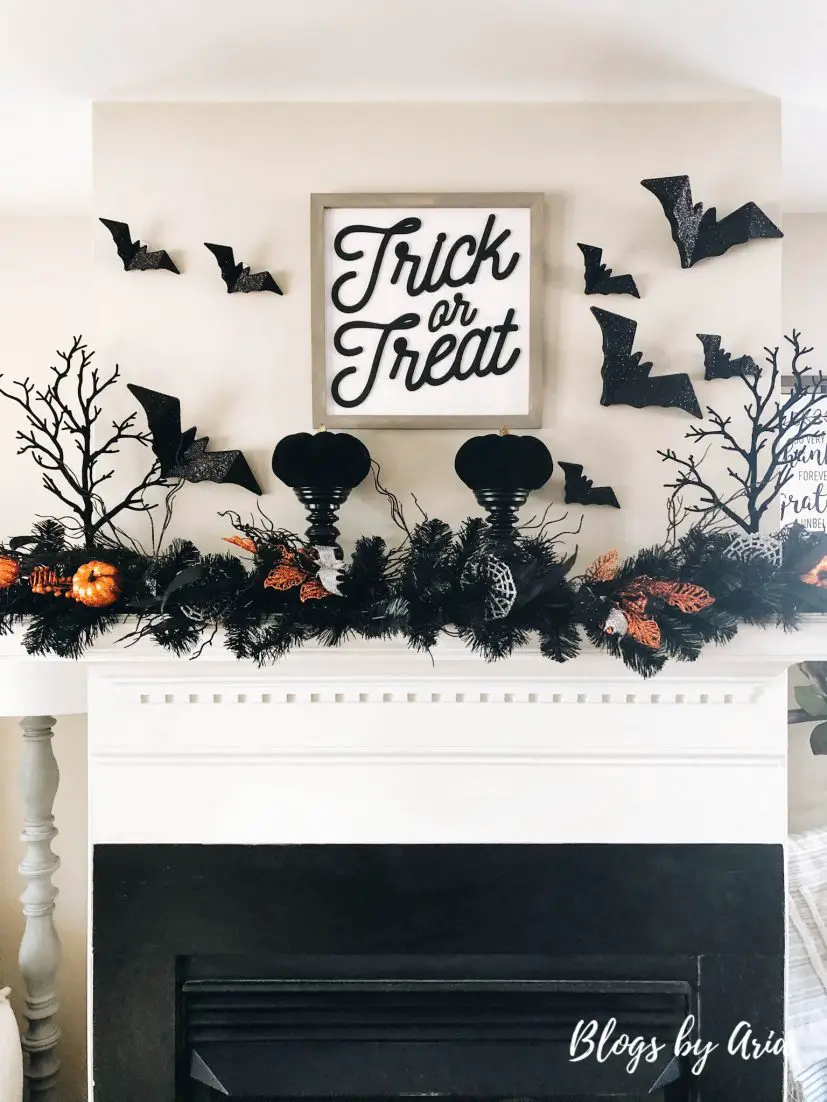 One of the first items I purchased for Halloween were the black candle holders.  You only see two but I purchased two tall ones and two small ones.  Since I couldn't get some of the last finishing touches, I only used two and put these velvet pumpkins I got from TJ Maxx.
The good thing is that I have a base that I can add to as the years come.  I really like how my Halloween mantel decor turned out.  It's not overly done.  I think it's pretty simple and most importantly, it was easy to do on a budget!  I'll be sharing the rest of my Halloween decorating coming soon.  There's only my tiered tray and a little shelf decor.
My mind is already thinking about Christmas if I'm being honest.  While my home is a mix of Fall harvest and Halloween now, soon it will all be a Nutcracker Christmas Paradise! 🙂  For the next few weeks, I can enjoy the spooky.  But not too spooky 😉