Merry Christmas!  I hope that you had a wonderful holiday with family and friends!  We had a great Christmas day at home relaxing and that's exactly what I wanted!
*this post includes affiliate links for your shopping convenience, you can read more about affiliate links by reading my Disclosure*
On Christmas Eve we did something we've never done before.  We made gingerbread houses.  They always make it look so easy on TV right?  Since it was a first for us, I thought it would be easier to buy a kit from Target that was a mini gingerbread village.  I didn't want to spend $40 or so to buy each of us a larger house in case it was an epic fail.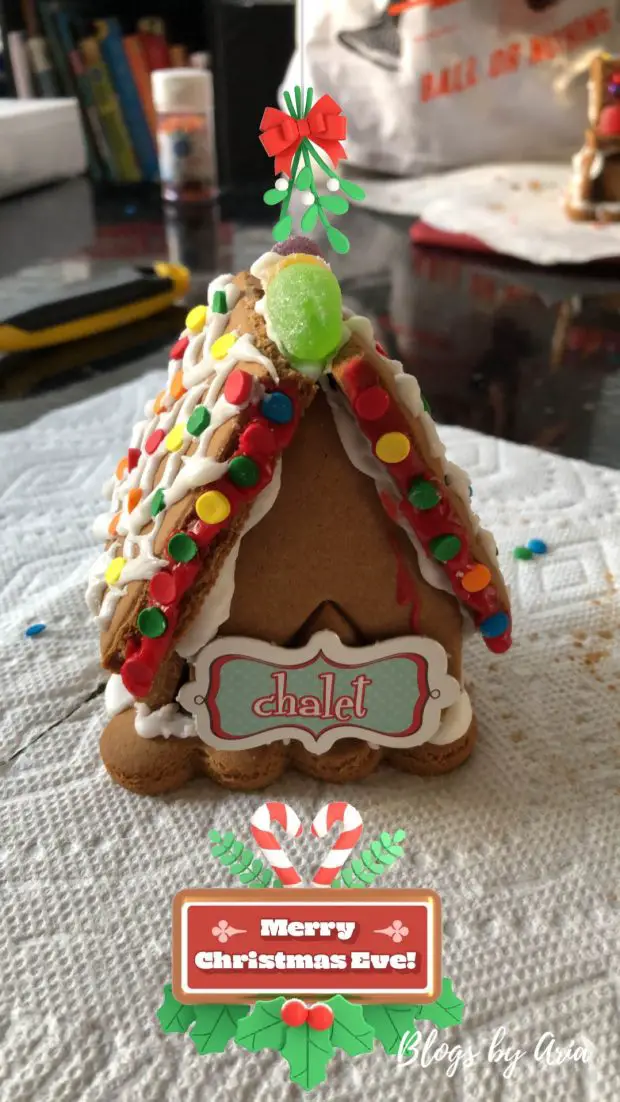 Turns out, it's not as easy as it looks to put together a gingerbread house.  It was downright hard! This is the one I did.  Next year we'll do it again and I'll buy the larger houses.  Jordan got the most frustrated and said he never wants to do it again but I'm pretty sure he'll be up for trying it again next year.  I'll be sure to report back 🙂
On Christmas Eve I took a picture of our tree with the gifts under it.  I must say, I love that our new Christmas tree allows so much space under the tree for gifts.  I truly do love this tree!
This being our second Christmas in Raleigh, I knew that I wanted to find some Christmas light displays to see.  I found some option; a few cost money and a few were free, but unfortunately time is precious in the Christmas season and we were only able to go look at lights on Christmas Eve.
We ended up going to an awesome Christmas lights display in Apex.  It was wonderful!  Next year hopefully we can fit more in.
I was thinking to myself the other day, that even though this was a short Christmas season, and there were lots of activities that we didn't get to do, the one thing that made me happiest was not having to wrap a single gift on Christmas Eve 😉  I did have to add bows to gifts that were hidden but it was such a relief to not have to stay up late wrapping last minute gifts.  Truly a blessing!
Every Christmas morning we take a picture of the kids in front of the tree.  One of my favorite traditions ♥
This Christmas was the first year since we've had kids that we did not travel anywhere on Christmas day.  Especially after moving last year, I didn't want to travel on Christmas day anymore.  I've felt this way for a while but moving even farther away helped me to finally put my foot down.
Over the past couple of years we've done Christmas Eve or sometimes Christmas Eve Eve with my family.  And we'd usually do Christmas day with his family.  But if you have kids you know how exhausting Christmas day can be.  Now that our kids are older I want nothing more than to relax.
We were all up before 6 on Christmas morning!  And that's after me telling the kids to please allow us until 7am.  But guess who was up first?  My husband!  Ha! He's usually the one dragging his feet!  After we opened gifts we had a slow day of napping and eating and napping some more.  It was lovely!
The best part of Christmas morning is the look of glee when you give a gift they truly want 🙂  On my Instagram I shared a video of Jordan getting a new phone and Brianna getting Uggs.  Last year I wasn't able to get them so when they showed up again on her Christmas list I was happy that I could get them on a great deal!
As the year is winding down, it's time to start thinking of planning what's next and getting my 2020 Life Planner prepped for the new year.  Even though this is my new planner, when I ordered it I saw this cute seasonal stockings cover and knew I had to have it.  If you haven't purchased your 2020 planner you still have time, and as an added bonus Erin Condren is having a couple of great sales starting today!
20% Off 2020 Planners + Calendars (Focused Collection)
30% Off Stationery, Notepads & Deskpads (Focused Collection)
These days between Christmas and New Year's are always so exciting!  So much is on the horizon!  I'm so excited to dive into my 2020 Life Planner!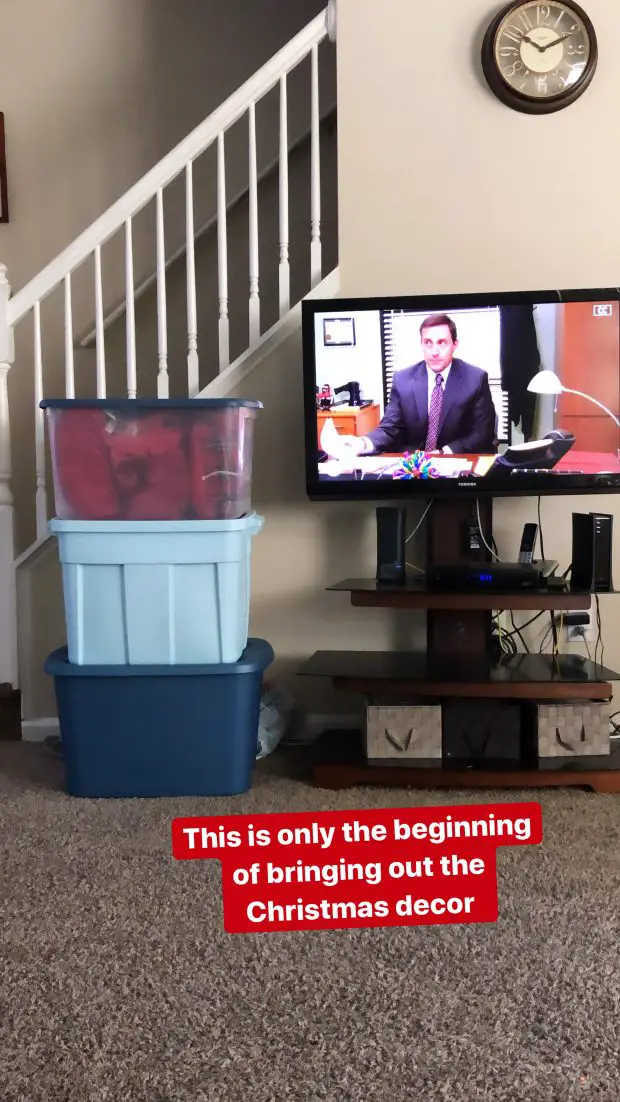 I briefly mentioned in my last post that I'm itching to take down my Christmas decorations.  It won't happen today, but I am going to pop into Target to grab some holiday storage bins.  Since we got a few new additions this year we needed more storage.
For sure I know that I need another stackable ornament storage bin and I'm thinking maybe two medium sized clear storage bins with the red or green top.  I'm also debating getting a larger wheeled storage bin that way everything can go into our storage closet.  The larger bin I think would be good for all of my Christmas pillows and throws and other soft and light things.  Last but not least, I'm debating putting our tree back in it's original box or to buy a tree storage box or tree storage bag.  Lots of decisions.
I'll try to document the process unless I end up doing it all at night with no light to work with.  Thanks so much for spending time with me today.  Enjoy the rest of your week and your holiday season 🙂  I have today off but I do have to go back to work tomorrow for the shortest work week!  Can't really complain about going to work on a Friday being your first day back right? 😉