Even though I just shared some Christmas tiered tray decor ideas, we're going to rewind for a moment so that I can share with you how I decorated my Halloween tiered tray.  Just like this is my first time decorating for Halloween, it's also my first time attempting to decorate a tiered tray for Halloween.  That doesn't mean I'm not up for the challenge!
*this post includes affiliate links for your shopping convenience, you can read more about affiliate links by reading my Disclosure*
Like I said in my Halloween mantel post, finding Halloween decor hasn't been all that easy this year.  Whatever the stores put out got scooped up so quickly.  And the stores honestly didn't put out very much to start with.
Once I realized I couldn't find a lot of the items I had in mind, I decided to just get a lot of skulls and skeletons.  Both the black skull on the bottom and the skull on the middle tier are from Target's Halloween section.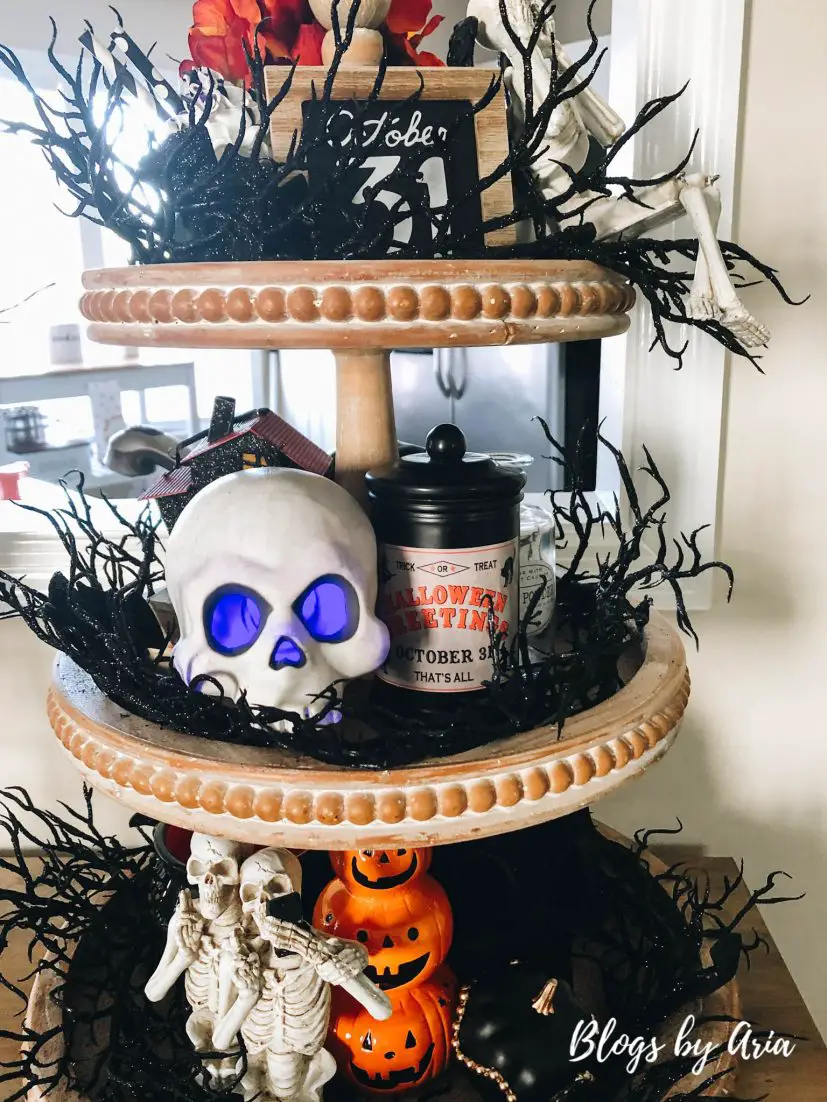 Probably the coolest aspect of my Halloween tiered tray is the light up skull.  It's especially cool at night and I must say I got cool points with everyone in the family with that one. 🙂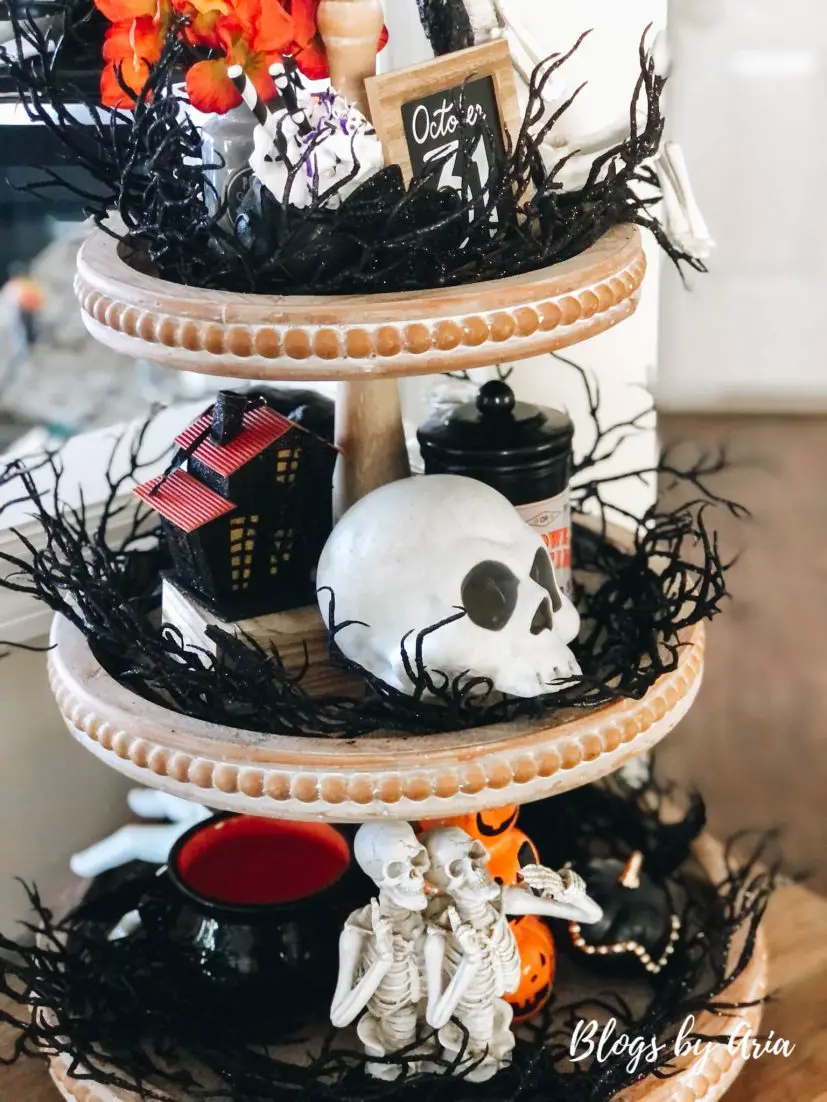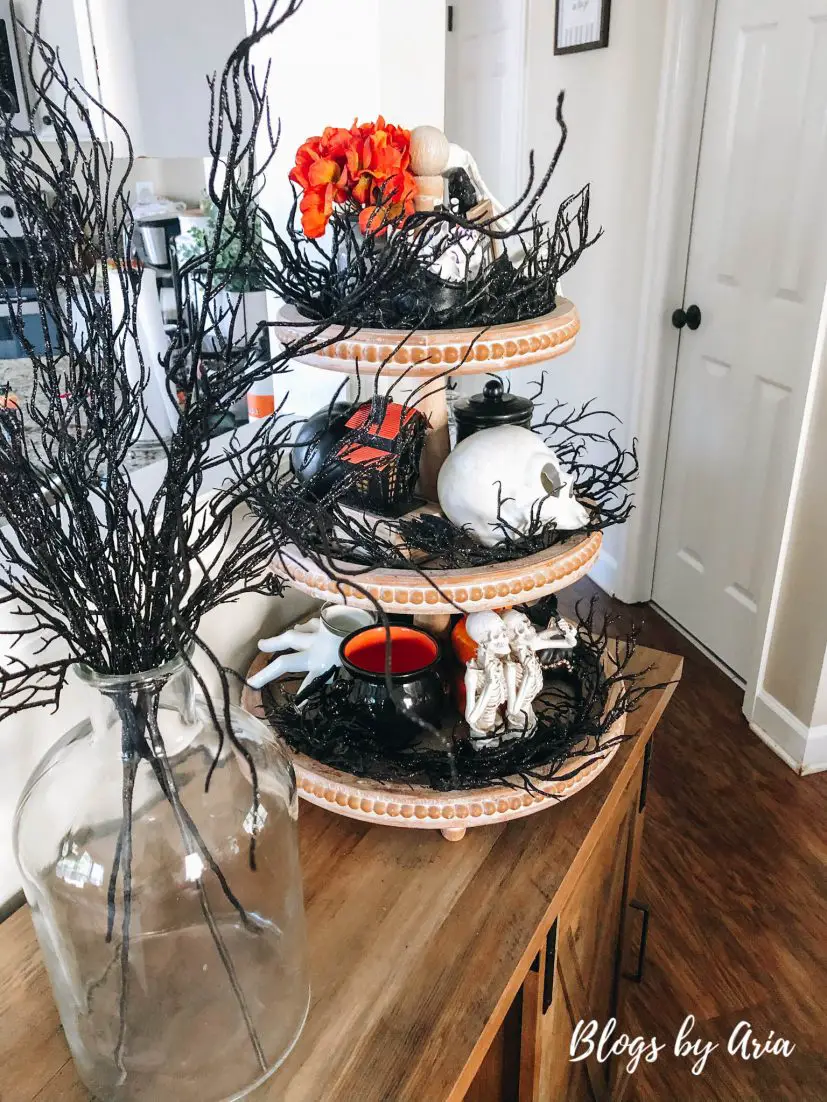 I was looking for a flowery garland that was black and the only thing I could find was this sparkly garland from Michael's.  I also used some of the stems that are similar and placed them in this clear vase I got from World Market.
Honestly speaking, I don't quite love my tiered tray for Halloween, at least not as much as I have my other ones.
That got me to thinking…maybe I would like it more if I used one of my other tiered trays.  So that's exactly what I did.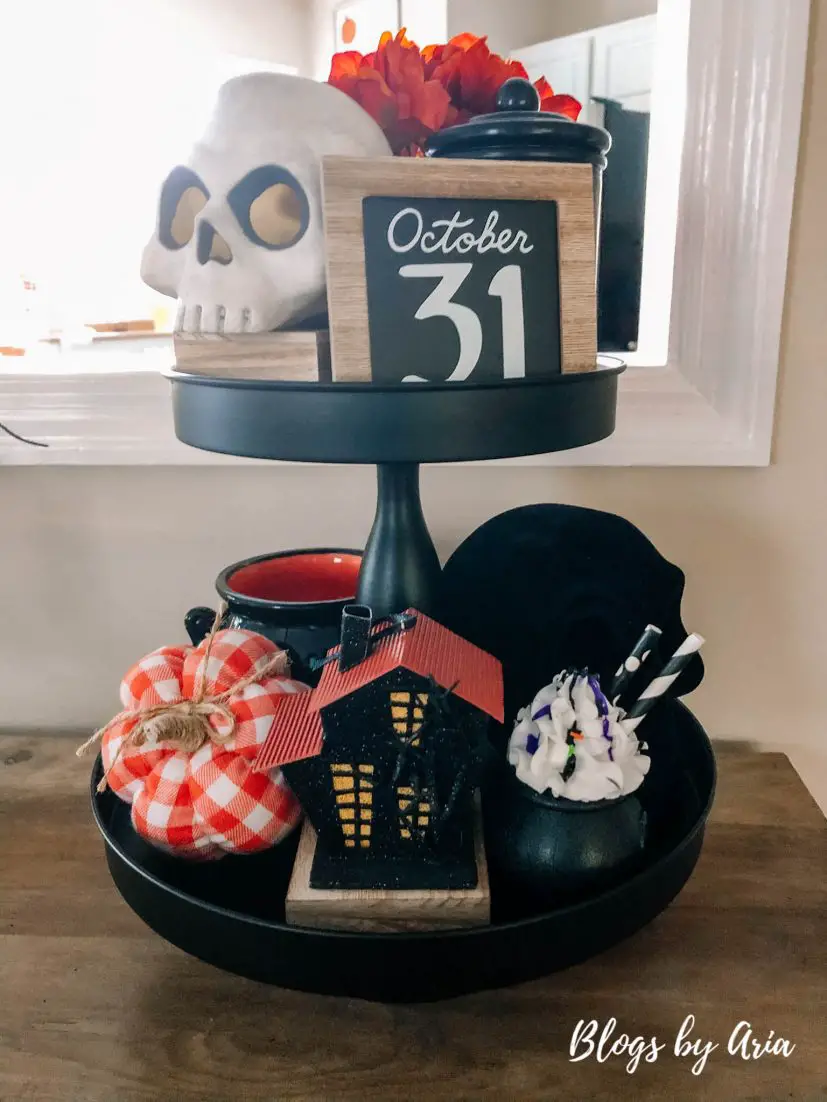 Just like I mentioned in my last post, start small when it comes to decorating a tiered tray.  So I picked my smallest tiered tray and found this was so much easier for me to decorate for Halloween.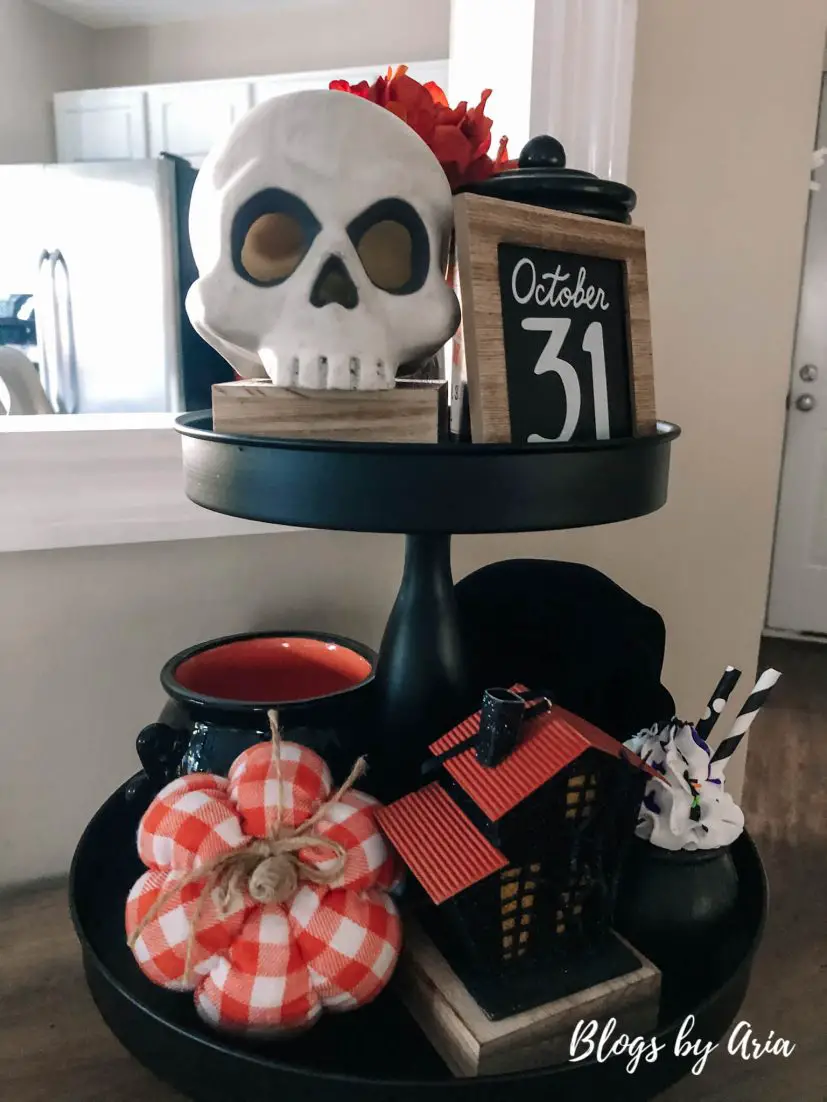 This is a good reason to have more than one tiered tray in your collection to choose from.  In my opinion.  It's nice to have a couple of options depending on what you're working with.  Every other week, this tray is on sale for half off at Hobby Lobby.  So if you're reading this when this post goes live, you could score this tier tray for only $12.50!!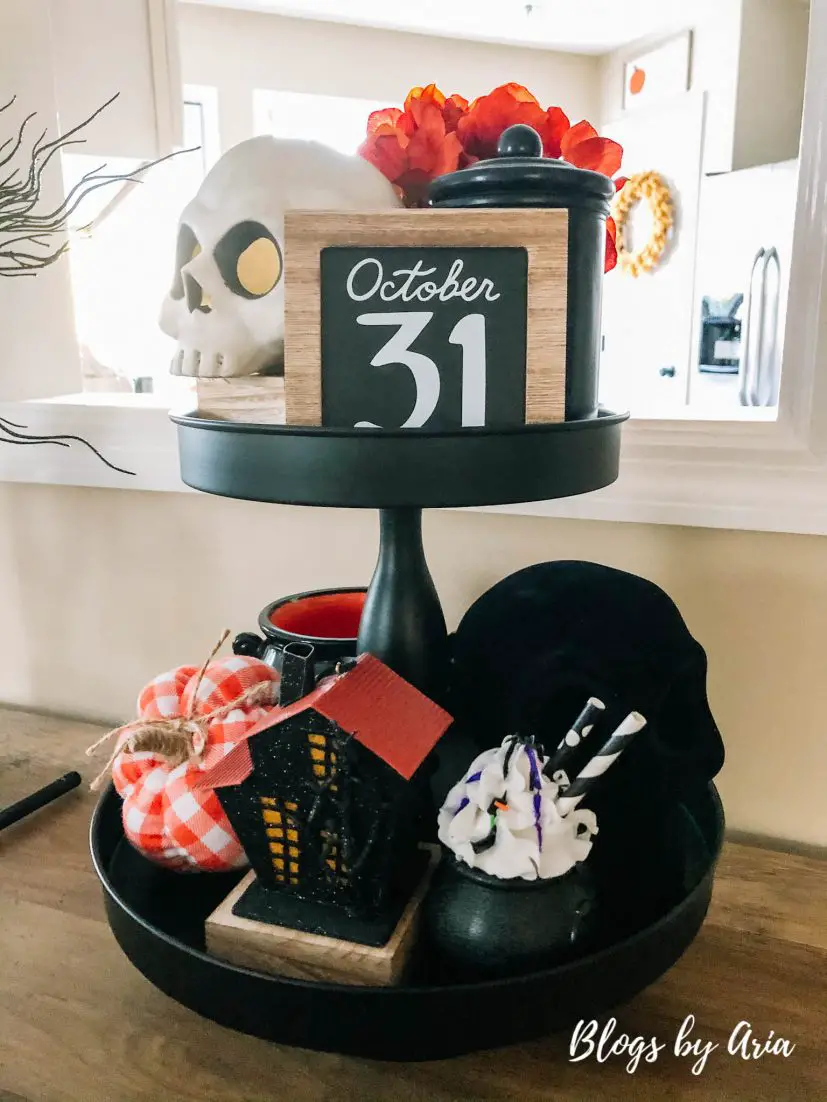 One of the fun finds I picked up for my Halloween tiered tray is this black cauldron from Etsy.  The black glittery house is actually an ornament for a Halloween tree that I got from Joann Fabrics.  That's something I might give a go next year…a Halloween tree.  What do you think?
Now that I've gotten my feet wet with decorating for Halloween, I look forward to adding more to my collection over the years.  Who knows?  Maybe I'll even get a bit spooky and scary.
Can't say for sure but for now I'm happy to move on to all things Christmas!  I did get a few other items for Halloween decorations but honestly, I'd rather just hold off until next year to decorate with them.  Since I got so much for fall this year I think I can focus more on Halloween next year.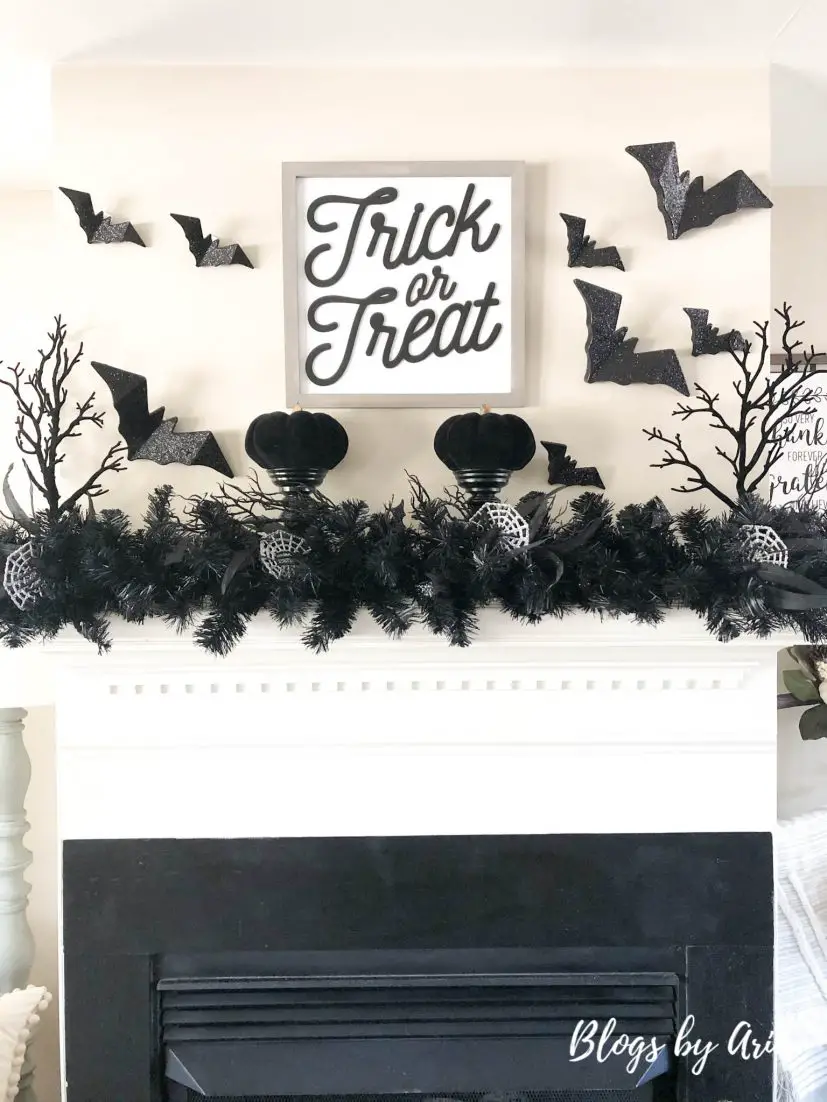 Before I end this post I did want to show you my updated mantel decorated for Halloween.  When I shared it the first time around I was saying how I didn't really envision all of the orange.  Well I went to a Michael's store in a neighboring city and they had another strand of the black garland.
That ended up making the garland full enough to take out the additional picks.  What do you think?  I like it more for sure.
Now, I'm officially closing the book on Halloween this year!  I'll be taking some of the fall decorations down soon and living with a pared down space for about a week or so before I start phasing into Christmas.  Don't worry…I'll be bringing you along with me 🙂