It's officially Fall and the weather is cooling off!  If you're looking for transitional Fall styles look no further than the versatile shacket!  Today I've rounded up over 15 shackets to give you the best Fall outfit inspiration.  Let's dive right in to the 15 best shackets for Fall!
WHAT IS A SHACKET?
A shacket is a hybrid between an oversized shirt and a jacket.  It's the perfect piece for this time of year when it's chilly in the morning and warm in the afternoon.  You're not quite ready to break out the heavier jackets and coats but you want a layer that has a little more weight than a flannel shirt.
When you're out in the evenings, perhaps at a football game, put the shacket back on to stay warm.  It really is such a great invention!
*this post includes affiliate links for your shopping convenience, you can read more about affiliate links by reading my Disclosure*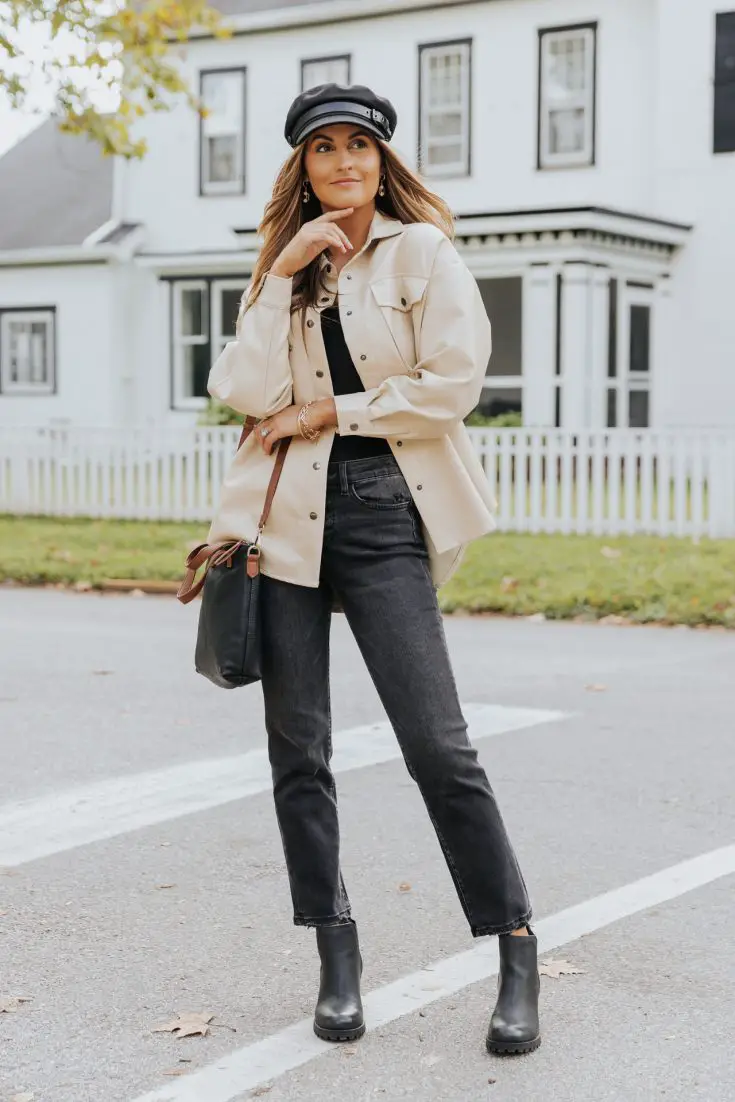 vegan leather shacket • black high rise straight ankle jeans • black booties • black crossbody bag
Looking for a shacket but aren't mad about plaid?  This vegan leather shacket is chic and stylish.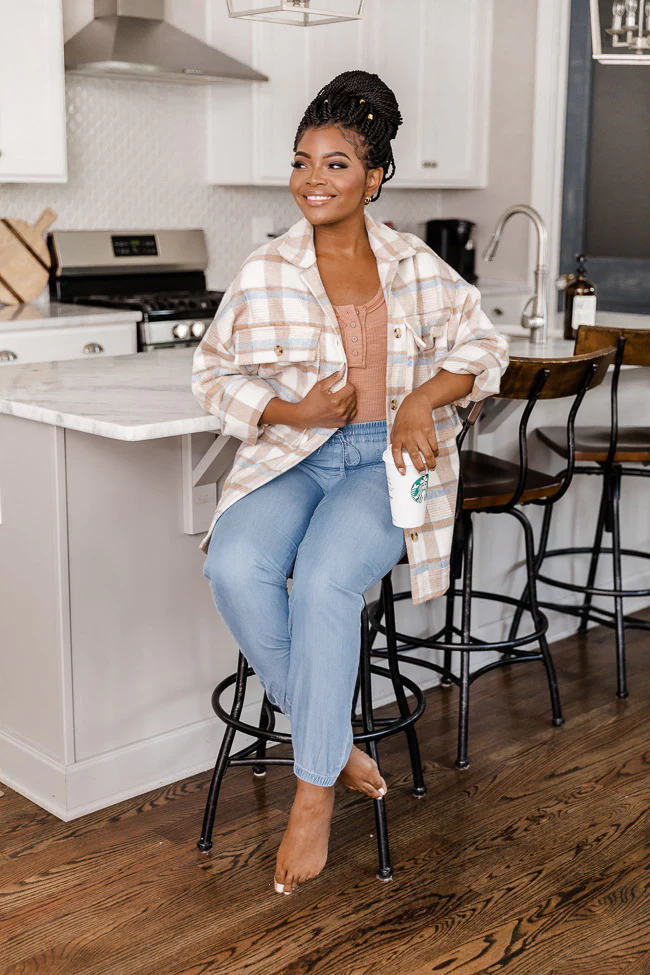 Light plaid colors are perfect if you don't want to dive in to the deeper fall hues.
Corduroy just screams fall doesn't it? This corduroy shacket is on trend this year.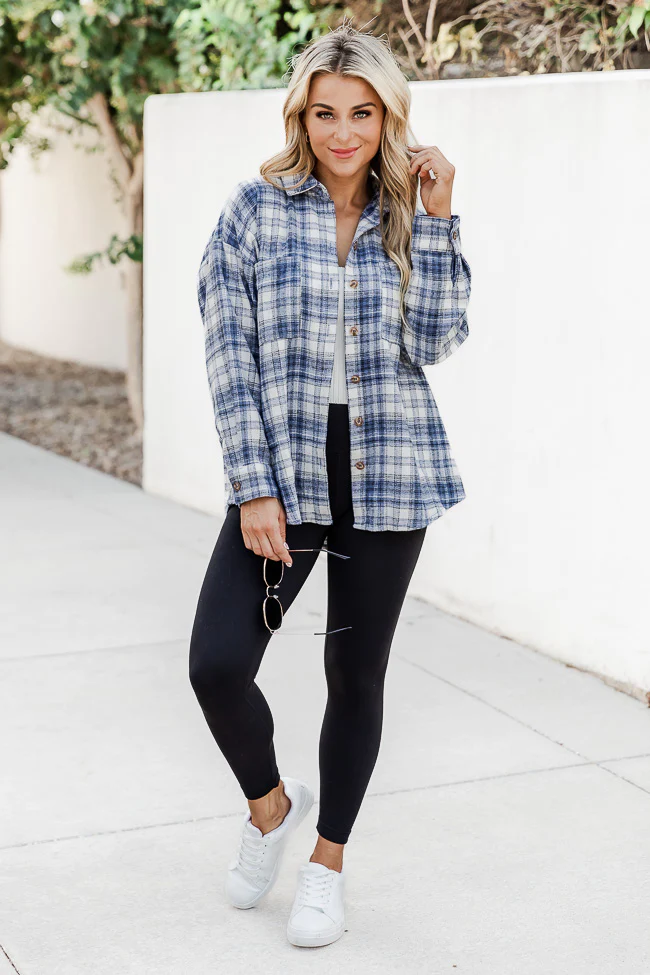 blue and white plaid shacket • black faux leather leggings • white sneakers
Pair the perfect shacket with faux leather leggings for an updated relaxed look.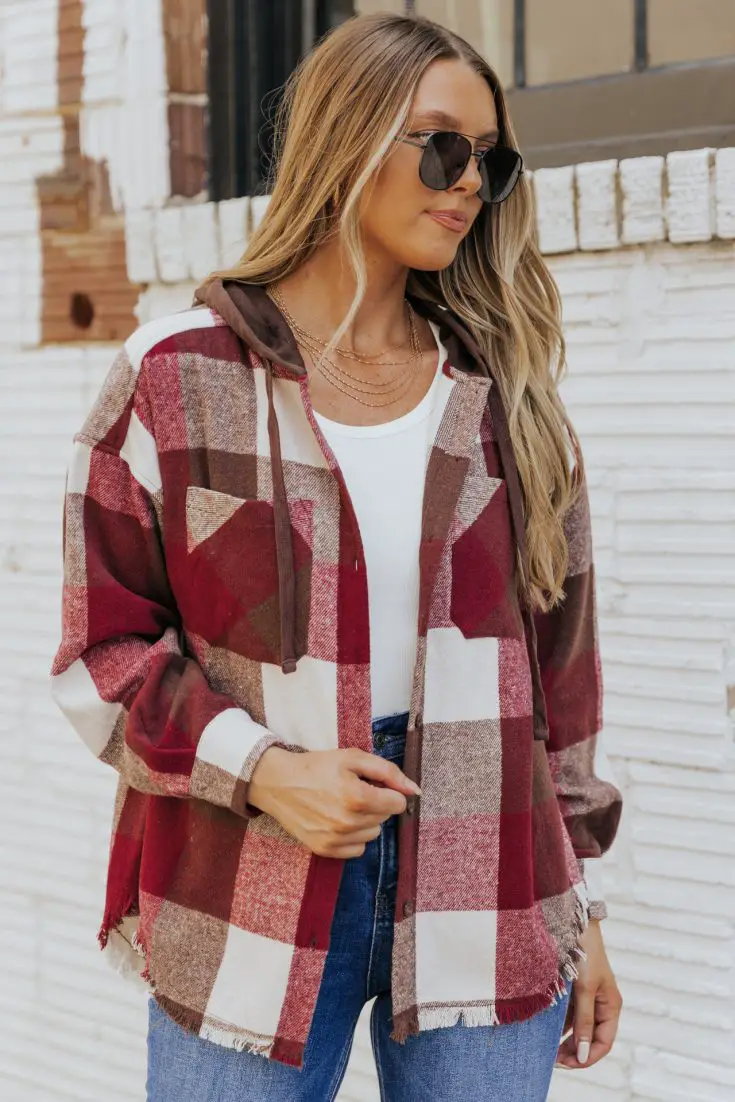 wine colored plaid hooded shacket
This shacket adds a hood and frayed edges.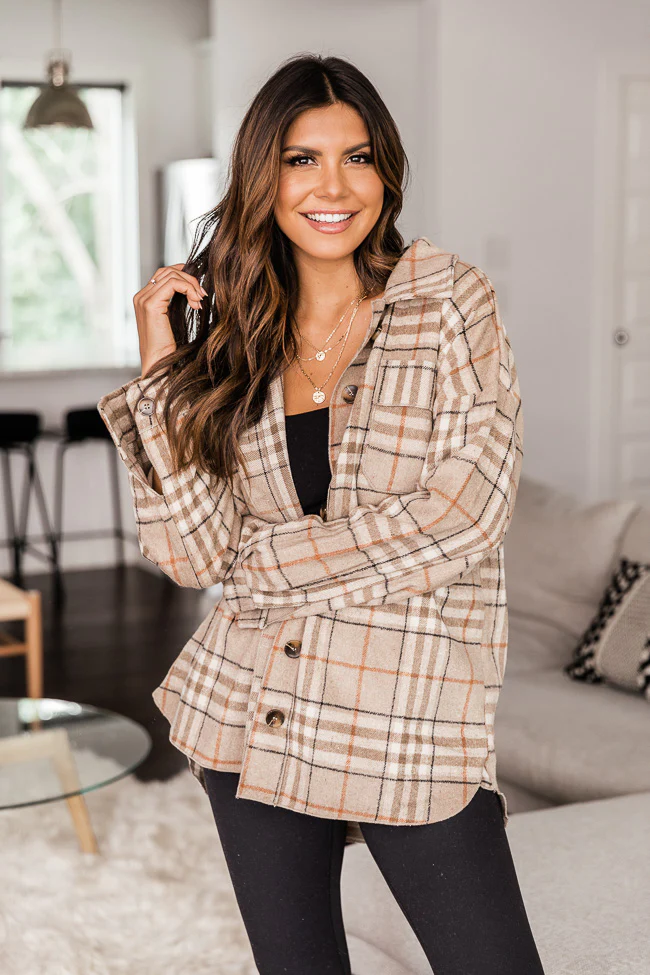 Perfect colors for a perfect Fall shacket.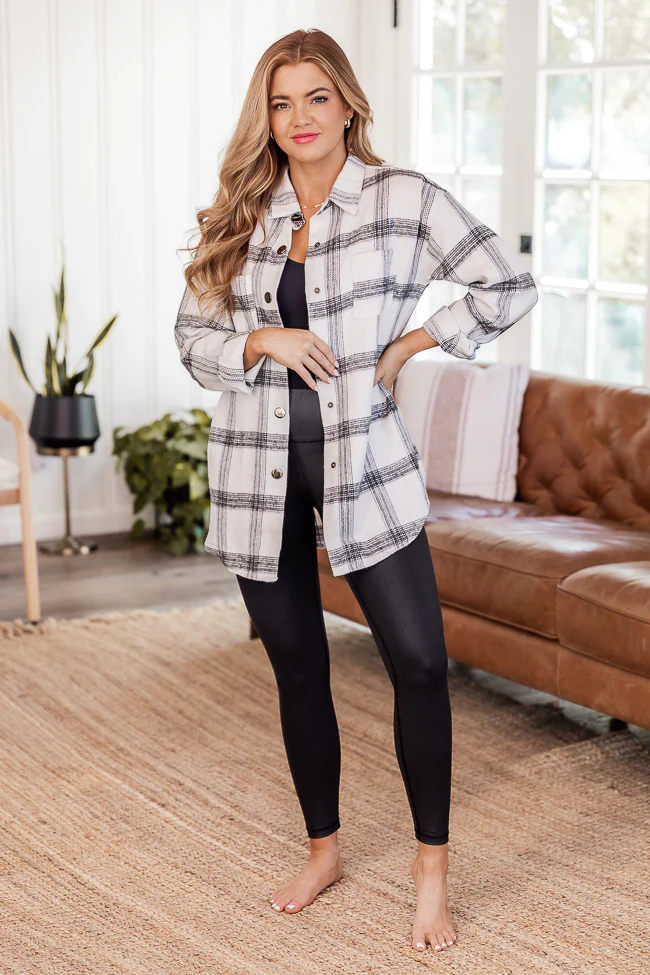 ivory plaid shacket • faux leather black leggings
A neutral plaid shacket is versatile and can go with almost anything.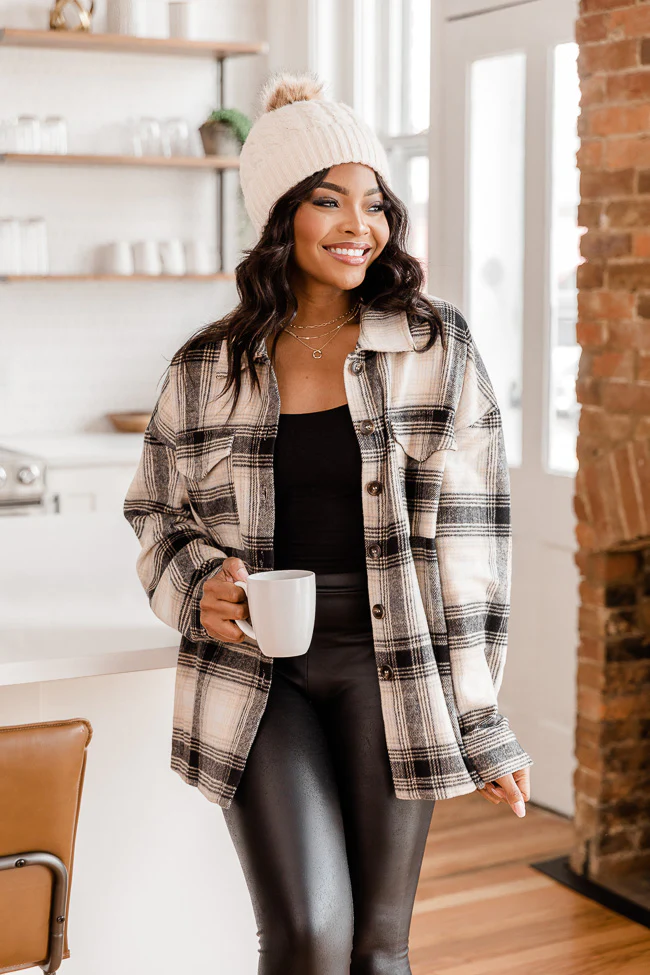 black and beige plaid shacket • faux leather leggings
Keep it neutral in black and beige for Fall.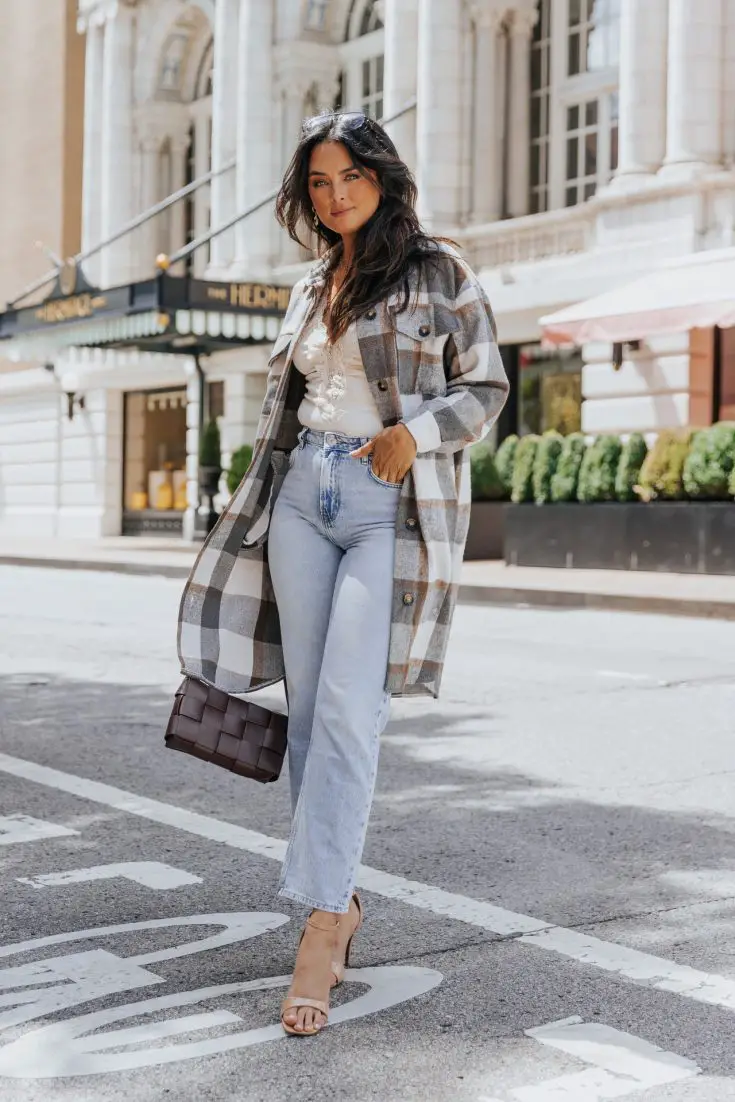 long grey plaid button down shacket • v-neck lace cream ribbed bodysuit • light wash super high rise ankle straight jeans • nude patent leather vegan heels
If you're looking for a shacket with a little more length this long button down shacket is for you.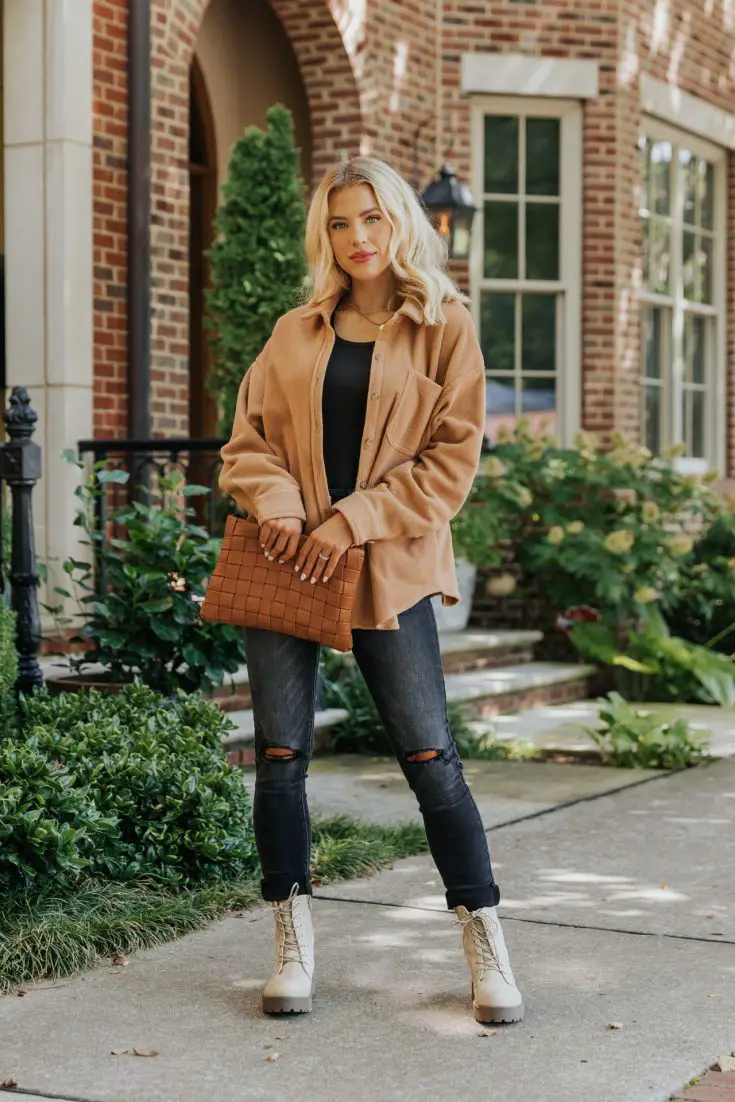 camel fleece shacket • ribbed knit bodysuit • washed black high rise skinny jeans • natural combat booties • vegan leather woven clutch
Bring on all the coziness in this fleece shacket!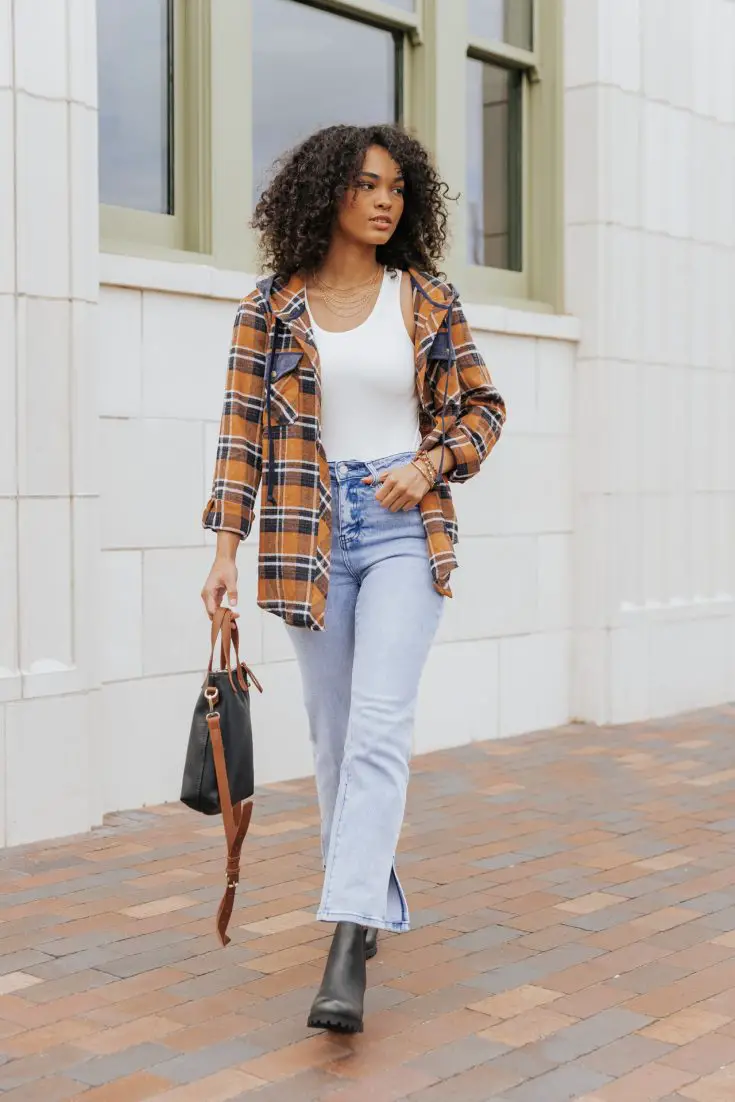 camel and navy plaid shacket • ribbed bodysuit • straight crop jeans • black booties • black crossbody bag
Pretty in plaid makes for this classic Fall shacket.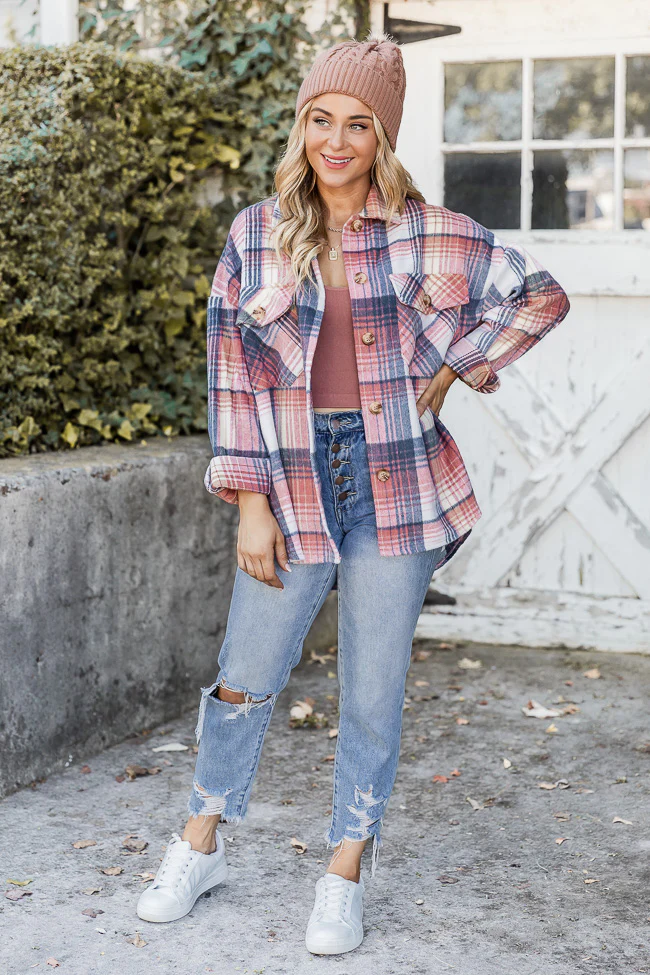 pink plaid oversized shacket • seamless v neck brami • distressed girlfriend jeans • white sneakers
This pink plaid oversized shacket is a pretty option to wear this Fall.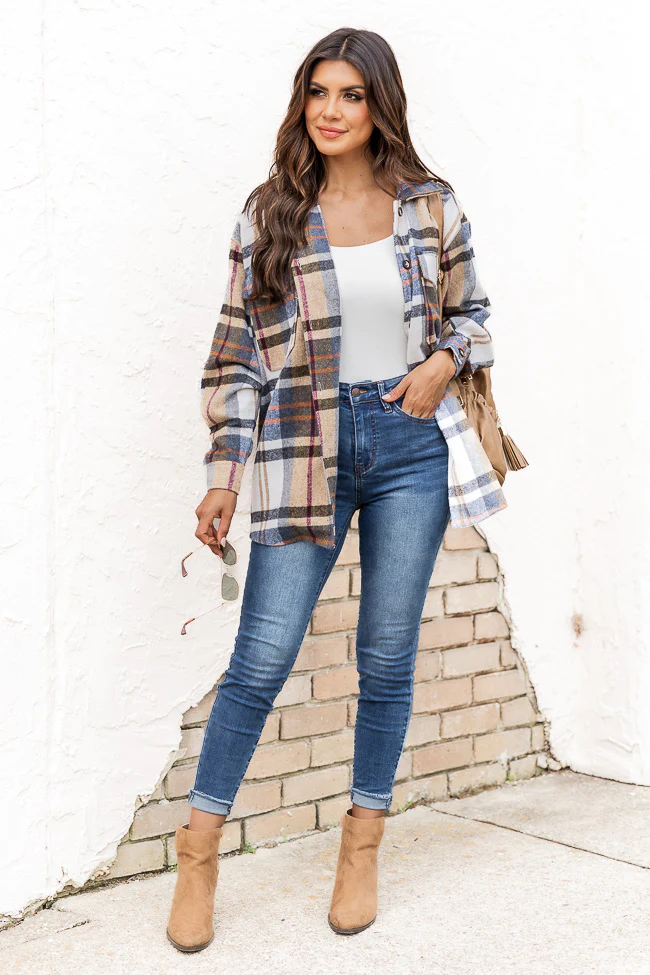 This shacket is perfect for Fall this year.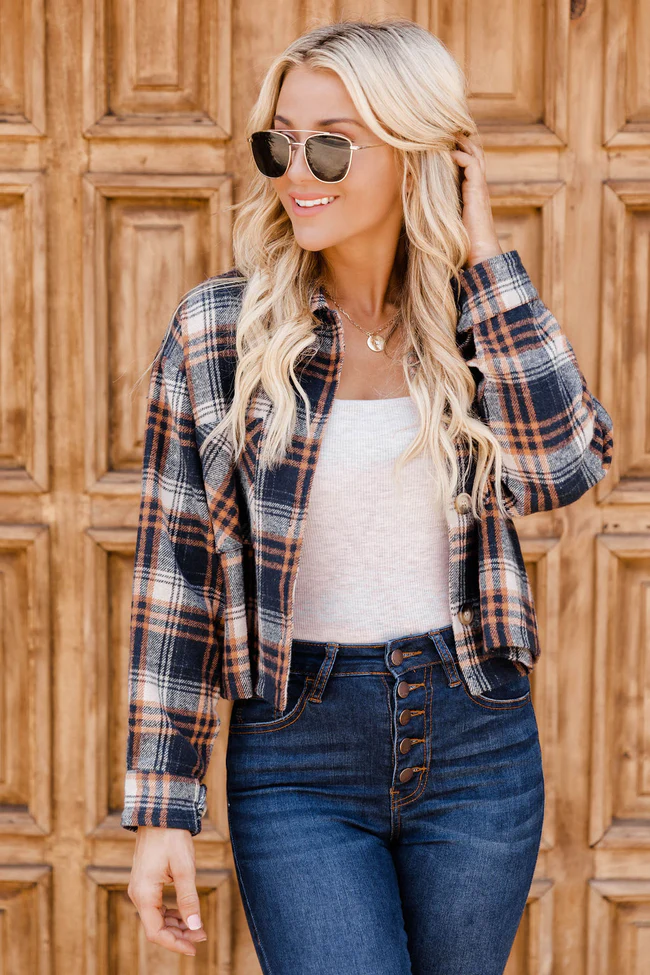 cropped plaid shacket • ribbed tank bodysuit • dark wash jeans
A cropped style is a great option for a shacket.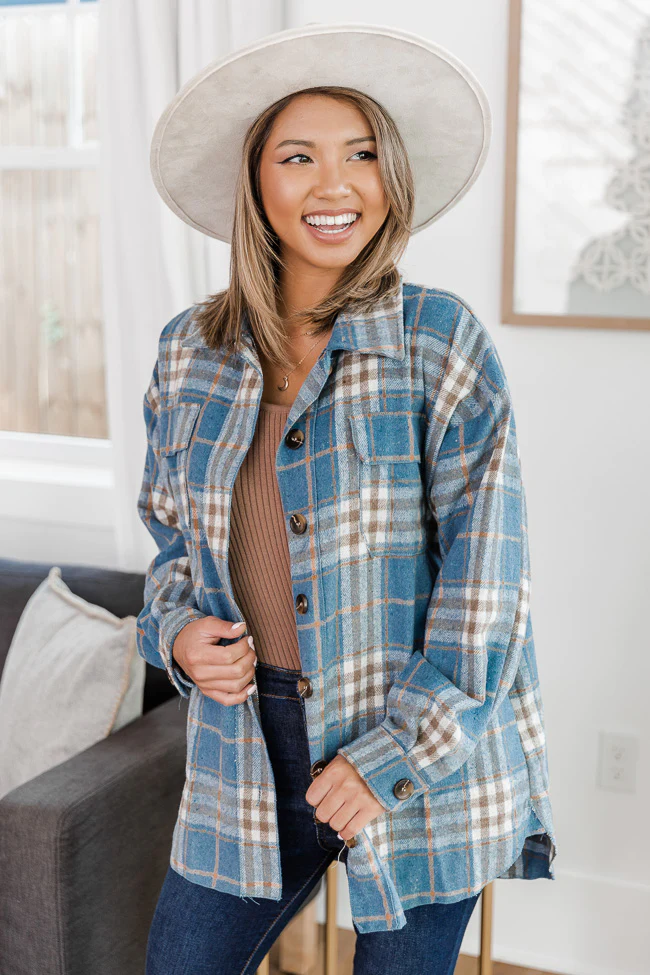 blue and orange plaid shacket • sweater tank bodysuit
Blue and orange make such a pretty combination and I love how they're paired together in this shacket find.
THE BEST SHACKETS TO WEAR THIS FALL
I've rounded up even more shackets to pick up this season.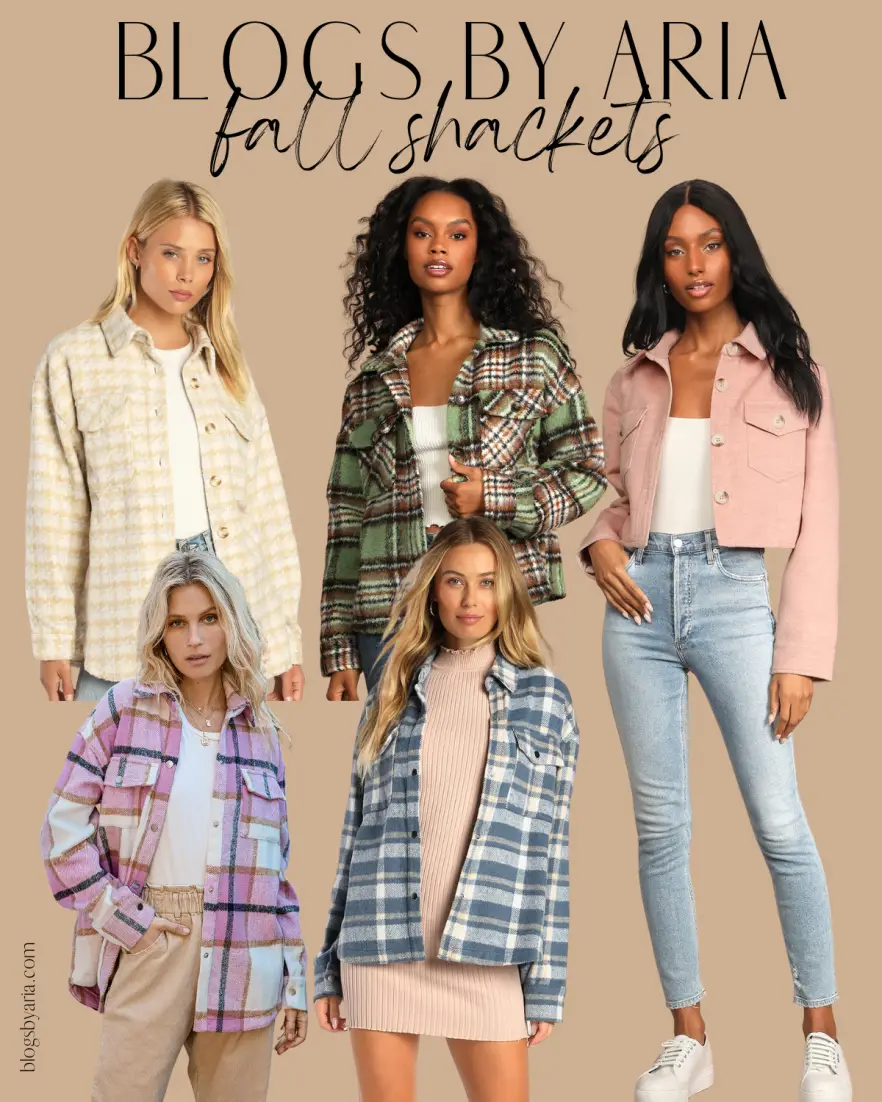 Love these stylish fall shackets that I have linked here or swipe through below.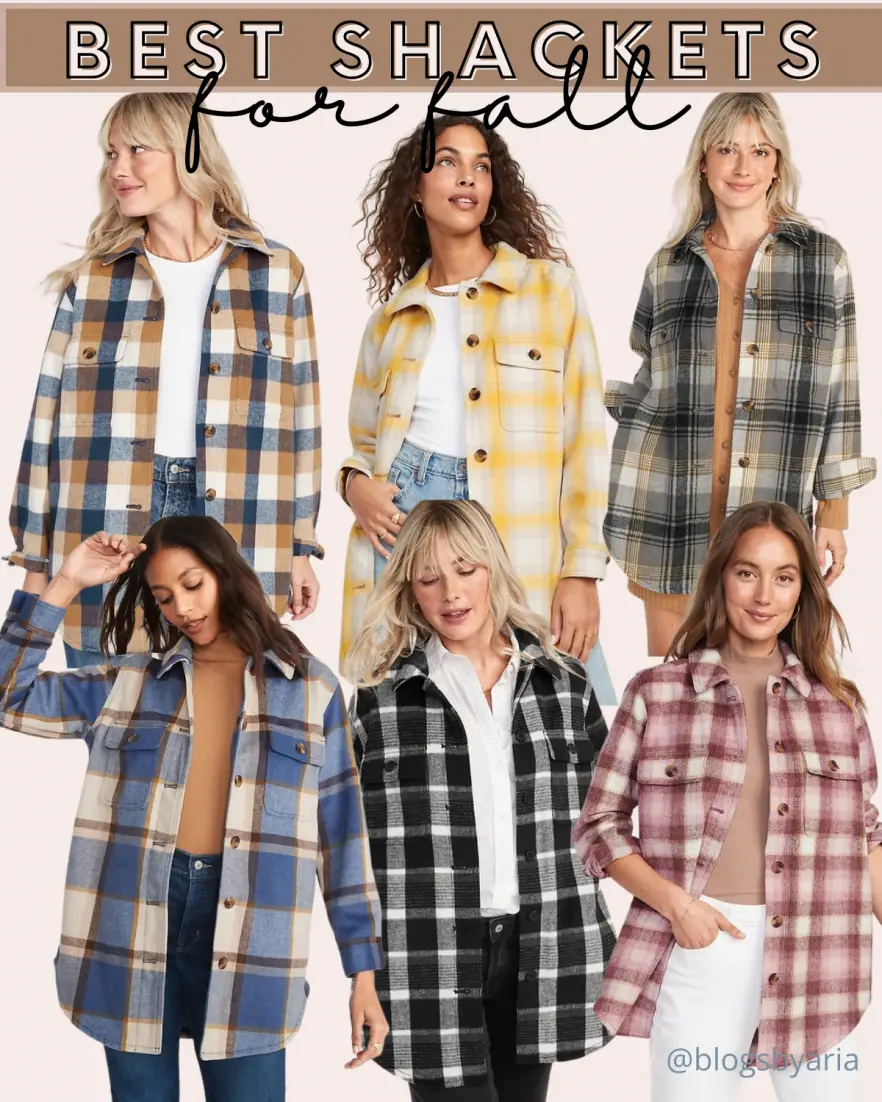 All of these shackets are from Old Navy!  You can find them all linked here or swipe through below: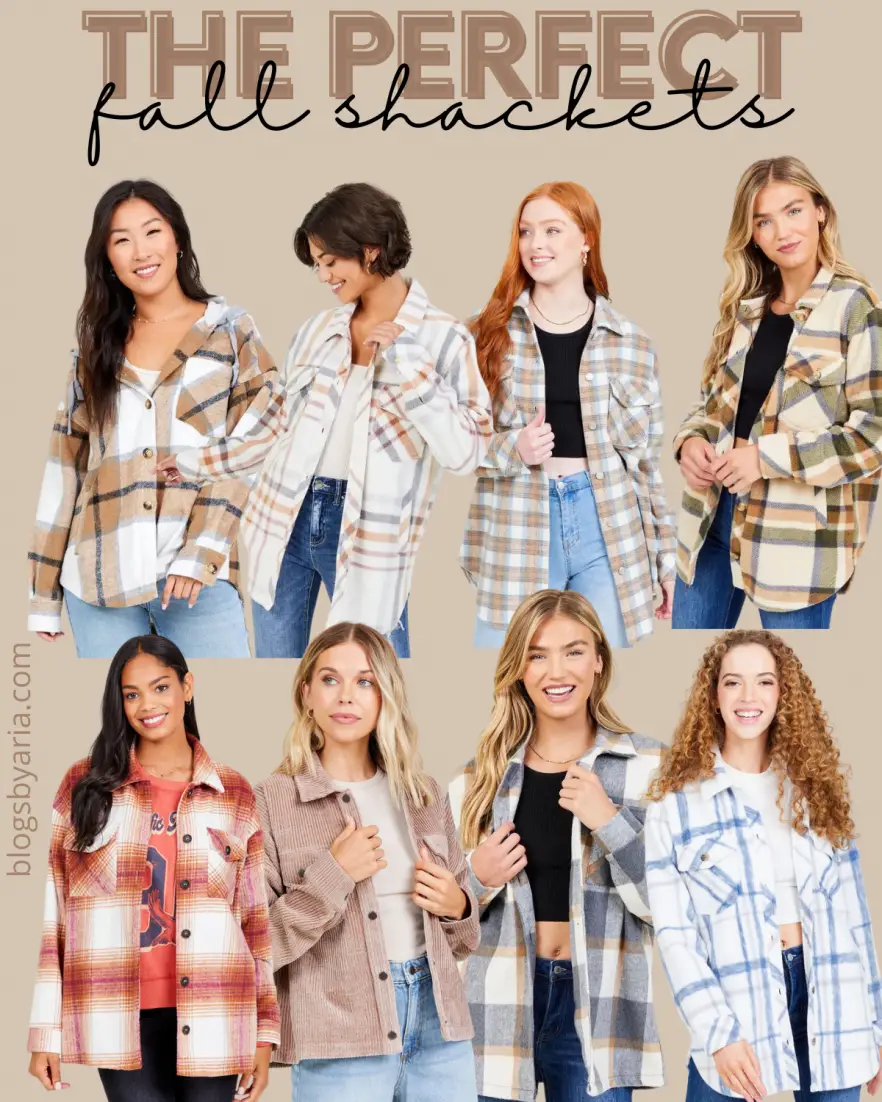 So many stylish shacket options to transition into the cooler days and nights.  These are all linked here or swipe through below.

If you'd like to get even more Fall fashion inspiration and finds and all things random, be sure to follow me here: