When I decorate for the holidays I'm very traditional.  Lots of reds and greens.  And nutcrackers!  I have a slight obsession with nutcrackers.  I am enjoying the traditional Christmas decor that I've incorporated in our powder room.  Let me take you on a mini tour of our Christmas in the powder room.
The powder room is a very small space but since it's the bathroom on our main floor it gets a lot of use.  I figured if there's any additional space that could use a touch of holiday cheer it's our powder room.
*this post includes affiliate links for your shopping convenience, you can read more about affiliate links by reading my Disclosure*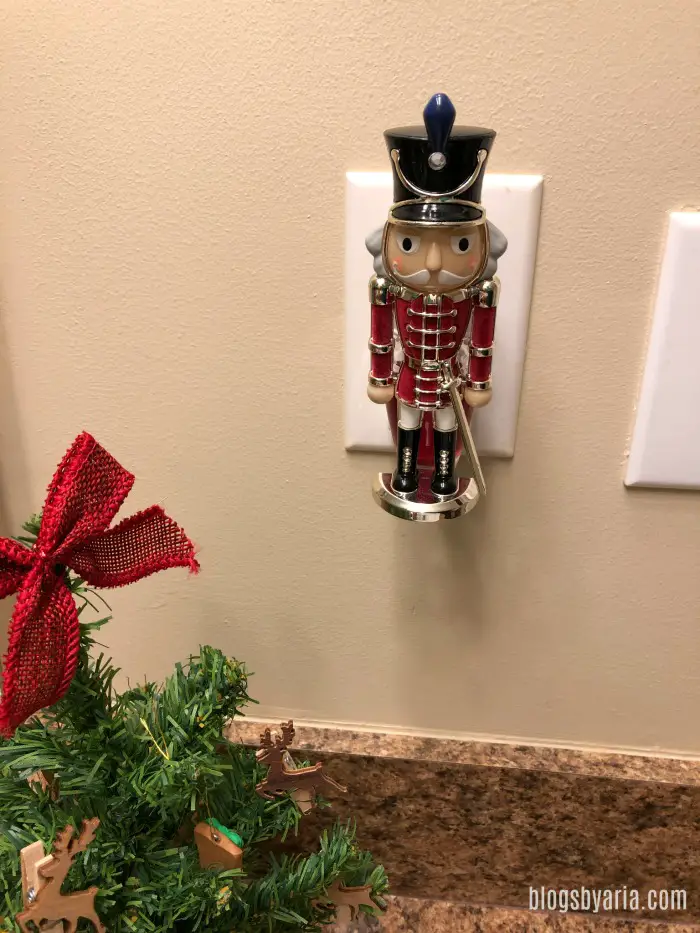 Starting with my new friend, my nutcracker soldier wallflower fragrance plug (he's no longer available online but you can check out some other options here.)  I love using my wallflowers from Bath & Body Works in our bathrooms.  The one we're currently using is Winter Candy Apple which is the same scent for our foaming hand soap.
We've had this mini Christmas tree for years and I don't recall where we got it from.  My daughter used to love to put it in her room.  Now she has a different tree in her room so I felt this would fit perfectly in our powder room.
It's lost a few of it's ornaments over the years, so I added this ribbon and clip on reindeer that I got from Walmart in their miniature tree decoration section.
My original nutcracker that I got some years ago.  Once I got the nutcracker wallflower holder I knew that he needed a nutcracker friend to join him in the powder room.
My mom recently gave me these plush red Christmas towels.  They're the perfect touch to complete this space.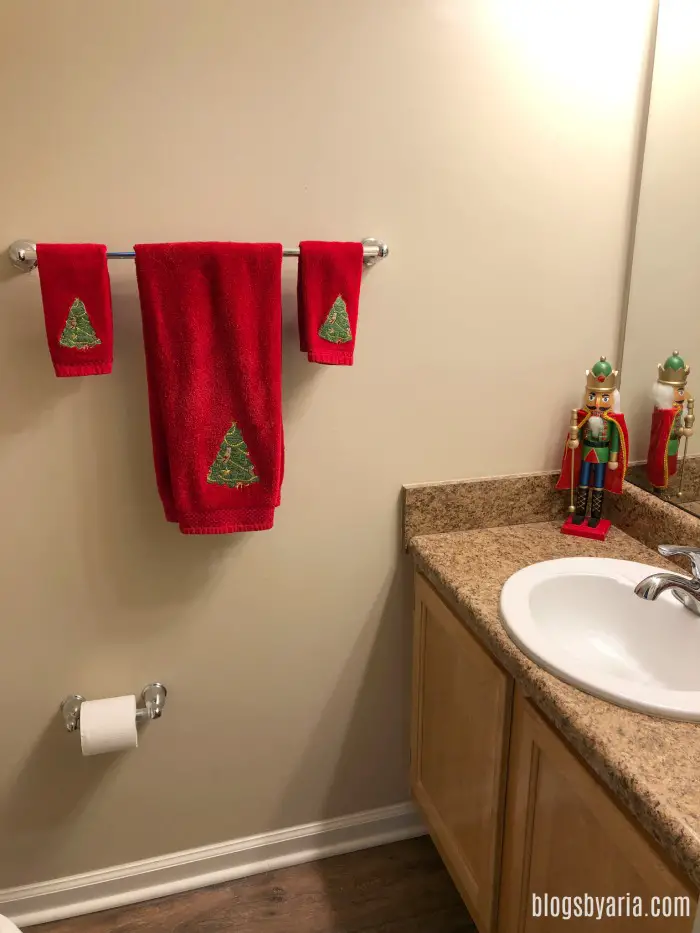 The only thing that could complete the powder room would be something to go on this wall.  I tried to find something inexpensive to go here but nothing that I quite loved.  And if you don't love it you shouldn't buy it.  That's my decorating tip for the day.  🙂
I think a red berry wreath like this one would be perfect on this wall in my powder room.  The problem was that I couldn't find one that was large enough but that wasn't expensive.  The ones that I was willing to pay for were too small.  Maybe next year I'll find one I love.
Something like this bronze deer, pine and berry wreath would be nice as well.  But it's more than I'm willing to spend at the moment.  And that's okay.  I have plenty of years ahead to have more than enough decor.  For now I'm loving how my Christmas decor has turned out in our powder room.
Every time I come into our powder room the holiday cheer makes me smile.  It smells delicious and it feels quite festive.  It really doesn't take much to add a touch of Christmas to a small space and I love how it has all come together.
Wishing you a great week ahead friends!  We're starting ours with snow that fell overnight.  It was definitely beautiful to see our first snow in Raleigh, especially before Christmas.  It's not something we're used to.
So beautiful!!
These pictures I took when I woke up this morning.  I wanted to get them as fresh as I could.  Because now it's turning into a slushy mess, but it was definitely pretty while it lasted 🙂