Happy New Year friends!!  How has the first week of 2018 been treating you?  Well if you're on the east coast then the answer is bone chilling cold!! Oh man.  We here in Eastern North Carolina got our first snow of 2018 this week and even before the snow came we've been experiencing really cold days.  To put it in perspective, the kids went back to school on Tuesday January 2nd and got out before noon on Wednesday and have been out of school ever since.  Today as I type this post it's Saturday and we're not supposed to get out of freezing temps until Monday.  I'm looking forward to the warmth of 42 degrees.  And I'm looking forward to getting out of the house.
*this post may include affiliate links, you can read more about that by reading my Disclosure post*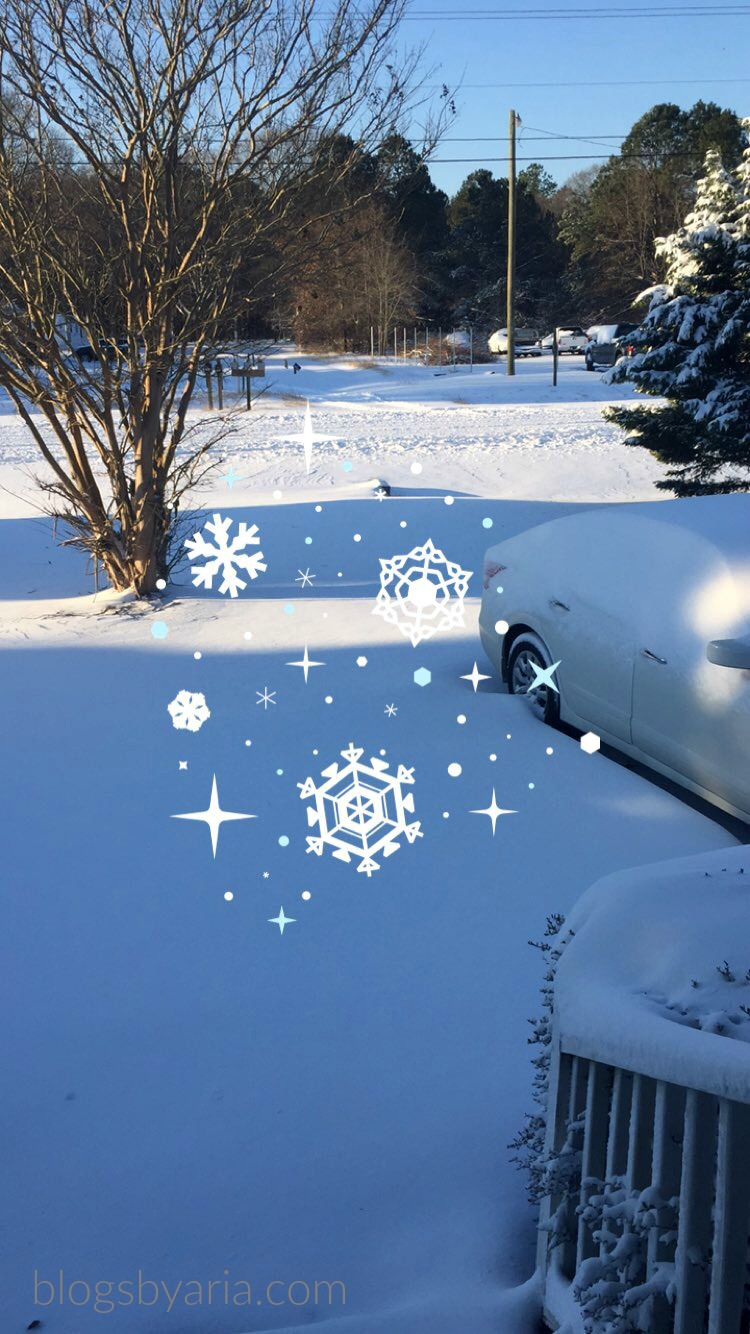 I took a couple of pictures when we woke up on Thursday morning of the fresh snow for InstaStories.  We got about 4 inches according to the weatherman and according to my daughter's measurements we got 6.  I'll take their word for it because I haven't stepped foot out there.  And don't intend to at all.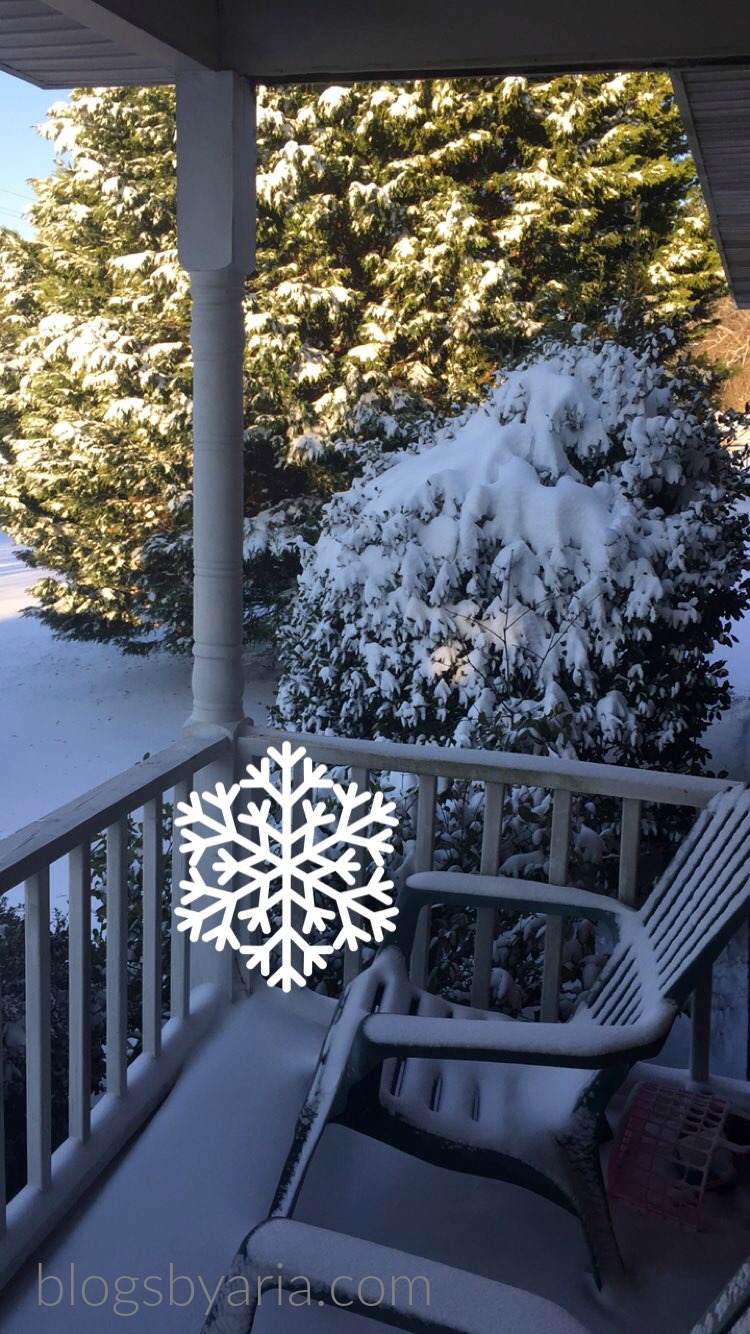 Moving on from the weather, I wanted to share a round up of my Holiday Planner Spreads.  I love my planner spreads in December the most because they're all so festive and fun.  This time around it turned out to be an almost all Little Miss Paperie December.  Which wasn't planned.  But I didn't shop early enough to take advantage of a few other shops I like for holiday spreads and one of them didn't put out a Christmas kit at all so I worked with what I had.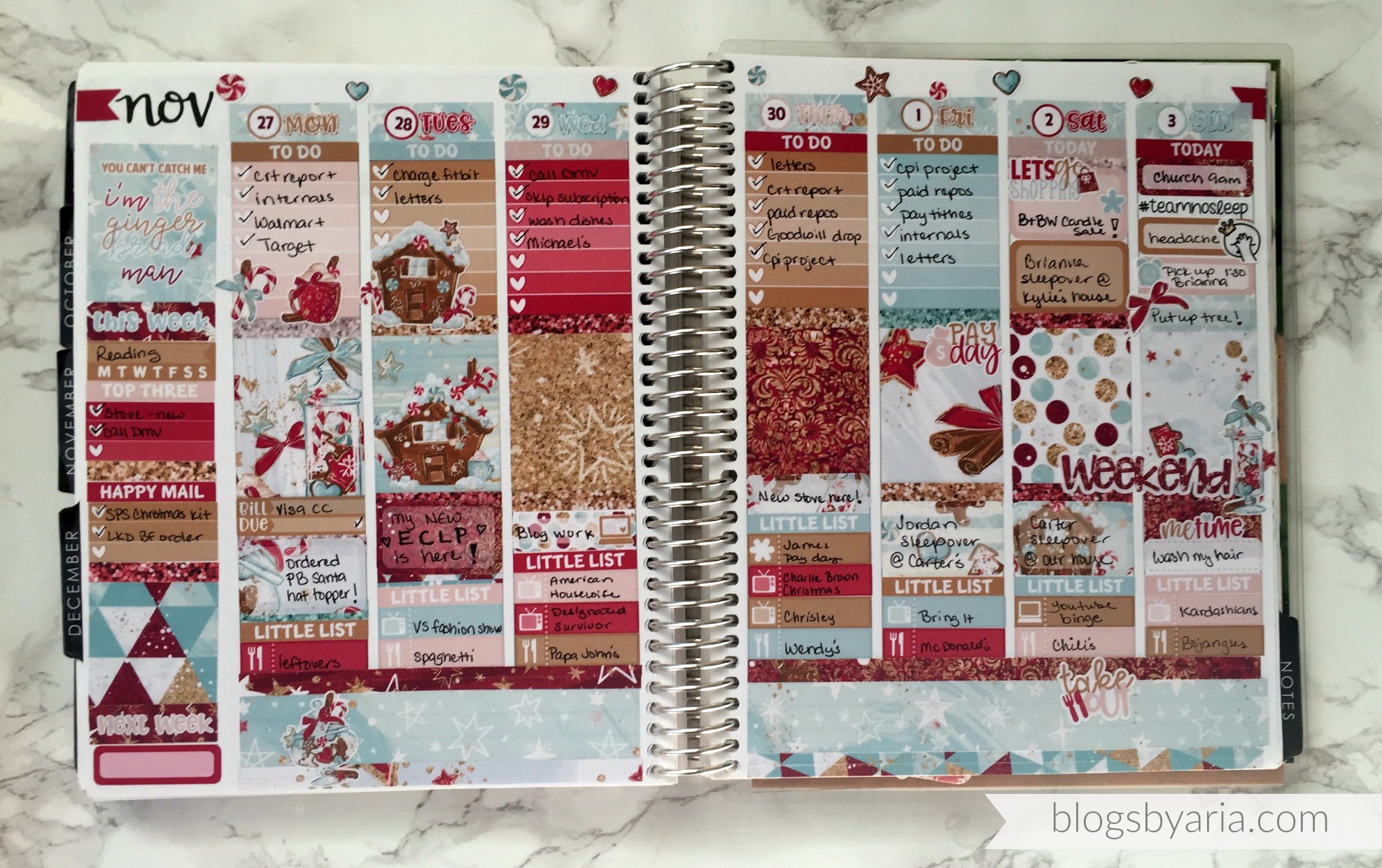 Starting with this gingerbread house themed kit.  I wanted to transition into December festive but not full out Christmas and I think this spread did the trick.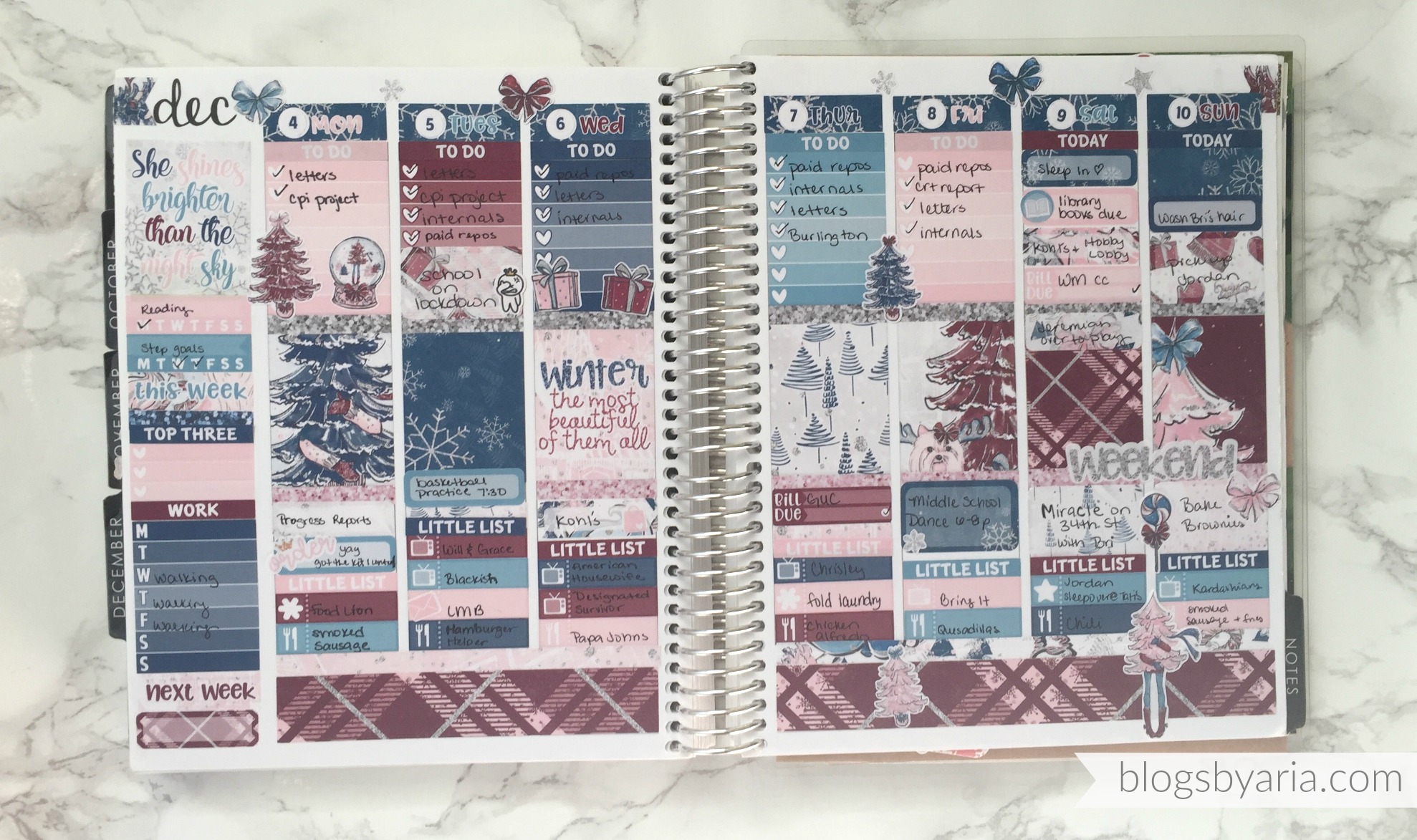 This following week I used a kit called Cozy Winter.  I liked the introduction of the Christmas trees but that it wasn't too traditional holiday.  I feel like this was the week when everyone in the South was getting snow except for us.  Not that I was jealous, because I don't want snow in December when I'm running low on my PTO balance! 😉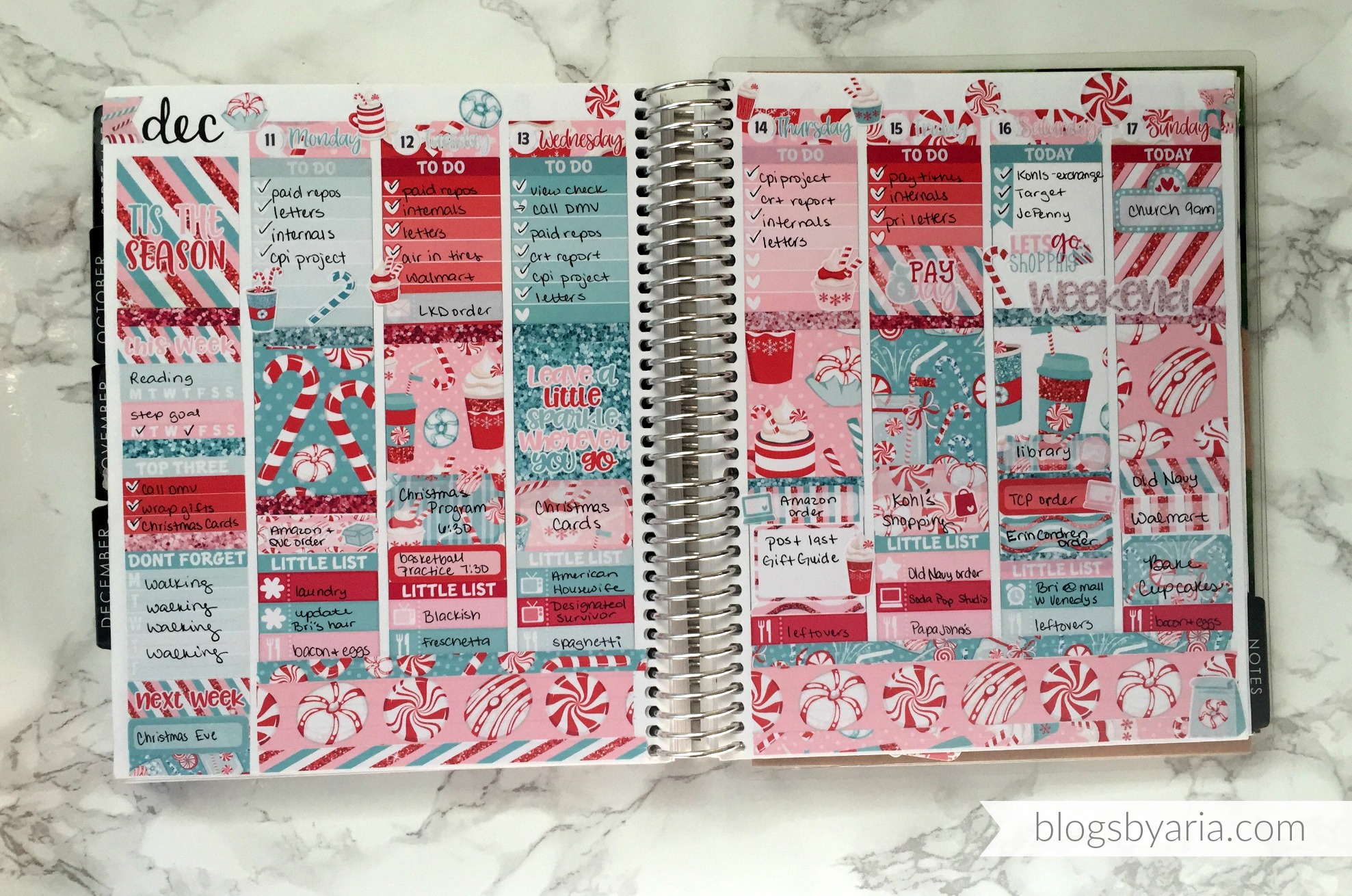 This is the Peppermint kit by Little Miss Paperie.  I used her 2016 version of this kit in my previous planner and I want to continue next holiday season if she continues to make them.  It has the festive colors but is more candy cane and peppermint mocha themed.  I'm actually surprised I didn't get a holiday cup from Starbucks because I didn't get a coffee from them this season.  Kinda crazy to me.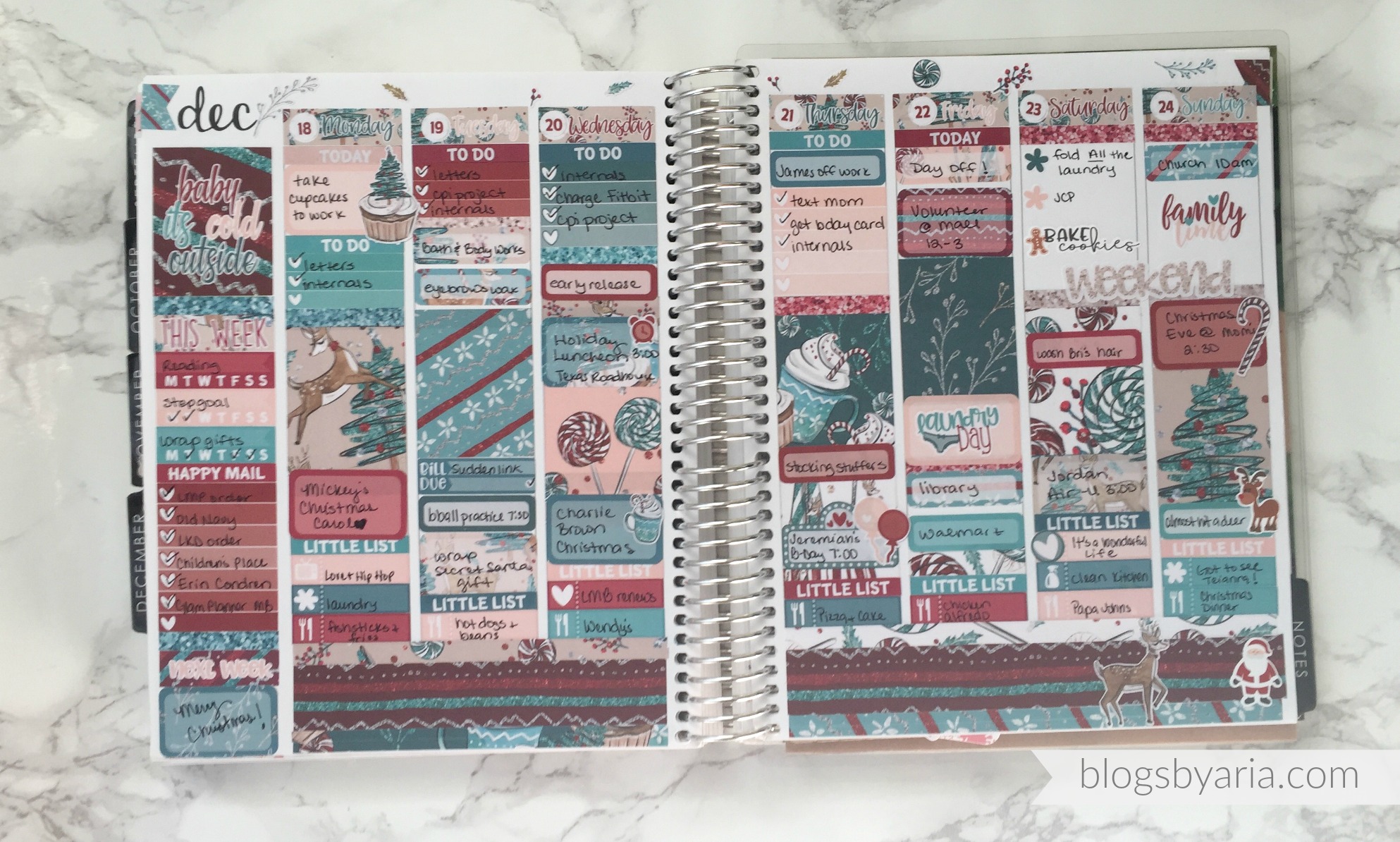 This is my last Little Miss Paperie spread for 2017.  It's the Winter Wonderland kit and I was actually really glad to get this.  Because I couldn't find other kits that I really liked or would get in time from other shops I saw that this kit was still available as final stock on LMP's site.  This kit was originally offered in July for a Christmas is July sale and I didn't grab it even though I liked it.  So I was grateful to get it in time so all of my December spreads were holiday themed.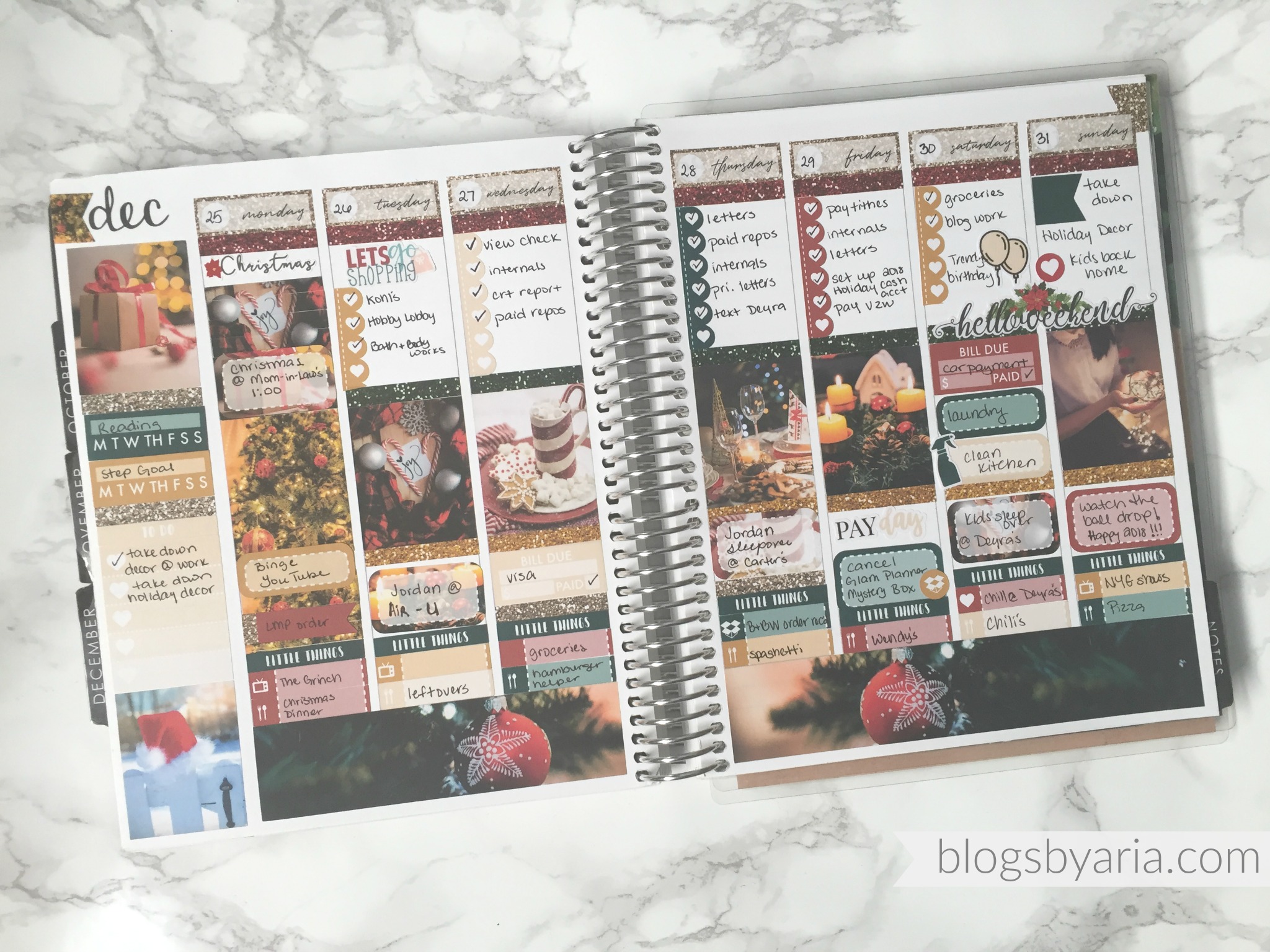 Finally the week of Christmas!  I was searching on Etsy for a Christmas kit and I fell in love with this one.  It's my first time using a "photo" kit versus a clip art/traditional kit.  In 2017 the photography kits have taken the planner world by storm and I was intrigued but hesitant to try one.  But I fell in love with the bottom washi and the full box of the Christmas tree and I knew this kit was for me.  It's by a shop called Sapphire Paper Shop.  What do you think of this photo kit?  I can see that I'll be adding a few photo kits in my planner this year.
That wraps up my Holiday Planner Spreads and my final spreads in my 2017 Erin Condren Life Planner.  As I was coming to planning those last couple of weeks I got a little sad that my time in this planner was coming to an end.  It's so strange because on one hand it's just a planner right?  But it's a year of my life contained in a planner.  A year of highs and lows and milestones.  Weird huh?  Anyway I thank you and appreciate you for following along with me on my journey.  Here's to amazing things to come in 2018!!!
Get $10 off your Erin Condren Life Planner here!
Get 10% off your first purchase at Little Miss Paperie here!