It's mid-to late-month and I am just now getting around to posting my June monthly planner spreads.  I blame Netflix.  There, I said it.  I'm on season five of Orange is the new Black so there.  I also blame working.  It's been a rough few weeks and I just want to lay down.  But enough of that, let's get on to the spreads.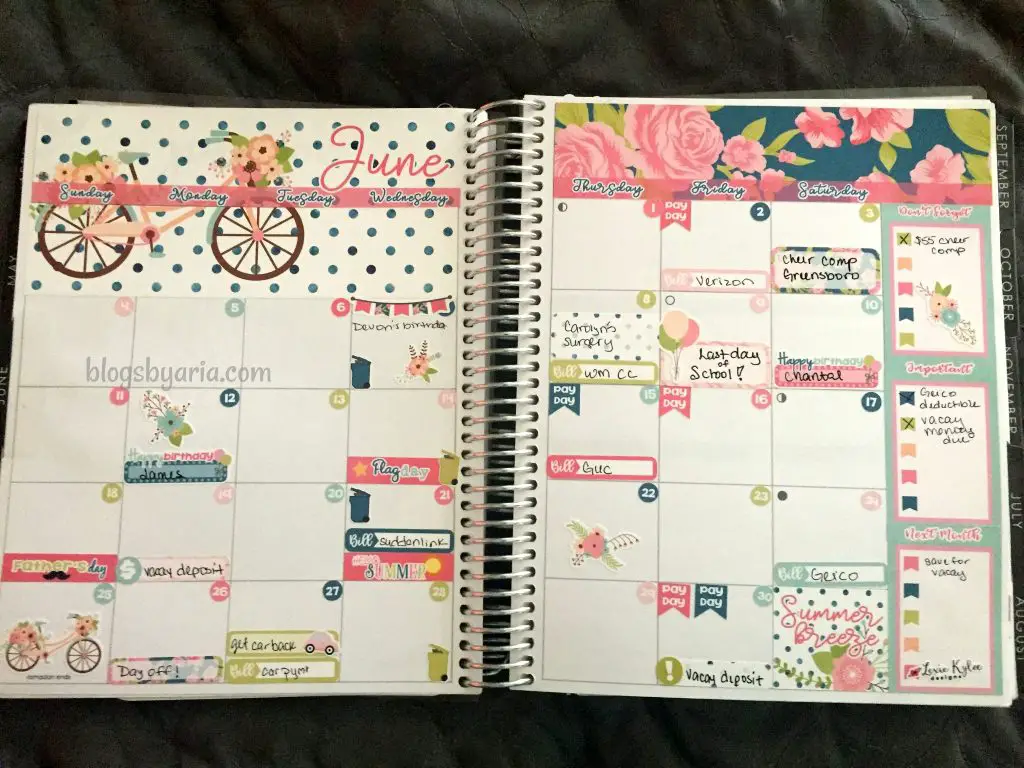 I really love this monthly kit for June from Lexie Kylee Designs.  I've shared before how much I love using her kits for my monthly spreads.  Her kits are both functional and beautiful.  I've already purchased her August and September monthly kits.  Not only do I love her kits I love how fast I get them.  She is in Michigan and she used to live right here in North Carolina and I swear I get her kits so fast as if she still lived 15 minutes away.  She's just awesome!
If you want to get a taste of Lexie Kylee Designs you can use this coupon code MORELKD for 10% off your order.
This first spread shows the end of May going into the month of June.  Since I'm behind with writing this post it's kinda weird to look at a time when the kids were still in school.  This kit was the May Little Misstery Box from Little Miss Paperie.  Brittany is my absolute favorite sticker shop, as I'm sure I've stated before.  There wasn't much going on this week other than Memorial Day and Brianna's last cheer competition in Greensboro.  The road sticker on Saturday is from Stickerific.  I get a lot of basics like this from her shop.  The sleep in and retail therapy stickers are from Lexie Kylee Designs.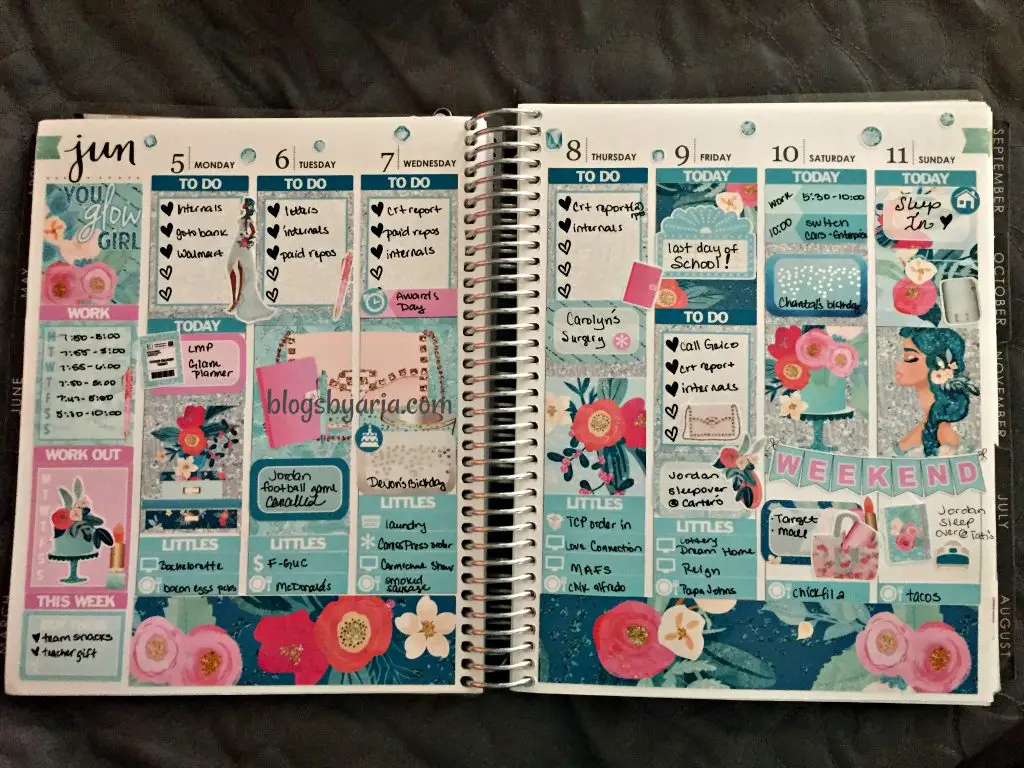 This next kit is a glitch kit from Glam Planner.  I shared before how I love Elle's kits.  I've started buying more and more from her.  I used to think her kits were pricey.  But to be honest, not much more than what I pay at Little Miss Paperie.  Glam Planner only does glossy kits and I buy mostly matte kits from Brittany, but I've started buying a few glossy kits from LMP from time to time and they're equal in price to Glam Planner.  From time to time most shops will have glitch or oops sales.  Which means something may be a bit off from the kits that they deem pretty much perfect.  Well I can't speak for every sticker shop but I've purchased a few glitch kits from Glam Planner and they're always great and I get a discount.  This kit is a glitch kit.  It was basically a regular kit to me.  This kit is called Ethereal Glow.  I really love the colors.
The confetti boxes are perfect for birthdays and they are from Simply Watercolor Co.  I'll share more about her shop in a future post because I just ordered a cute fall kit from her that I'm excited to get.
I  realized when I was editing the pictures that I was missing a week.  Which is okay. There wasn't much going on that week.  If I can remember I'll add it later.
This next kit I used the Paradise Kit from Little Miss Paperie.  It gave me my first taste of her glossy stickers.  And I'm in love.  I got this kit on sale so most of it is glossy but the washi is matte.  I didn't get ombre heart checklists when that's my preference but I don't mind using the heart checklists, especially when I didn't have a ton going on this week.
*there's another PBC sale this weekend where you can get 25% off at Little Miss Paperie!!!  Find out more info about the sale here. *
So that's my June monthly planner spreads round up.  I debated sharing my last week of June going into July but I'll save that for next time.  It's easier for me to remember what I have and haven't shared that way.  Even though I haven't posted most of what I've wanted to lately I haven't forgotten.  New posts are coming your way.  Anyway, I always appreciate you spending time with me today.  Until next time friends!!