Are you on HauteLook?  Have you heard of it?  If not, let me clue you in.  It's a website that has major sales events on tons of brands. From makeup, to clothes, to home designs, to travel.  By becoming  a member you get the insider scoop so to speak on sales events.  I learned about it from Youtube, so I signed up over a month ago.  Nothing has come out that caught my eye, until I got the email today that NYX Cosmetics is on sale on HauteLook until 02/07/11.  Now of course, I must take a looksee.  Unfortunately, one of the items I wanted is already sold out, but there are some other things I'm looking at too.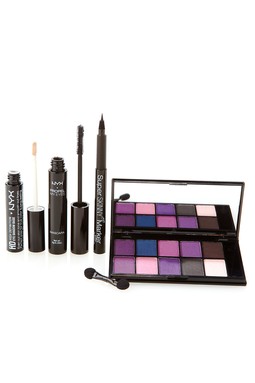 This is the Velvet Rope kit.  It comes with the 10 color eyeshadow palette in Velvet Rope, HD Shadow Base in Nude, a mascara and eyeliner.  All for $24.00 which is 40% off retail.  If you were to purchase all of these items separately the shadow base is $7, mascara is $13, eyeliner is $9 and the eyeshadow palette is $11.  That would be $40.00!!  
I'm all for a bargain, so if this is still available this weekend, I may cop it.  Some other things I'm eyeing…
Tinted lip spa set ~ $13.20 in colors Winky, Vintage, Sake, Champagne bubble. 
Base and brush set $12.00 which includes two eyeshadow bases and a synthetic brush.
What I like about these type of sales from HauteLook is that it gives you a chance to try out a brand that you may have been interested in.  For example, the tinted lip spas are something I've wanted to try from the brand, so to be able to get several colors at a reduced price is pretty sweet.  I already love the brand NYX so for me this is just great.  You should definitely check out NYX and invite your friends to do the same.  For every friend that joins you, you get a $10 credit!