Oh happy day!!! I'm so beyond excited to finally share with you our new couch!!  I've mentioned before that our old sofa had seen its best days and I knew that it was time to upgrade to a new couch.  Earlier in the summer we went shopping for a new sofa and I showed you my top contenders.
Today I'm sharing with your our new couch and love seat in our living room 🙂
*this post includes affiliate links for your shopping convenience, you can read more about affiliate links by reading my Disclosure*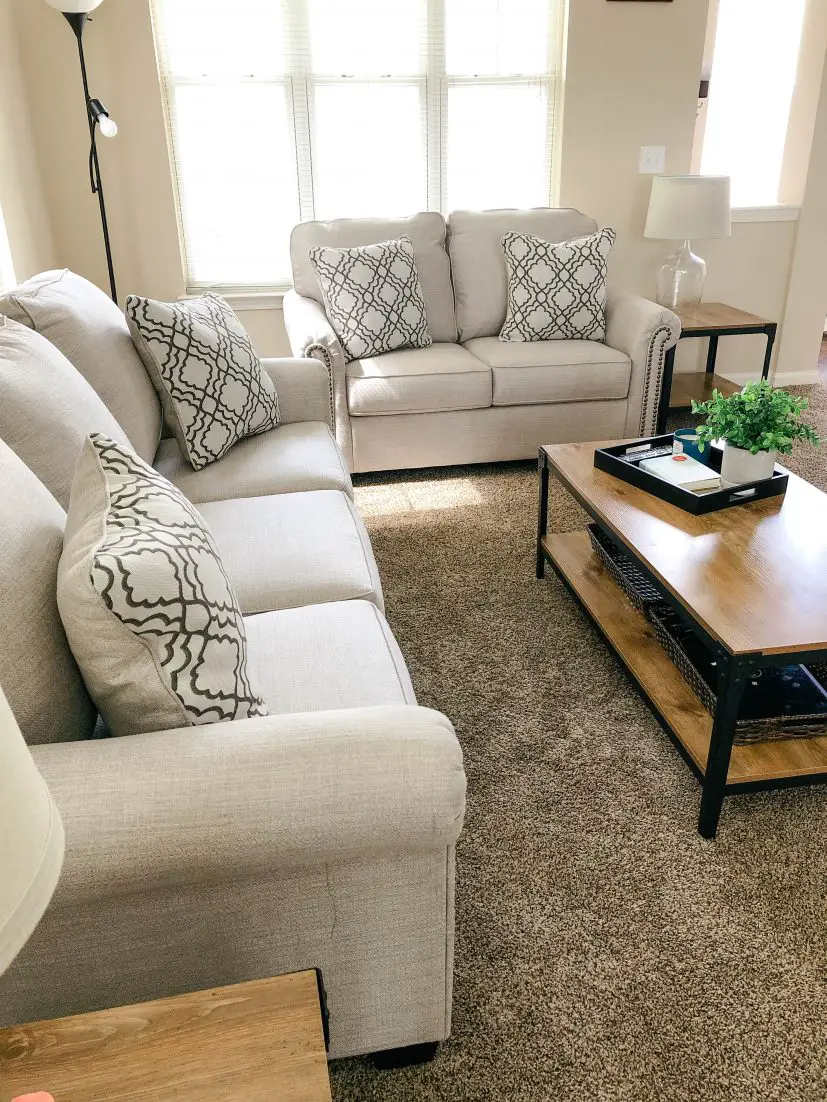 We chose the Ashley Furniture Farouh Sofa and Loveseat. (That's not a mark by the way, it's a string I didn't see until now)
When I first decided that I wanted to buy a new sofa I was thinking I would just buy the sofa and keep our chair that went with our old couch for a while.  But then I realized that I was leaning more towards lighter gray and linen colors for the new couch and that wouldn't work with a brown chair.  So I decided I'd get both a sofa and love seat.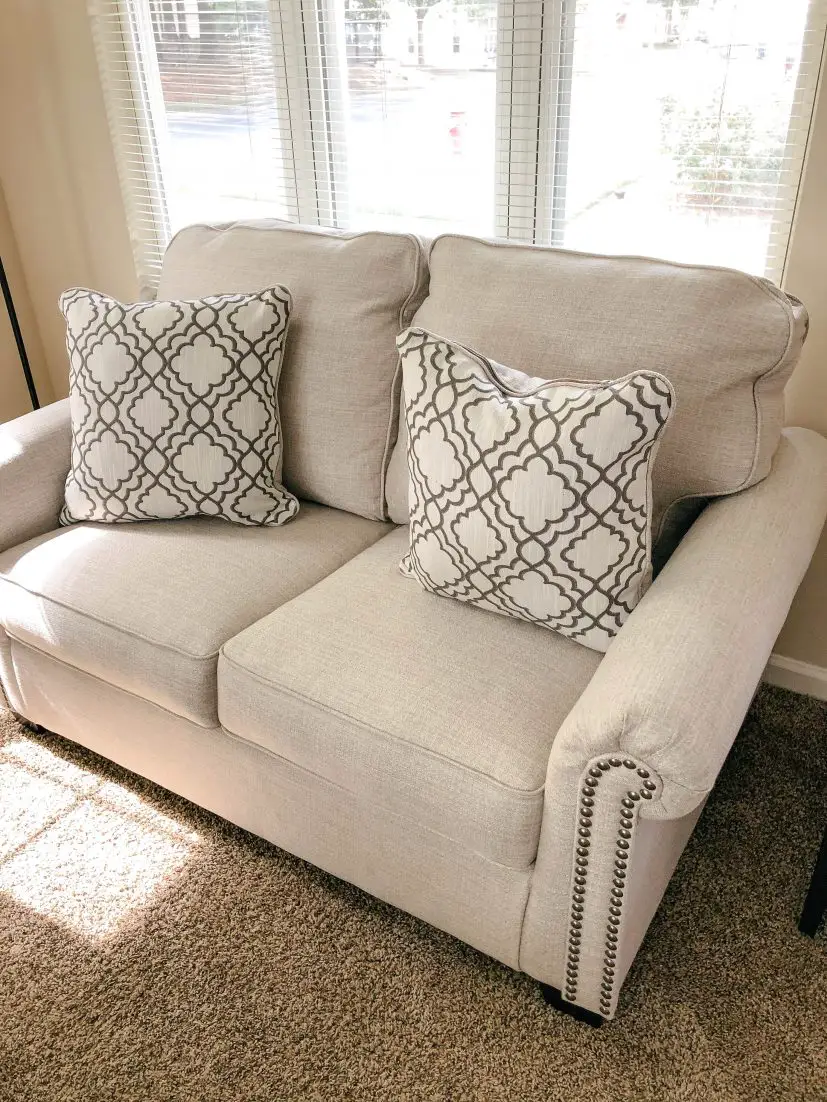 The Farouh Sofa from Ashley Furniture wasn't my first choice…until I saw a customer photo on their website.  I'll be sharing a picture on the site as well because for many new items I got for my home, the customer photos made such a huge difference for me in my decision making.  The lighting in the showroom can change how the color appears in regular lighting.
I also found a couple of pictures on Instagram and YouTube of the Farouh Sofa (not reviews, I just spotted them in videos/pics) and new this was the best choice for us.
I couldn't be happier with my decision! 🙂  Our old couch had lost all of its support and even more than I love how pretty my new sofa is, I love how firm it is.
lamp | coffee table | baskets
In addition to our new couch, we also have a new coffee table.  We actually got the coffee table about a month or so ago.  I've wanted it for over a year but the price would go up and down and the colors I wanted would go in and out of stock.
The color I originally wanted was a darker walnut finish and it hasn't been in stock in over a year.  This is the barnwood finish and it's the next best option for my liking.
I saw that it went on sale and I got a coupon mailed to me from Wayfair and I jumped on it and got a great deal on the Cainsville Coffee table.  It was easy to put together too.  I put it together myself and asked DH to help me at the very end 🙂
I currently have the medium size of these baskets from Hobby Lobby but I think I'm going to return them and get something a little deeper.  My preference is that you can't see what's in the baskets but we'll see.  I keep my laptop in them and usually my main planner since I usually work on both from the couch.
I've been trying to find the perfect tray for my coffee table for months now and I could never find anything I was in love with.  If I thought I loved it, I looked at the price and realized we weren't meant to be 😉  I picked up this simple black tray from At Home for $10.  It will work for now and if I ever do come across the perfect tray I can use this one somewhere else.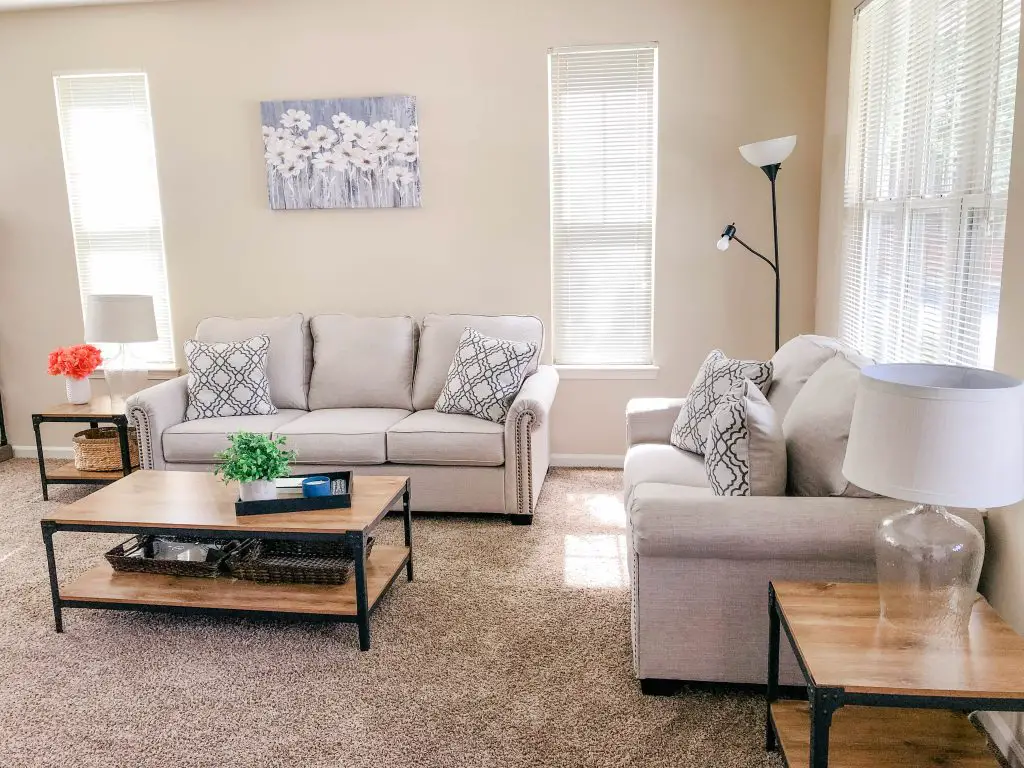 These pictures were taken on the day the sofa and loveseat were delivered so they're fresh.  The back cushions are very plump at the moment but I know that over time they'll look more natural.
Once I got the Cainsville Coffee Table in my space I realized that my Logan end tables didn't quite look right.  I also started to feel that adding decor to the end tables didn't look right, it was too cluttered.  So I made the decision to keep an eye out for a good sale so I could order the matching Cainsville end tables.
Low and behold I got another coupon in the mail, this time from Birch Lane, in the Wayfair family of brands and I decided to go ahead and get the side tables.  They were on sale for the Labor Day holiday and I got an extra 10% off with my coupon.  I'm so glad I got them!
MY THOUGHTS ON ASSEMBLING FURNITURE
The side tables were even easier for me to put together.  Although that may be because I had already experienced assembling the coffee table.  One thing I've learned in my marriage is that my husband hates putting things together like this.  I actually don't mind it so much so it works out well when I get a few things that need assembling.
Also, when we first got furnishings early on we got things from the furniture store that we could have got from Target or Walmart and put together ourselves.  But because he hated assembling furniture and I didn't want to be bothered with it either, we paid much more than necessary for "convenience".
Fast forward to now, the items we do still have from years ago are things we got and put together ourselves.  Ever since I learned that lesson, I have no problem putting things together and saving my money.  I'd much rather spend a few hours putting furniture together and spend less on it and feel accomplished afterwards.  Those are just my thoughts on assembling furniture.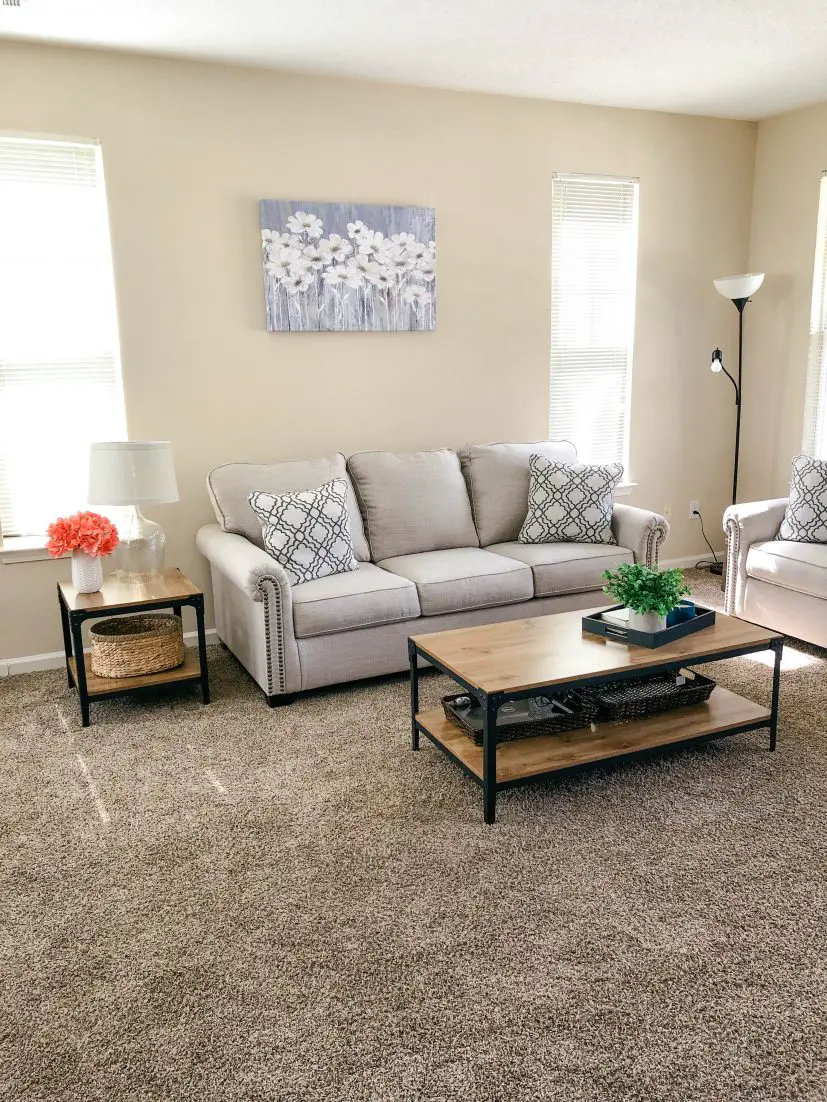 WHAT'S NEXT
Now that I finally have my new sofa, loveseat and coffee table set I am so close to being finished with the main decor pieces for our living room.  I'll share soon that I have a couple of other new furniture pieces and I love them.  But that's a story for another day.
In the meantime I really want to replace my floor lamp.  However I'm in no rush.  But I do want to share what I've had my eye on…because you know me, it takes me months to make these decisions 😉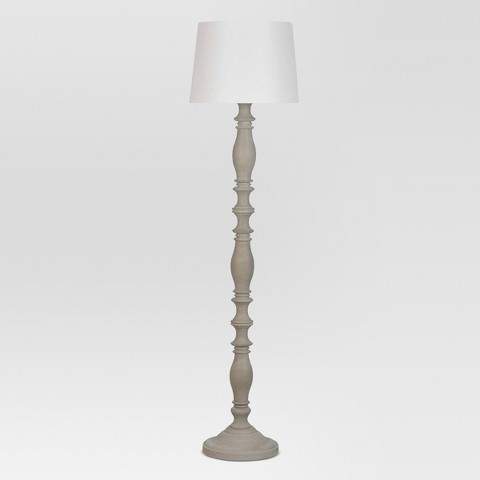 The first style lamp that caught my eye is this Turned Polywood Floor Lamp by Threshold.  I need to see it in person but from the online reviews I really think it would work in my space.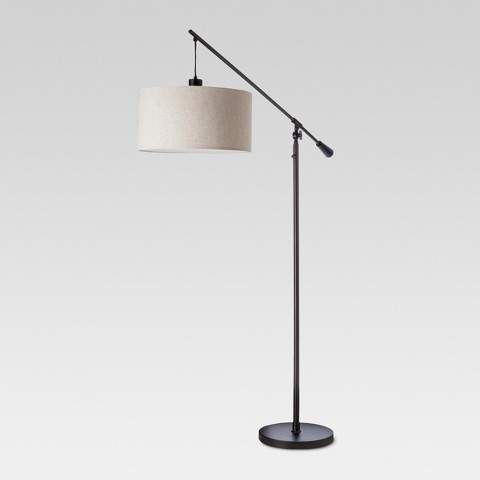 The other style of floor lamp that would work is this Cantilever Drop Pendant Floor Lamp also by Threshold.
What do you think would work best?  Leave me a comment and let me know your thoughts.
We're also going to get curtains for the main window, the one behind the loveseat.  I'll share those when I get them.  I'm 90% sure of the ones that I'm going with.
After years of not having a couch that I love I finally feel like we have an adult living space!  It feels really good.  I know many people have nice furnishings when they have small children but we didn't.  My kiddos weren't terrors but they definitely acted their age 😉  Now that they're older I feel more confident in having grown up decor in my home.
All of my hard work this summer has paid off now that I finally have my new living room furniture and it feels like mission accomplished!  If you follow me on Instagram or Twitter you know that I've worked a ton of overtime this summer.  I saved up my money to be able to afford my new furniture. It was well worth it.  Now bring on the fall decor!! 🙂