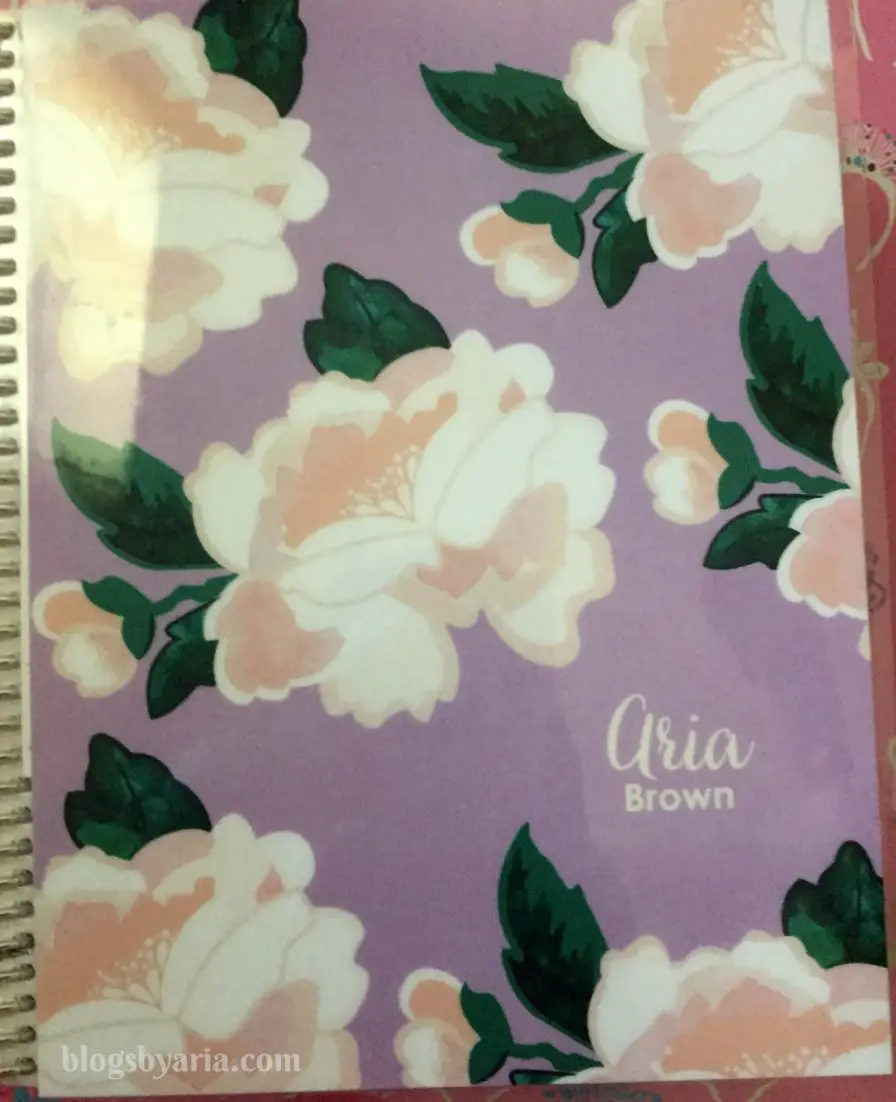 Hey friends!  Today I'm sharing with you all of my planner spreads from the month of April.
Let me start with this beautiful planner cover from Erin Condren.  One of the things I really enjoy about the Life Planner is the interchangeable covers.  I got an email one day from Erin Condren about a sale on their planner covers.  In one of the pictures it showed a couple of variations of this Blossom planner cover and when I saw the lilac colored one I was in love!!! So I scooped that one up!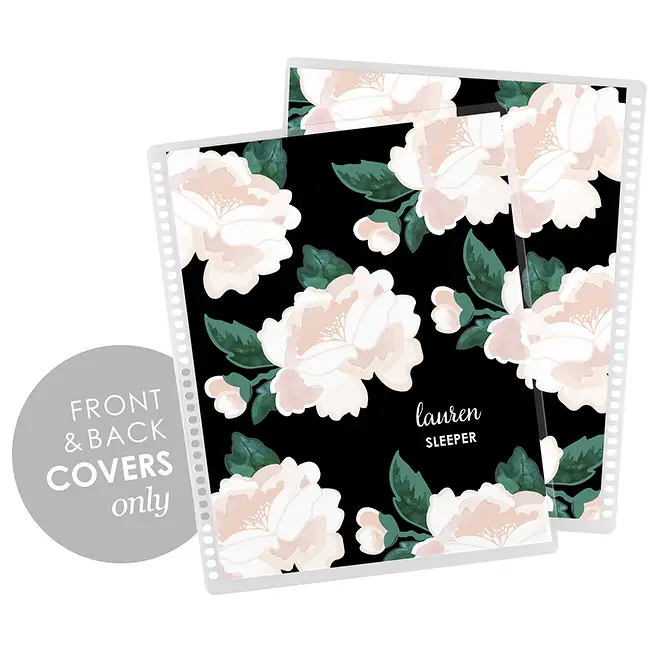 Here's what the Blossom cover looks like originally.
Next time I do this style of post I will use a blank background. (and take my pics from farther away lol smh)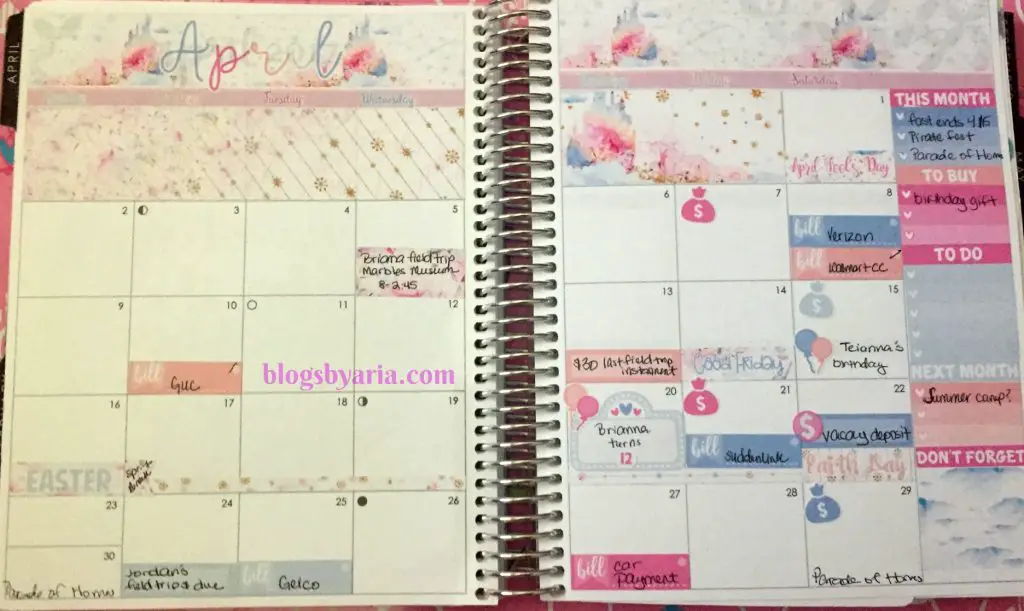 This is the second time this year I've used Little Miss Paperie (LMP) for a monthly spread.  LMP is my favorite sticker shop hands down, but I really have enjoyed using Lexie Kylee Designs for the majority of my monthly spreads. (more on that in a future post)  I always think I will venture off and find another shop to try their monthly sticker sets and yet I always come back to Lexie.  I'm more of a matte fan than a glossy when it comes to my stickers and maybe I should try a glossy set from LMP.  But what I like about Lexie, aside from the cute style is that hers are kind of like glossy but not super sticky, if that makes sense.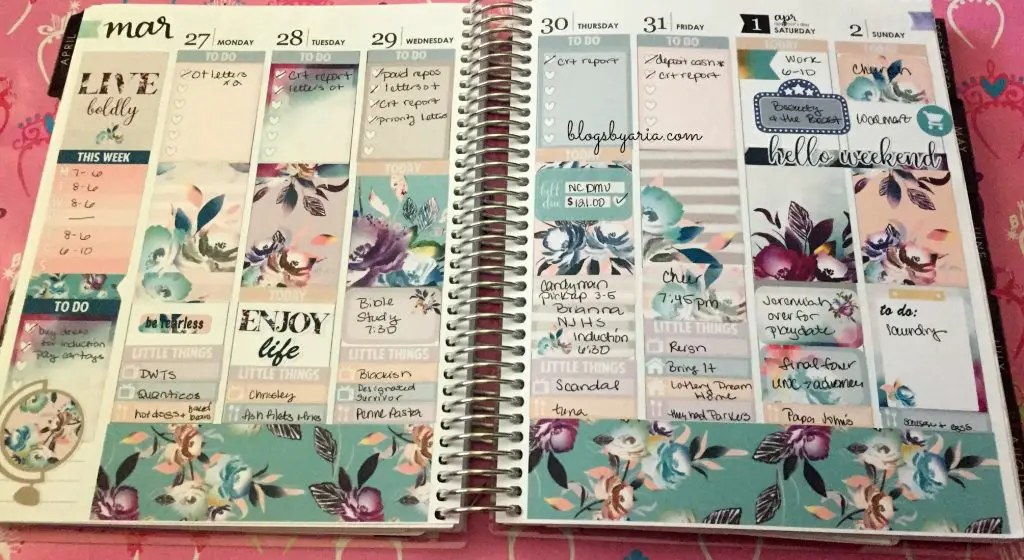 Going into April I used this Live Boldly kit from Two Lil Bees.  I fell in love with it when I saw it in her shop.  The only downside is that I get so used to a kit by LMP that when I try new shops I'm often left disappointed because some essentials that I use are missing.  I will try another kit of hers in the future and see if I can get a complete sticker set that includes everything I'm used to.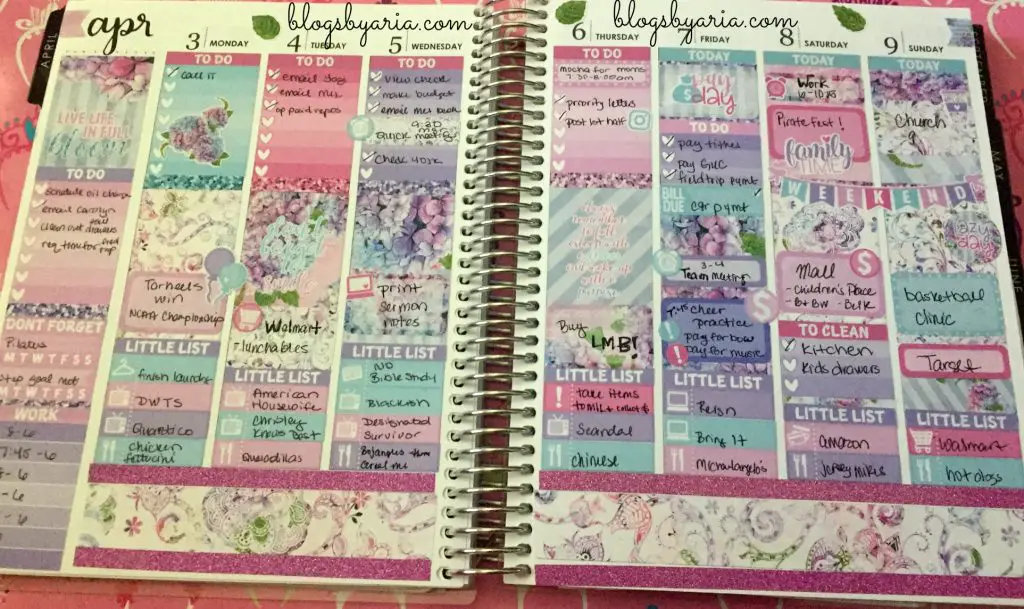 This is the April kit from Little Miss Paperie.  I just love the colors.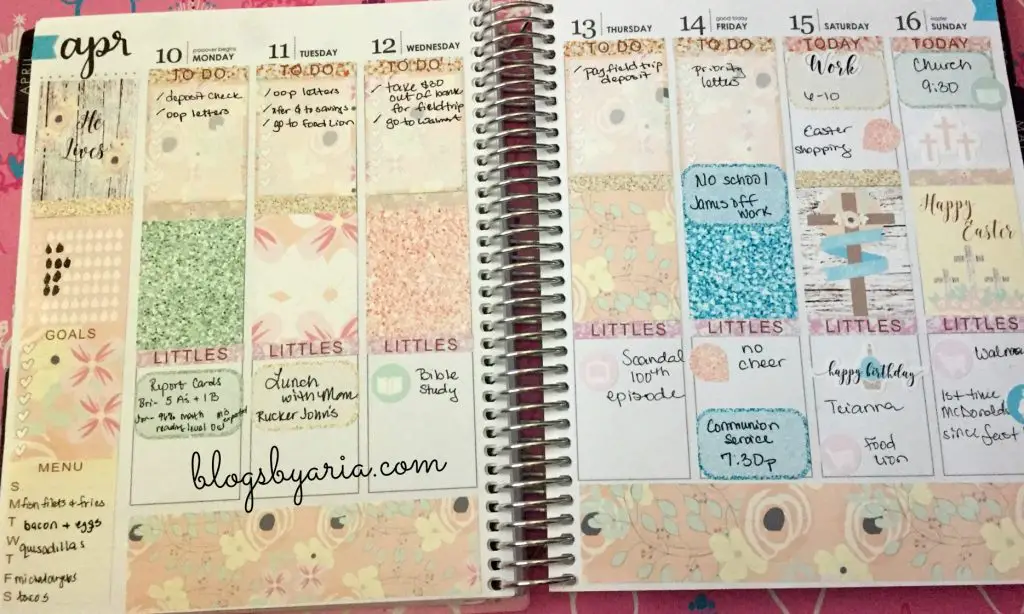 When it comes to Easter, it's pretty difficult to find a sticker kit that really celebrates the reason for the season.  You can keep your eggs and bunnies, give me Jesus.  This kit is from Allie and Alex Paperie.  It isn't a full kit to me, but it was worth it.
For Brianna's birthday week I used this kit from Caress Press.  I shared a smaller picture in this post.  I love how pretty it is.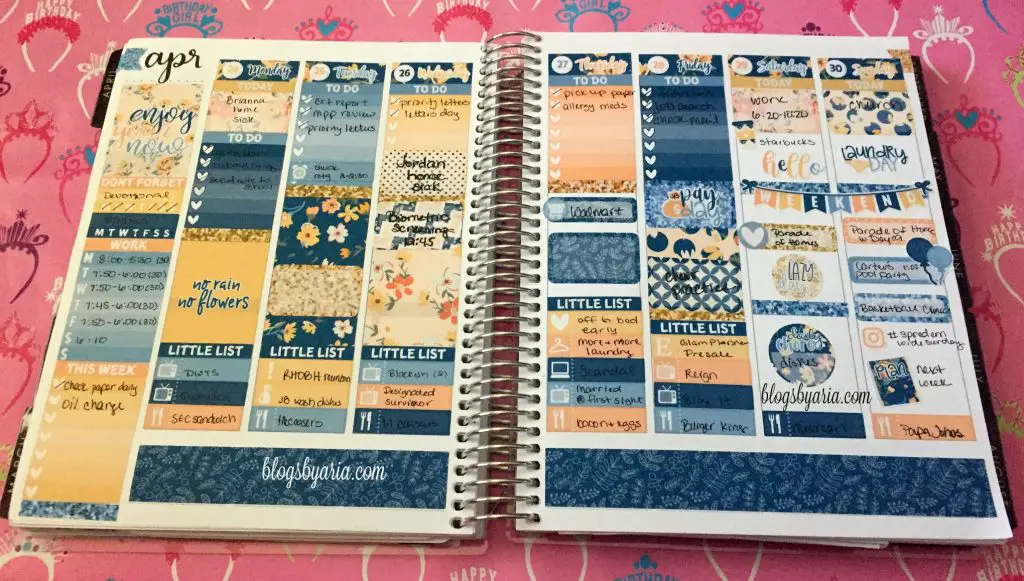 To end the month of April I used this midnight kit from LMP. I debated what kit I would use out of the kits I have and it won.  We had a lot of rain that week and even moving into the next week.  Our April showers really hit towards the end.  But hey, no rain no flowers.
As you can see, even when I move on from that week I don't always finish writing in it. #facepalm
If you are looking at any of the LMP kits I used and you like her style of stickers then use this coupon code and get 10% off your first order.
I hope you enjoyed this post and I'll be back next month with the roundup of my May planner spreads.  It'll give me a reason to neaten my handwriting!
p.s.  Happy Mother's day to all the mama's out there!! Since this post is up several days late 🙂
p.p.s. (lol remember when you wrote those on your love letters in school) Coming up next weekend May 19 9am est through May 21st 11:59 pm est you can take advantage of the PBC sale (planner boss collective)  one coupon code will be provided and you can use that at tons of participating shops.  Including my fave Little Miss Paperie!  It's an even you don't want to miss out on… check their website for more details!
*this post may include affiliate links, you can read more about that by reading my Disclosure post*