I was just online looking around the Sigma Makeup website because I'm uploading a few pics to my facebook album for a few of my favorite items.  I came across the Travel Kit in Nice in Pink and decided to do a quick post on it.  Reason being is because I have wanted this set since I originally purchased my Sigma Brushes over a year ago.  At the time I was debating between getting the classic black set or the pink set.  Obviously I chose the black set and decided that I would get the pink travel set eventually…the clock is still running on when eventually will actually occur!  But in the meantime, allow me to share it with you!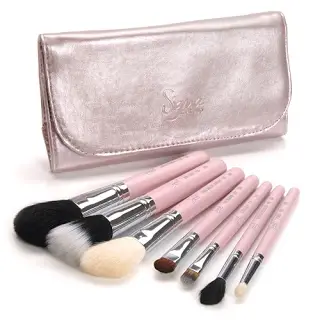 The Sigma Makeup travel kit Nice in Pink contains 7 essential brushes to achieve a flawless look on the go. Take Nice in Pink to your favorite travel destination or keep it in your purse for a quick touch-up during the day or a night out. All brushes are individually stored in a stylish metallic pink clutch equipped with a convenient pouch to carry all your must-have makeup items.  It retails for $49.00.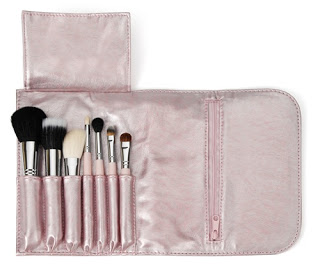 The brushes in this kit include: Pencil (E30), Tapered blending (E40), Eyeshading (E55), Large powder (F30), Large angled contour (F40), Duo Fibre (F50), and Concealer (F70). 
You can also chose black for this set, but I think the pink is delightful.  And this is one of the sets Sigma offers for travelling.  It's always good to have a travel set for your basic brushes.  If you go to the gym and have to touch up your makeup throughout the day, why not do it with quality brushes?  The same as you would in the morning leaving home?  Plus when you go away, you don't want to take your full sized brushes all the time.  If you do want to do that then one of the cute sets out like this, will be the best choice for you.  Otherwise, I can't wait to get my hands on this set!  Click here to check it out for yourself!