This weekend my in-laws came to visit and see our new house.  It was so nice to be able to "entertain" and see family for the first time in months.  You don't realize how much you miss being able to fellowship with other people until you get the chance to.  In addition to finally having company over, it was great for me to have a deadline to make sure I had everything tidied up and decorated.  Before they arrived I snapped a few pictures of our neutral family room.
Because I'm itching to decorate for fall so it won't stay so neutral for much longer.  Aside from an addition here and there, this is how I want my family room and most of my home to look on an everyday, non seasonal basis.  Come in, let me show you our neutral family room decor!
*this post includes affiliate links for your shopping convenience, you can read more about affiliate links by reading my Disclosure*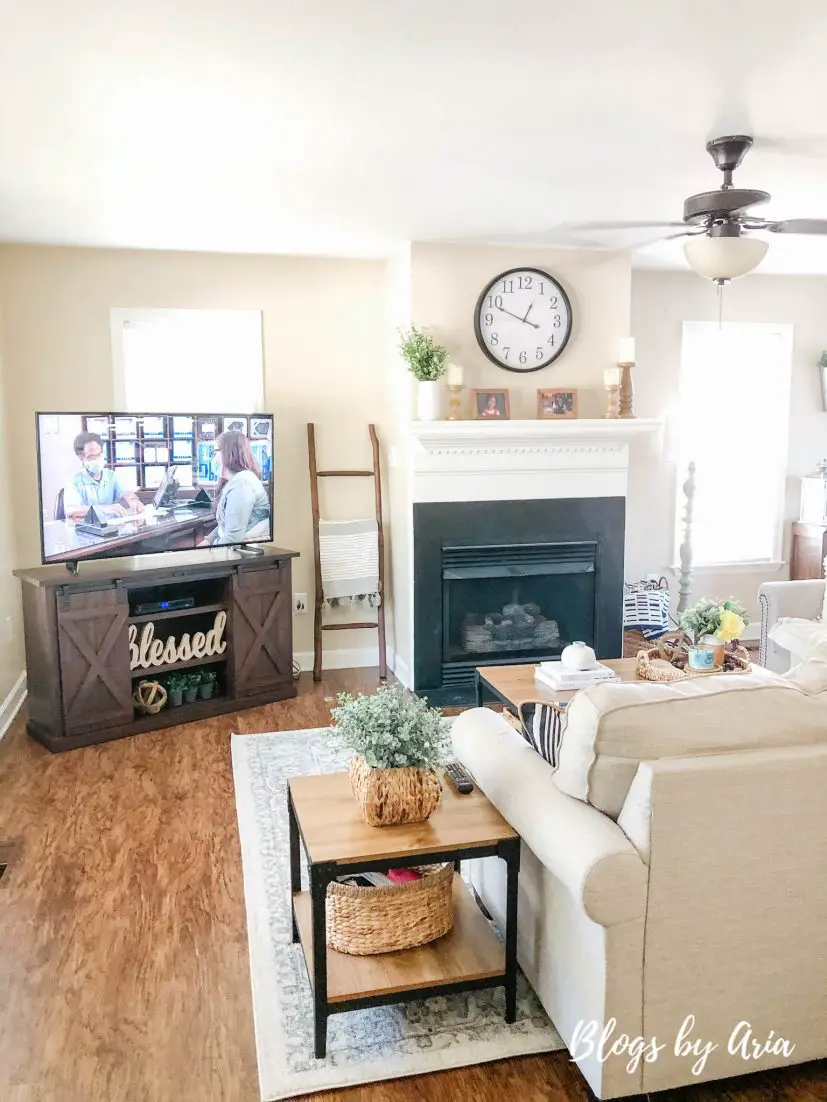 TV stand | blanket ladder | side tables | rug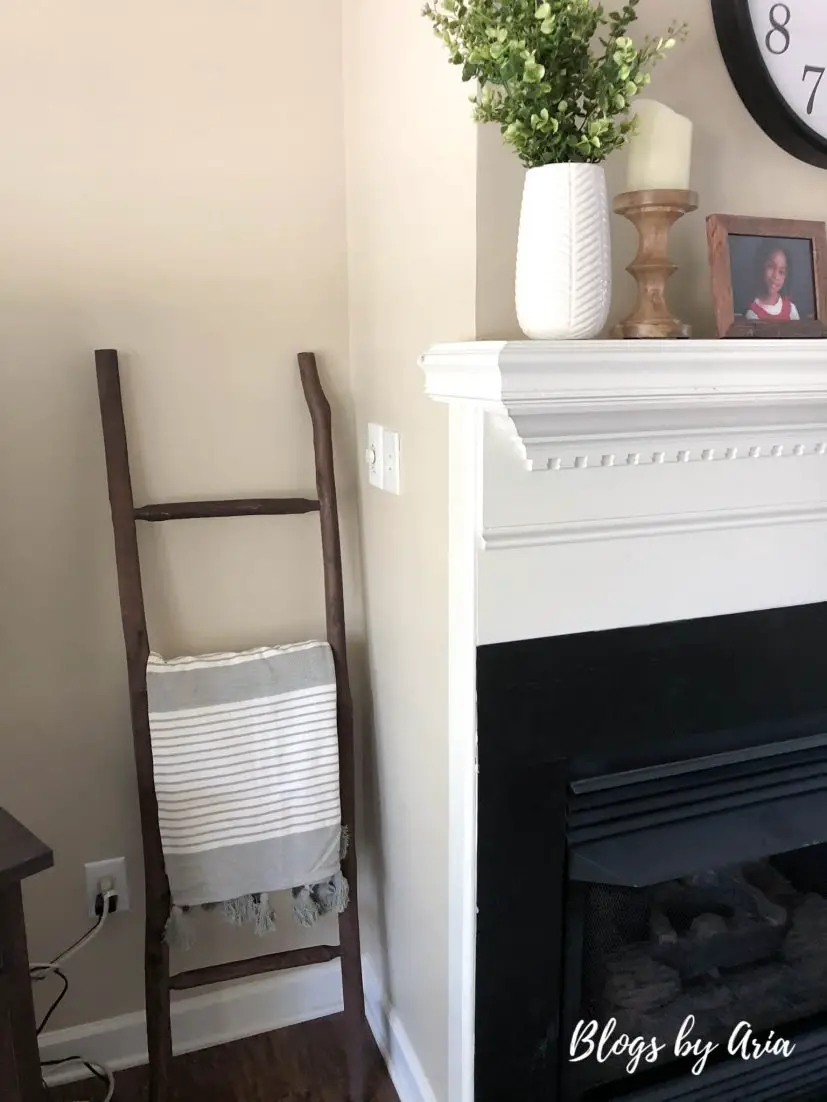 blanket ladder | stripped blanket
The newest addition to our family room is this rustic blanket ladder from Kirkland's.  This is actually the second one I've purchased.  I originally bought this leaning blanket ladder and it was a bit too narrow and the finish was too light.
I do like the taller version of this ladder but I got the shorter one on sale for $30.
Originally I wanted to get a blanket ladder to help fill this space and cover the cords from the TV.  I may end up moving the blanket ladder to the opposite side of the fireplace and putting the basket on this side.
similar clock | picture frames | flameless candles | similar candle holders
My favorite find and my favorite space is this wall clock I got from Lowe's.  I had originally planned to purchase this gray farmhouse wall clock but I was walking through Lowe's looking for something else and I saw this clock.  It was only $20!  I can't find it online but if you're looking for a large clock then go check them out.  It comes in white like I have or black and you can see it has a faint shiplap look.
Recently I purchased some 8X10 picture frames to make kind of a gallery wall in our upstairs hallway.  I loved the look of them so much that I wanted to order some 5X7 frames too.  I love the tone of the wood and the width of the frame.
I'm so excited to decorate this mantle for Fall and Christmas!  Lots of ideas are already swirling around in my head!
Right now I'm looking for the perfect wall decor to use behind the couch.  I'm really drawn to something large scale with words.  When I find it, I'll let you know but I think in the meantime I'll do something seasonal here and after the holidays I can find a more permanent piece.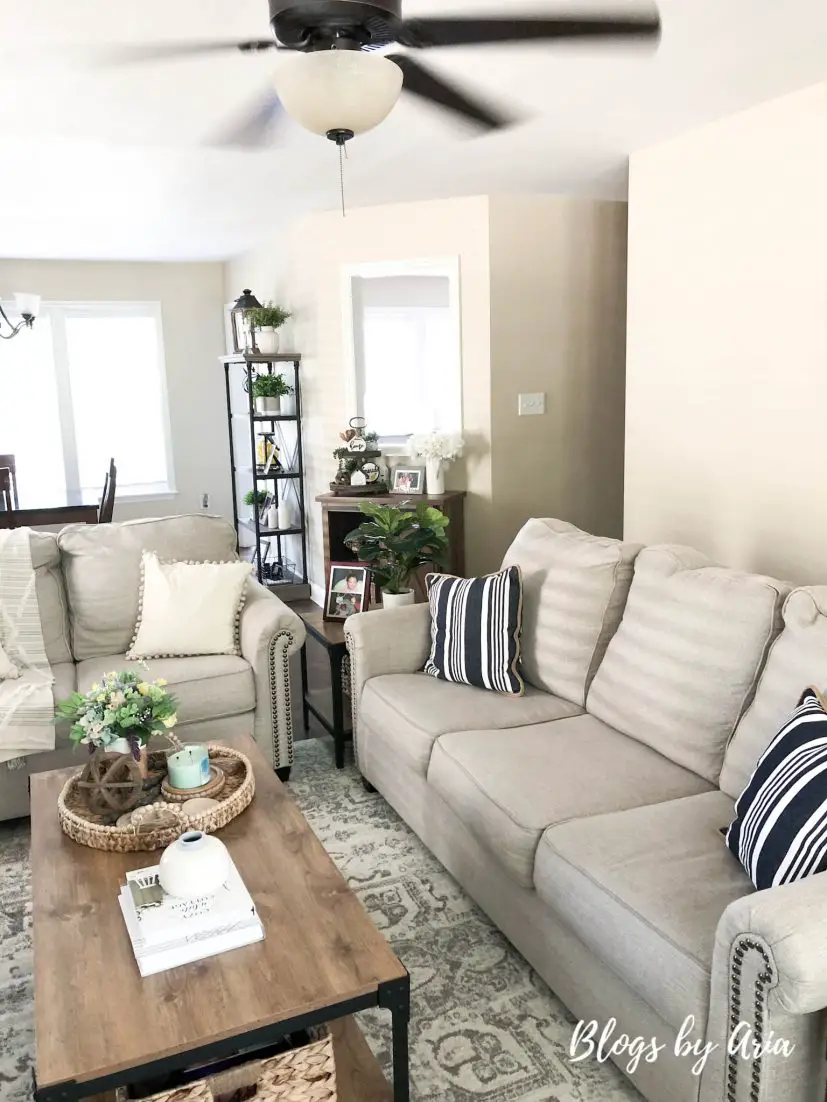 You can see that I've really kept the decor in my family room pretty neutral overall.  There's grays in the rug and throw blankets and blues in the pillows and my other throw blankets.
In general I don't go too bold with color unless it is seasonal.  I like to have a neutral base that I can then add to with color and texture.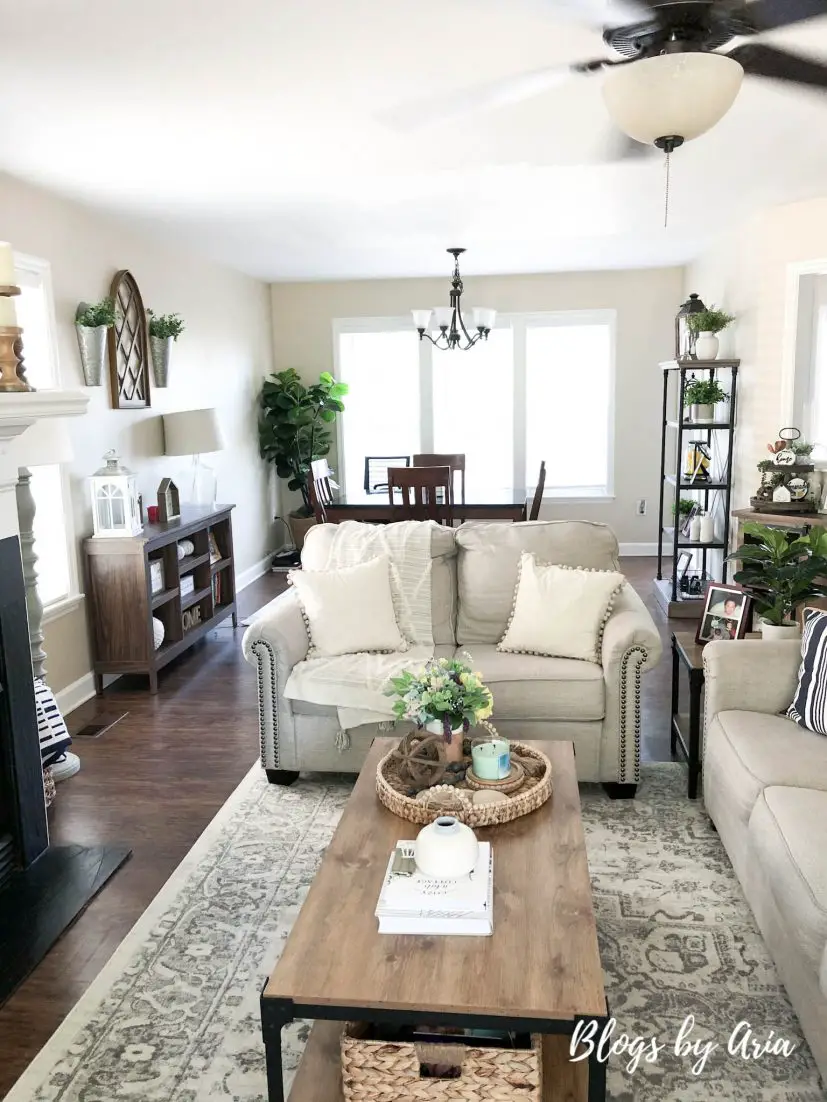 From here you can see the access to the dining room as well as the kitchen.  Although I'd love a completely open kitchen, I really like having the cutout so that the kitchen isn't completely closed off.
Looking from the dining room two things 1) I really want to add curtains.  I'm thinking they're pretty necessary even though I do love that the windows have casings.  2) I kind of want to get a narrow sofa table to go behind the love seat.  It's not absolutely necessary but I don't know, we'll see.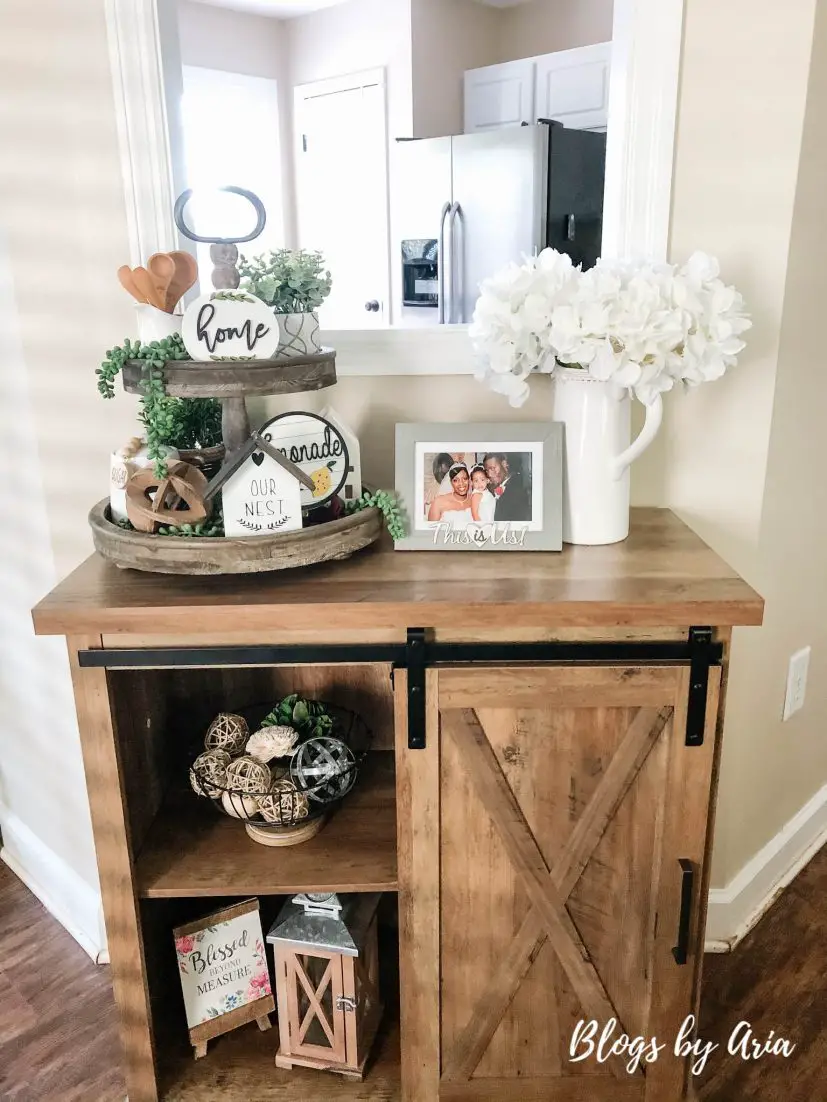 I took all of my patriotic decor down pretty quickly.  I just wanted a simple, neutral space for a few weeks before I start decorating for fall.
Then I quickly restyled my tiered tray and popped my white hydrangeas into my white pitcher, added a picture frame and voila!  I love how this turned out.
I'm not loving the shelves so much but they'll do for now.  Soon there will be pumpkins there 🙂
bookcase | lantern | glass lantern
I've been tossing around the idea of getting a side board for our dining room.  I could either put it in front of the window or where this bookcase is.  But then where would the bookcase go?  I love it so much!  Maybe the bonus room?  There's no rush.
Can you believe that my husband is not a fan of the lemons?  It's a shame I tell you!  I love the lemons but again, soon they'll be swapped out for pine cones and pumpkins!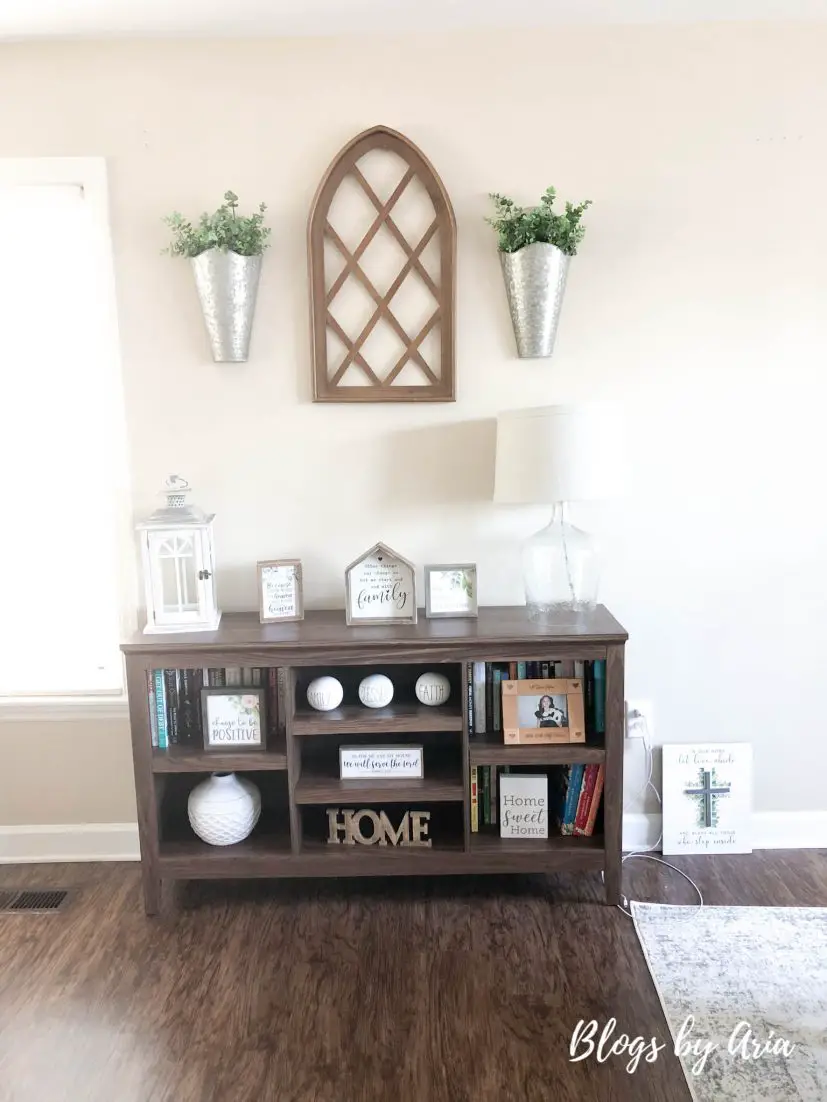 bookshelf | wall pockets | lamp base | lamp shade
As much as I love my glass jug lamps, I really don't feel like they work with the space.  I wouldn't get rid of them because I do love them.  But maybe they can move upstairs to our bonus room as we get that space decorated.
Like I said, I snapped these pics really quickly before our family pulled up.  So everything isn't perfect but it's close enough!  Hopefully you enjoyed our neutral family room tour.  If you have any questions, leave me a comment below or shoot me an email.
Even though DH complains about me decorating "too much", his family really liked it and it made him feel good and me too!  It's nice to take pride in where you live.  This is a step up for us from our last place and eventually we'll be stepping up again.  For now we are just so grateful to call this house our home 🙂
This week I'm still working on organizing our kitchen and pantry.  We're currently looking for a sectional for our bonus room.  And I'm planning out my fall decor.  (Hint: it won't be as neutral as last year)
We were able to get so much done last week, I'm so glad to have a lot of the hard work behind us.
I hope you enjoy your week!  I'll be back soon to share some more of our decorated and organized spaces.  And I appreciate you for spending some time with me today ♥
{POST SOURCES}