Ready or not the holidays are coming.  That means it's time to start thinking about Christmas decorations.  I recently went looking around at the local stores and did some Christmas decor window shopping.
This year we're finally upgrading our Christmas tree.
I thought it would be fun to share with you what I found while I was out and about.
Last year I decided I wanted to have a new Christmas tree, a new tree skirt, a new wreath, holiday bedding and kitchen decor this year.  Now the holiday bedding I'd still love to have but it's not on the priority list.  Either way, I'm sure this won't be the only holiday decor related post as I continue to shop around.
I feel like I'm already behind the eight ball as a blogger because we're mid-October and I'm not ready for the holiday season.  But I'm getting there!
The family doesn't want me to decorate when I want to decorate, which is in a couple of weeks.  But I will decorate before Thanksgiving.
Several weeks ago I was in Sam's Club looking for something particular and saw they had some Christmas decorations displayed.
*this post includes affiliate links for your shopping convenience, you can read more about affiliate links by reading my Disclosure*
CHRISTMAS TREES
First things first is finding the perfect Christmas tree.  Of course I'd love to have top of the line but for now I am looking for a nice 7′ or 7.5′ size tree.  Preferably a full or semi-full tree.  I'm looking for my tree to have over 1000 tips, over 500 lights and I'd like for the lights to be able to be switched from clear to multi-color.
SAM'S CLUB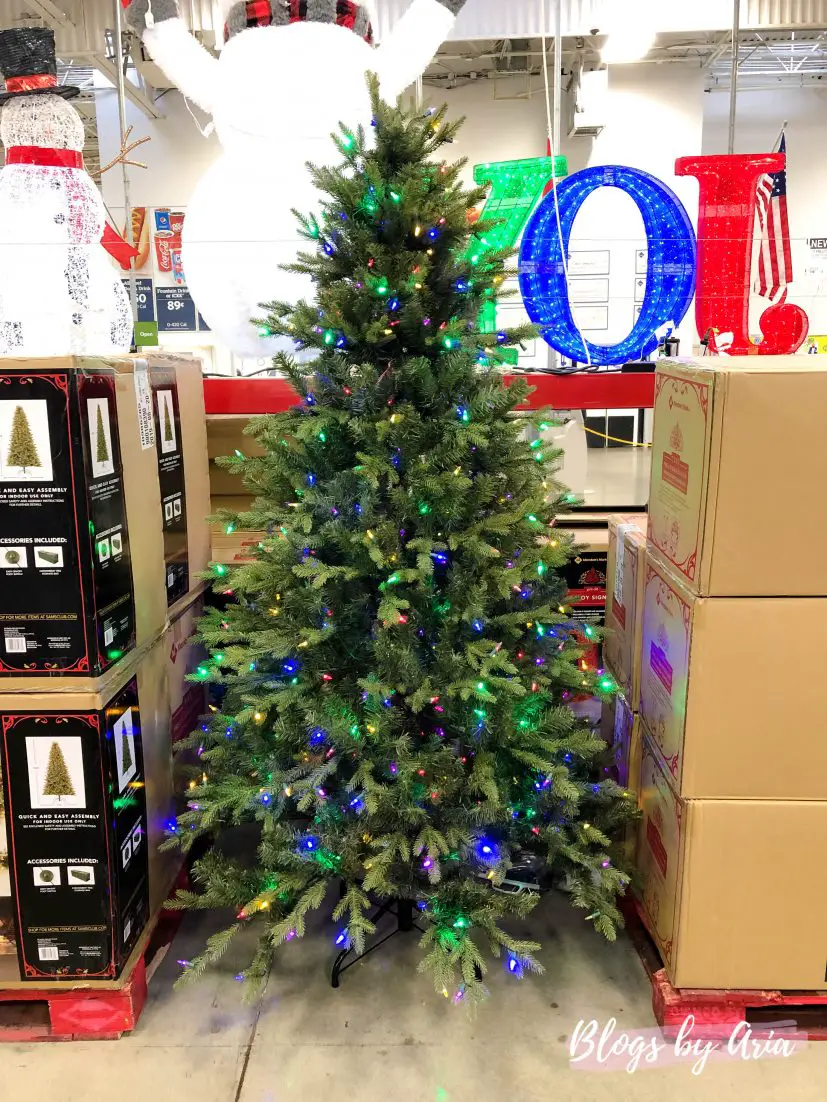 I really liked this Majestic Fir Christmas tree until I saw it after I took the picture.  In person it's beautiful.  What I don't love are the different branches.  So the outer branches are the ones you're supposed to see sticking out from the tree.  The other branches that appear more fake are supposed to be what fills out the tree so you don't see the inside pole.
And I know that the ornaments and garland will cover that but it just turns me off you know?  What do you think?
On the bright side, it does have over 2200 branch tips and 600 lights.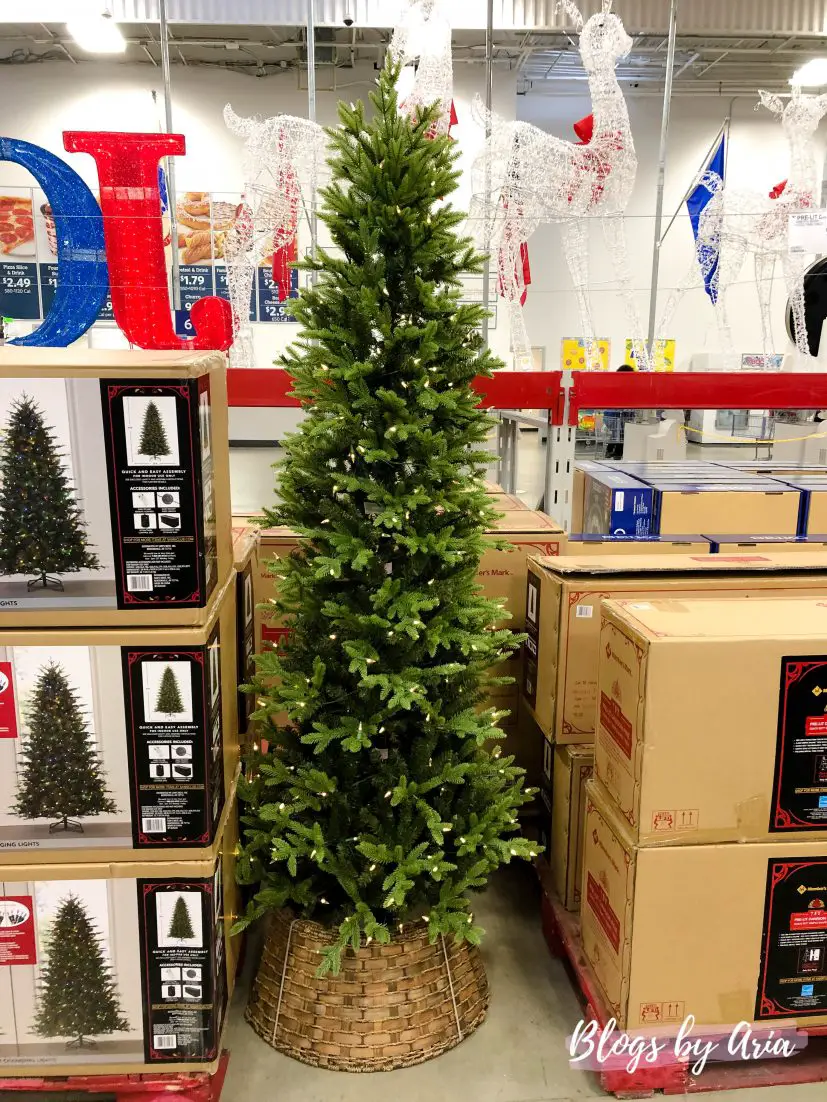 I love the branches on this 7′ Dawson Pine Christmas tree but it's a tad too slim.  It would be great for an entryway or a space where you really don't have a lot of space to work with.  Our ornaments would overwhelm this tree!
HOME DEPOT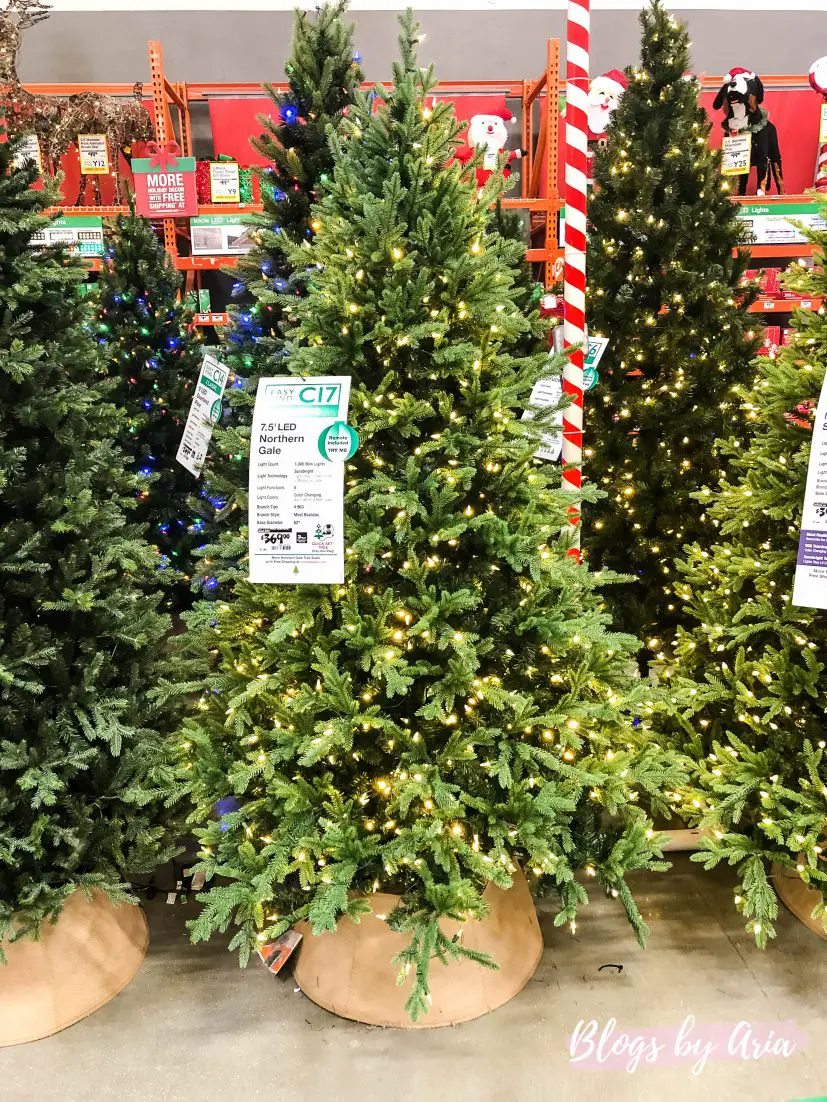 Recently I stopped by Home Depot to check out their Christmas trees.  I saw so many that I loved…that were out of my budget.  I do love this Northern Gale Spruce tree even though it's above my price point.
This gorgeous tree has almost 5,000 branches with 1,000 lights!! It's absolutely breathtaking! Aside from it being way over budget, it does seem to be a tad too full for our space either way.  Although if It was half the price I'd made it work 😉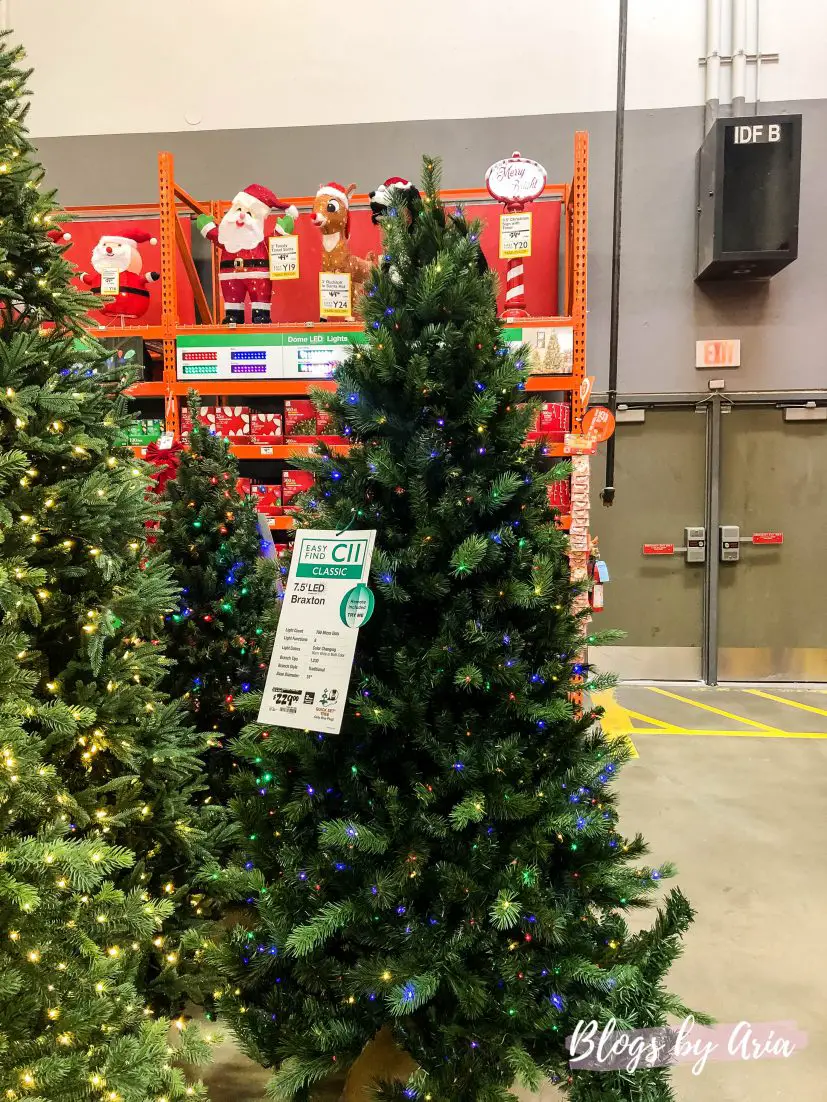 This Braxton Christmas tree is closer to my budget but still a tad over, however the stature of the tree is more in line to what I'm looking for.
It has approximately 1200 branch tips and 700 micro dot LED lights.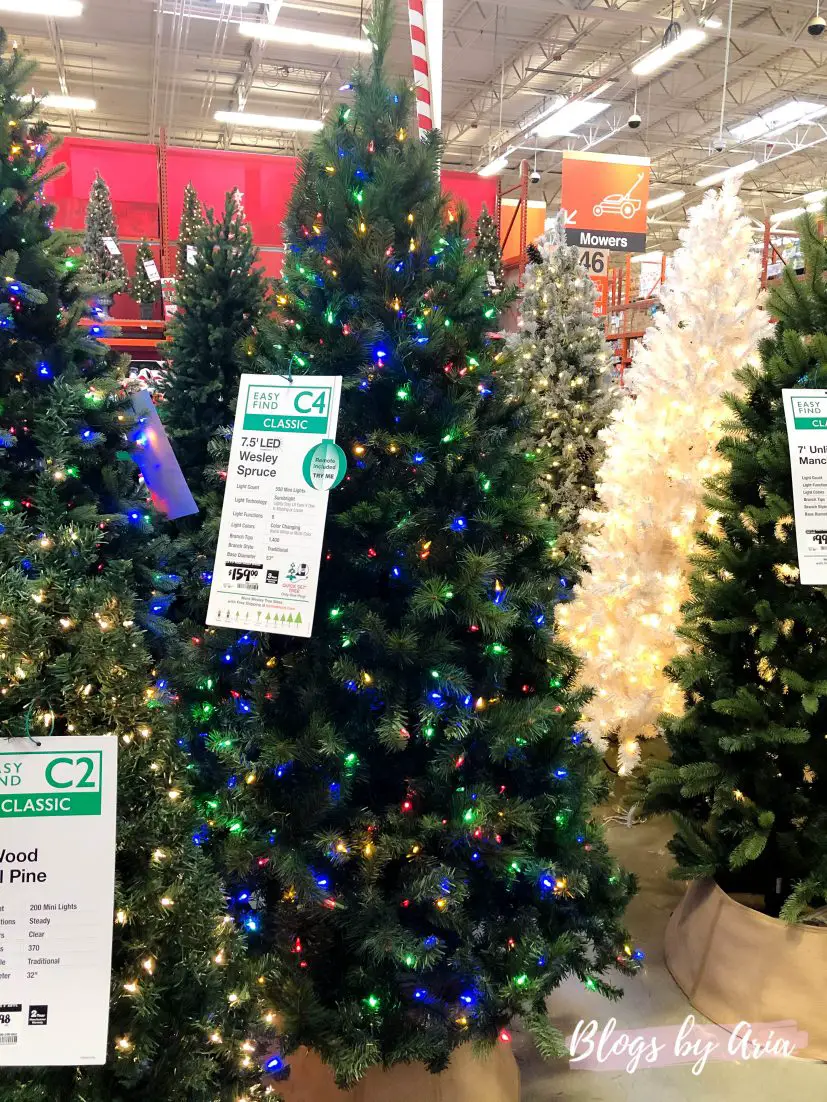 This Wesley Spruce Christmas tree is under budget! Yay!!  It has 1400 branch tips and 550 lights.  I do like the price of course but it's not my favorite tree so far.
Another tree that I like, the Slim Starlin is a tree that I don't think is too slim.  It's 44″ at the base and many of the fuller trees I've seen around are a little over 50″, so it's not overly slim.
I seem to be drawn to slimmer trees this year and I don't want to go too large but I also don't want to let our current space dictate the width of my Christmas tree.  Even with it's slim profile this tree has almost 4,000 tips with 800 lights!
The downside to shopping early (or not shopping after Christmas last year) is that I'm less likely to be able to take advantage of great sale prices.  Of course I can wait till closer to Black Friday and get a great deal but that's later than I'd like to decorate.
LOWE'S
The last store I looked at was Lowe's.  What I don't like about the trees on display were that you can clearly see the wires for the lights.  I'm not a fan of that.  However I do like the branches on this 7.5 foot Colorado Spruce tree.
I can tell that they didn't fully fluff the branches, can you?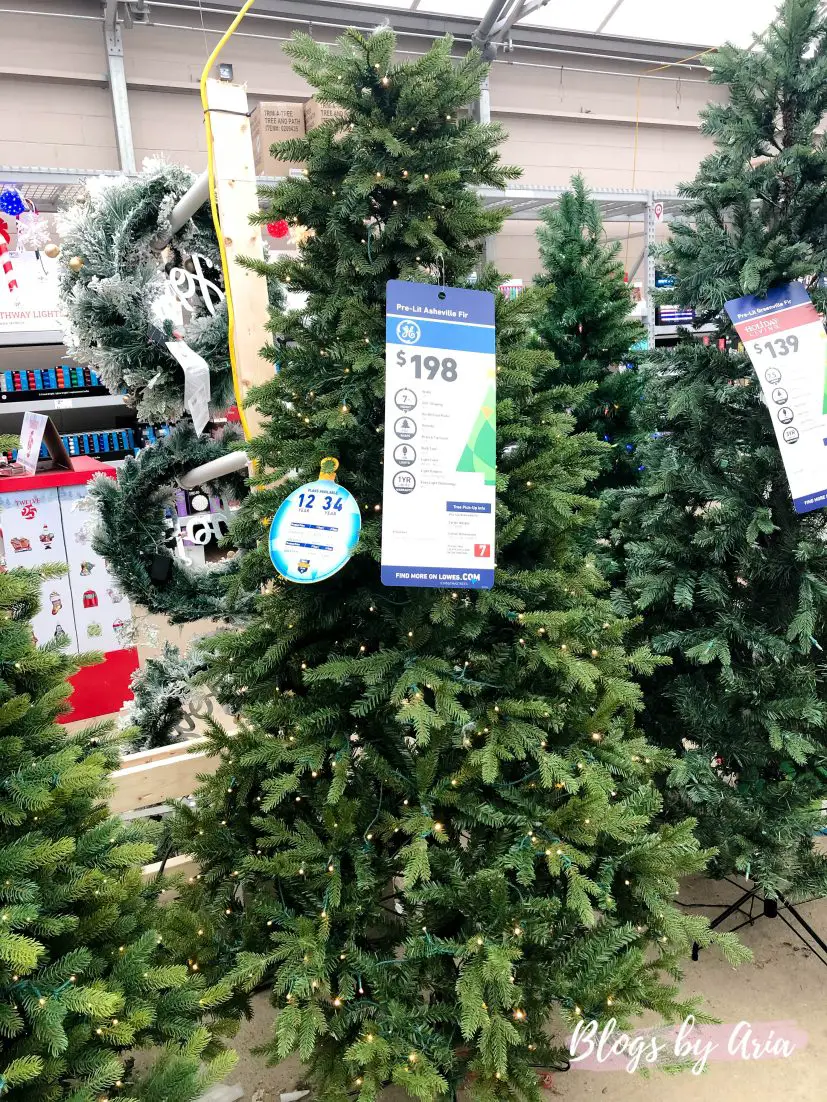 I have the same complaint about this Asheville Fir tree but I liked that it was 7′ which isn't as easy to find.  Believe it or not, this tree has almost 3,000 branch tips!  It also has 500 microbright color changing LED lights.  I like the look of micro lights and I want to go with LED.  It also has great reviews, so I'm not ruling this Asheville Fir Christmas tree out.
Whoever fluffed this tree in the store got lazy when they got to the top! haha!
I have looked at two of the Walmart stores closest to me and was disappointed that both stores had all of their Christmas trees high up.  I need to see the trees up close and be able to touch the branches.  The good thing is we have so many Walmart's around here that I could possibly see if one of them has their Christmas trees on display at eye level.
I also heard good things about Costco Christmas trees…even though I don't have a membership.  I may be willing to check with them.
Curious to see what tree I ended up with?  You can see the winning Christmas tree here!
CHRISTMAS WREATHS
The second item on my Christmas decor list is a new holiday wreath.  Our wreath that we've had for years is a hand-me-down from my mom that we've had probably since we had my daughter.  It's time for a new one.
Wreaths can be pricey and I've tried to make my own wreath for fall.  I never ended up sharing it on the blog because I never was quite happy with it.  So I think I'll buy a holiday wreath instead of trying to DIY one.
I'm very particular with the style of wreath I like.  I can look at ten wreaths and maybe like one of them.  This classic Plaza wreath from Home Depot is a nice, substantial size and it's battery operated.  It would work outdoors or indoors.  Plus it has the colors and style that I really like.
Another option in the same color scheme is this wreath here if you'd rather not have the bow.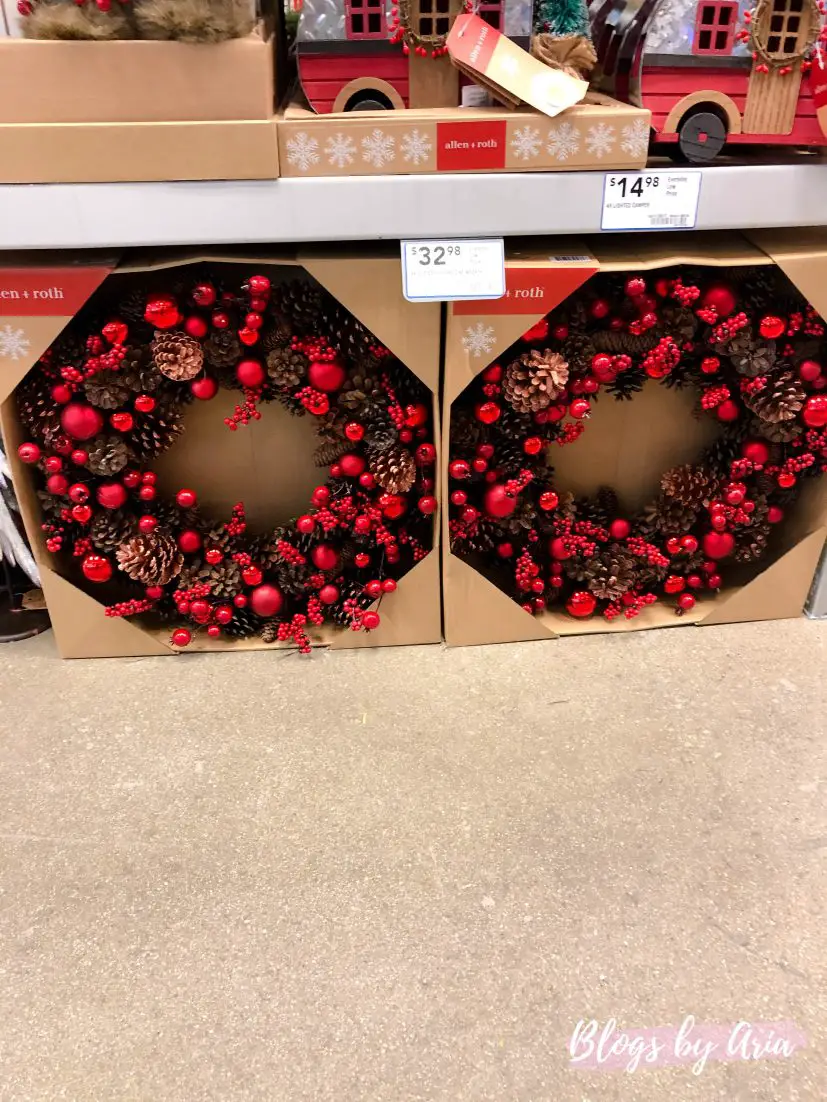 This berry and pine cone wreath I saw at Lowe's is a true favorite and I like the price.  My husband and kids don't care for it to much but I really like it so I'm going to get it.
I like this flocked joy wreath from Lowe's.  It's so hard for me to find flocked anything that look as good as the flocked trees from King of Christmas.  This wreath is adorned with flocked leaves, gold berries and ornaments, pine cones and a matte gold joy sign in the middle.  It's also battery operated so that's a plus.
MORE CHRISTMAS DECOR
Sometimes it's good to go to stores you don't typically shop at for decor to find some great gems!  I've been looking online and of course, at Hobby Lobby already.  Here's what I saw while I was doing my Christmas decor window shopping.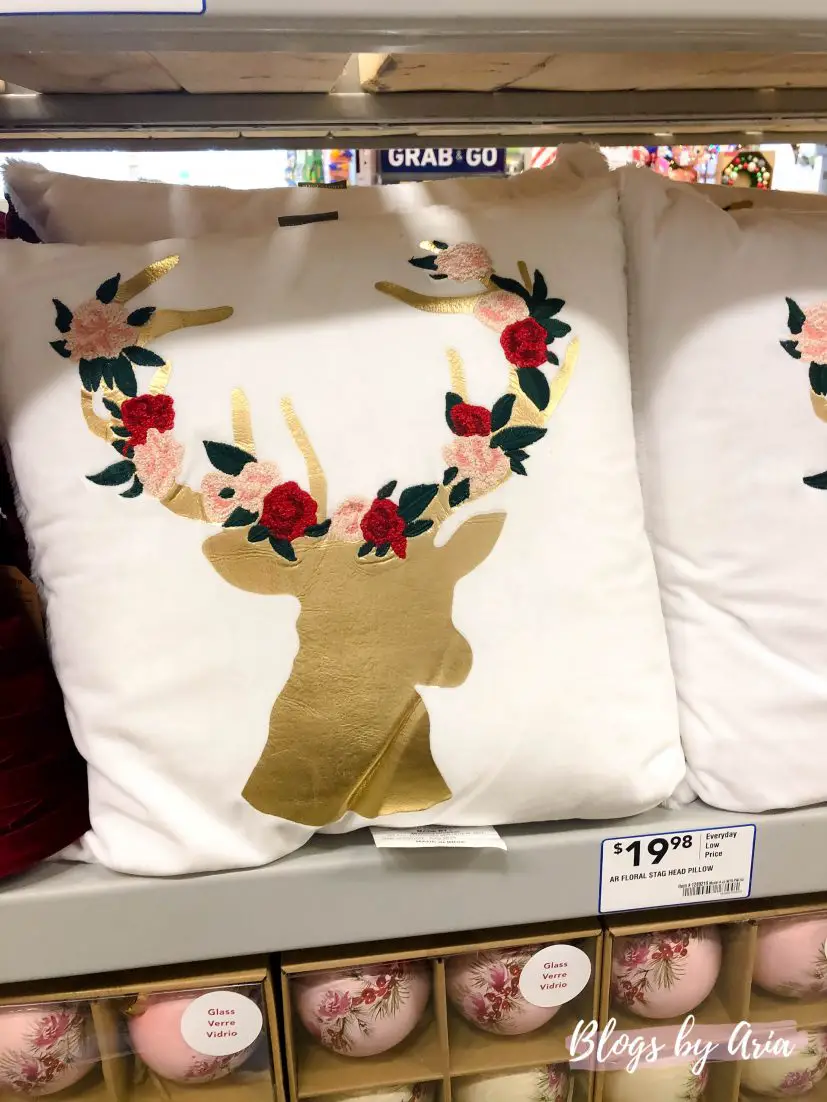 Aren't these floral stag head pillows so pretty?  They wouldn't go with any of my decor but I wish they did!  At such a great price, if you want them you should grab them now!
Anyone who knows me knows I have an obsession with nutcrackers.  Look at this cute nutcracker in his holiday sweater!  I know just the place to put him!
He'd look great standing guard of the fireplace or at the foot of stairs.  Man I'd love a bigger house! 🙂
But get a look at this fancy nutcracker!  I saw him first a few weeks ago at Sam's.  There's more of a selection to choose from but I can't decide if I would want the one on the far right or get the sweater nutcracker from Lowe's.  Which would you choose?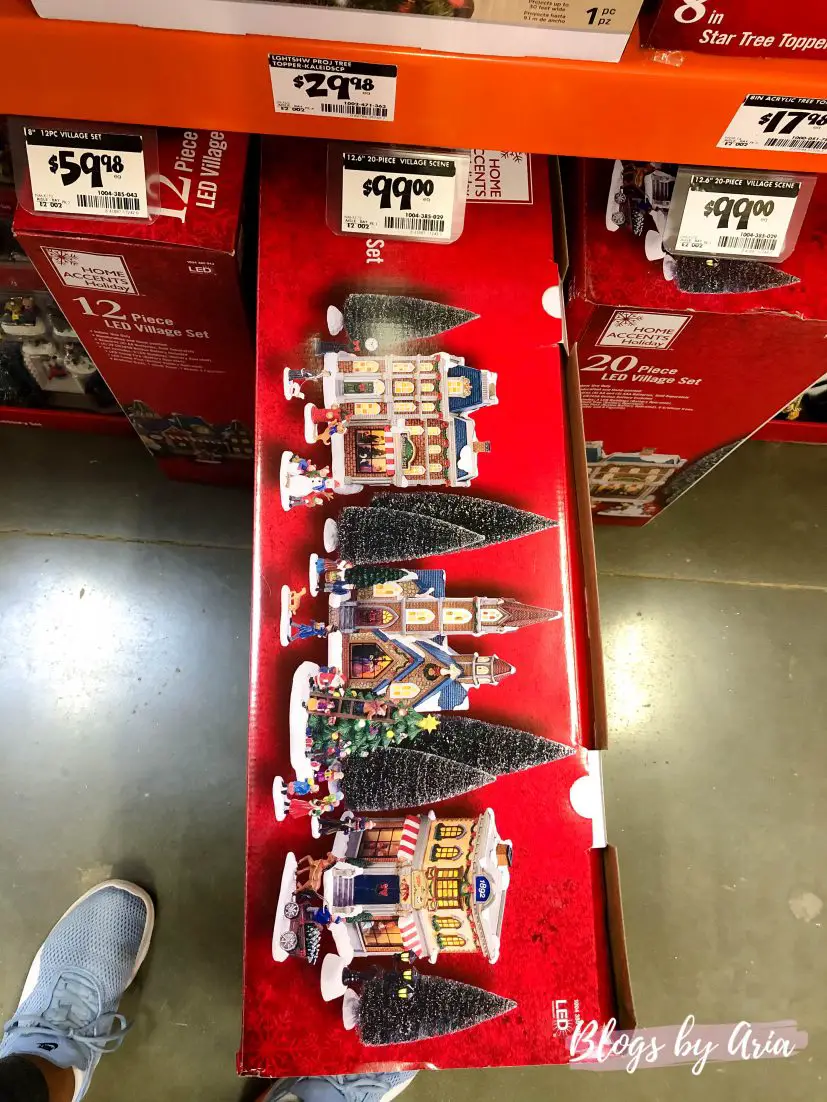 My daughter and I have wanted a Christmas village for years.  I decided that I would buy the ones at Walmart even though I know they're not the best quality.
When I saw these at Home Depot I really liked the size and quality.  I think I may get the 20-piece set and add one piece a year for the next few years.
If I go that route I'll take the one I got from Walmart back.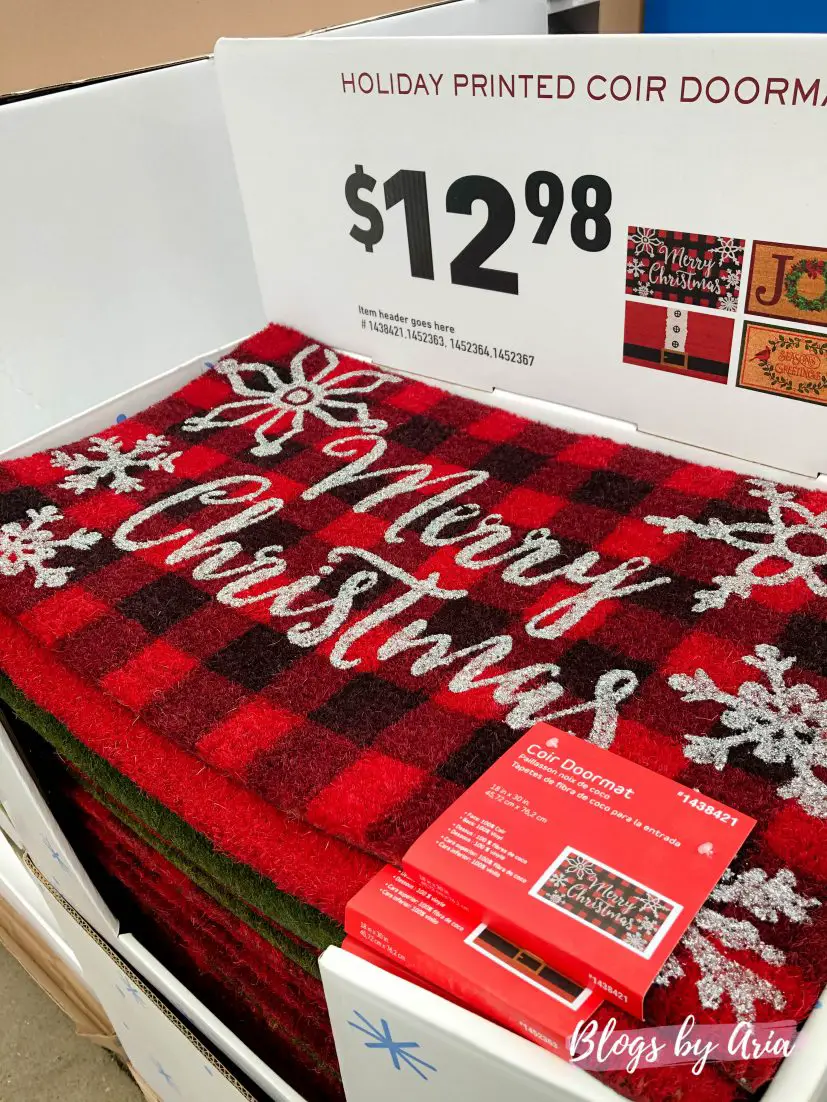 These Christmas door mats are a good price at Home Depot.
The door mats from Kirkland's are nice too.  I like the neutral merry and bright option the most.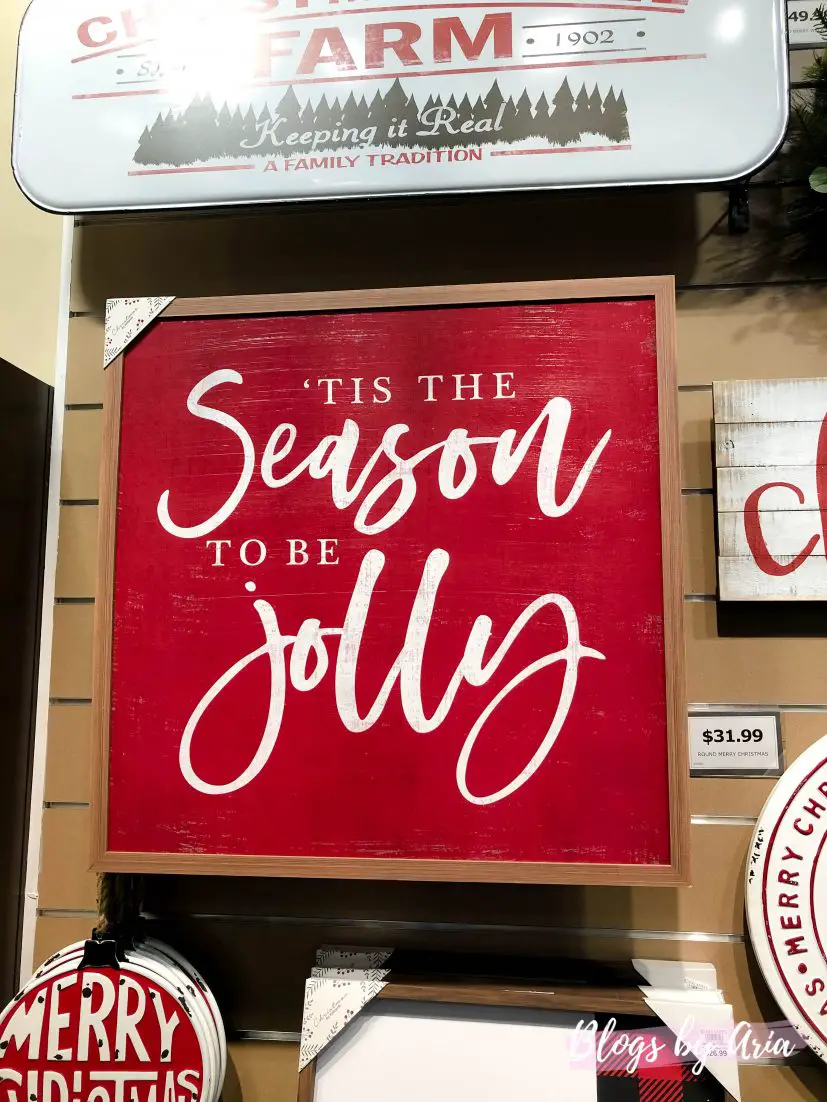 I know that I want to do a large Christmas sign over our sofa.  I like this 'Tis the Season wall decor from Kirkland's and I've also been eyeing this wall decor online.
I'm drawn to these monogram ornaments from Kirkland's.  I like them but I'm not sure where to put them.
WALMART HOLIDAY DECOR
Aren't these reindeer the cutest?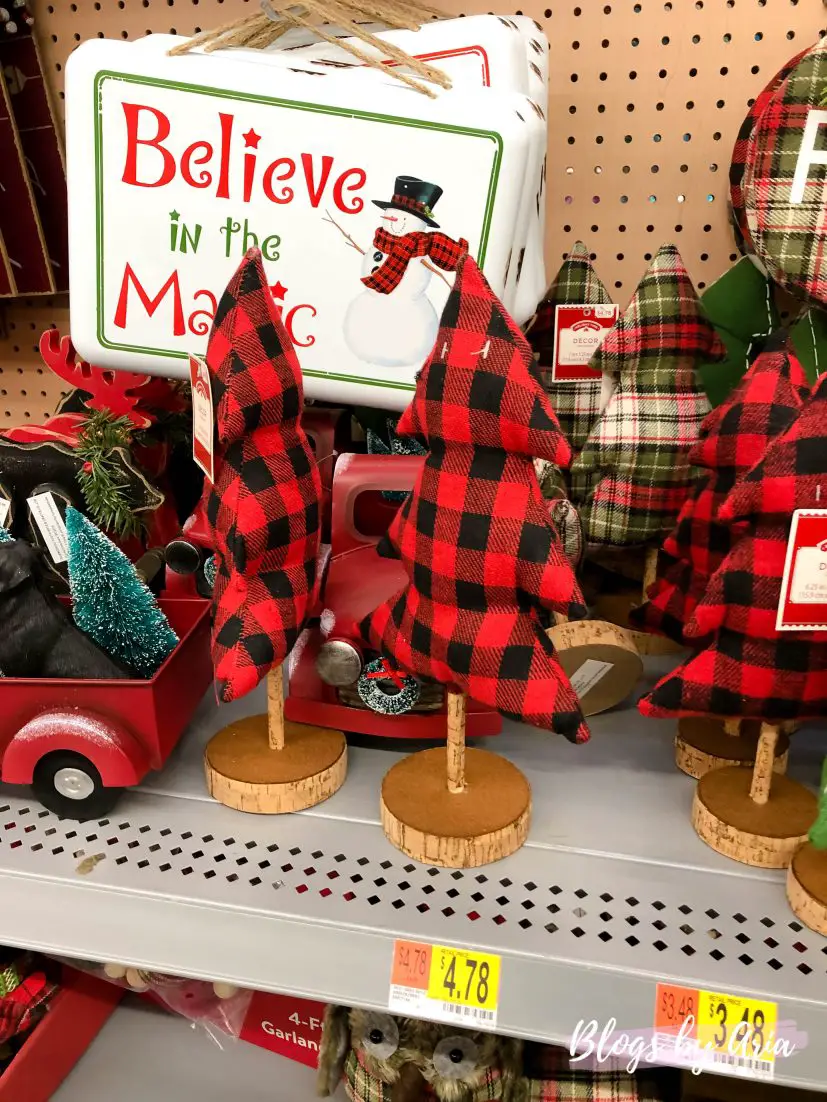 I went ahead and grabbed one of these buffalo check trees.  I think it'll work well for my tiered tray decor.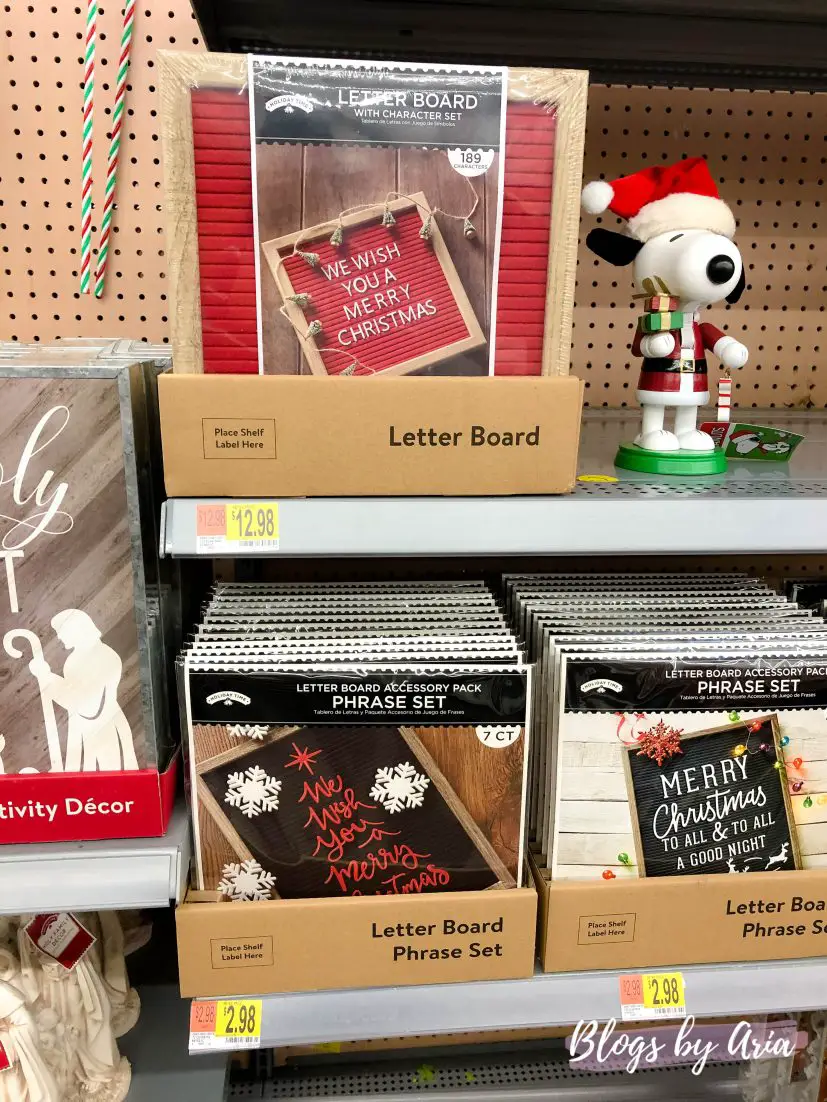 This is a fun find I found at Walmart recently.  You can buy a letter board or use one you already have, but what I like the most is the different holiday themed phrases.
CHRISTMAS DECOR SHOPPING
As I wrap up this longer than anticipated post, I must say that I'm only a little closer to making my decisions.  I can say that I'll keep my eyes peeled for Black Friday and Pre-Black Friday sales alerts because if I can get one of the trees that are over my budget for under budget, I'd be willing to wait on putting up our Christmas tree.
That would make my family happy and coming under budget would make mama happy.  So the jury is still out.
You know I'll keep you posted here and on my Instagram.  I'm so ready for the holiday season!!