Welcome to my very first fall home tour!  Today I'm sharing our fall home family room all warm and cozy for the fall season!  I have had so much fun decorating our home for fall this year.  I already told DH this is only the beginning, wait until we have a larger home, there's going to be pumpkins everywhere! I'm kidding.  Not really 😉
Recently I shared the beginning of my fall living room decor and how that was shaping up.  I've made a few changes since then.  I'm officially done with my fall decor purchases this year so if I don't have it, I just don't have it.  After all, I wanted to share this post back in September…whoops.
Let me share my fall home family room with you.  Come on in : )
Grab a snack because I took a lot of pictures.  I couldn't help myself!
*this post includes affiliate links for your shopping convenience, you can read more about affiliate links by reading my Disclosure*
coffee table | bookcase | lamps | end table
I think I mentioned in my last post how I really want to get deeper baskets for my coffee table.  These are way too shallow and although they're useful, I don't like seeing my stuff like that.  Other than that, I'm loving everything in this space!
How I Make My House Cozy for Fall
What I love the most about decorating our family room for fall is bringing in all the warm and cozy feels.  The easiest way for me to add a layer of coziness is with pillows and throws.
Overall I wanted to keep my fall decor on the neutral side of things.  But I quickly realized I was going a little too neutral and wanted a touch of traditional autumn colors.
By adding texture it was almost like adding color.  The woven fringe pillow on our loveseat is a pillow cover from Hobby Lobby that I got on sale for less than $10.  It fits perfectly over one of the pillows that came with our sofa and loveseat.
Decorating Tip:  Use pillow covers to go over your existing pillows.  You'll often save money buying a cover versus a pillow and you'll save in storage space too.
I originally purchased the pillow to go in a basket with a throw.  That didn't quite work out as I planned.
I found a basket at Marshall's that I liked but realized I wanted to go bigger.  So when I was looking at Home Goods I found this basket and it was only $16.99 and only $2 more than the one I had before.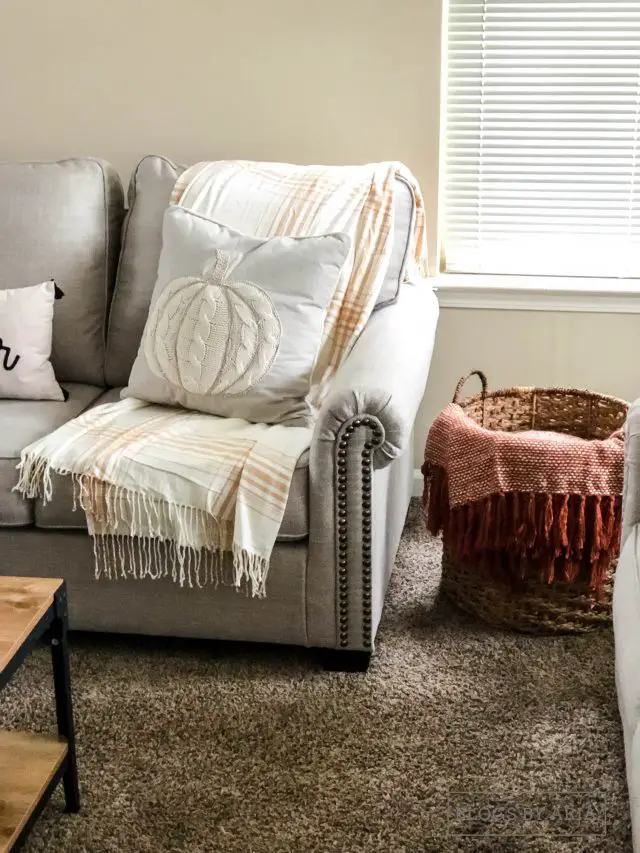 Inside the basket I have a woven throw I got from Target.  I loved the look and texture of the throw but it didn't really work on our couch with my fall pillows.  So I put it in the basket along with our other throws that our family loves to use.
The throw helps to bring in some of the more traditional autumn colors too.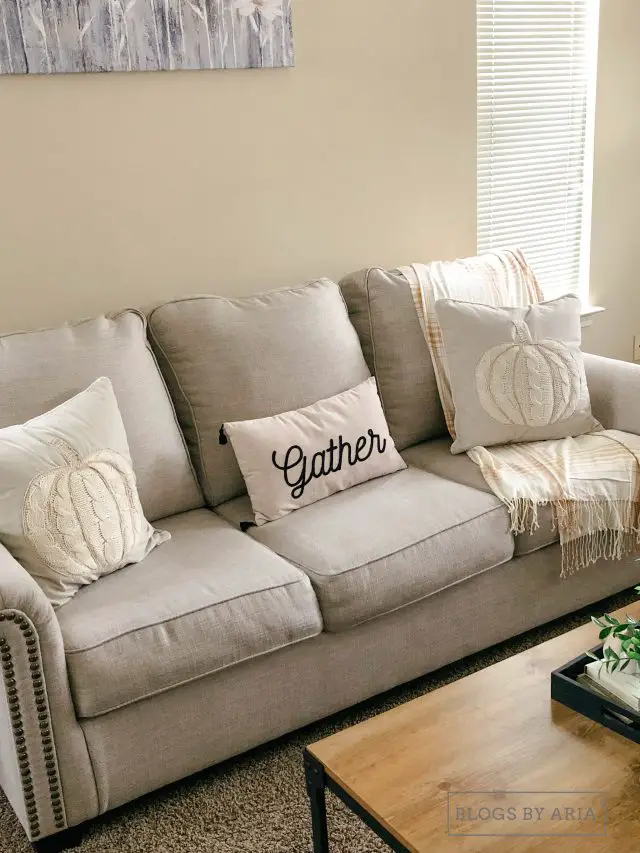 About a week or so ago I added this simple plaid throw from Joann's for 60% off and it's just enough color to break up the monotone look of the sofa and pillows.  It's really thin, so it's mainly decorative and not so much functional.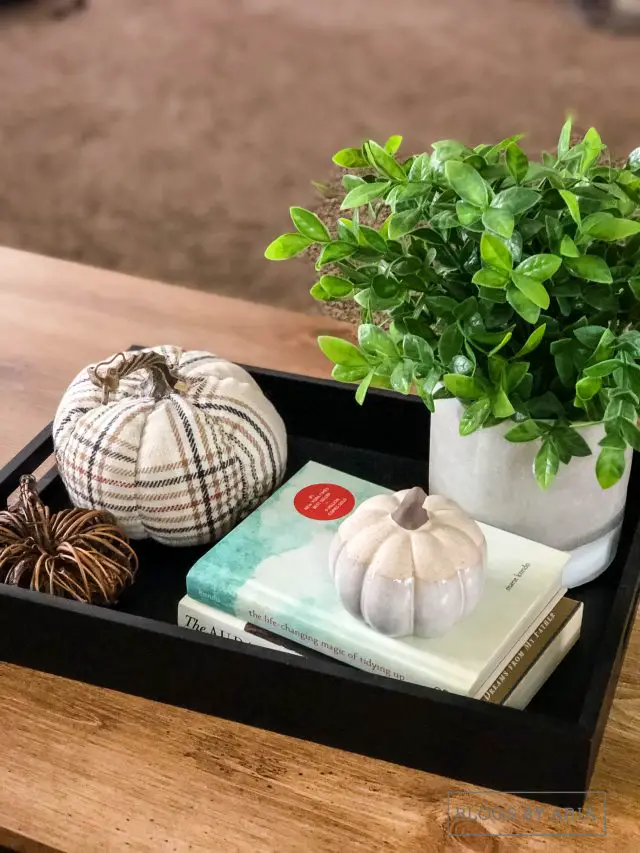 I love my little gray pumpkin!  It was free with a purchase at Kirkland's.  The sign that I have on my Threshold Conway Bookcase is what I purchased (on sale) and got this cute little pumpkin to go with it.
The plaid pumpkin is from Michael's and the twig pumpkin is a pick from Hobby Lobby that I took the stem off of.
How to Decorate for Fall on a Budget
I added some color with these fall stems I got from Michael's.  It's been such a struggle for me to find the perfect fall foliage that was both affordable and I liked!  I've had my eyes on these fall stems but they were out of my price range.
These stems from Michael's were on sale for 60% off! I don't know if you notice that I get almost everything on sale.  My biggest tip for adding seasonal decor is to keep your eyes out for sales emails from the stores you like.  Sure it can get annoying having all of those emails every single day.  But without them I wouldn't know that there were flash sales or weekend sales or even today only deals.
The final piece of decor that I added for fall is this monogram pumpkin from Kirkland's.  My daughter has been wanting me to buy one all season and I finally did when it went on a great sale.  There's that word again : )
One of my favorite purchases for this space is the Threshold Conway Cast Iron Bookcase from Target.  Let me give you a little backstory.  You may recall that I had a white bookshelf here before.  I've had it since college, and it's also from Target.  But it didn't go with anything anymore and it was a little worse for wear.
On a rare trip to Target solo I walked down the furniture aisles just to look around.  Low and behold I saw this bookcase and I was like I have to have this.  Of course, when it was on sale.  I read reviews and one day the following week I got an email from Target for a one day only sale on furniture.  I saved almost $45!
I'd love to find a nice large fall themed sign for over the couch.  But that will have to wait until next year.
This
gather pillow cover
was a fun frugal find too!  Also from Hobby Lobby 🙂
The wheat in the black tin is from Kirkland's, so is the pumpkin sign and thankful wood decor.  I've wanted the thankful sign since I saw it last year and I'm glad I was able to get it this year.
I got the clock on clearance from Hobby Lobby.  I love a good clock.  The dough bowl and the buffalo check pumpkin filler is also from Hobby Lobby.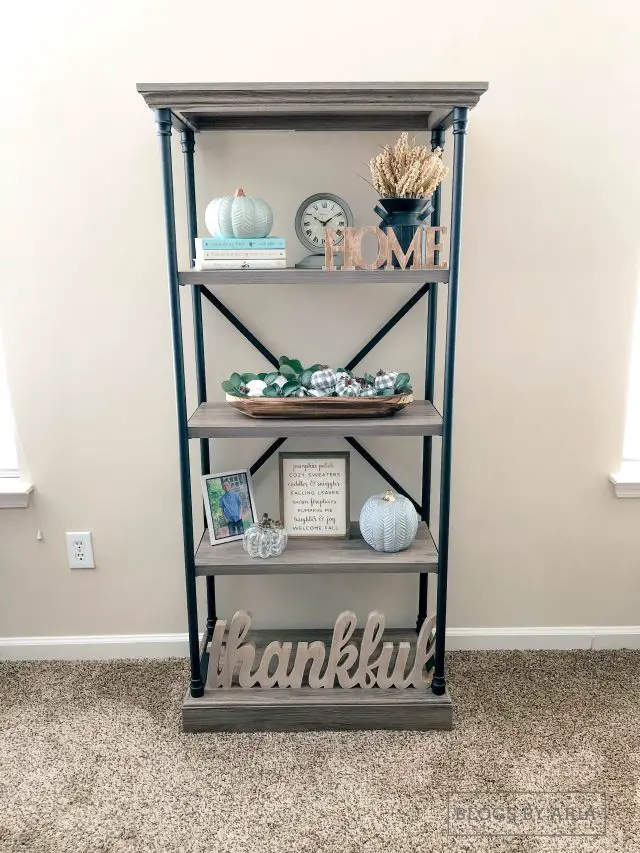 I took this picture to share my review on the Target website.  I love my chevron pumpkins from TJ Maxx at the top and Pier 1 at the bottom.  The glass pumpkin is from Michael's.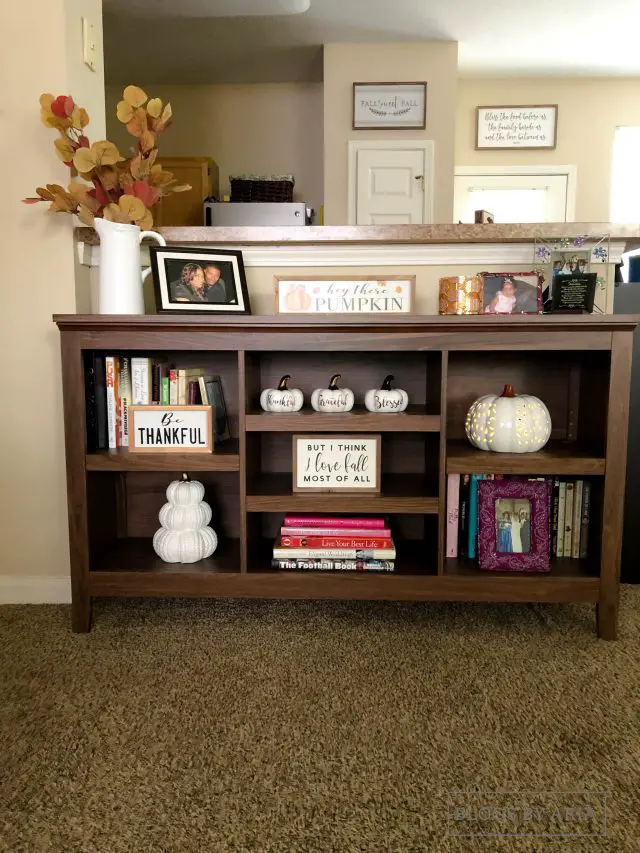 Another favorite find also from Target is this Threshold Carson bookcase that I saw when I saw the Conway bookshelf.  I knew I loved them both and had to have them.  You know I got this on sale too!
I haven't shared my review on the Target website yet for this item, but I must say that it's such a solid piece of furniture.  It's beautiful and functional.  It was a pain to put together though!  I started putting the bookcase together around 2 pm and didn't finish until around 10!  I did stop to fix dinner of course but it was definitely a process!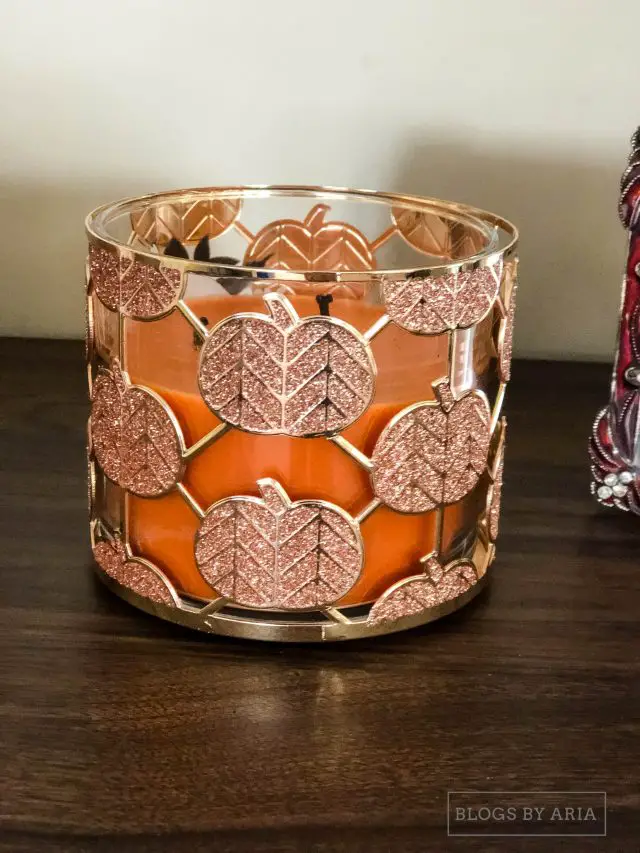 My favorite fall candle is the sweet cinnamon pumpkin candle from Bath & Body Works.  Isn't this cute pumpkin candle holder so pretty?
Many of the fall decor pieces that I'm sharing I shared in my fall decor finds post.  I did that because I knew things would sell out and some things sold out before I could even get them.
The hey there pumpkin sign is from Michael's. The mini pumpkins are from Hobby Lobby and were the first pieces of fall decor I purchased back in July!  Isn't that crazy!  And the I love fall sign was a Home Goods find.
I also really love this ceramic light pumpkin that I found at TJ Maxx.  It's the perfect size and I love the look.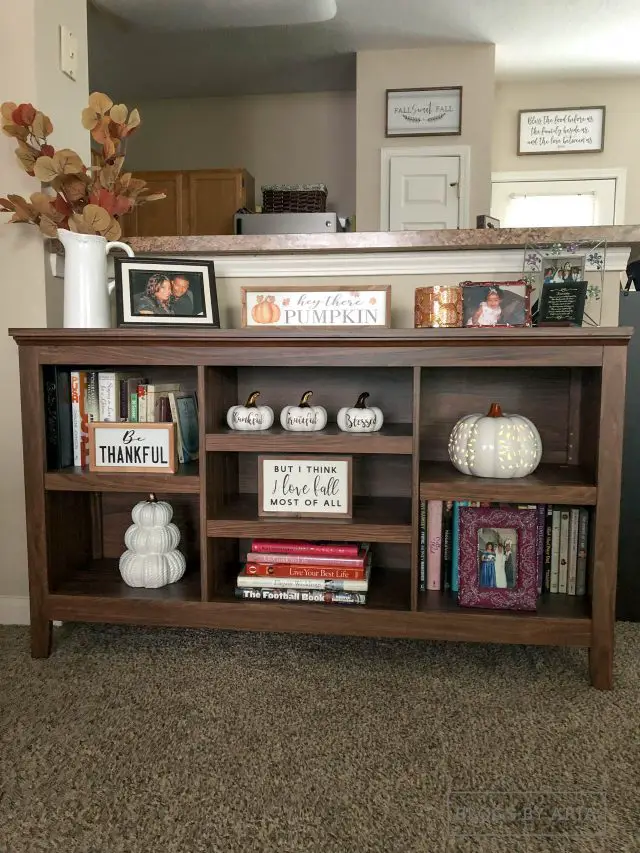 That wraps up my fall home tour showcasing our family room!  I have enjoyed having all of my fall decor up so far this season and I look forward to adding to my home decor for years to come!  There's still a few fall pieces I want to share from my kitchen so look out for that post coming soon.
This or That:  Decorating for fall or Halloween?  Let me know in the comments below!  Until next time friends, thanks so much for spending time with me today ♥