If there's one room I never shared in our previous home it was our master bedroom.  Ugh!  It was a hot mess!  But that's not the case now and moving forward.  I feel like we finally have a grown up master bedroom that I actually want to decorate.  I'm not sharing our full master bedroom reveal today but I am going to share our bedroom bookshelf that I'm loving!  We're making some progress!
*this post includes affiliate links for your shopping convenience, you can read more about affiliate links by reading my Disclosure*
Iron Pipe Wall Mount Ladder Bookcase
Our master bedroom is bigger than our last one and I felt like this wall between our bedroom door and our bathroom door needed something.  I was leaning towards a bookshelf that way it could be used for both function and decor.
Eventually we're going to get a bench for the foot of our bed so that ruled out the need for a chair.  And I thought about a tree, but I think I'm not up for rolling the dice on a tree right now.
When looking for a bookshelf I wanted something that wasn't too bulky.  We didn't want anything that jutted out from the wall too much.  We narrowed it down to either a ladder style bookshelf or a floating bookshelf.
After searching for a few weeks I came across the perfect industrial farmhouse bookshelf!  DH liked it too and I ordered it before it could sell out! (gotta act fast these days, everything goes in and out of stock so quickly)
Here is a look at the bookshelf shortly after it was installed.  Assembling this bookshelf was pretty straightforward.  But I'm not the one to get down with a drill!  I leave that to my husband so I did have to get him involved with that.
I love the industrial look with the metal pipes and I tried to get the pictures with different lighting to try to show the true color of the wood shelves.  The shelves themselves have a nice texture too.
As you can see, the shelves aren't very deep and for what we were looking for, that works well.  The downside, is depending on how much you want the shelves to hold, you may find the industrial pipes hinder what you can put on each shelf.
Each shelf can hold 25 pounds.  More than likely the shelves won't stay looking like this, I'll end up moving things around.  Especially since right now it's more decorative and less functional than I'd prefer.
When it came to styling these shelves, I was going for a romantic vibe with a little edge since it is industrial.  I was walking around Hobby Lobby (as always) and just started grabbing items that I was drawn to.  Before I knew it, I had a lot of black pieces and a couple of gold items.
Turns out I actually like that because those are colors I wouldn't gravitate towards with my regular decor.  Plus this is a shared space so I didn't want it to be overly feminine.  I'm always mindful of that since I share my bedroom with my husband.  Most men don't want to sleep with a lot of flowers and ruffles.  They may say they don't care, but they do.
The first thing I found on my Hobby Lobby shopping trip was this cute jug on the top shelf.  As it's pictured, you can see that it works fine without anything added to it.  But I can add a sprig of greenery and give it a completely different look.
Recently I did a gallery wall in our upstairs hallway and decided instead of adding this picture of us in our hallway I'd stick it on our bookshelf.  The picture frame is from Amazon.  I'd like to find a couple of smaller frames for pictures of us that I can use on this shelf, but for now this one works.
Both the gold love sign and the gold rimmed blown glass are from Hobby Lobby.
This super cute this is us sign is from a shop on Etsy called Plan B Designs Co.  I have another one of her signs on my tiered tray right now and decided that this sign would work well on our bookshelf in our master bedroom.  Grouped along with the sign is the beaded black vase from Hobby Lobby and a simple eucalyptus plant that I got from TJ Maxx.
I've had this gold geometric shape for a little while and as this look was coming together, I knew it would work out great in this space.  You can also see how I used it on my entryway table.
Also I've had my Inspire Your Home book for awhile too.  Since the cover features black and gold I thought it would be nice on these shelves too.  Now I've got my eye on this popular Chanel coffee table book and this Elements of Style book.  I love coffee table books to use for decor and to read!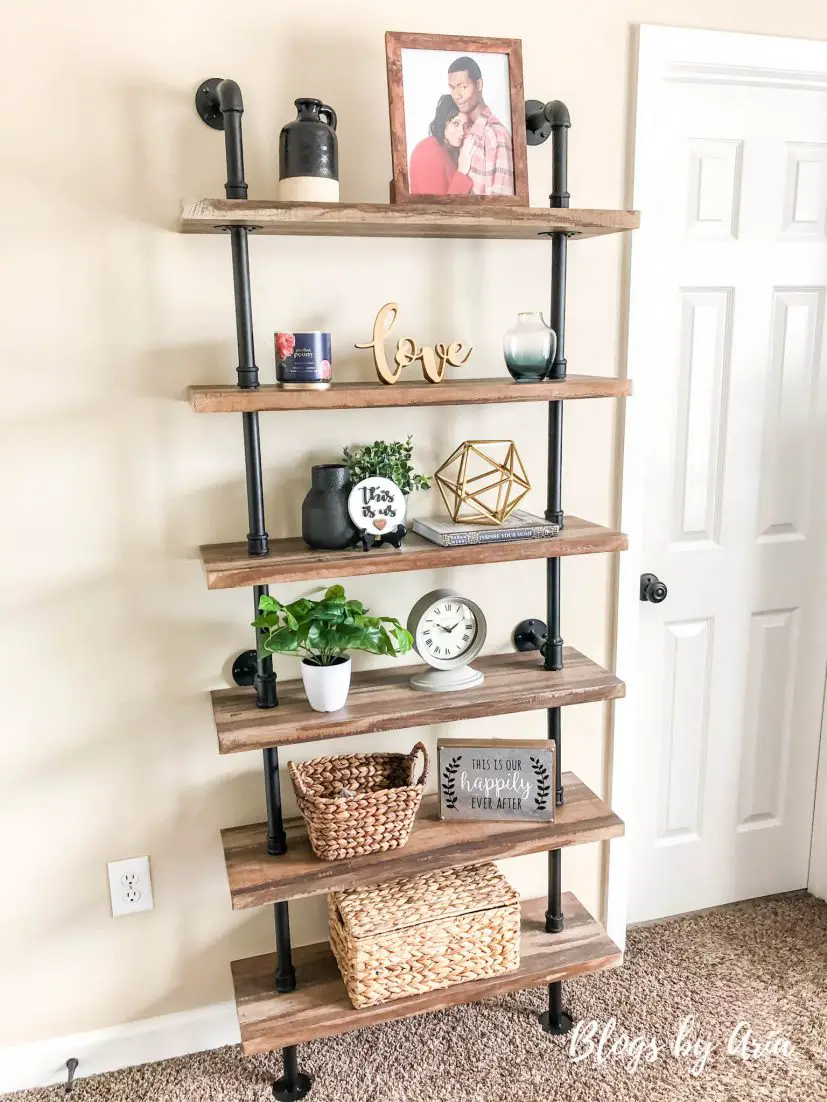 Everything else on our master bedroom shelves comes from Hobby Lobby with the exception of the basket on the bottom.  That's from TJ Maxx.  Right now I'm still on the hunt for the perfect nightstands.  In the meantime, I wanted a lidded basket to hold a few things on the shelf of my nightstand since we don't have drawers.  So I picked up two different sizes of the lidded basket and told DH he could use this one but he hasn't done anything with it yet.
I'll keep the basket but I don't know where it will go so for now this works fine.  I would like to find some cute bookends then I can add some books eventually.  But I'm really loving how this master bedroom bookshelf has turned out.  Once I complete the decor on the shelves, I'll come back and share how it's all come together.
Like I said, I'm on the hunt for the perfect nightstands for us.  We'll eventually get a tufted bench for the foot of the bed.  Early on in quarantine we got a new comforter set from Belk on an amazing deal.  I do like it but I really just want a simple white comforter set.  I have my eyes on a couple of options.  All are from Target.  Probably because it's one of the few stores I go into a lot these days.
TARGET BEDDING
Aside from those few things to add, the only other item I'm looking for is some artwork for over our bed.  Then we'll have a completed, adult master bedroom!  I can't wait!
I don't know about you but I don't think we've ever had a nice bedroom.  Like the last time I had a nice bedroom I was in college!  We've had a nice bedroom set before but the room itself wasn't nice.  So I am just very thrilled about our bedroom now. 🙂
Searching for items on Hobby Lobby's website isn't always the easiest task.  What I've been able to find, I've linked below or something similar.  Let me know what you think!
MASTER BEDROOM BOOKSHELF DECOR SOURCES
This Is Us Sign – Hobby Lobby
Gold Love Sign – Hobby Lobby
Gold Geometric Shape – Hobby Lobby
Inspire Me Home Book – Amazon
Perfect Peony Candle – Bath & Body Works
This is Us Tiered Tray Sign – Etsy
Picture Frame – Amazon
Similar Mini Black Bud Vase – Etsy
Similar Gray Glass Vase – Wayfair
Similar Black Spiked Vase – Walmart
Similar Lidded Basket – Container Store