I think it was maybe a max of two weeks ago…but I was going to do a blog post but decided against it bc I wasn't sure if it would work and I wasn't sure if it would still be available.  So anywho… if you haven't already, please join freeflys.  I get their emails for new free samples available.  You can definitely check out the site to see if it's still available…but if you do… you go to the Mario Badescu site and fill out the skincare questionnaire.  Next it will direct you to a list of products it recommends   It wants you to buy.  DON'T.  In one to two days you will get an email asking if you would like a sample package.  Oftentimes samples take weeks to get to you.  I was more than surprised to have received mine in less than two weeks!
In addition the products themselves, they also sent me a personalized product application guide that includes Morning, Evening and As Necessary applications.  Not just what to apply but the proper way to apply (gently dab, gently massage, for example).  I for one appreciate the personal touch…especially since this is just a sample package!  How nice is that!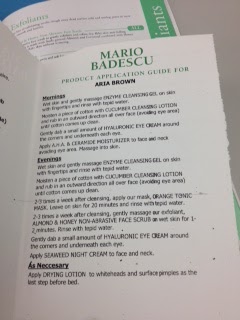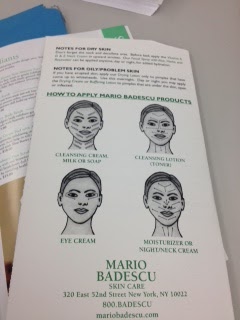 First I wanted to tell you what I got and then I will do a post on my thoughts after trying them for a few weeks and hopefully I will like them so much that I will be purchasing full size items soon!
Enzyme Cleansing Gel:  non foaming, gel cleanser thoroughly  removes the days make up, dirt and oil without drying the skin.  Papaya Extracts are exfoliating Alpha Hydroxy Acids that help break down dulling build-up, leaving skin fresh and healthy. For all skin types.
Cucumber Cleansing Lotion:  oily skin will be refreshed and deep cleansed with our soothing Cucumber Extract astringent.  Contains 4% alcohol to disenfect and remove pore clogging residue to keep skin clean.  For oily, combination skin.
AHA & Ceramide Moisturizer:  oil-free, gentle, AHA daily moisturizer is formulated with Lemon Extract and soothing Aloe.  Revive and rejuvenate dull, congested skin.  Non-greasy, absorbent and very lightweight.  For oily, combination skin.
Hyaluronic Eye Cream:  Hyaluronic Acid formula helps lock in the skin's own natural moisture without the use of heavy, greasy oils.  Absorbent, medium wieght cream for use day or night.  Aloe based formula makes this cream suitble for all skin types, even sensitive. 
Seaweed Night Cream:  a non-greasy, oil-free night cream enriched with Seaweed, Collagen and Hyaluronic Acid to soften, hydrate and nourish the skin without clogging pores.  It leaves the skin feeling soft and silky.  For combination, oily and sensitive skin types.
Orange Tonic Mask:  Purify and tighten pores with this refreshing clay mask designed to treat normal, combination or slightly oily skin types.  Reduce pore-clogging build-up that can cause pimples and blackheads by using this mask regularly.  Rejuvenates dull skin with Orange Peel Extract, a natural AHA which exfoliates the skin.
Almond & Honey Non-Abrasive Face Scrub:  a non-abrasive face scrub to gently exfoliate and refine dry, flaky skin and dulling build-up.  It is made with finely ground Almond and Cornmeal combined with Honey to buff away flaky skin without irritating.  For all skin types.
And these are just some of the products 🙂  I can't wait to dive in tonight with my regimen and I can already tell that I will like a few of them.  Stay tuned because I'm really trying to get back to my love of blogging and want to get some long overdue beauty posts out.