Friends!  I hope everyone is safe and sound with Hurricane Florence!  I've spent all week preparing for this very unpredictable storm.  We have a few difficult days, weeks and for some even months ahead while we wait and see how bad flooding will be.
I am sharing my first Erin Condren Seasonal Surprise Box that I got last week.  I'm sharing my initial thoughts and if I think it's something I would purchase again in the future.  Let's dive in!
*this post includes affiliate links. You can read more about affiliate links by reading my Disclosure post*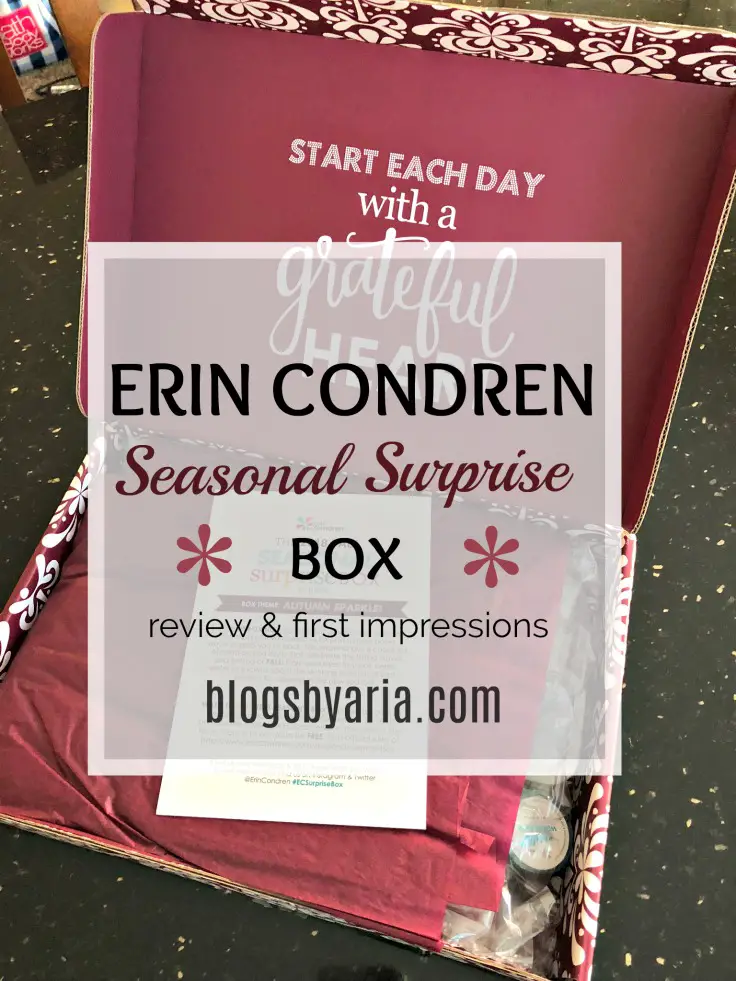 What is the Seasonal Surprise Box?
The Seasonal Surprise Box is a curated box full of Erin Condren items, many that are exclusive to the box and some that are sneak peeks of things yet to be released.  Each box has a theme.  This box theme is Autumn Sparkle.  The box costs $35 and that includes shipping.  It has a value of over $60.
What's in the Fall 2018 Seasonal Surprise Box?
For starters the box itself is meant to be reusable.  It's made out of a different material than their regular boxes so that's nice.  In addition to that, here's what's in the Seasonal Surprise Box:
Exclusive Metallic Plaid Interchangeable Cover – Each Seasonal Surprise Box comes with an exclusive interchangeable cover (at least it has so far).  $13 value.
Exclusive Sticker Sheet Duo – This fall sticker sheet has clear stickers as well as metallic stickers that can be added to any spread or would be great to add some decor to your planner if you don't plan with sticker kits.  The puffy sticker sheet can be added to a notebook or shared with your kids.  So many ways to use these sheets.  I may use them in my Deluxe Monthly Planner.  $7 value.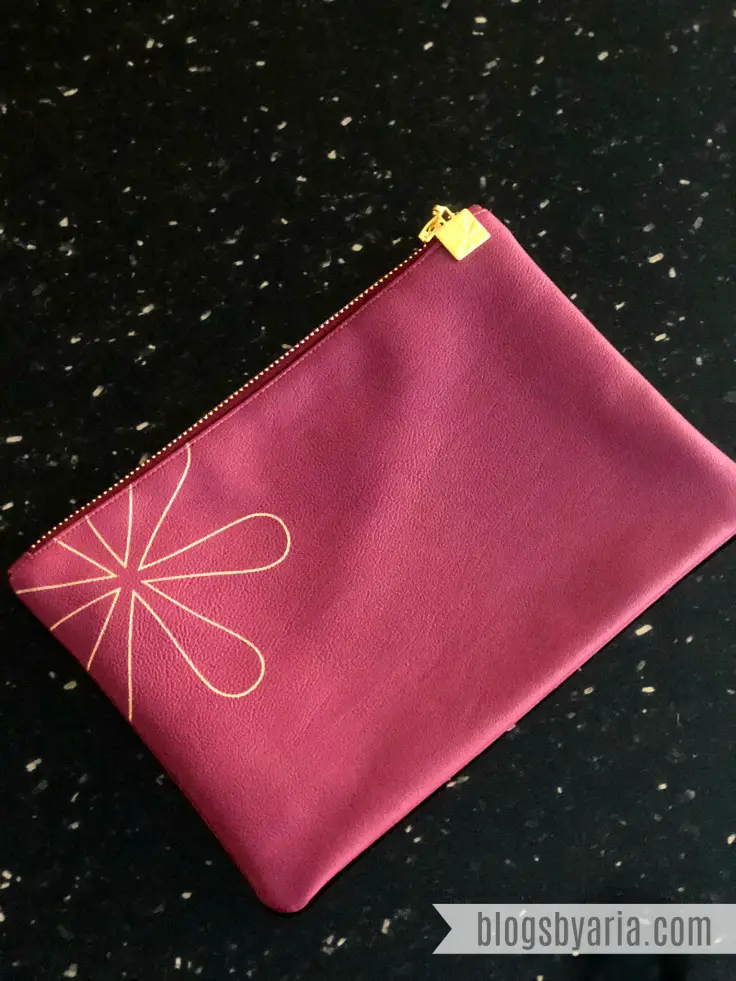 Exclusive Metallic Asterisk Clutch – a different take on their classic clutch this can be used for planner goodies or anything really.  It has a leather-like material so it's really soft and feels really luxe.  $20 value.
Exclusive Seasonal Card Two Pack – Each card set includes the note card with foil accents, the envelope and a seal in the same print as the card.  Perfect for sending thank you notes or handwritten notes.  $6 value.
Sneak Peek Metallic Foiled Washi Tape – This is in a pretty teal color.  I'm not sure if this is something I'll keep or not, may give it away.  I do have washi tape but I find I don't use it too much.  We'll see.  $4 value.
Exclusive Scalloped Sticky Notepad – I'm always using notepads so this will get some good use.  $6 value.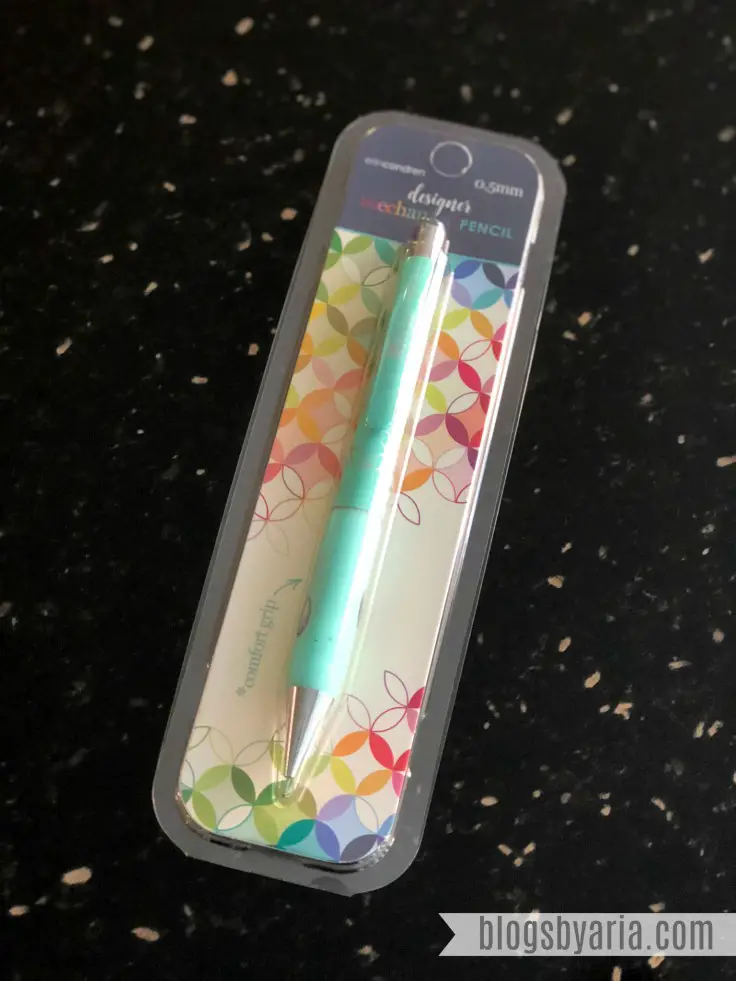 Sneak Peek Designer Mechanical Pencil – This pencil has a comfort grip and is a bit more substantial in size than your typical mechanical pencil so it may be more comfortable for you to use.  I don't use pencils typically but if you're in school this may be something you'd like.  $8 value.
Initial Thoughts
I honestly had mixed thoughts when I first went through the items in my box.  This is my first time purchasing the box and I decided to do it on a whim.  My mom had sold some of my moving boxes for $35 and gave me the money and it was right when I got the emails about the Fall Seasonal Surprise Box and I decided to go for it.  I figured at the very least it would give me blog content! 😉
I wasn't wowed but I wasn't disappointed either.  I felt the biggest let down was the Metallic Plaid Interchangeable Cover.  And I think that's because I've seen what has come in every Seasonal Surprise Box prior to this one and I loved every cover except one.  I took the chance on the Fall Seasonal Surprise Box because last Fall had a gorgeous Interchangeable Cover and like I said before, they're exclusive to the box.  Other than that I like the box and I will use the items that I received.
I will say that something I do like is that they really made it a surprise.  Everything I've ordered from Erin Condren before has been tracked.  This was not.  I didn't get an email to alert me that it had shipped.  It just showed up.  In fact had my friend who had also purchased the box not asked me if I had received it, I wouldn't have looked in my account to see if it had shipped.  I do like that extra element of surprise. 🙂
My Favorite Item
My favorite item from the Seasonal Surprise Box is the exclusive Metallic Asterisk Clutch.  It's definitely something I'd use and have wanted in the colors that are available to purchase.  I've shared it before in my Erin Condren Wishlist.  It's an added bonus that it's in this Merlot or deep wine color.
I love the detail of this clutch and the print on the inside.  This doesn't have to be used for planner supplies it can be used in your handbag or as a travel pouch.  It's definitely functional to go along with how pretty it is.
Would I Repurchase?
Yes.  Even if I receive items I wouldn't typically buy I am getting a chance to explore more of the Erin Condren brand.  I do like the element of surprise and ya'll know I love Erin Condren so it's worth it to me to give it a shot.  This definitely won't be my last Seasonal Surprise Box!
Is It Worth It?
Yes.  I definitely think that it's worth buying.  Here's why:  if you shop at Erin Condren it's a nice way to get a few items from a company you already love.  Odds are that you'll get something you like.  For the cost I think you get a good bang for your buck.
If you don't buy any of Erin Condren's other items outside of planners then this would be a great way to introduce yourself to some of the various products she offers.  I say give it a chance.  It's not a big investment out of your pocket so you don't feel like you wasted money if you're not in love with it.
So those are my thoughts and first impressions of the Erin Condren Seasonal Surprise Box.  If you think it's something you wanna try out be sure to sign up for Erin Condren's emails so you'll know when the next Seasonal Surprise Box is available.  They're only available for a limited time each release.
Is there anything that stood out to you from this current box?  Is it something you'd be interested in?  Let me know in the comments below!
I was able to finish this post with only one power outage interruption, we've had the power go out a few times on us today and as I'm finishing this post up the rain and wind is getting really strong.
If you aren't a regular reader you may not know that we live in Raleigh, NC.  It was only two short years ago we had to deal with mandatory evacuations due to Hurricane Matthew in Greenville, NC and after that I said I would never live near a river again.  So low and behold here I am living near a river again.  Not as close as I did before but we're technically in a flood zone so we're definitely on high alert here.
I could go on and on regarding my thoughts on this whole situation but I'll spare you since this post is long enough.  Just know that this Hurricane Florence is a stubborn storm and I'm praying for everyone who has had to deal with it.  I have family and friends in some of the hard hit areas including Wilmington, Goldsboro and Greenville and my prayers are with them.  Thanks for spending some time with me today friends, I appreciate you more than you know. 🙂